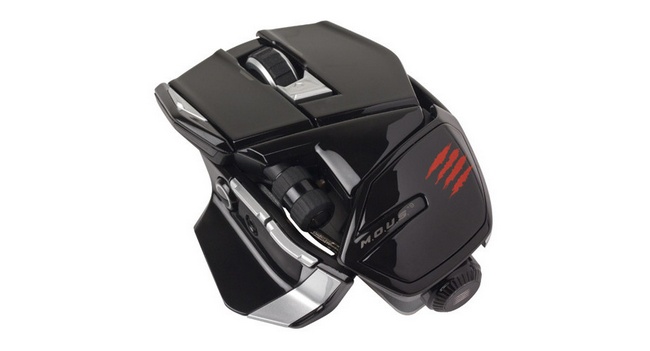 Mouse MadCatz MOUS 9 is positioned as a manipulator for everyday work on all surfaces. Retaining the recognizable design RAT series , the novelty was another sensor, functional software and wireless interface Bluetooth 4.0 BLE.
Options
Manipulator comes in a small box made of transparent plastic, and complete except for the mouse is soft case for transportation, one AA battery and set of documentation.
Design, construction
The first thing you notice – it is certainly design. Appearance of the device does not leave indifferent and will not let pass by. We visited on test arm black with frosted panels in certain angles reminiscent of the Batmobile from the film trilogy by Christopher Nolan. Also available colors with glossy body – red, white and black.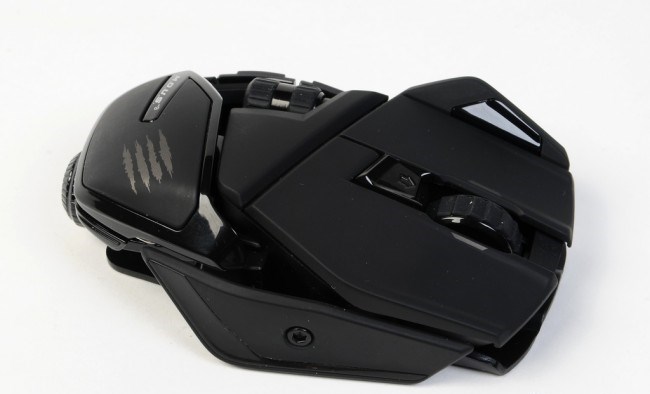 Hull construction MOUS 9 repeats full mouse series RAT. True, its dimensions are less than -105 × 65 × 38 mm and weighs 138 g with battery Underlying mouse is painted in body color aluminum plate, which, as a skeleton, plastic panels are attached with soft-touch coating and glossy inserts. Opportunity mouse settings form is almost identical to Mad Catz RAT 5, except for the weight adjustment – can only increase the length of the mouse to 125 mm by means of a sliding surface podladonnoy. Left handed version is still missing.
Hull form MOUS 9 is well suited to grip "palm" and "claw", but for the fingers grip the mouse adapted a little because of the large mass. And if to design claims we have, the build quality is satisfactory. Clearly felt the backlash podladonnoy sliding panels – a chronic disease RAT game series and moved here, and with time the situation will only get worse. Present creak and bend left and right mouse button, that is not a pleasure, given the price of the device.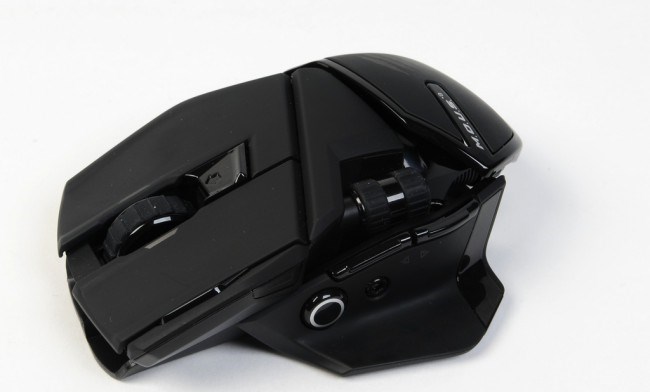 MOUS 9 has 10 programmable buttons and scroll wheel has been able to tilt. The layout of the keys reminds Mad Catz RAT, but they got more functionality and a slightly different form. Roller now rubberized horizontal scrolling, which has a positive impact on usability. An interesting feature is the key desensitizing sensor, which can be useful for more accurate cursor when working with text, for example.
Equipment
For sliding on the surface correspond to 6 Teflon feet, and for tracking the movement – a laser sensor Avago ADNS-8020 with a fixed resolution of 990 dpi. This sensor can work on almost any surface, including glass, which was verified by us. Testing was conducted as on the playing surface (Razer Goliathus Control and Mad Catz GLIDE), or varnished wood, glass paneling and a sofa. Reading excellent displacement occurs on any of these surfaces. Unfortunately, the low resolution of the sensor is not possible to recommend this product for the players and users with Full-HD displays. On the other hand, MOUS 9 and is positioned as a gaming solution.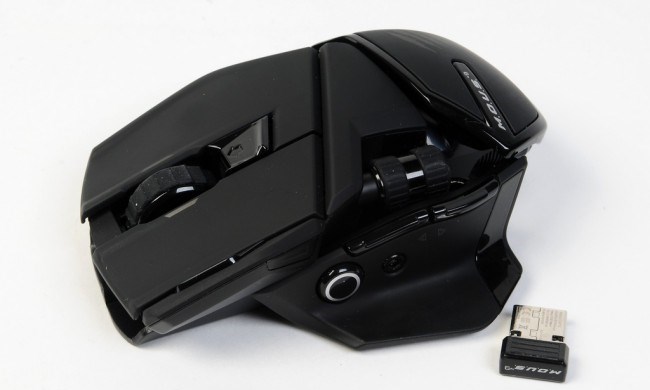 Communication interface with the PC and mobile devices is limited Bluetooth 4.0 BLE (Bluetooth Low Energy) technology to support GameSmart, providing fast and easy process to connect to compatible devices with this technology, as well as long battery life. Connection can be made directly to the device, either through the USB-receiver, which can be hidden inside the mouse for portability. Smooth operation is guaranteed only when a line of sight between the devices. During the tests, was not seen a single disconnection.
The manufacturer claims this model to 1 year battery life on a single, in practice, when the 8-hour daily use mouse discharged by 18% within 7 days of operation ligament type "mouse – USB-receiver." Theoretically, when used with the compatible protocol BLE, autonomy will be higher.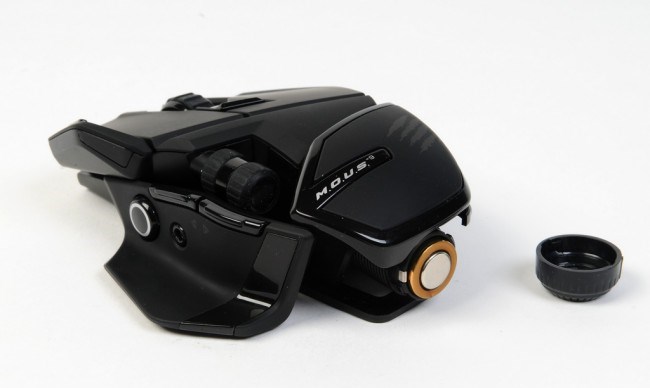 Software
Mad Catz APP software designed for flexible configuration of programmable keys. You can use predefined commands or create your own macros. Configure buttons is intuitive using drag'n'drop, except for the possibility of appointing actions can be bound to keys and individual characters from the standard keyboard layout. Then you can save the combination as a separate profile and use it globally across all applications, or bind to one or more programs. This inability to change profiles is compensated on the fly, as it was implemented in gaming mice RAT using a separate button. And provides ready-made profiles for different usage patterns, available to download from the manufacturer's website.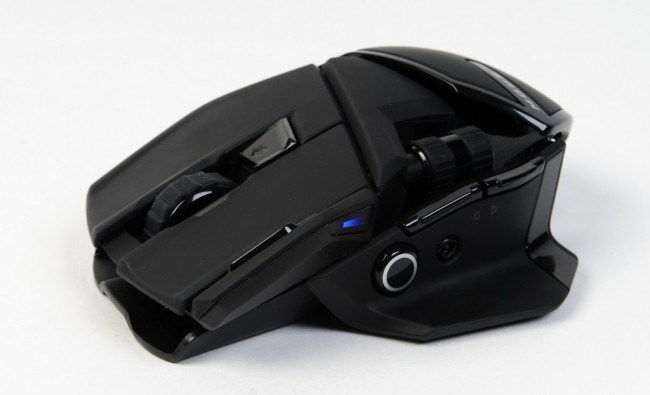 Production company Mad Catz has always had a high price tag, though in this case the price seems frankly overpriced.
Results
Mad Catz have turned very controversial product. Perhaps MOUS 9 will be interesting to fans of the brand and lovers of unusual controllers. Suggested to look at the rest of the less expensive counterparts, able to work on any surface.
Liked
+ Design
+ Functionality
+ Ability to work on all surfaces
Dislike
– Price
– Low resolution sensor
– Build Quality
Read another very interesting article about alternative energy of the Sun, water and air.