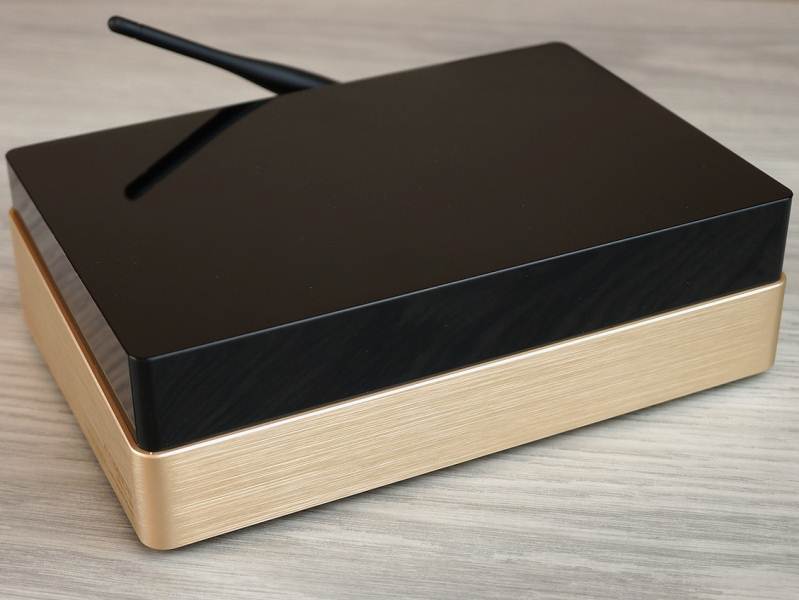 Despite the fact that we each have a TV, and often more than one, for many it has long ceased to perform its original function – featuring television terrestrial channels. Instead of the conventional antenna, many use a satellite or cable TV. And lately become increasingly popular TV connection stationary media players – miniature computers that serve home-entertainment devices. And this is understandable: after buying this gadget can not be tied to the ethereal broadcasting schedule and watch any movies and any program of your choice. Pre uploading to internal or external storage, or finding in one of the online movie theaters, and even on the channel's website. Today we have to review just such a multi-media player – iconBIT XDS1003DW.
Supplied –  iconBIT XDS1003DW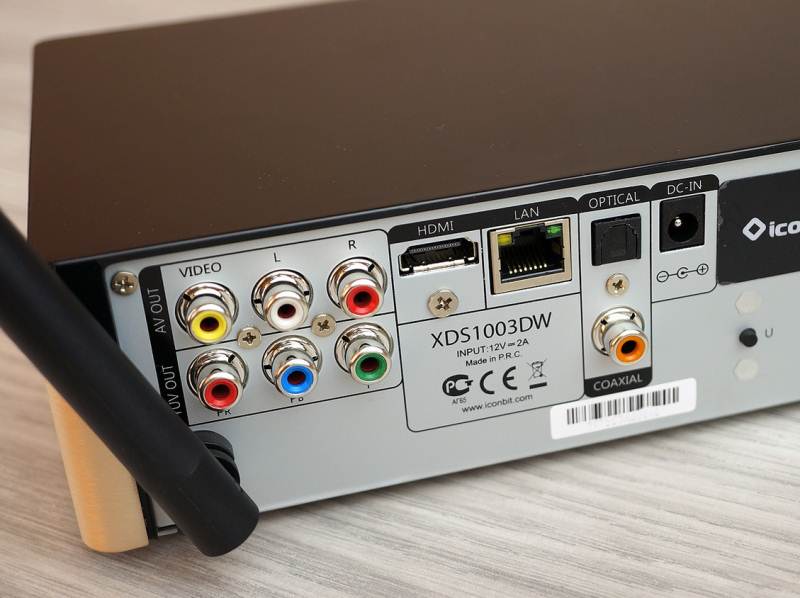 IconBIT console sold in voluminous white cardboard box, which is located inside the device, firmly held in place by soft lining and a cardboard box smaller – with accessories. Inside, buyers will find a power supply, HDMI-cable, USB 3.0 Type A – Type B, RCA-cable (colloquially called "tulip"), remote control, two batteries AAA and a brief guide on installation.
Appearance –  iconBIT XDS1003DW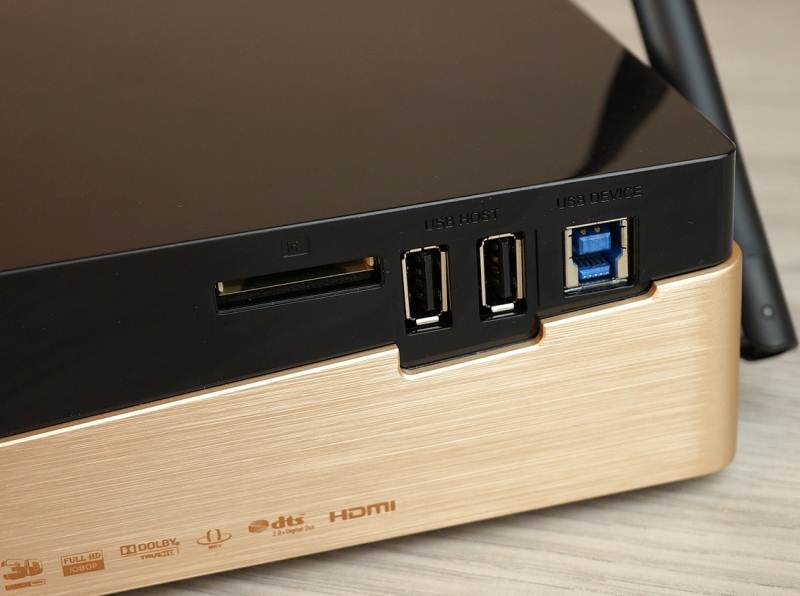 Housing iconBIT consoles made of different materials. The upper part – of black and glossy plastic, which regularly collects fingerprints and side faces surrounds the aluminum plate, copper-colored. Removable bottom plate is made of steel. This design can not be called ordinary: thanks to him, "box" attracts attention and blends in different interiors.
The media player has pleased a large variety of ports and connectors, audio and video, for connecting peripherals to the device. On the rear face iconBIT XDS1003DW are three composite outputs (TV out), three component output (YUV out), HDMI-output connector 8P8C for connecting Ethernet-cable, two SPDIF-connector – optical and coaxial connector for connecting the power supply with a round connector, connector for Wi-Fi antenna, and the only button that is responsible for switching the device. On the right side of the panel to make a hole through which the inner produces cooler air blowing.
Connectors for external storage manufacturer placed on the right end of the device: two-port USB 2.0 Type A – for connecting storage devices and peripherals, and one port USB 3.0 Type B – for connecting the supplied cable set-top box to a computer, and a slot for memory cards format SD.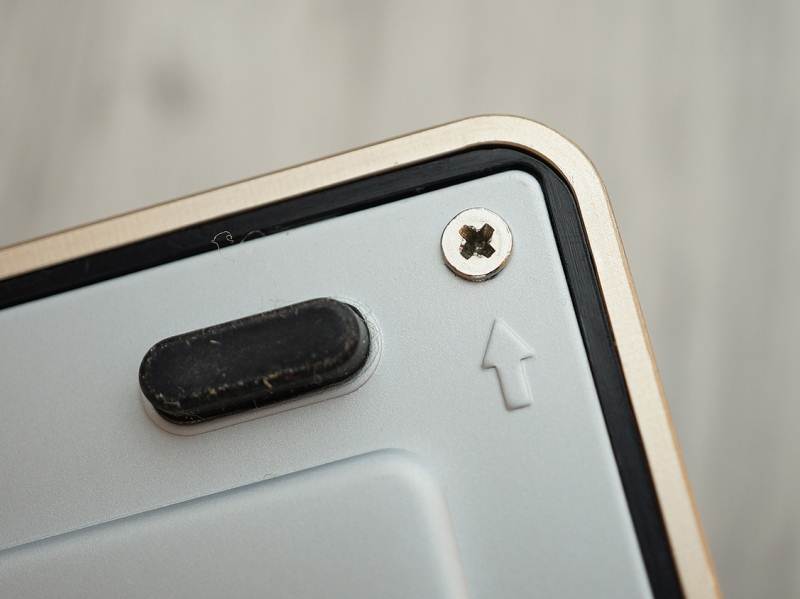 Left end does not contain anything interesting, while the front panel of the unit closed transparent dark plastic, under which there is a text display with blue backlight inconspicuous. It is visible only in the ON state, and displays various useful information.
To get to the innards consoles enough to unscrew the four most common Phillips screws on the bottom panel. Inside you can see in detail the motherboard, network WLAN-card connectors and internal service, but we are most certainly interested in the ability to connect a 3.5-inch HDD drive. Includes disk is not available, so it will have to be purchased separately. However, due to this you can choose the amount of their own. Install it, simply screw the hard drive with four screws to the slide on the inner side, and then gently place the cover into place. Designated drive missing, most importantly – do not crush in the process of installing various communication cables inside the enclosure.
Interface –  iconBIT XDS1003DW
Include the prefix, we find ourselves in its main menu. Control device is offered with the bundled remote control. Action Taken main keys are the same for any device and intuitive: the arrow keys to select the desired item, "OK" button to confirm the "Menu" to launch the available options. Apart from this, the handset is also a lot of extra keys that are in different menus and subsections consoles can perform different functions. Usually in this case the bottom of the window, there is a hint that you can do this or that button – so master device which is faster and cheaper than by reading the instructions.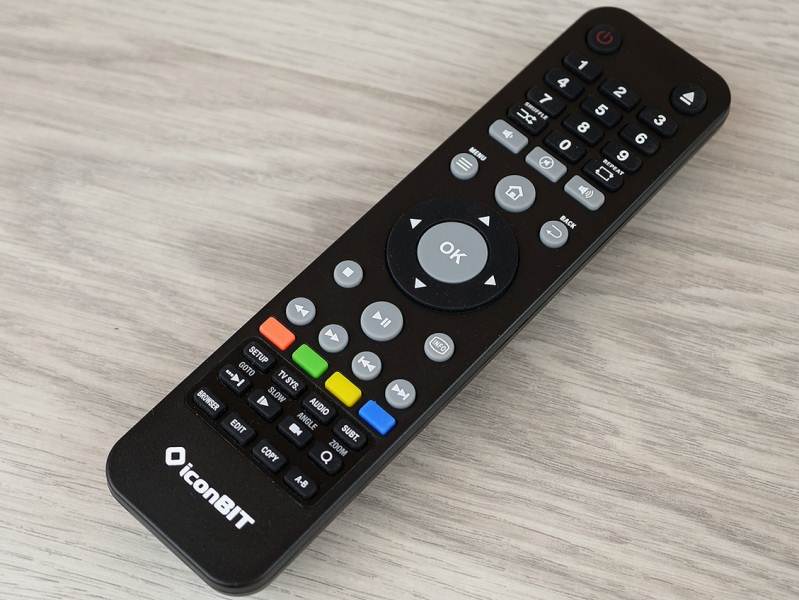 In the main menu you can get to the file manager menu "Music", "Video", "Photo", a list of installed applications available for viewing online resources and settings. And also – to the desktop operating system Android 2.2 Froyo and does (the latter require for their work installed hard drive). In the lower right corner of the main menu are indicators consoles connect to the network, hard disk, external disk drives. And if there is a connection, there appears IPv4-address of the device on the LAN.
Playing video and music –  iconBIT XDS1003DW
Prefix iconBIT XDS1003DW easily recognized the installed hard disk drive Seagate 500 GB on which test was loaded movie in MKV («matryoshka") 1080p size of about 16 GB. Playing this file started without delay and rewind work correctly and smoothly. Generally, the correct support of the majority of the currently used video formats and codecs (in the case of MKV also should be noted adequate recognition of multiple audio tracks and subtitles) – one of the main advantages of the device, because it can boast not all hyped now Smart TV.
Play media iconBIT XDS1003DW able and from network repositories. And supports various protocols: SMB (used mainly for networking of computers running Windows), NFS (the protocol used in operating systems Linux) and DLNA (universal protocol for transferring media content). Of course, this will need to connect the device to the router, you can do either patch cord from the connector 8P8C (often mistakenly referred to as RJ-45) or Wi-Fi. It is no secret that the first method is preferable because the power cable is able to transmit data at much higher speeds (up to 1 Gbit / s) than Wi-Fi (up to 70 Mbit / s in ideal conditions) and less affected by external factors. For example, the quality of data transmission on the Wi-Fi may significantly decrease, if receiver and transmitter disposed main walls or objects well shielding light, as well as ester downtroddenness neighboring wireless networks. Despite this, paying extra for the presence of the device Wi-Fi, we expect that this feature will comply fully with the declared objectives. Because testing and playing with SMB-server from the local network, we decided to just Wi-Fi.
The result exceeded expectations – iconBIT XDS1003DW no trouble running the movie in MKV format and 1080p resolution for a wireless network. All it took him – a slight pause before playing for buffering. Fast, however, when playing "heavy" video on Wi-Fi is not so good, but the rest of the work-top boxes no complaints.
Caused no problems, and playing music on SMB-network: without stuttering and lockups failed to start the playback of audio in lossless-format FLAC, not to mention the MP3. iconBIT XDS1003DW correctly handles audio tags and album art shows when available.
In addition to the internal hard drive and network storage iconBIT console capable of playing media files from external drives, and in which role can act memory cards SD, flash drives and external HDD and SSD drives. When you connect the drive to any iconBIT XDS1003DW it appears in the file manager, and can work with it, using either the familiar folder structure, or "Music" and "Video" main menu, which will automatically sort the files by type.
Port USB 3.0 type B on the side of the device is used to connect to a computer to transfer files to the internal hard drive. Before transferring files, consoles need to mount HDD to a computer that inexperienced users to not so obvious. In Windows, for example, this can be done by right-clicking on the "Start" button (or press Win + X) and selecting "Disk Management." Followed again by right-clicking on the desired drive and select "Change Drive Letter and Paths." Data transfer rate when connecting consoles to PC USB 3.0 port remains high – about 28 MB / s.
Alternatively, the data on the HDD can be transmitted over a network: iconBIT XDS1003DW can work SMB-server (this feature should be included in the settings, after which the device will appear in the "Network" folder "This Computer") or FTP-server. However, when connecting consoles, Wi-Fi data rate of SMB-network is only about 2 MB / s, which, of course, a little, although this shortcoming should not occur when a wired connection to the router. But thanks to this feature, the media player can be used as a home NAS-server, that is, as a network file repository, in which you can access from any computer.
Additional Features –  iconBIT XDS1003DW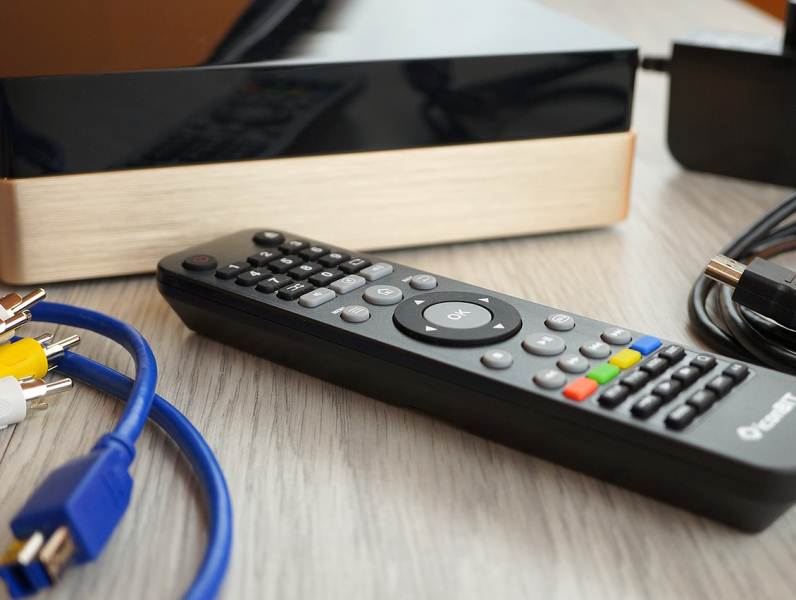 All the methods described above require a no training before start watching – download movie, download it to a flash drive, to do other things. However, the manufacturer has provided and options for the most lazy users who want to connect a set-top box – and instantly watch movies.
This requires only connect the device to the TV and router. And here it is at your disposal – a couple dozen different resources online with streaming video playback, which requires only acceptable speed Internet connection. Among the supported services – one of the largest online movie theaters IVI, as well as many other general or thematic sites. You can select a movie and immediately watch it in good quality.
Among the applications in iconBIT XDS1003DW can also find a lot of customers from other media sources appointment. First of all this, of course, YouTube, which allows you to immediately view popular videos, search for them on the site, or to log into your account and track subscriptions. Another example – Flickr, known photohosting that will show your friends your photos on the big screen, or to examine himself slideshow with pictures of familiar.
Describe all the applications installed on the console, there is no point – a lot of them. Besides all of them you probably will not use – most likely choose a couple, interesting for you.
Among the additional features worth mentioning is the ability to run the Android operating system directly from the main menu. It would seem useful thing, but to be honest, given the absence of any app store, an older version (2.2 Froyo) and not very comfortable with the remote control, to come up with any sensible use of it, we have not succeeded. However, Android – not the main feature set-top box, so you should not it have high expectations.
Results –  iconBIT XDS1003DW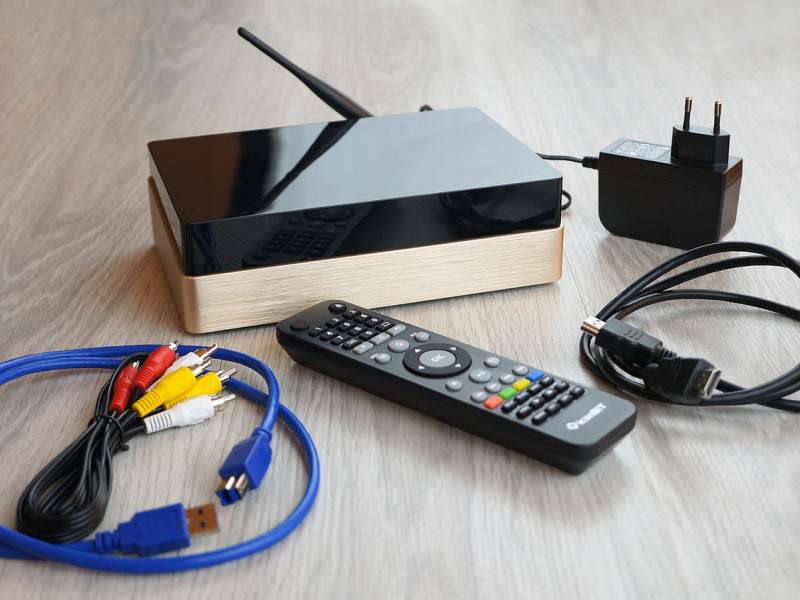 iconBIT XDS1003DW positioned as a powerful device with many features in the segment of fixed media players. As it turned out, this is far from the truth. Of course, the console is not ideal, primarily because of the firmware minor bugs that are often encountered when traveling in the menu. But his main task – to play audio and video in different formats with different drives, both local and network, – iconBIT XDS1003DW performs perfectly.
But on additional applications and functions have high hopes for costs. Despite the real benefit of some of them, the majority of programs corny difficult to manage with the remote. Faster and more convenient to do it on the computer.
However, even with this in mind, the price of 5,000 rubles per console does not seem high. If you want to buy a stationary universal media player, able to recognize different types of drives, play files from virtually anywhere, and perform other useful functions, for example, be a home NAS-server – iconBIT XDS1003DW suit without restrictions.
Pros iconBIT XDS1003DW:
support a large number of audio and video formats and codecs;
the ability to connect internal and external hard drives;
Play audio and video files over the network SMB / DLNA / NFS servers;
wireless network connection;
built-in directory of online resources with streaming video playback;
a large number of additional applications.
Cons iconBIT XDS1003DW:
awkward control of applications and Android;
sometimes there are non-critical bugs firmware.
Read another very interesting article about alternative energy of the Sun, water and air.