Curved, frankly, a little. One and a half to two millimeters deflection by 13 centimeters long. I can not say that it is strongly influenced by the convenience of using the machine. Yes, he is "comfortable in the hand," etc., but hardly here it is only in this very screen.
But generally design – definitely great. The device turned out elegant and slightly unusual (which is lacking in almost all modern smartphones). The worst of the curvature is not exactly disappeared.
LG Spirit – a nice smartphone with a slightly curved screen. Apart from the form, there is nothing interesting in the office do not. Average camera, a very weak battery, the screen without oleophobic coating is not enough memory, poor GPS. And cheaper competitors are very, very, very much. No matter what unit liked, but recommend it to buy, of course, difficult.
Equipment – LG Spirit
Charger cable Micro-USB. Replacement back cover (in my case – a golden color). By the way, the main rear cover, which is white, I liked more. And less slippery and nicer color.
Appearance – LG Spirit
1. Take a regular parallelepiped slightly on the long side. So that the back cover has turned slightly convex and stёklyshko – slightly concave.
2. blown buttons on the back cover. As the volume rocker and power button lock.
Well, to show off. Was It a better way? Hard to say. Has It the worse? No, no more. Less convenient compared with the apparatus of classical type Spirit did not. As such, these changes are very right to exist.
What else. Light. A nice matte plastic. Two Micro-SIM and memory card – a removable cover. Removable battery. Good build quality.
Colours. If you believe the site LG, three of them – white, black and gold. In fact, my "white" black unit in front, and the back cover is white. Plus kit, as I said, added a removable gold cap. Black smartphones black on all sides. Pure "gold" in the sale of machines is not particularly evident.
A little boring details about appearance.
Internal (hardware) – LG Spirit
Chipset well the familiar and the familiar, so there are no surprises. Mediocre performance is quite enough in everyday life.
That memory things where as sad. Although it would seem, is not it a little. With operations that flash.
RAM. Applications constantly fall out of memory. I understand the eighth Asphalt – it is rather big. But not that much. It should therefrom for some reason quit – he immediately unloaded from memory. About to interrupt the race, and then come back, and can be no question. Vaughn beside Fly Cirrus 1 gigabyte of the same – why is not there to this problem?
Flash memory. Yes, it is theoretically expandable memory cards. And pictures, as well as music and movies, can be folded back. But with the programs is worse. Theoretically, if you visit in your program, then you will see there are many buttons "Move to the card SD". In practice, carried over only a portion of the program, and not all. And, most otherwise not transferred caches games that usually occupy 90 percent of the total space. Generally, updating to the newest version of everything that was on the smartphone, plus putting your normal set of software, I have sadly discovered that GTA San Andreas is not enough space.
Sensors. There are the proximity sensor, accelerometer, and even have a compass. Surprisingly, there is no light sensor. Not that I suffer from his absence, strange but true.
Budget IPS-screen with all its consequences. Serious (that is visible to the naked eye) are two problems.
1) Lack of normal oleophobic coating. Covered with fingerprints display rapidly. And handkerchiefs fat from the screen sotrёsh.
2) a tall white minimum brightness.
For the rest, all relatively well. Brightness is more or less enough resolution – too good lubricity.
A strange feature of LG Spirit – settings can be set to "Brightness night". And when the smartphone will automatically reset the display brightness to the minimum … From midnight until six in the morning. Configure the time interval is not possible.
The operating system and other software – LG Spirit
Android 5.0.1 Lollipop plus a proprietary shell and a number of proprietary software from LG.
Battery – LG Spirit
The battery of LG Spirit  is at present, not the most capacious – 2100 mAh. And I knew that the test results will be so-so. Still I did not expect that they would be so sad. The screen is small, and a modest resolution. And – who knows – suddenly somewhere then optimized?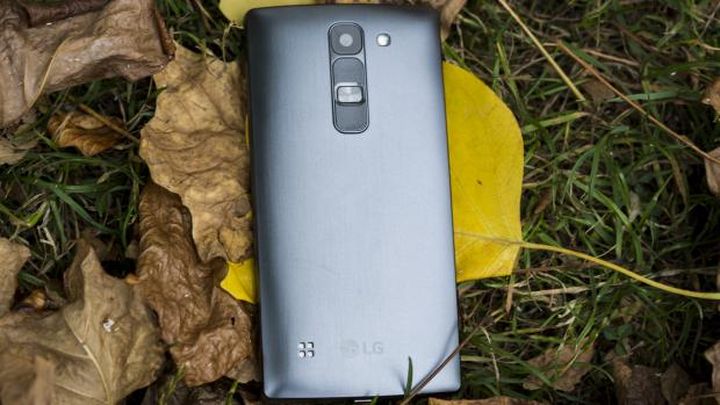 Bad bug. The last 10-15% charge "go" insanely fast. Just melt in front of a couple of minutes. The obvious problem with the battery calibration.
The flashlight of the smartphone LG Spirit  has turned out quite good. Eight suites with one hundred and eighty centimeters – enough to light their way in the dark.
LG Spirit as photo and video camera
Nothing special from the camera itself does not represent. However, in this price range to more hope and no. It works smartly? Hustler. The picture quality acceptable? It is. Want more – sell a kidney or a piece of liver, buy flagship.
GPS is behaving oddly. Look tracks and check it out first as the first sausage. Ie Smartphone as it considered that it is to position. But this position has defined his very crooked. Then, five minutes later, I came back to normal.
The effect is more or less stable. A couple of days after a walk put the smartphone screen – again he felt that he was a hundred and fifty meters from my house.
Ie I kind of understand that there are times when the device for a long time to catch the satellites. This is normal. But I assume that you are completely determined its location, but to show it is wrong – it's not fair.
LG Spirit as a toy
Everything is good, the game drawn. But the place for them, alas, too little.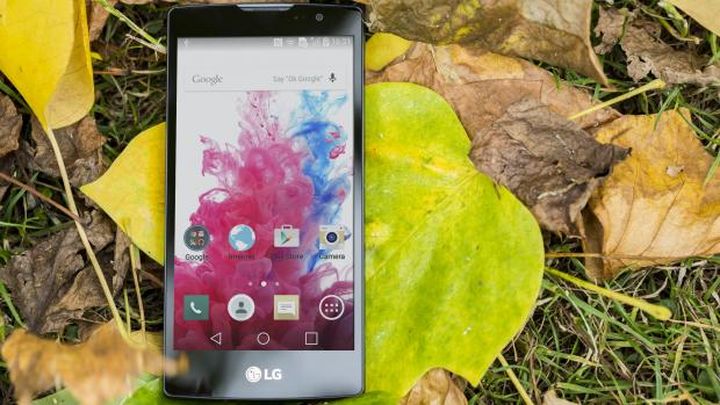 By the way, incredibly annoying that Google Play starts successfully download large applications, even if it is clear that the place for them is not enough. Then, of course, he has to interrupt the download, because place finishes. But it is something that managed to download, not deleted! Ie Here you have a half gig of free, you put to download the toy of two gigabytes. One and a half gigabyte download, upload flew, the program is not established … and disk space is no more. Okay, we're geeks – we will look at how to clean it. A normal kettle what to do?
In total – LG Spirit
Really I liked the idea of a slightly curved smartphone. It is extremely pleasant.
By the very same LG Spirit small claims quite a lot. They are all pretty obvious. And probably each of them individually is not critical. But all together … So, perhaps, recommend Ghost to buy, I would not venture.
Source: expertreviews
Read another very interesting article about alternative energy of the Sun, water and air.