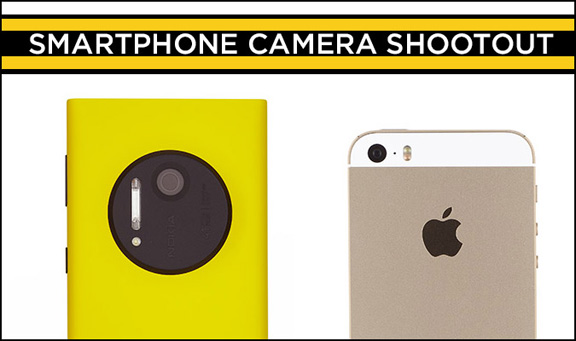 In July, Nokia introduced the Lumia 1020 – the flagship camera phone, which incorporated the features of the previously released smartphones Nokia Lumia 808 and 920: it has inherited from the first 41-megapixel camera, the second – dimensions, screen size, platform and Windows Phone 8. The device has advanced photographic features such as optical image stabilization, a bright xenon flash, six in the lens and LED-lights for video recording.
Maximum resolution photos that can do Lumia 1020, is 38 megapixels (when the aspect ratio of 16:9). Available mode PureView, through which you can either do a three-fold increase for shooting at a resolution of 5 megapixels, or significantly improve the image quality – this smartphone uses oversampling, converting 38-megapixel picture in picture with a resolution of 3 to 8 MP.
Apple, in turn, also paid attention to the quality of photos and video in the new flagship iPhone 5s. Smartphone camera sensor is bigger by 15%, and optics has an aperture F2.2. Lumia 1020 a number of technical characteristics inferior to "apple" of the new product, but the camera seemed to be an advantage on its side. But observers resource Laptop Mag claim otherwise. They conducted a large-scale testing, the results of which made a clear conclusion: the 8-megapixel camera iPhone 5s in most cases superior to shoot 41 megapixel camera camera phone Nokia Lumia 1020.
"In the end, the victory was for the iPhone 5s, which beat Nokia Lumia 1020 7 out of 10 of our tests. Even after updating the camera software of the Finnish system, eliminating the problems with the blue flare in the images, the color rendering in Apple-smartphone is still better. Photos of iPhone 5s have excellent detail and contrast, "- said in a Laptop Mag.
The experts made ten test shots with the iPhone 5s and Lumia 1020 under the same conditions and compare the results. In 7 out of 10 cases, the camera phone was better than Apple.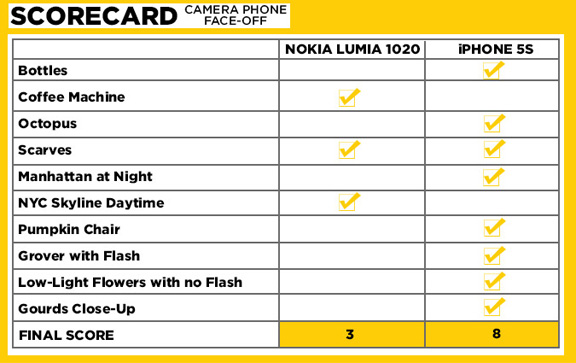 Sample Images:
Read another very interesting article about alternative energy of the Sun, water and air.