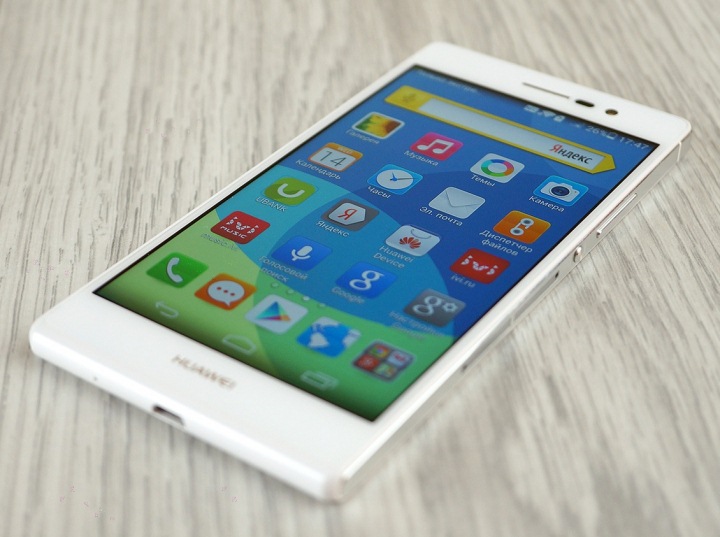 Huawei is actively trying to prove that smart phones from China are not only low cost but also flagship, and even fashionable. New smartphone Ascend P7 is positioned as a premium device, equipped with the best quality in the market vosmimegapikselnaya front camera. Moreover, it is one of the few champions with support for two SIM-cards.
Packaging, equipment Huawei Ascend P7
Ascend P7 is packaged in a pretty white box. Neatly stacked inside her smartphone, AC adapter, headset ("ear" with a decent sound) and network adapter to connect to an electrical outlet.
To the user it easier to cope with micro-SIM and microSD, the manufacturer has added a set of special "skrepochku" intended to open slots. On the phone's stuck transparent protective film – certainly many users decide to leave her.
Appearance Huawei Ascend P7
Ascend P7 looks elegant, but not to say that original. Ascend P6 from the novelty is not too hard, but definitely for the better. First, the Chinese decided to close the glass Gorilla Glass not only the front, but the back side of the smartphone that will definitely add a gadget solidity. Secondly, the front part of the device is hidden under the glass up to the ends, which also went looks good.
Like its predecessor, Ascend P7 – one of the thinnest smartphones on the market. Being large enough in width and height, the gadget has a thickness of just 6.5 millimeters.
Of course, in the exterior of the gadget you can easily guess the reference to other brands of smartphones. However, good and not ashamed to borrow, and Ascend P7 really showy. He sleeker and more attractive many competitors with similar diagonal display.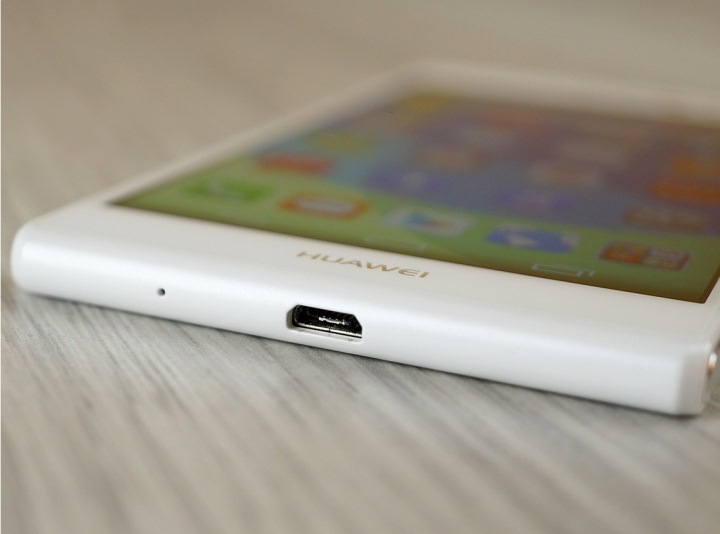 All the ends of the gadget, except the lowest, were edging in aluminum. On the front of the unit is a five-inch display. Side frames his thin, but the top and bottom designers Huawei chose to leave a lot of space.
Directly below the display – silver inscription Huawei, physical or sensory navigation buttons provided, management is carried out using the softkeys. Above the screen we see a fairly large earpiece, dual cavity proximity sensor / light and front camera lens. There is also a LED that lights up when notifications.
At the bottom there is the entrance to micro-USB, a little to the right – a small aperture for the microphone.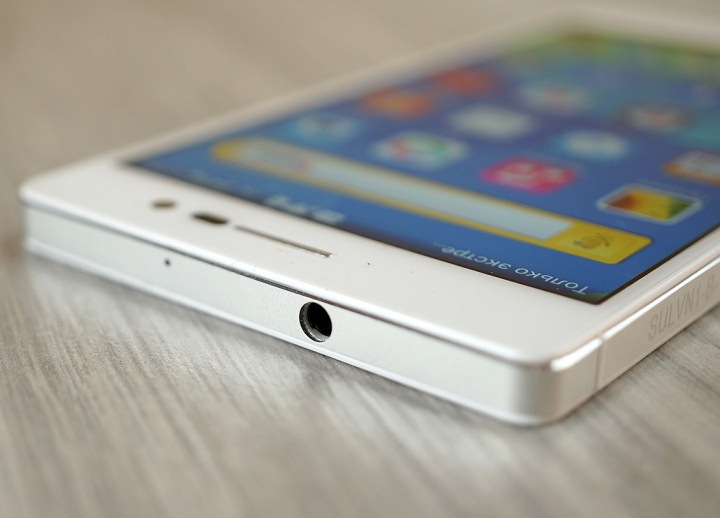 At the top end we find a 3.5mm headphone jack and a second microphone, designed to provide "smart" filtering noise when talking.
The most interesting offer on the right edge. Manufacturer has placed it in the middle of a small, almost "submerged" in a special recess in the housing, the power key / lock. Next – a neat metal volume rocker. Under the key lock with two slots placed directly nominated by a special or just skrepochki acute needles.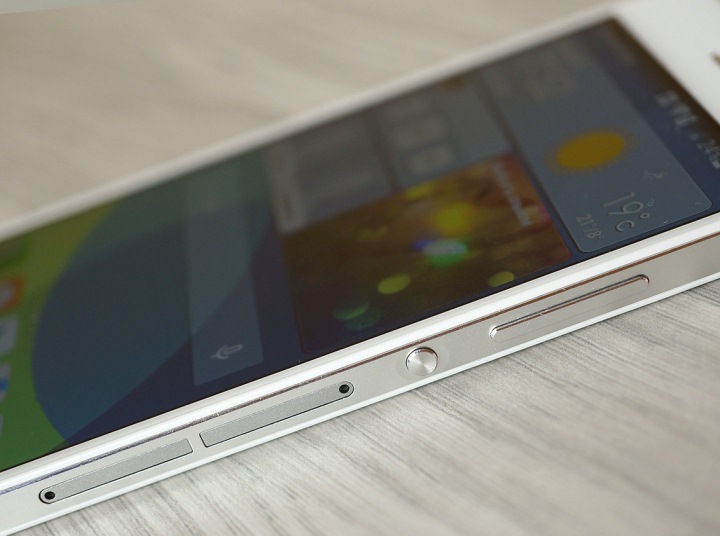 Here we come to a very good idea of ​​Huawei. There are two versions Ascend P7 – one and two SIM cards. In the implemented version dvuhsimochny unique design of the tray, whereby it can be inserted simultaneously and the SIM, and microSD. In all versions odnosimochnoy easier – one tray is used for SIM, the second memory card.
Unfortunately, we got to charts "odnosimochnaya" version of the flagship, so that innovation live test failed. In the upper left corner of the main camera lens is located under it – the largest LED flash. In the lower left corner – an elongated main speaker.
The rear panel is also completely hidden under glass, under it – plastic with a light, barely noticeable textured. Looks very good. Logo Huawei – neat and small.
Ergonomics  Huawei Ascend P7
Mixed impressions. On the one hand, the device does very thin and light. Thanks to this little strained wrist and fingers comfortably reach to all areas of the screen. However, the record is kind of subtlety gadget harm, since the ends can dig into the palm unpleasant.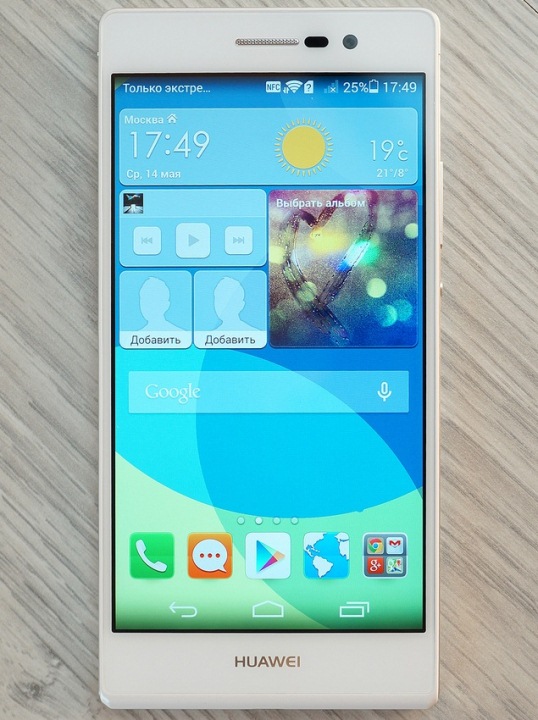 Like any "blade", the smartphone can be uncomfortable to use for people with short fingers. With dimensions of 140 by 69 millimeters it will be difficult to cope with the gadget with one hand.
When this device is perfectly positioned in narrow pockets slim line of jeans and they hardly bulge due to its subtlety. However, the length of Ascend P7 is that of shallow pockets device may fall out.
It should be noted convenient location of the keys. The lock button on the right edge perfectly fits the thumb – it is small, neat and very nicely pressed. Conveniently located and volume rocker. Also of note is the high build quality and materials. Telephone monolithic: any backlash or creaking in the device was observed.
Screen Huawei Ascend P7
Huawei Ascend P7 received one of the highest quality screens available on the market. Five-inch Full HD-display features an ultra-high image density – 445 dpi. However, in the standard scenarios, it will hardly be noticeable unless you hold the device close to the eyes.
Nevertheless, it is nice to see that some point is almost impossible, even if you really try.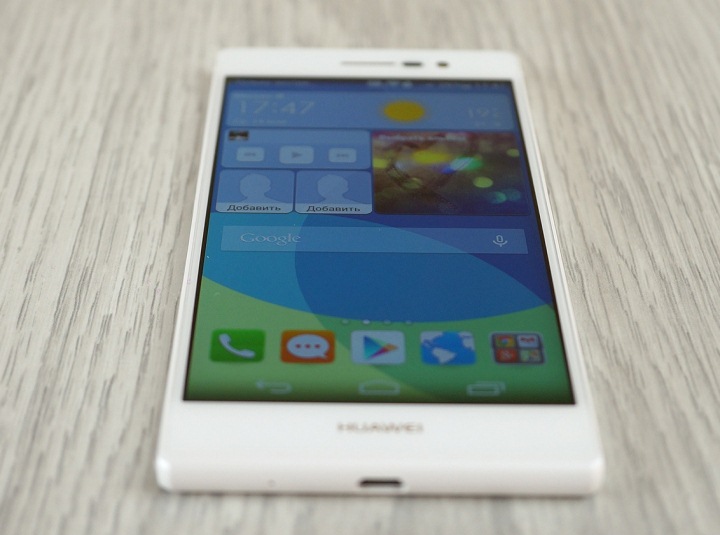 Screen colors perfectly conveys virtually no fade under the bright sunlight, does not suffer from glare and reflections. Thanks to technology One Glass Solution protective glass is not felt, the image lives right under your fingers.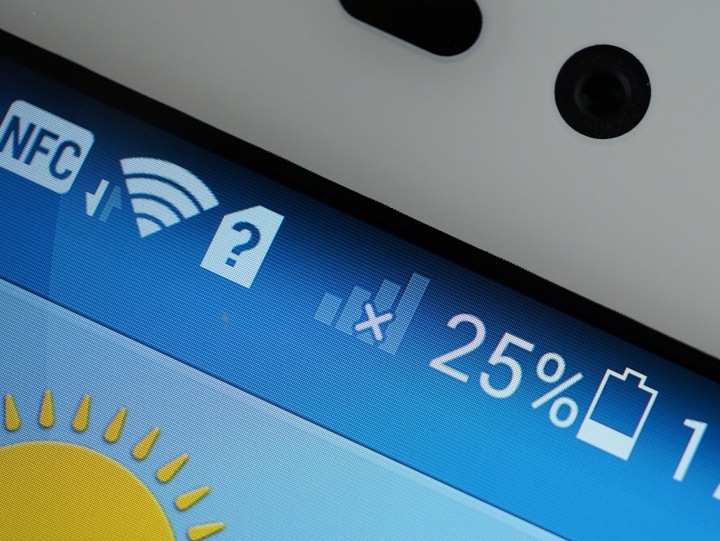 Sensor simultaneously processes up to ten touches, with very high accuracy – without any problems manage to hit even on minor links in the browser.
Delight and wide viewing angles, allowing the display to look at from any angle. Perhaps the only thing that you can complain about – oleophobic coating. It is nice, but light finger marks still remain. Occasionally a light sensor is triggered unnecessarily harsh, obscuring the display or blowing out too quickly. The rest of the screen Ascend P7 only pleases.
Interface Huawei Ascend P7
Ascend P7 running on running Android 4.4.2, which is installed on top of the interface Emotion UI 2.3. Huawei has brought to mind its own firmware – the device works with it without lags and freezes, the interface looks nice and very logical. The company guided by considerations of maximum simplicity: the Chinese abandoned typical Android concept of separation of the screen shortcuts and screen applications. All installed software is displayed on the desktop. Moreover, some labels can be collected in a folder – it is comfortable and functional.
A wide range of cute by changing the interface of the device.
Optionally, you can activate the mode Simple, transforming the desktop in "tiled» a la Windows Phone. Looks so-so, but its user function was likely to find. The most conveniently located right at the top curtain, where, without going into the settings, you can make almost any necessary action – activate 3G, Wi-Fi, a flashlight and so on. In this case the notification bar does not look overloaded.
Huawei has built a device for saving your own instrument, capable of quickly disable wireless interfaces, leaving only the cellular network. In this case, the device will be able to work until the end of the day at 10% charge.
Especially noteworthy feature allowing for double pressing the volume down quickly take a picture, even if the device is locked. If you need to quickly shoot an incident, do not have to unlock the phone first, and then look for the camera app – on whole process takes literally seconds.
Notification bar is accessible from the lock screen – to swipe down. Swipe up opens an additional mini-menu that allows you to open the calculator, flashlight app "Mirror" (just a beautiful frame for a picture with the front camera).
The list of open applications have a special basket icon allows you to quickly clear the memory. The same can be done in the Control Manager, reviewing in detail how much each application consumes resources and battery power.
Unit in operation Huawei Ascend P7
By their performance Ascend P7 is at last year's champions, essentially conceding models this year. However, due to the optimized insertion device is very fast, there is not even slowing down in "heavy" applications. Nevertheless, it is obvious that in the future Ascend P7 earlier cease to deal with high-end games than other flagships this year.
Responsible for the performance quad-core Hisilicon Kirin 910T 1.8GHz. As a graphics accelerator performs Mali T450. Average amount of RAM – 2 GB.
Benchmark Antutu device has gained 25,304 points, being "weaker" than last year's HTC One and Galaxy S4, not to mention the more recent models. Good but not outstanding result showed smartphone and 3D Mark test on Ice Storm Unlimited – 5100 points.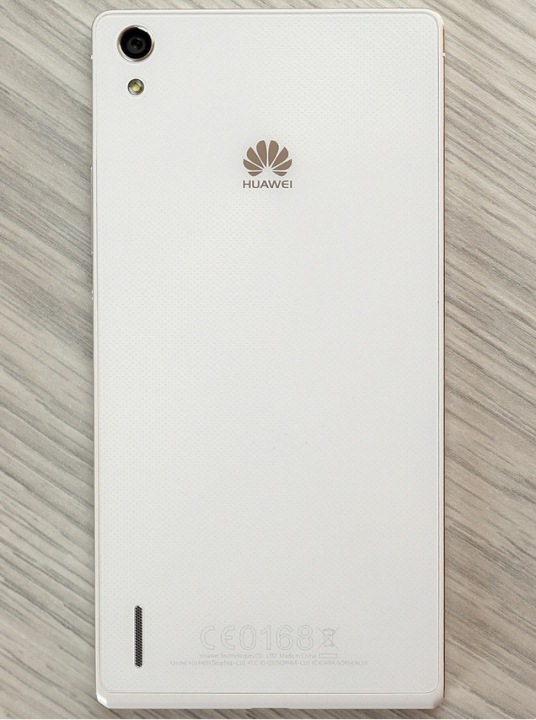 However, if you forget the defeat in the synthetic tests, in the Huawei is not inferior colleagues segment. When working with the browser loads quickly even "heavy" pages, tabs smoothly scaled, the phone is not inhibited, while the opening of a large number of sites.
Slightest braking was not seen in the interfaces. Gadget plays flawlessly streaming HD video from "Vkontakte" and YouTube.
Even when playing games in high-Phone Case practically basked: intensive applications where many other gadgets become uncomfortably hot, I can feel Ascend P7 except light warmth.
All games tested on the device worked perfectly. Not hindered nor zombie shooter Dead Trigger 2 nor runner Minion Rush. Race with quality graphics Asphalt 8 worked flawlessly, not to mention the 2D-type taytly Angry Birds or Cut The Rope.
Built-in speaker has good sound quality, but the average volume. Call can not miss, but will fully listen to music except in a small room. A headset bundled has surprisingly good sound and sensitive microphone. True, the "shell" is not very comfortable, and can suddenly fall out of the ears.
Camera Huawei Ascend P7
Huawei Ascend P7 received a quality 13-megapixel camera module, produced by Sony. Outstanding it is difficult to call, but, nevertheless, the pictures are amazingly sharp even in motion. Autofocus is fast and accurate color rendition is very intense (sometimes even at the expense of realism).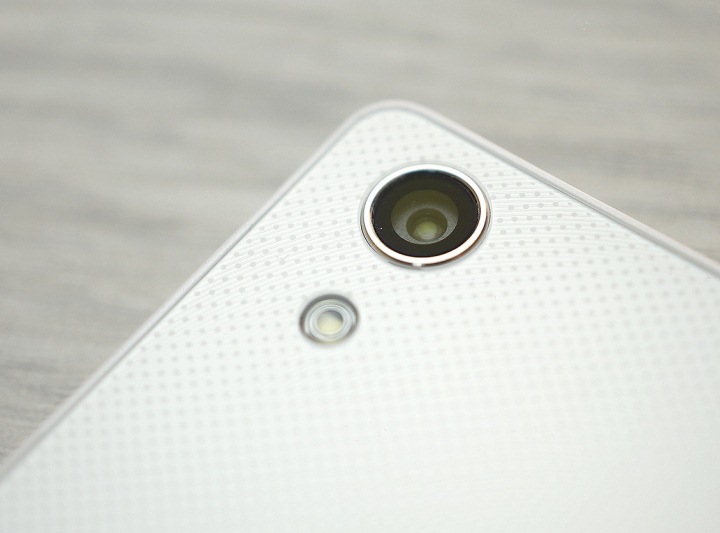 Camera application starts instantly. Flash power does not cause delight and an essential tool for shooting her in the shadows can not be named. Wherein, in the low-light photo quality is still possible to get, although once at the time is not necessary. Maximum resolution is 4160×3120 shots.
Camera app itself is very comfortable and practical. All necessary features elaborately arranged and always close at hand. The application supports the creation of GPS-tag, there is a mode HDR, the ability to create circular panorama.
The default mode is activated "Decoration", which is slightly "blurs" the skin, making it look cleaner and smoother. However, due to the use of such a virtual "foundation" picture significantly zamylivaetsya.
From various "bling" can be noted "Watermarks" – a very interesting feature that allows you to attach tags to images loaded with interactive online information on location, weather and so on. Looks great. Not without a pack of filters allows addition audio.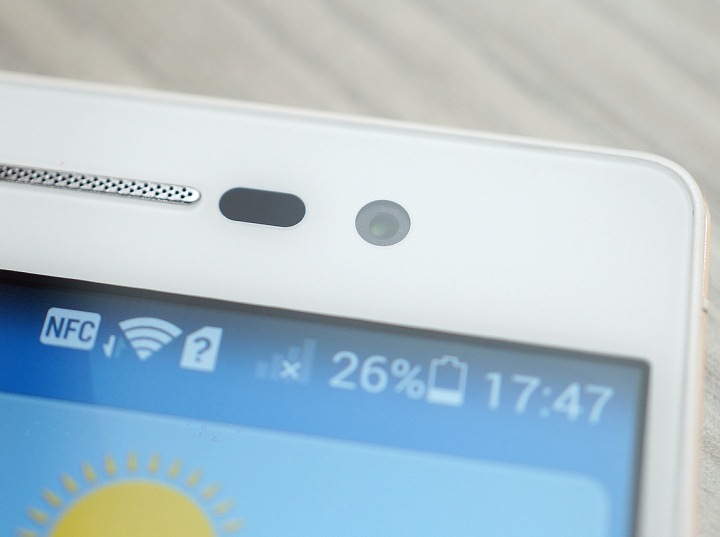 Especially noteworthy front camera unit. In Huawei Ascend P7 proudly dubbed the best smartphone for "selfi", equipping it with an 8-megapixel front-end modules. Recall that in the same iPhone 5S is used, for example, 1.2-megapixel front camera.
As a result, "front" picture really looks great. However, to say that it is much better than other cameras in flagships, still can not. However, all who are concerned about the problem of quality "selfi" pay attention to Ascend P7 still stands. Resolution frontal shots allows zoom in and crop your photos without any problems with pixelation. And so when communicating winner Skype phone from Huawei will look just fine.
Especially for "frontalki" and implemented several software "chips", the most interesting of which can be called Groufies. If you want to do mass "selfshot" and everyone can not fit in the frame can be glued together three wheel pictures. Obtained quite EXP.
By default, the front camera takes a picture immediately, but after a three-second countdown. The author had to dig into the settings to turn off this annoying piece. But pleased thumbs small window located in the upper right of the screen, right under the camera. Looking back, we can estimate his face during the shooting, but look at the picture will look exactly the frame, and not somewhere to the side, as is usually obtained when shooting front "selfi."
Wireless interfaces Huawei Ascend P7
Here flagship "Chinese" no problems. The gadget is well caught the cellular network even under unstable signal on the outskirts of the city, 3G and LTE network on the device showed decent speed.
Talking Product Huawei really nice – front speaker loud and clear, the parties note that the outgoing sound quality is also good. Vibrate powerful and distinct, without missing a call, even if the sound is muted.
The device supports Bluetooth 4.0 and fully matched with "smart" bracelet from Jawbone. And was able to connect wireless headphones. Worked without problems and Wi-Fi, and LTE.
The gadget supports GPS (A-GPS) and GLONASS positioning speed in navigation applications is high, problems with accuracy and stability of satellite signal reception is also not found.
NFC-module is triggered instantly, Moscow metro cards were read without problems.
Autonomy Huawei Ascend P7
Autonomy gadget – just the same on a different level. Battery 2460 mAh allows the holder Ascend P7 safely leave home without the charger if it is not going to play a long hard game. During testing by the end of the day usually had at least a third charge with average usage activity.
In playback mode, HD video wireless interfaces with disabled and maximum brightness gadget lasted 5 hours. Hour game Asphalt cost 8 in 23% of the total charge of the gadget.
Results Huawei Ascend P7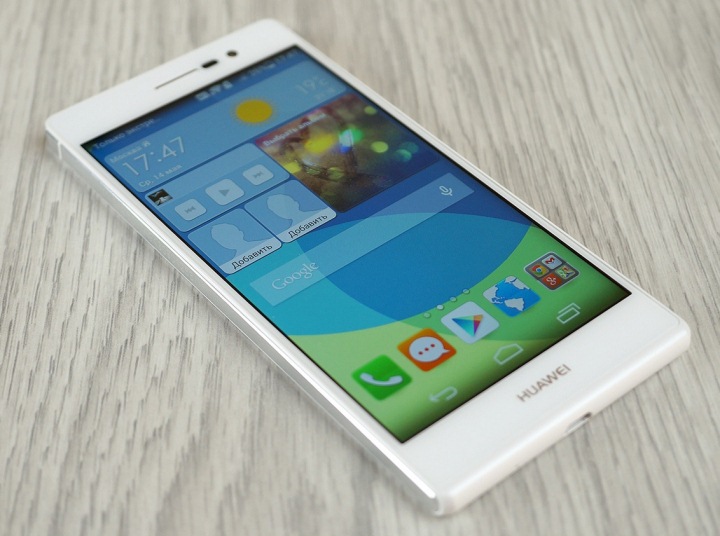 Huawei Ascend P7 – beautiful, well-established device which, nevertheless, can hardly be called a full-fledged flagship. For the company it can be very flagship, but to compete with the major monsters segment him early. However, the gadget attracts build quality-designed firmware, pleasant, though somewhat secondary design, and (for some it is very important), good front camera. It should be noted that it is worth much more modest its "flagship" of competitors. The company promised that Ascend P7 price in the domestic market will be less than 580$.
Second basic meaning of the hieroglyphs constituting name Huawei – «great action." And it fits the company no less first. Huawei has not yet pressed the whales, but in the back of them breathes more tangible. For us it's especially good because it does not gives manufacturers rest on our laurels, forcing to improve their products in the pursuit of our sympathies. And it is – a really great effect.
Pros Huawei Ascend P7:
very high-quality display;
researched software;
powerful front camera;
good battery life.
Cons Huawei Ascend P7:
performance at the level of last year's champions;
sharp edges;
ultrathin body can dig into his palm.
Read another very interesting article about alternative energy of the Sun, water and air.