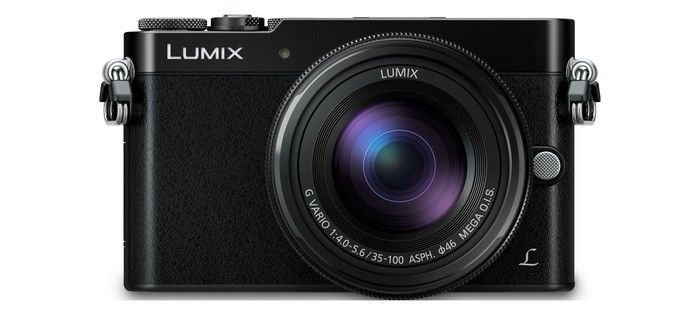 The exhibition Photokina last year, Panasonic has officially unveiled two new lenses designed for mirrorless vehicles GM-series. Among them – the compact zoom Lumix G Vario 35-100 mm f / 4.0-5.6 ASPH Mega OIS. This is a very interesting optics, covering a focal length range of 70 – 200 mm (equivalent to 35mm film) and is suitable for shooting a wide variety of subjects, from portraits and ending photographing sporting events. In addition, the zoom turned relatively lightweight and compact.
Features and Specifications
Lens Lumix G Vario 35-100 mm f / 4.0-5.6 ASPH Mega OIS is elegantly finished body of metal. Stylistically, it combines very well with mirrorless cameras GM-series. The model is available in black and silver design of the housing. New boasts compact (length – 60 mm diameter – 56 mm) and light weight (135 grams). This excellent performance for optics, covering a wide range of risk factors. Due to the small size of the lens 35-100 mm f / 4.0-5.6 is convenient to use with such tiny mirrorless cameras family MFT, as, for example, Lumix GM5 (our test Lumix DMC-GM5).
A combination of a wide range of RF and compact size optics engineers Panasonic has been achieved by the sliding mechanism. Modifiable risk factors of 35 – 100 mm (70 – 200 mm in 35 mm equiv.) Gives photographers the ability to shoot portraits and do close-ups with a beautiful background blur. This compact zoom is perfect for everyday shooting.

Among other special features worth noting the presence proprietary optical image stabilization Mega OIS, which is designed to compensate for camera shake to get a clean images and sharp. Optical stabilizer is activated through the menu mirrorless camera Panasonic. The lens is equipped with an internal focus mechanism with a stepper motor.
The manufacturer claims that the optics is fully compatible with a sensor that can do up to 240 frames per second. That is, this gives an advantage bezzerkalkam optics with high-speed contrast AF system as when taking pictures and recording video. Minimum focusing distance – 90 centimeters. As used when shooting inner focusing, the front lens does not rotate, which allows you to comfortably use the lens Lumix G Vario 35-100 mm f / 4.0-5.6 with polarizing or gradient filters.
Optical properties
Optical lens design consists of twelve elements in nine groups. In optics used one aspherical lens element and two extra-low dispersion (ED) to minimize chromatic aberration and provide higher contrast images. Seven aperture blades are rounded. In Panasonic also claim to have a multi-layer anti-reflective coating, which is designed to prevent glare and otbliskov.
According to our tests, when the DF 35 mm and a maximum aperture provides excellent sharpness across the frame. It remains so until the aperture value of f / 8. On the FR 50 mm sharpness increases strictly in the center of the frame, but, as a consequence, decreases slightly closer to the edge of the frame. However, changes in sharpness is not too much, and even frame boundaries remain fairly sharp and clean. While the sharpness in the center of the frame for a given RF is really impressive.
Finally, using the RF 100 mm, the best results can be achieved at the maximum aperture. Here sharpness in the center of the frame is excellent, on the edges – at a good level. The difference is not significant, most photographers to distinguish with the naked eye simply can not. It can be seen only by opening and slightly increasing the photographic image in Photoshop or Lightroom. Thus, the lens Lumix G Vario 35-100 mm f / 4.0-5.6 gives a very high sharpness short DF and lower, but it is quite acceptable, with more zoomed in on a fully open aperture.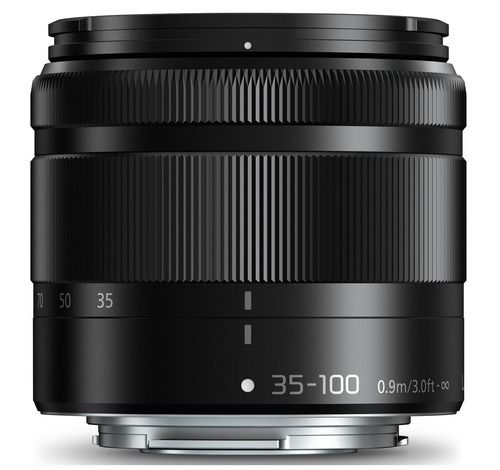 All of the chromatic aberrations of the zoom range is actually minimized. However, when shooting on the DF 100 mm sometimes unpleasant effects are manifested in the contrasting areas of the image on the borders of the frame, especially if the photo printed in large size. In general, it should be noted that the lenses Panasonic, installed on the system branded cameras, really well with chromatic aberration. This applies in particular and this lens, and many others. In this case, minimizing aberrations and contribute aspherical lens ED-elements. With the lens Lumix G Vario 35-100 mm f / 4.0-5.6, you can create very beautiful bokeh effect, separating the subject from the background. New also has a low sensitivity to glare.
Summarizing, we can say that for the price (around 350 euros) lens Lumix G Vario 35-100 mm f / 4.0-5.6 looks very attractive and interesting for many users. Among its advantages:
Wonderful sharpness throughout the zoom range with open aperture;
Optical stabilization;
Good portability thanks to retractable design;
Lightweight.
Of course, for about the same money for the system can be found MFT lens with a large zoom range, but most likely it will play Lumix G Vario 35-100 mm f / 4.0-5.6 in their optical characteristics and quality of the generated images. So it is worth a closer look to this new product from Panasonic, if you are looking for a compact, lightweight telephoto lens for portraits and a variety of everyday subjects.
Read another very interesting article about alternative energy of the Sun, water and air.