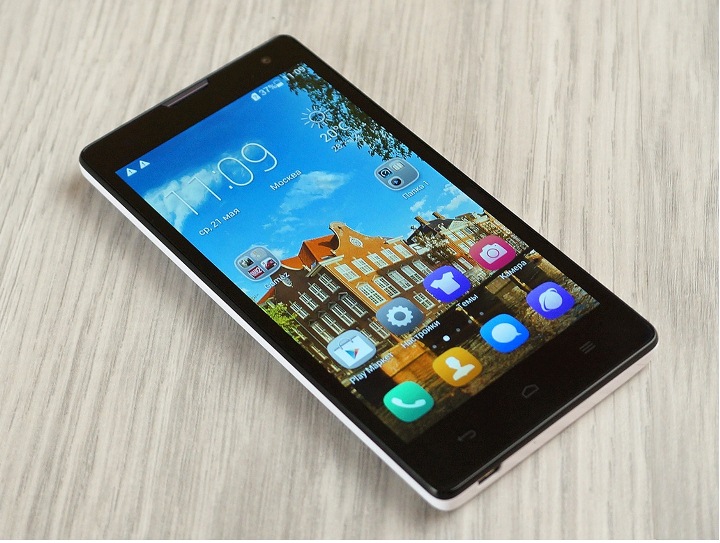 Huawei has long been favored in the low-end segment. It does it without success, worthy of competing with other producers. But even in the segment of affordable smartphones can not long remain in place, it is necessary to delight users novelties. Honor 3C just that newcomer designed to continue the uphill battle. Despite its budget orientation, the smartphone is equipped with a quad-core processor, 5" IPS screen, 8 GB of internal memory and a decent battery life. You can choose from several versions with different amount of RAM. It got us to the test maximum charged version with 2 GB. Is smartphone worthy of public attention given to him? Not just three days after the official release was reserved 1.5 million units?
Technical characteristics Huawei Honor 3C
Screen: TFT IPS, 5,0", 1280×720, capacitive, multitouch;
Processor: Quad MediaTek MT6582 1,3 GHz;
Graphics Accelerator: Mali-400 MP;
Operating System: Android 4.2.2 (Emotion UI 2.0);
RAM: 2 GB;
Internal memory: 8 GB;
memory card support: microSD up to 32GB;
Feedback: 2G: GSM 900/1800/1900, 3G: WCDMA 900/2100;
SIM: SIM-card + micro-SIM, Dual SIM Dual Standby (DSDS);
wireless connectivity: Wi-Fi 802.11 b / g / n; Bluetooth 4.0;
Navigation: GPS, Assisted GPS / GLONASS;
Camera: Basic – 8 megapixel (flash, autofocus) Front – 5 megapixel;
sensors: a light sensor, gyroscope, motion sensor;
Battery: 2300 mAh removable;
Dimensions: 139.5 x 71.4 x 9.2 mm;
Weight: 140 grams.
Packaging, equipment Huawei Honor 3C
Grade devices are quite modest: the smart phone, USB-cable for PC connection, charger, documentation. All this is packed into a compact box with a picture indicating device and its main specifications.
Appearance Huawei Honor 3C
Form factor – a classic piece with dimensions of 139.5 x 71.4 x 9.2 mm. Figures do not record, but the device is quite compact for five inches. Frame on the sides of the screen are small. Weight 140 grams in the machine at one level peers.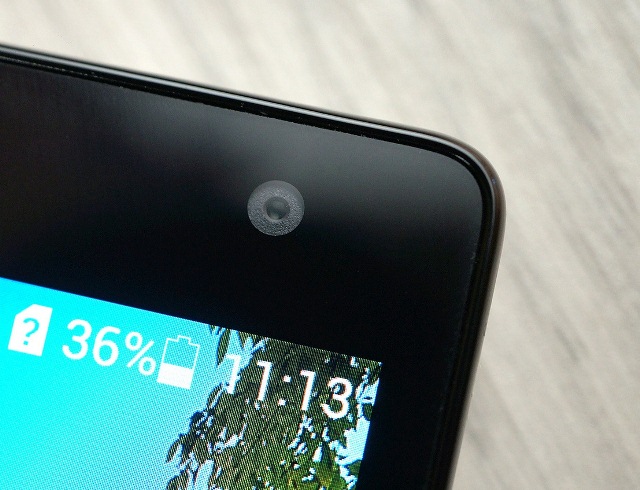 The body is made of glossy plastic. At the moment there is only available with a white version of the back cover. The front panel is entirely covered with a protective glass and surrounded by a black border, also made of plastic. In its upper part is earpiece left – barely visible light sensors and proximity, and on the right – the LED notifications and eye front camera.
At the bottom are three touch buttons "Back", "Home" and "Menu". The remaining controls are on the right side – the power button and volume rocker.
On the opposite side there is nothing. At the upper end imposed only 3.5mm audio jack, and the bottom left micro-USB connector and main microphone hole.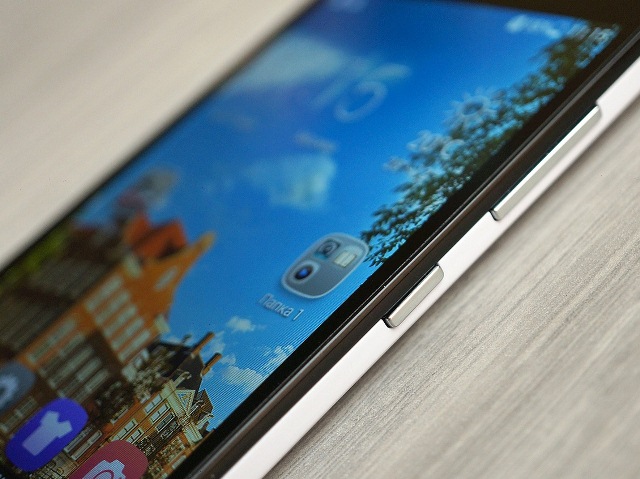 Main camera lens with LED flash is located at the top of the rear panel, next to them the noise canceling microphone hole. In the lower part – the main speaker grille. On a model and manufacturer indicates only Honor inscription in center of rear cover, no other markings.
Under the back cover are two slots micro-SIM, a slot for microSD memory cards, and a removable battery.
Ergonomics Huawei Honor 3C
Due to slightly sloping side faces smartphone good in the hand. Weight is small, convenient one-hand operation, although the dependence on the size of your hands, certainly is. There is a small software upgrade that improves the usability of one hand on her little more in software.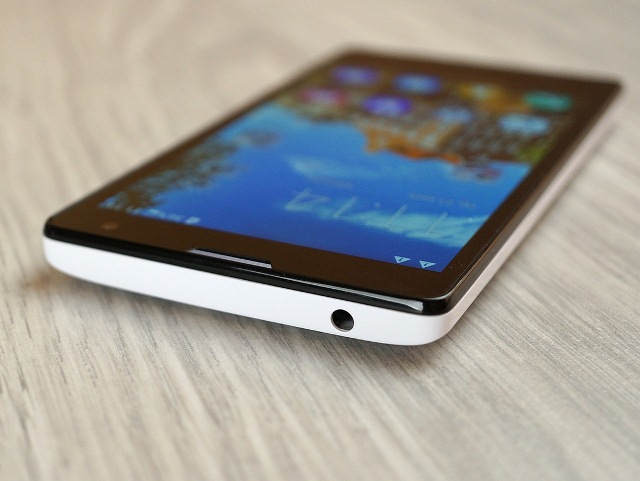 Plastic shell very easily soiled, fingerprints cover it instantly. One makes – on white they are not very noticeable. Buttons are conveniently under the thumb of his right hand, to work with them can not intercepting device. All buttons have a clear course, the moment of operation is well noticeable.
The housing does not show any backlash and clearance despite the removable rear cover. It has a large number of latches on the perimeter, securely fixing it. But projection or slot from which you can start removing the cover, could not be found. Have to hock her fingernail near USB-connector, buttons or around corners.
Hot swappable SIM cards and memory cards can not access it closes the battery.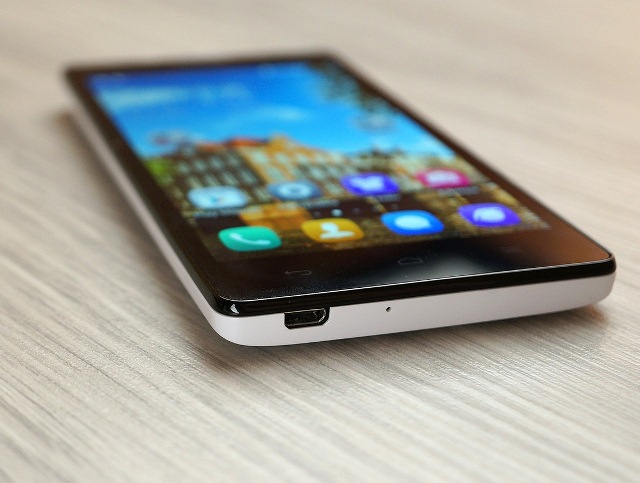 Another point that is worth paying attention to – no backlight touch buttons.
Screen Huawei Honor 3C
Smartphone features a five-inch screen with IPS-matrix. It has a resolution of 1280×720, a density of 320 ppi. Capacitive sensors can handle up to 10 simultaneous touches, there is a light sensor. Manufacturer of safety glass are unable to find the strength to check it did not. Oleophobic screen coating at no traces remain permanently on its surface and ottirayutsya with difficulty.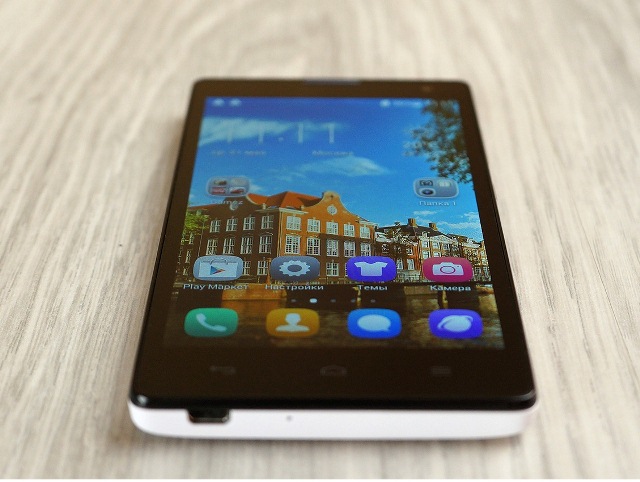 On the quality of the display is not inferior to more expensive counterparts. All the advantages of IPS panels used in this case: the viewing angles are close to the maximum color reproduction is quite accurate. The picture is very clear, does not irritate the eyes riot of colors or colorless. No annoying glare, and the brightness of the stock is more than sufficient, the sun screen perfectly readable. Automatic adjustment works adequately and successfully adjusted to the conditions.
Optionally, you can change the font size. Huge available only for SMS / MMS.
In short, the screen is really nice, is applicable in virtually any environment, and will be able to fulfill all the tasks, whether it's reading a book, watching videos or playing games.
Interface Huawei Honor 3C
On your smartphone is running Android 4.2.2 with original shell Emotion UI 2.0. Perhaps its main feature – the absence of the classic list of applications.
There are several other additions, such as the possibility to change the design theme. You can choose from a range of options available or download new ones from the Internet.
Added a mode of operation with one hand. Really it is only slightly shifts the keyboard at the right or left hand, other changes were observed. By the way, the standard keyboard is not installed loved size keys, as well as inconvenient language switching. At the same time it has the support swipe-set.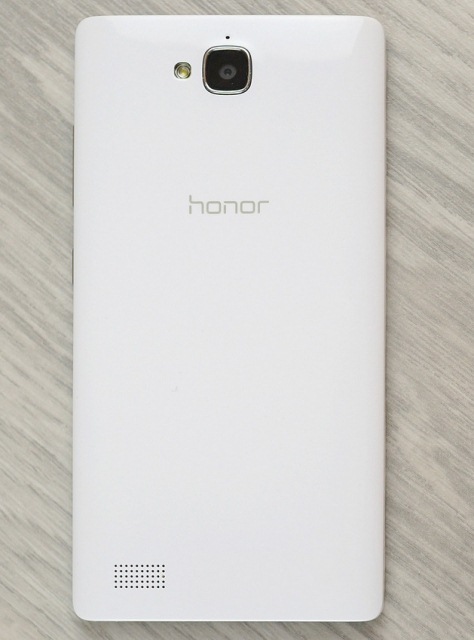 The firmware is and gesture support, which in Russian localization called "Movement". For example, the device includes a double tap. When this screen is activated regardless of the position of devaysa, causing false positives can not be excluded. The same applies to swipe.
The manufacturer added a decent manager energy saving, more about him – in the relevant section.
Smartphone is richly equipped with preinstalled software: file manager, task manager, backup manager, a set of applications from the "Yandex" (Search, Maps), Navitel. All this allows you to use your smartphone right out of the box. Integrated video player supports popular formats, but still recommend replacing it with something more than an omnivore.
The application calls for outstanding places does not have a speed dial and work smart-dial with normal support both English and Russian language.
Unit in the Huawei Honor 3C
The smartphone is equipped with a quad-core CPU MediaTek MT6582 processor with a clock speed of 1.3 GHz, 2 GB of RAM and 8 GB of internal. Available to the user almost 1.4 GB of RAM.
During operation, the speed of the interface claims have arisen, desktops quickly turned over, applications load quickly, switching between them takes place without major delays. Staff does cope with the page view, there is a delay when zooming heavy sites, but further viewing flinches not.
The rest of the device copes with all tasks, unless forced to open its heaviest presentation or PDF-files.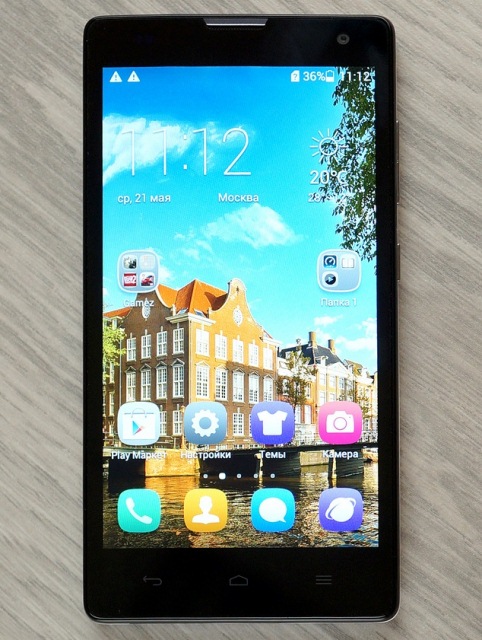 Test results in games can be characterized as satisfactory. The strangest thing that awaited us – failure to launch smartphone Dead Trigger 2. Annex simply took off on start-up screen, and nothing could make it work. At the same device with the same processor to run the game without question. But performance in Asphalt 8, on the contrary, was pleasantly surprised. Graphics, of course, not at maximum settings, but the almost complete lack of brakes, play nice.
Popular runner Minion Rush operates satisfactorily. Download speed levels high, but lags during games periodically plague.
With the representative 2D-graphics in the face of the classic Angry Birds expected there were no difficulties. Presumably, and other similar games will be fine.
Streaming HQ video on YouTube does not cause problems – both through a browser, or through the official app. Video tested at 720p using MX Player instead of the standard, as the latter having difficulty with audio playback from MKV files. With this task smartphone also coped.
The main speaker is loud enough to watch videos from the Internet or video, but in a noisy environment it may not be enough. The quality of play is not up to par. With headphones it is also pretty average, and volume could be higher. It is worth noting the presence of FM-radio: it works as most devices only with a headset attached.
The results of the benchmarks can be found below.
Camera Huawei Honor 3C
The smartphone is equipped with two cameras: the front with a resolution of 5 megapixels, and the main matrix with 8 megapixels. The front facing camera is perfect for video calls and self-portraits, the quality is above average.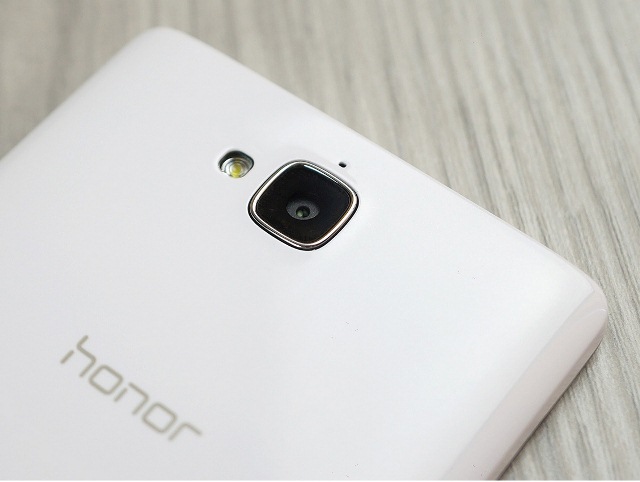 The main camera in the theory promises to show good results in good light, and with insufficient. In practice it was a bit wrong. In the daytime the camera copes well with the tasks: the application starts quickly, autofocus works quickly, the photos are without smearing, the noise level is low. Although a large number of small objects the camera is not able to pass on all the details, is clearly visible in the photographs of flowering trees. In this case, too, with macro all very good, though a good picture does not always work the first time, the focus has to be manually configured. Actual recording speed could be improved, to make a shot really quickly fail. At night, the photos are noisy enough sharp, presence of flash does not help much, and sometimes vice versa – worsens the case.
Smartphone can shoot Full HD-like video and less capacious permission. You can capture a still image during video recording, but the quality of these photos do not shine.
Wireless interfaces Huawei Honor 3C
The smartphone has support for two SIM-cards. To work with them is a small utility that allows you to adjust the conditions of their activity.
Signal confidently held, difficulties with connecting mobile internet has not arisen. The speaker volume, you can hear the caller's voice, even in the subway, but the vibration would like powerful. The speaker volume is sufficient to call to hear it, while in the next room or in a noisy place.
Of course, on board the smartphone has WiFi and supporting bands 802.11b, g, n, and Bluetooth 4.0. Claims to these modules have no reception stable, high speed of finding and connecting to available networks.
GPS performance tested in standard Google Maps. Signals from satellites was 10-15 seconds since the start of the application during the movement remained stable, the accuracy of determining the location of any claims.
Autonomy Huawei Honor 3C
Installed on the smartphone removable battery at 2300 mAh. Manufacturer has provided their offspring application for energy efficiency. It offers several options of the device for maximum optimization of operating time. Of course, you can monitor the current state of the battery and the expected running time.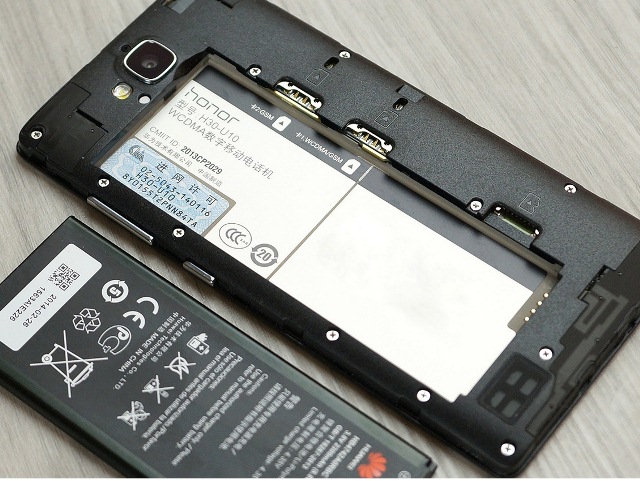 In playback mode, 720p video with maximum brightness and volume set on average just over six hours.
Hour game Asphalt 8 "ate" 36% battery at an average luminance output not get more than three hours. In the read mode with low lights consumption about 1.5% per hour.
With an average daily load ( 15-20 minutes of talk time , half an hour of games , about 30 minutes in the net ) smartphone with enough headroom for the day. If you reduce the use of 3G and set the brightness manually, you can get two days of work. If you need even longer to help encourage a spare battery , which buy separately – no problem.
Results Huawei Honor 3C
Creators managed to fit in a good technical stuffing the budget device. Screen pleasing to the eye, does not afflict performance in applications and games, the camera allows you to take good shots, and the battery provides decent work. Of course, there are places which have saved, for example, body materials or missing light touch buttons. But these moments are not able to wipe out the pluses that have Honor 3C. True, it is able to make the retail price of Huawei Honor 3C – 255$. At first glance, it is small, but if you look at the price for the same device in other markets, the question arises: is not it too costly to localization?
Pros Huawei Honor 3C:
quality screen;
successful camera modules;
good optimization for everyday tasks.
Cons Huawei Honor 3C:
price is almost two times higher than in other markets;
cold-swappable memory card;
no backlight.
Read another very interesting article about alternative energy of the Sun, water and air.