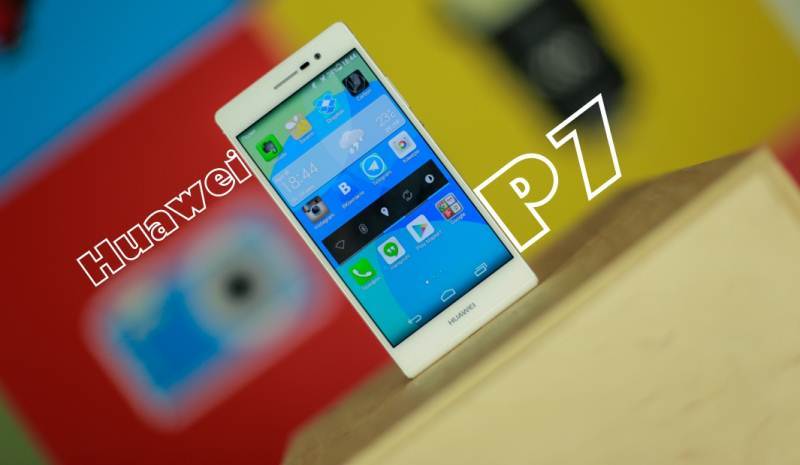 Oh, this Huawei! I guess I'll never stop defame their name and repeating that "Huawei" to the person applying is not desirable. But anyway, sometimes they turn out decent stuff. One of these just in my hands – Huawei Ascend P7. No wonder that the company celebrated July 2 million units of supply to the world market. And this is a half months after the release. For comparison, the supply of its predecessor, Huawei P6 , for the time amounted to 4,000,000 units. So the company has all the prerequisites to beat their own records.
Design – Huawei Ascend P7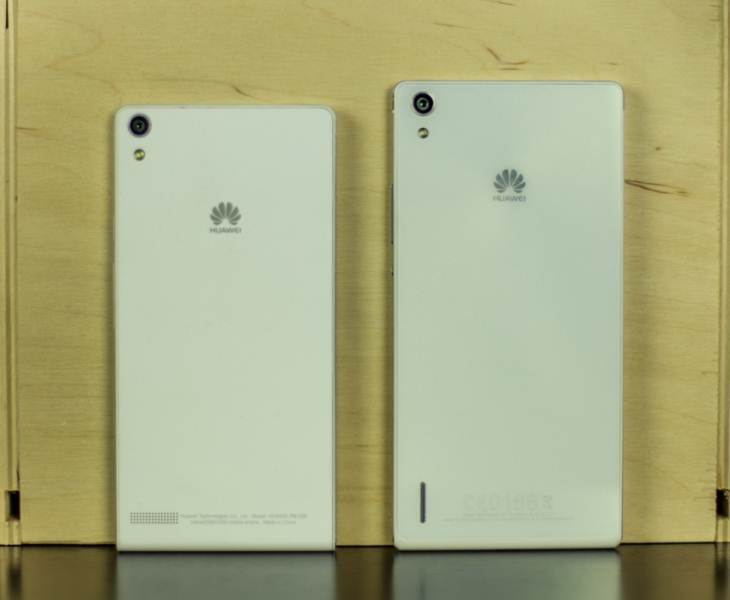 One can not ignore the continuity series devices from last year's flagship P. hero of our review can distinguish only the man who faced both devices. At first glance, Huawei Ascend P7 – slightly longer version of P6 . In fact the same differences a little more. The back cover glass now and "spotted", and the speaker a little altered and deployed vertically (by the way, he became noticeably louder); connector for charging and headset finally found its rightful place (on the P6 connector for charging on the top and 3.5mm headphone jack was in the bottom left side of that, as you know, quite uncomfortable in Huawei Ascend P7 classical location: Headset – on, for charging – bottom: there is a less significant changes – for example, sensors moved to the right of the earpiece, which itself became a little less, and above it is now LED-indicator, lock button became round and is located closer to the center , optional microphone shifted slightly to the right.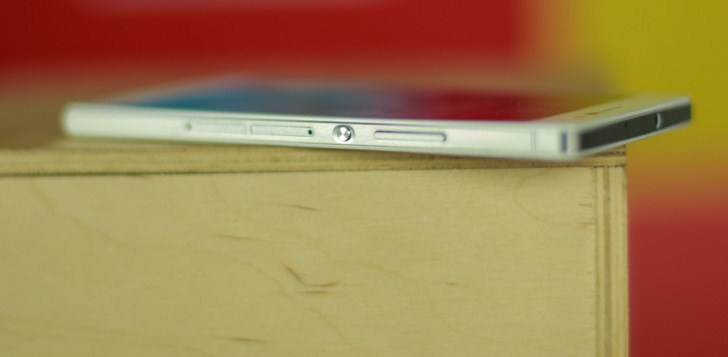 The main body is made of glass, aluminum side frames with plastic edging, and the lower part – from plastic that traditionally rounded. Some do not like it, but it seems to me that, had the same face as the top, would be a very "Hello iPhone". The one "round now" lock button is lower than we would like. It's small, it is difficult to get, and instead of a block I often make the volume quieter, and this after two weeks as the primary device. In addition, under this plastic "plug" hiding the second antenna and plastic making it as efficient as possible.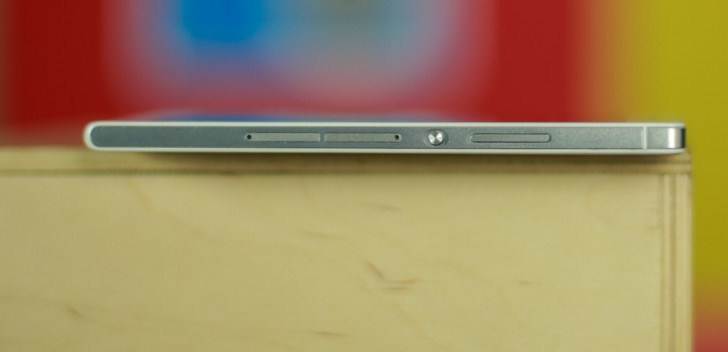 Huawei Ascend P7 is available in two body colors – black and white, pale pink, apparently, decided to refuse. Since the body does not understand, all two card slots brought to the right edge of the casing. At first it may seem that dual-sim Huawei Ascend P7, but Huawei has made the top slot for memory cards, at least for our countries. Although with P6 was the same story, but now it is sold in dvuhsimochny embodiment, in conjunction with the "Intertelekoma". In China, for example, a slot for MicroSD double and, if necessary, work with SIM-cards. Only inconvenient that slots do not differ from each other in size, and two weeks each time you change the memory card I first took out the sim card.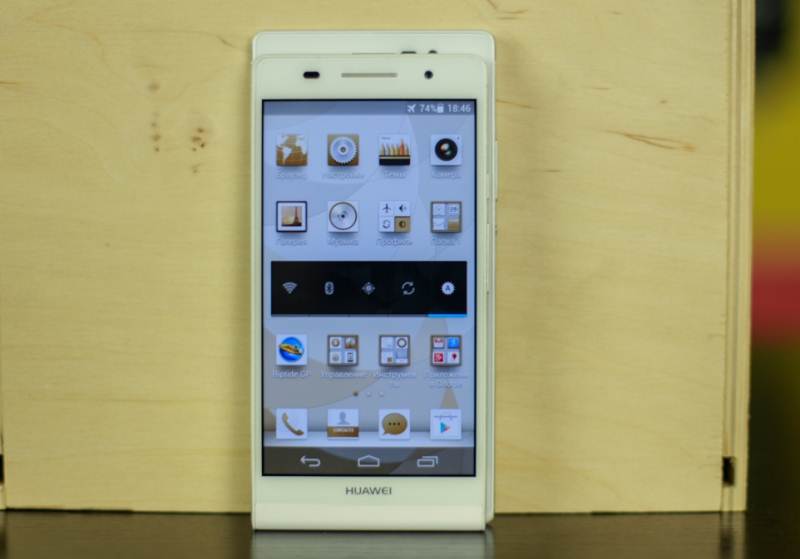 Front has 8 megapixel camera, light sensors and proximity, earpiece, LED-notifier and an impressive 5-inch display. Patterns on the rear panel to hide fingerprints, the panel is composed of seven different layers, it seems that this gives it additional strength. Both sides of the device are protected Gorilla Glass 3.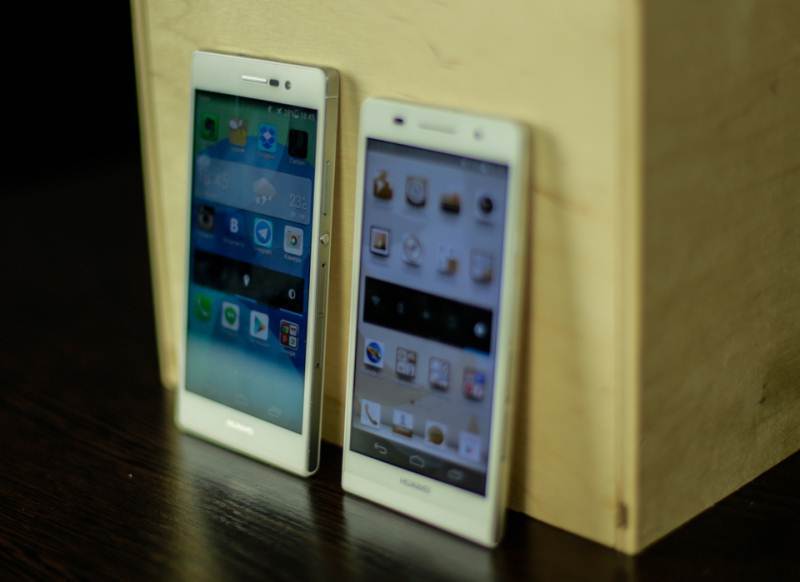 Huawei Ascend P7 In general, it is the same the world's thinnest smartphone, and that P6 . Formally different thickness – 6.18 mm vs. 6.5 mm on the eye as this difference is not visible at all. This gives the user? I will say this was the day when I had to cram three smartphone pockets of his jeans, and so, I put Huawei Ascend P7 and Nexus 4 in one pocket, "sandwiches", and did not feel that I have there two phones. I, of course, are not as tight pants, like seeds, but do not say that there are huge pockets. And, of course, after any other smartphone felt puffy.
Display – Huawei Ascend P7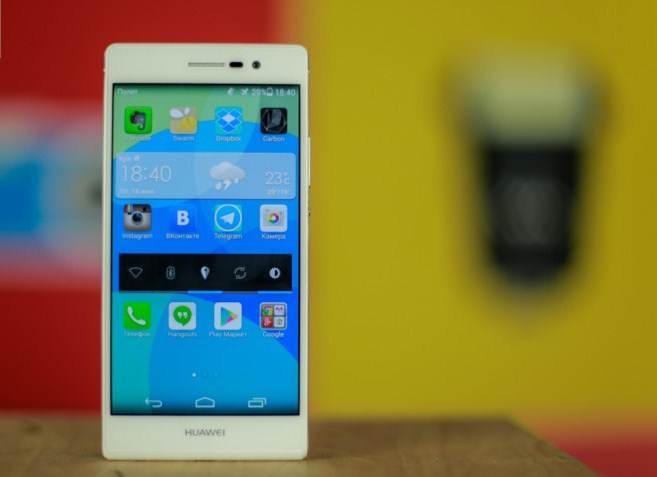 The most striking difference from its predecessor – the display. Despite the fact that the angles got a little worse, and slightly below the maximum brightness, the overall impression from the operation of a lot better. Here it is not that steep, it is very steep. This 5-inch IPS-matrix with FullHD-resolution (1920 x 1080 resolution, 440 ppi). Not only that, it takes up almost the entire front portion, so also the complete absence of air gap is doing its job. Out of the box chilly display that can easily be corrected in the settings. The display has excellent anti-glare properties and very effective oleophobic (grease repellent) coating. Auto Brightness adaptive, which means that you should set the slider to a satisfactory value for you, and the automatic mode will proceed from your preset. The maximum brightness is sufficient for working in the sun, and the minimum – for dark rooms. Color inversion when no deviation, however, they slightly dim, which was not in P6 . Black color slightly lightish, but without a direct comparison is not noticeable. The display is made ​​of technology In-Cell , which reduced the thickness of 0.44 mm on a smartphone because the touch sensor is built into the color filters, and not a separate layer. First Technology In-Cell has been implemented in LG Optimus G . Supports work gloves. In general, the display can be considered if not the same, somewhat similar in quality to the reference Nexus 7 (2013) , but it's worth it.
Camera – Huawei Ascend P7
Huawei Ascend P7 equipped with two cameras, which are different from those used previously. The front camera has a record resolution of 8 MP and takes pictures with a maximum resolution of 1836 x 3264 and video shoots with 1080 p (maximum aperture – f2, 4). Huawei is now offering to take panoramic selfie, that fans can enjoy this business. Unfortunately, there is no function of tap-to-focus, so sometimes you can get Rasfokus. But you can do selfie by voice command, danced tap on any part of the screen or buttons to adjust the volume. The main thing – do not forget to set the shooting mode to all 8 MP, since by default it takes 6.
The same must be done with the basic 13-megapixel camera that shoots out of the box 10. It has image sensor Sony BSI CMOS fourth generation and lens with a maximum aperture of f2, 0. Here it has autofocus, as well as LED-flash. After iPhone 5s became fashionable to say that the outbreak Simplex.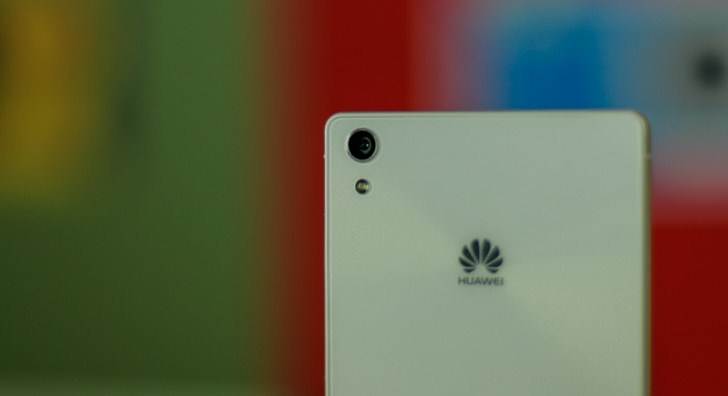 On the main camera can do a quick snapshot of the locked state: double-click on the volume down button in the lock mode. Pictures are for 1.3-1.4 seconds, which is fast enough for such a function. Standard mode shooting in cells such as ridiculous as shooting with reduced megapixels or shooting in HD-resolution instead FullHD. He called clever, but in fact just zamylivaet frames especially evident when shooting on the front camera. I do not find a way to do a photo while shooting video, so most likely this is not available. HDR mode works for video, but the photo quality is poor.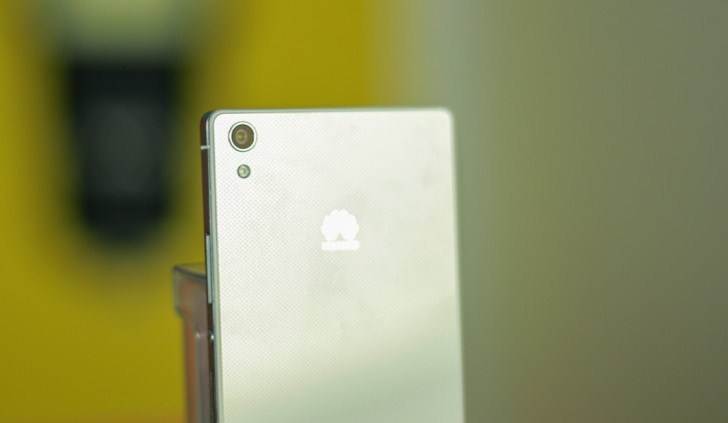 In general, the pictures are not so bad. Given that in my hands a test sample can be expected to improve the program in the final version. Sometimes small problems get accustomed with the sharpness (images at the edges), but the noise reduction is good. At least, the quality of the photos is enough to kropnutyh them instagrama and normally handle. Do not forget how this compact optics.
Performance, autonomy and software – Huawei Ascend P7
Filling here exactly the same as in the Huawei MediaPad X1, – quad-core HiSilicon Kirin 910, running at a clock frequency of 1.8 GHz (manufacture Huawei), the chipset supports LTE-network technology and NFC. Responsible for the graphics display adapter Mali-450MP, device 2 GB of RAM and 16 GB hard drive. Huawei Ascend P7 works quickly, some troll is there, but the internets write that in the final version of the device of this kind all bugs eliminated. And here they are not significant, and only when the "complex" animation desktops. Nevertheless, even with the test sample, I was pleased to work with. Challenges and games run "Hurrah." Heating devices are not significant in comparison with other modern smartphones. The company says it is thanks to a special gel inside, which prevents heat and reduces power consumption.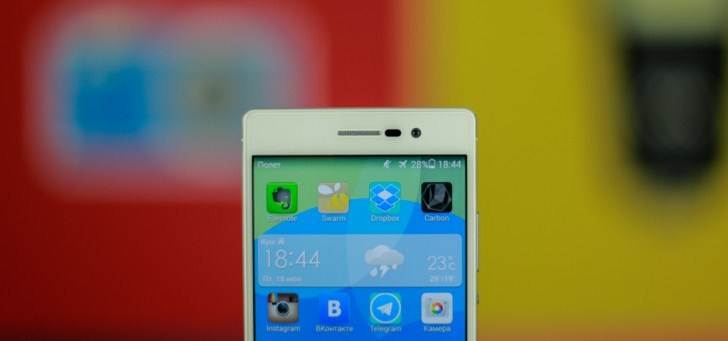 Device battery – 2500 mAh. AnTuTu Tester heavily updated, and compare the results with those made earlier tests other smartphones hardly succeed. But with Huawei P6 I compared. Bottom line: 5073 vs 7717 at current flagship. In the previous model assumed autonomy above average, so at P7 it is really high. But drop the dry figures. I really paid attention to autonomy when forgot to include it into the net for the night, he "ate" a couple of percent. I used all day smartphone in its normal mode. As a result, the next morning I still have 54% charge, and I reached him until the evening. Battery life – 37.5 hours, and there is still 10%, for which there is a special mode that increases the autonomy of the half.
Autonomy is really impressive. We must pay tribute saving system: once a capacious application is in the background, as reported by phone, and the application can be closed with one touch. There are 3 modes of energy consumption: Normal (for games and online video); Smart (for everyday use) and energy saving (for salvation). Quite accurately predicted remaining battery life, and you will realize that it is useful when confronted. The only problem – too fast charge out watching the video, but even if you watch the video transport when traveling around the city, you can still not worry about the charge. Full-charge time, a little over 3 hours.
I believe that Huawei proved to everyone that a large display with FullHD resolution, not a reason to reduce the battery life.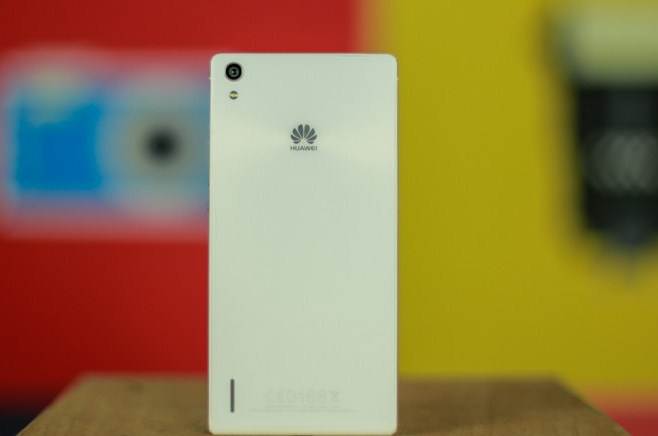 Android 4.4.2 is installed on top of the shell sobvstvennogo production – Emotion UI 2.3. By comparison with it, version 1.6, mounted on Huawei P6 , can be called Depressive UI. Indeed, since the work was carried out with the shell is colossal. All cleaned up: icons, menus, settings. Heaven and earth. Usually we buy the phone and disable all the "bells and whistles" from producer. Here nothing more I found. I liked that the lock screen wallpaper changes every time you turn on the display, at what time they are repeated with increasingly rare and therefore loaded with new ones. Still here goes blind from below, as in iOS 7. Like that you can select an animation navigation desktops, though it was before. Added a "simple" design style, which is slightly reminiscent of Windows Phone, but still pretty and well suited to the older generation, or as a mode "in the car." Generally funny that Huawei in simple mode similar to the basic mode in WP. Mode appeared "Do Not Disturb" Notification Manager, the button control and a section of the "Movement", which can be configured on the mechanical response of the device action. In the "Authorized Applications" you can choose the ones that will be run in the background after hibernation. In general, over the sheath specific job, which is only Power Save system, which I described above.
A few words about the sound in the headphones. He became worse than its predecessor, but not significantly. This comes from the fact that the manufacturer refused to Dolby Mobile technology in favor of DTS. Nevertheless, the device is still a pleasure to use as a player, especially after the terrible in this regard Nexus 4 . Sound from main speaker loud and clear, no complaints.
Output – Huawei Ascend P7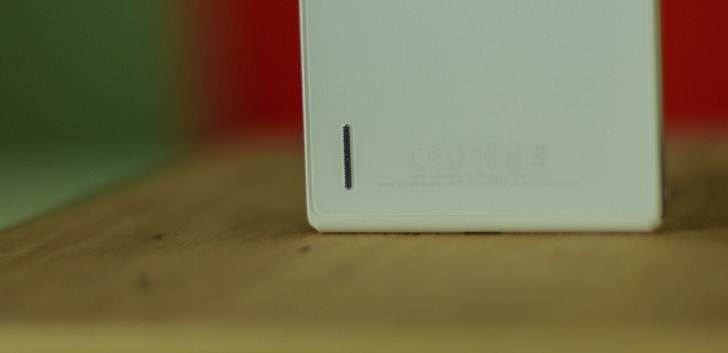 The smartphone has not great. And this is his problem. This company can not claim great success in this segment as people are clearly not willing to give $ 450 for Huawei. And I do not speak for the first time that the Russian-speaking market, companies will only brand adaptation (local name change). The reasons may be threefold: in China do not know about "euphony" names in our countries; the company simply can not afford such a strong move; or the worst – the company believes that the brand Huawei has great strength and a long history. A smartphone is a really cool, I enjoyed using it. Separately to emphasize autonomy and display. Issue price – $ 470.
Read another very interesting article about alternative energy of the Sun, water and air.