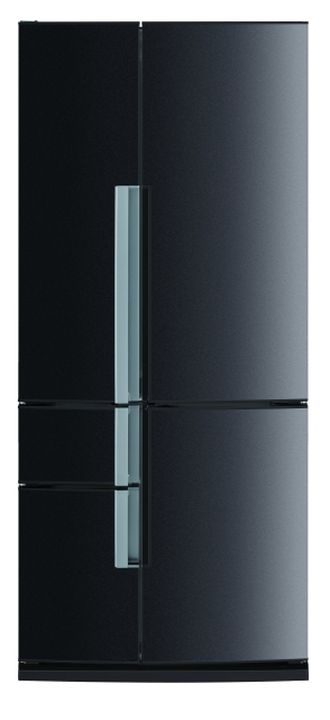 Modern refrigerators Mitsubishi Electric offers innovations in the strict minimalist interior: without an overabundance of unnecessary functions, only the most necessary and with consistently high quality from Japan.
Mitsubishi Electric Series MR-ZR692W
Refrigerators Mitsubishi Electric Series MR-Z692W created especially for those who care about their health and comfort. It combines new technologies, each of which performs its small and inconspicuous, but very important work.
Formally, this is a five-door refrigerator with, respectively, five compartments: one freezer, one refrigerator, one universal (camera Versa), the camera freshness and a mini-camera for making ice, and the latter, of course, is the smallest. This option is useful for maximum energy efficiency: the cold will not leave the offices that you currently do not need (for example, opened the fridge to take a jar of peanut butter and chill out at the same time from anywhere, including from the Department for vegetables, for example ).
The presence of highly sensitive sensors provide a thorough individual temperature control in each compartment of the refrigerator. Inverter compressor guarantees operation with low noise and mode ECO ("Eco") can achieve really high level of energy saving, which is reflected by a special indicator on the control panel. Technology Neuro Fuzzy ("Neuro Fay") makes refrigerator MR-ZR692W truly intelligent – the ability to analyze the rhythm of life and habits of family members and selects the optimum mode of operation: for example, to increase the cooling capacity of various cameras in one period of time and reduce the other.
Energy efficiency will help and a special sensor to control the opening / closing doors avtodovodchikom: the passage of the "control points" in position at an angle of 20 degrees to the end door closed automatically. Therefore no longer need to worry about the fact that you have not closed the door to the end: MR-ZR692W does everything for you. However, in any case, the signal of the open door to remind you, if you have opened the door too wide and keep it that way for too long (longer than 1 minute).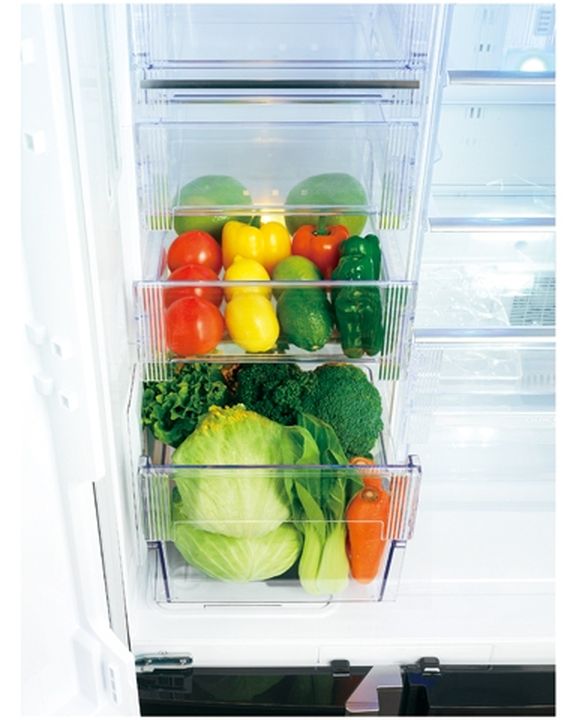 Frozen foods given special attention. In order to ensure they remain fresh as long as possible, the technology Supercool freezing («ultra-cold freezing") with an infrared sensor. This high-tech sensor automatically detects the temperature of the products and indirect air flow cools them to -7 degrees Celsius, and then served cold air temperature of about -18 ° C and the product is frozen until the end.
The principle of operation of this technology is simple. Using a physical phenomenon peremorozki (when the water remains liquid at temperatures below zero), it is possible to achieve a slow ice formation at multiple foci of crystallization. Since a frozen microscopic ice crystals, they do not break the fibers and cell walls. Accordingly, the frozen product remains soft, and when defrosting keeps its flavor properties.
We also can not say about other unique technology called Soft Freezing («soft freeze") from Mitsubishi Electric. It allows you to store products up to three weeks in a "soft" state: the meat can be easily cut into slices without thawing; sauces can be frozen, but remain soft enough to take them with a spoon (by the way, is perfect for storing baby food). In general, any time you can cook frozen foods without thawing, keeping all their nutrients, their original taste and flavor.
This effect is achieved by lowering the temperature to -7 direct stream of cold air. The technology used in the universal camera VERSA (main role which – long-term storage of products without loss of moisture and flavor), and there you can take advantage of technology and fast freezing, freezing technology and hot products Hot Freezing. What is it?
Hot Freezing freezing technology allows you to freeze hot foods without cooling, thanks to a special LED-sensors and double valve in the department Versa. In this department can thus put hot foods, rather than wait for hours until they cool down and can not be afraid of a broken pottery. The sensor detects the exact temperature of the hot products that are sent to an independent direct flow of cold air, which can save you time and keep the taste of the food.
A innovative technology storage of fruits and vegetables Vitamin Factory («Vitamin Factory") allows not only to store food for a long time, but also to increase the content of vitamins thanks to a special orange LED lighting that mimics photosynthesis – and it prolongs their freshness and increase content vitamin C 10%. By the way, Mitsubishi Electric were the first to use this technology almost ten years ago to preserve the freshness of products and increase their content of vitamins.
But "simple" products also are not forgotten, of course. For them is offered the latest cooling system airflow Surround Multi Air-Flow, providing uniform cooling on all the shelves of the refrigerator compartment. And the active antibacterial deodorizer prevents bacteria and odors in all branches of the refrigerator. This may also include humidity control systems, which will equally not dry up some products and maintain an acceptable level of humidity in the other (for example, in vegetables without packing). Well, the little stuff too comfortable there: for example, the LED lights inside the refrigerator will allow for many years to forget about replacing traditional light bulbs quickly blowout, and temperature sensors in each chamber will tell you where in the refrigerator is very cold, and in which – only slightly. This allows you to maintain the best temperature for long-term storage and preservation of flavor products.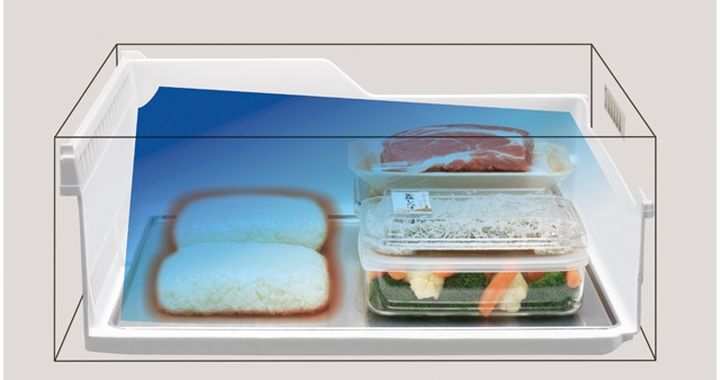 Icemaker – a necessary feature of any modern refrigerator, but it can bring to the ideal. In the model series MR-ZR692W what happened: this refrigerator can make crystal clear and transparent ice without inclusions of minerals and air bubbles. The technology is to extend the time frozen ice using hot water (on average from 5 to 8 hours) in the water supply system has a heating element, which causes the water that freezes and the longer the air content therein is decreased. This makes the ice crystal clear. Easy to use automatic icemaker with water filtration function of the provisional provides a crystal-clear ice, which has long been kept in a special tray for convenient ice. Also, all components of the water supply system icemaker can be easily disassembled and washed, and change the water filter needs only once in 10 years.
Finally, another interesting feature – Sensor I-see. This infrared sensor with the same principle of operation of the room air conditioner. I-see with the temperature sensor detects the temperature of products, providing fast and efficient cooling.
Refrigerator MR-ZR692W available in two colors – white (MR-ZR692W-CW-R) and black (MR-ZR692W-DB-R) – which perfectly complement the interior of a modern functional kitchen. A volume of the refrigerator can be seen directly in the title: it's really 692 liters.
And, of course, the words "Made in Japan" Mitsubishi Electric refrigerator gives a significant advantage over competitors.
Mitsubishi Electric MR-JXR655W
Model Series MR-JXR655W largely similar to MR-ZR692W: for the most part it uses many innovative technologies above, and has five offices with separate doors. But it can be found and something unique: fit harmoniously into the exterior touch-pad control, providing direct access to all major functions.
Just by touching the corresponding icon on the door, you can enable rapid cooling of large quantities of food, change the power-saving mode, quickly cool drinks and increase the humidity chamber with vegetables, enable soft freeze mode or fast food ice.
A shutdown mode icemaker (using the same touch panel) will help to keep up to 16% of energy (if more and branch VERSA you do not need). Plus, sixteen sensors help eco-mode reduces power consumption by 10%. Whereby this is achieved? Mention may be made only about two main points of the refrigerator MR-JXR655W in eco-mode: pre-cooling during the frequent use of the refrigerator and its avtorazmorazhivanie between the lowest frequency of use. And different colors: gorgeous brown metallic (MR-JXR655W-BR-R) and light silver color "champagne» (MR-JXR655W-NR).
Both models are in the premium segment and are made in Japan.
Mitsubishi Electric MR-LR78G
Models Series MR-LR78G (another name – L4 GRANDE) made in Thailand and is available a greater number of buyers due to a much lower price than the previous ones. It uses only a few of these technologies: but the mark of Mitsubishi Electric holds and offers in this four-door refrigerator a lot of interesting technologies. He also refers to the premium, and innovation begins already with swing door design French Door. This design can significantly increase the useful volume of the refrigerator compared with hinged type models «side-by-side», and especially for bulky items (eg, wide dishes).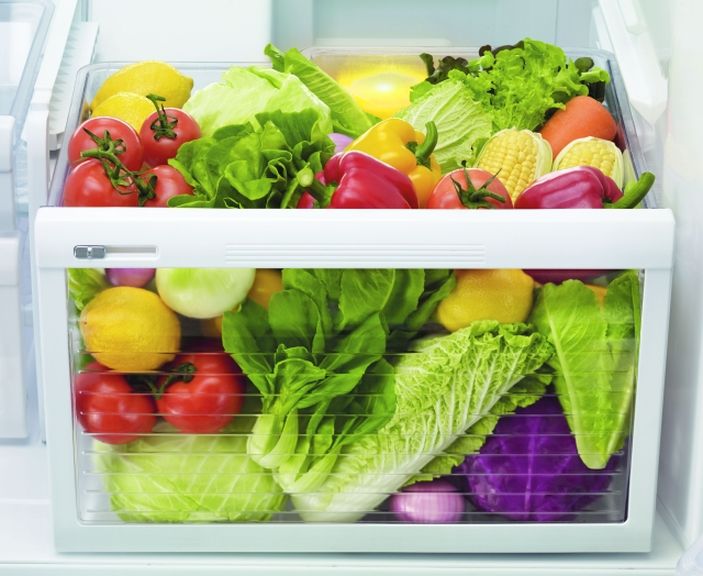 Here we see the familiar "vitamin factory": innovative technology storage of fruits and vegetables, which, recall, allows you to store food for a long time and increase the content of vitamins thanks to a special lighting that mimics photosynthesis, which in turn increases the vitamin C and nutrients promotes conservation. And adaptable humidity control allows them to stay fresh for a long time.
Widespread cooling system Surround Cooling System provides a complete uniform cooling of the entire space of the refrigerator with powerful fans, evenly distribute the flow of cold air.
It should also be noted antibacterial coating the inner walls of the refrigerator based on silver. The coating complies with strict sanitary and nutritional standards of Japan and is completely safe for humans. It is also used for cleaning in hard to reach areas where the wall of the refrigerator regularly in contact with food. With this coating products stay fresh longer.
The temperature in the compartment remains constant at 3-6 ° C due to the numerous sensors and is ideal for long-term storage and preservation of fresh meat, dairy products, canned and bottled beverages. Compartments of different sizes, allowing you to store products of different shapes.
To navigate a large space of the refrigerator helps LED lighting. Of course, this does not do the refrigerator without such important details as easily moved shelves of tempered glass (which can withstand weight up to 101 kg), three-row generator ice tray (you just turn the knob to get cubes), and, of course, necessary and all the familiar system of automatic defrost frost free, which prevents the formation of frost freeze products.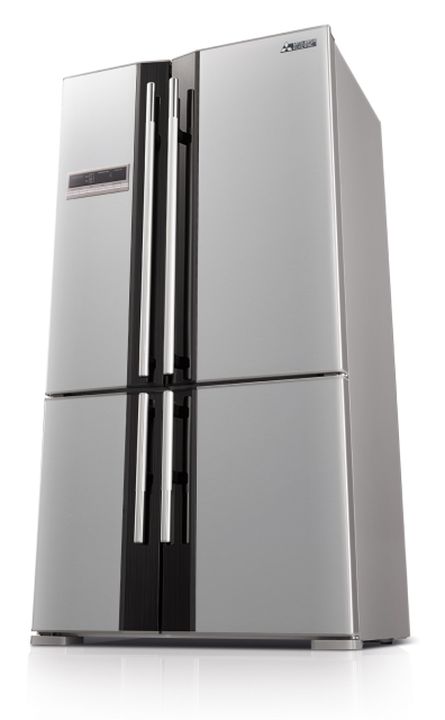 Management is carried out using a large LCD touch panel on the top left refrigerator door that gives access to all major functions of the refrigerator and allows to control its operation. This model also supports the above technology Intelligent Neuro Fuzzy mode for perfect food storage and high energy efficiency.
Other models
In addition to a large refrigerator for large families Mitsubishi Electric offers and more commonplace for our latitude modern small two- and three-door refrigerators with many innovative systems that have been presented here, as well as many others.
For example, the model series and MR-CR46G MR-FR62G / MR-FR62HG with all its compactness boast adjustable in three positions shelves of tempered glass, cooling airflow Multi Airflow Cooling System, technology Neuro Fuzzy, Frost-Free, CFC- Free, Vitamin factory (only available on the MR-CR46G), built-in ionizer filter and Minus Ion Titanium. And that's not to mention the antibacterial coating the inner walls or automatic ice maker (only in model MR-CR46G).
In general, however refrigerator from Mitsubishi Electric you choose, you can always be assured of high quality Japanese these essential kitchen units, you have all of the latest ways to keep products in the best possible condition and high reliability.
Read another very interesting article about alternative energy of the Sun, water and air.