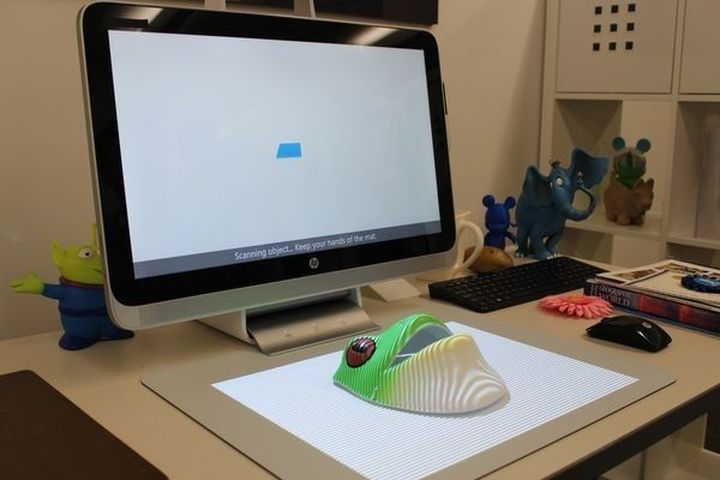 In their latest products Hewlett-Packard has experimented with a lot of three-dimensional images and augmented reality, and now some of these technologies is planned to move to the plates and laptop computers.
According to the manufacturer the PC on its mobile devices can handle three-dimensional images with their subsequent withdrawal of the 3D-printer. This feature is already supported by monoblock Sprout, and in the near future HP will a number of relevant mobile products.
"Our laptops and tablets will support the functions that carry augmented reality technology in real-world applications, – the general manager of the PC and HP printers Ron Coughlin. – Immersive developments appear in different segments, on devices of different sizes and in different usage models."
Futuristic computer HP Sprout helps to imagine how would look desktops in a few years. With the help of three-dimensional camera Intel 3D RealSense monoblock Sprout scans the item, then the image is processed in a special touch panel Touch Mat, and the resulting object is displayed on the 3D-printer. In early January at the Consumer Electronics Show CES in Las Vegas, HP unveiled a new monitor "virtual reality» Zvr with a diagonal of 23.6 inches, the screen displays the three-dimensional projection. Images can be moved, scaled and rotated with the stylus, without touching the screen.
Developing Sprout and monitor Zvr, HP came out on the next turn of the spiral development of three-dimensional technology and its new products are closely related to the growing direction of 3D-printing.
"With Sprout and immersive technologies you create a virtual three-dimensional objects, and then turn them into real, printing out the 3D-printer" – said Coughlin.
The transition from Sprout to the plates will be carried out using the software Workspace, which allows to obtain shared access to three-dimensional images and perform various manipulations on them. Workspace layer is implemented on top of Windows 8.1.
"We want to build immersive environments in a wide range of products belonging to different price ranges – said Coughlin. – The ability to capture and modification of three-dimensional objects on the PC will be one of the driving forces behind the further development of our business, 3D-printing. "
HP intends to actively promote innovative solutions and after separation on the company's HP Inc., which will deal with PCs and printers, and Hewlett-Packard Enterprise, specializing in the supply of hardware and software for corporate clients.
TVs and displays to generate three-dimensional images have been around for many years, but the growth of their popularity prevents the need for special glasses. However, three-dimensional technology continues to improve. For example, the new tablet Dell Venue 8 7000, equipped with a 3D-camera Intel, able to measure the distance between objects. In Intel's hope that in the future their 3D-camera can recognize objects and capture the mood of the people.
Read another very interesting article about alternative energy of the Sun, water and air.