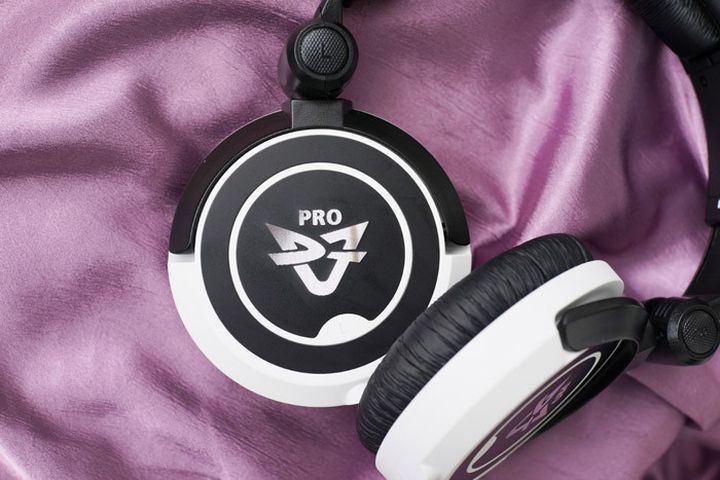 In the model number of any serious headphone manufacturers have special models that stand out and are not intended for a wide range of users. Membership of these headphones to a special caste expressed in everything. Rigorous and expensive decoration boxes, stylish look and high-quality materials, a variety of cables included, etc.
They are not cheap, and therefore intended primarily for those who consider themselves the true audiophile, or for people who consider music his life's work – musicians and performers, because they need to have a professional device for playback of music, which displays to all the nuances of sound. These models can be safely counted among the heroes of our review and headphones Ultrasone DJ1 and DJ1 Pro.
We begin with an overview of the older models Ultrasone DJ1 Pro.
Headphones are supplied in a box having dimensions typical of this class of devices. Very well thought out design, and materials used in very high quality, however, and a combination of black, white and colors srebristogo looks stylish. So that the headphones make a good impression, which is not surprising. Scarves are made of wear-resistant arc plastic. He looks very worthy, and in practice, it has proved extremely durable.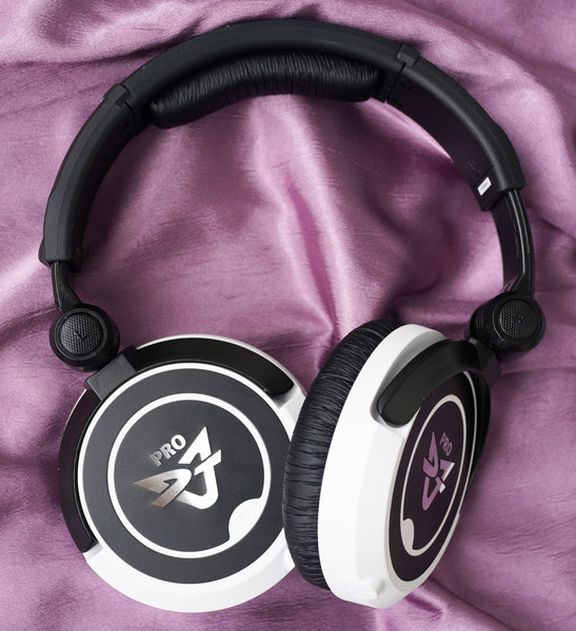 Their length varies widely – they are suitable for any head, because rigidity fixing the position of the mechanism on top. The upper part has a soft insert from eco-leather. He also finished with themselves and ear pads made of special foam. They are quite large and perfectly cover your ears. Even when you wear them for a long time, any negative emotions arise. Despite the impressive appearance, headphones weigh only about 300 grams, so that they hardly felt on the head.
The device is equipped with a mechanism for turning the speakers that can rotate in both horizontal and vertical. And all fasteners securely look and not loose. The headphones have a closed structure, so that even when listening at high volume levels do not interfere with others.
As used in this model, drivers having a diameter of 50 mm. According to the manufacturer in these headphones used proprietary technology S-Logic Natural Surround Sound, its essence lies in the fact that the radiators are arranged in a special way, thereby creating the effect of live sound and greater acoustic scene. Moreover, it helps to win 40% of the volume, without increasing the pressure on the eardrum. The advantages also include the presence of standing electromagnetic shielding, through the use of a metallic coating.
Complete with Ultrasone DJ1 Pro supplied two types of cable. One meter long, designed for the mobile lifestyle, equipped with a standard 3.5 mm plug, the other is a long one, and looking very solid, is positioned for listening to music on good equipment. It has a 6.3-mm plug.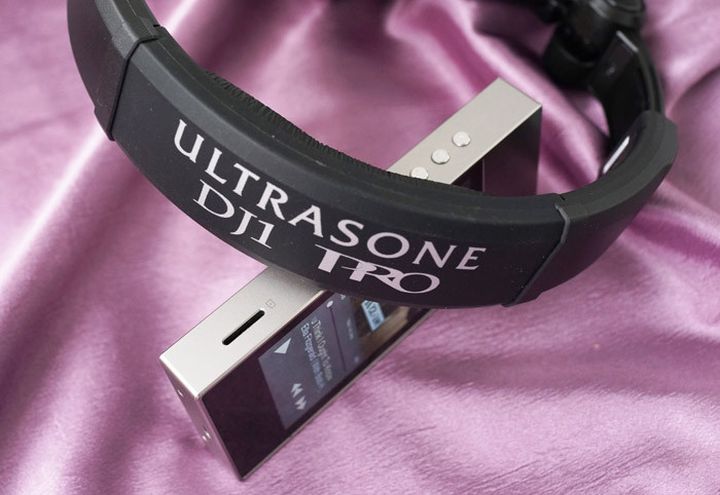 Attaching the cable to the headphone has high reliability, each of the members of the set has a special thread. So just insert the plug into the headphone jack on enough, you also need to properly fasten.
To test the sound quality, we used a number of test compositions in high definition. The source signal used player Astell & Kern AK120 II.
According to our observations, the sound of the headphones is largely dependent on the cable used. In particular, using the first it is slightly refined, well-designed top and mid-frequency range, but the low quite a bit lacking. This sound will please fans of dynamic electronic music. Catchy rhythms of Astral Projection sound amazing. But if you connect a second supplied power cord, the sound becomes noticeable density with well-isolated low frequencies. And without that rather big soundstage becomes even a little wider, and individual instruments begin to appear brighter. In my opinion, this connection it is worth paying attention to fans of classical and jazz.
For ease of portability, this model comes with a special wardrobe trunk, in addition it is worth noting the presence of pairs of interchangeable ear cushions included.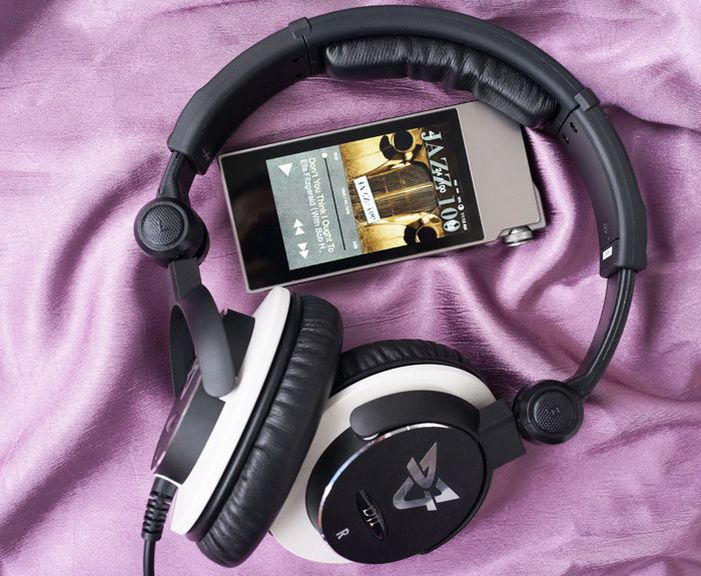 Junior model Ultrasone DJ1 largely repeats the older features. Although her appearance impressed me more personally, it's slightly more severe due to the use of opaque plastic in the design of the speakers. More affordable price of this model in no way affect the quality of execution. Here we see a similar swivel design headphones, making them very comfortable fold.
The diameter of the cups are slightly smaller, however, for the convenience of wearing they may well compete with the older model. One of the differences is called rigidly mounted on one cable of the headphones. It is made of a non-detachable and has a 3.5-mm plug to connect to the source. However, for those who use a serious hardware equipped with 6.3 mm jack, it provides the thread under the appropriate adapter. Included with it comes a soft cloth bag for carrying.
The main feature of these headphones – their remarkable transparency, the ability to uncover the elements of music, without making a special color and distortion. The sound of their very detalizovannye, for example, they do not hesitate to emphasize the sharpness and roughness Eminem songs «Stan». But this detail in the sound is not always a plus, because the shortcomings of the current track immediately swim to the surface. Feels emphasis on high frequencies, the average worked acceptably, but quite a bit lower lacking. Acoustic scene is broad and does not yield high-end model. And classical recording – "The Nutcracker" by Tchaikovsky or "In the Hall of the Mountain King" by Grieg sound very good.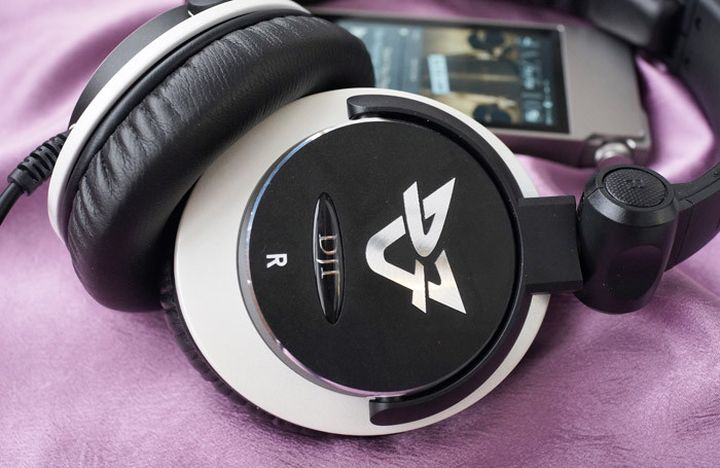 The company released a very thoughtful Ultrasone headphones, which thanks to its special design and high quality performance will undoubtedly find its audience. Model Ultrasone DJ1 Pro pleased very versatile, but high-quality sound and a rich bundle. Headphones Ultrasone DJ1 at a more affordable price can attract excellent study of details and functionality.
Grades: 89 and 83 points
Manufacturer: Ultrasone
Read another very interesting article about alternative energy of the Sun, water and air.