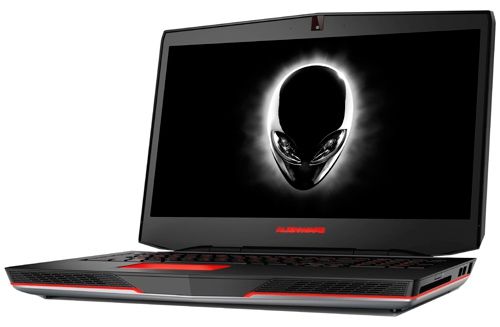 When the legendary title «Alienware» adherents playing style shudder. They are like no one else knows what adventures await them, should be involved in the process of playing on such a powerful laptop. Is not the first year, these truly terrible Soup occupy a leading position, and their competitors are the least productive laptops, for example, MSI or ASUS. By the way, despite the high cost, fans Alienware is not reduced.
At the time, we became acquainted with a number of laptops of this family, each left an indelible mark and did not disappoint. For example, the 18-inch Dell Alienware's flagship is equipped with CPU Core i7-4800MQ and two powerful discrete graphics card NVIDIA GeForce GTX 780M, working in mode SLI; a relatively small 14-inch displays high performance, thanks to the GeForce GTX 765M graphics and quad-core Intel Core i7-4700MQ. In no way inferior and Dell Alienware M17x, which has its undeniable advantages, including no less productive filling, supplemented by two terabyte hard drives in RAID 0.
Familiarity with Dell Alienware 17 Release 2014 promises to be no less interesting. It also uses the top-end graphics, works in conjunction with the processor Haswell, possibly gaming "alien" is as perfect as his brothers in the shop and on reason.
Design
On the power and uniqueness of this laptop can "see" even through the prism of his appearance. Militant and partly minimalistic look of the laptop Dell Alienware 17, as well as a recognizable face on the cover of a stranger produces, as before, an unforgettable experience. Sloping lid panel have a dark gray matte finish, they do not look rough, and with stripes backlight notebook on the contrary, quite original. Even seemingly massive elements like not only gamers, but also simple layman, indifferent to the entertainment.
Form laptop traditionally difficult to bring to a common denominator – exaggerated a rectangle, which is closer to the rear end has a sloping cut corners. Sidewall casing particularly noticeable due to the large insertion, but this merely adds to the overall ideas of designers. As a result, the appearance of this laptop is quite recognizable to the previous model, everything has finished appearance and uniform style.
The materials used in the building, complement the image of an unyielding laptop. Here live well brushed aluminum and magnesium alloy. All this protects the Dell Alienware A17 of random vibration, as well as small mechanical damage from the outside, inevitable in daily operation.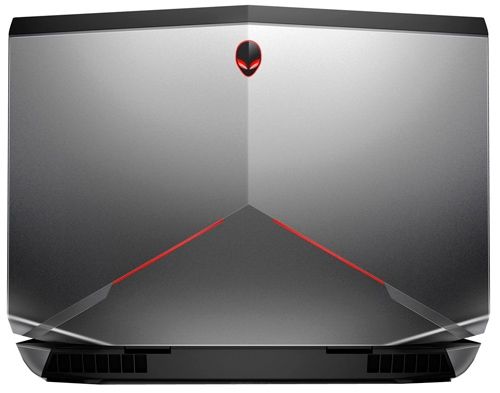 The bottom surface is half occupied vents. Of course, too powerful devices differently and should not be, because the heat dissipation must be in the case of high load is intense enough. Assembling the notebook is excellent, no squeaks, no flex. Hinges connecting the display to the base, stand the set of opening / closing. In general, in another way, and could not be, because requirements in this respect at least high.
It is unlikely that the choice of Dell Alienware A17 you a big worry for large size and considerable weight. However, this information should not be neglected. Thus, the size of the notebook 413.5h299h48-46 mm and weighs 4.15 kg. Definitely not a game, but an ordinary 17-inch laptop is often more compact than this.
Display, sound, webcam
The laptop is equipped with 17.3-inch Full HD-display with a resolution of 1920×1080 pixels. TFT-matrix has a matte surface, but not perfect visibility. But the size of the screen is easy to play, not to mention watching videos and other tasks. The display has excellent color and detail, as well as a sufficient level of brightness (an average of 260 – 270 cd / m2). In addition, thanks to the good contrast black really is as close to ideal.
Webcam Laptop Alienware 17 is much better than in many other laptops. It has a 2-megapixel resolution is complemented by two stereo microphones, in general, is ideal not only for Skype, but if you need to take pictures.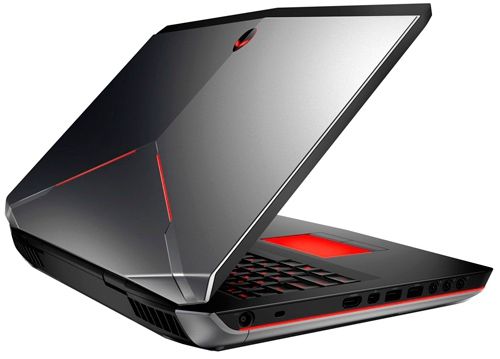 Also, do not fail speakers Dolby Home Theater v4 and Support Klipsch. For sound coming from the speakers will be characterized by saturation, frequency balance and volume. You can clearly hear the bass and do not strain your ears, because the volume is missing. In the games soundtrack is quite important, so do not once again explain how such speakers have in place. By the way, it will be more advantageous in comparison with Dynaudio, standing in gaming laptops MSI, and will maximize the plunge into what is happening on the screen. In the end, you can connect headphones to experience total immersion in the game and appreciate the sound close to ideal.
Keyboard and Touchpad
While using a laptop keyboard you will enjoy not only the standard mode, but you can tell the whole working surface, as used herein matte soft-touch coating. From that your fingers will not slip at the wrong time. In addition, the keypad is quite clear impact and a good move with a minimum of noise when pressed, is available nampad.
I would also like to note the interactive branded lighting AlienFX, which understood, will manage it easily. As a result, special settings can be highlighted not only the touchpad, power button, but the whole keyboard or its separate areas.
Additionally, you will be able to choose a favorite color for illumination or adjust the backlight so that the color will flow from one area to another. In general, in the darkness of a laptop with such a unique lighting will look simply spectacular, whereas without it more commonplace.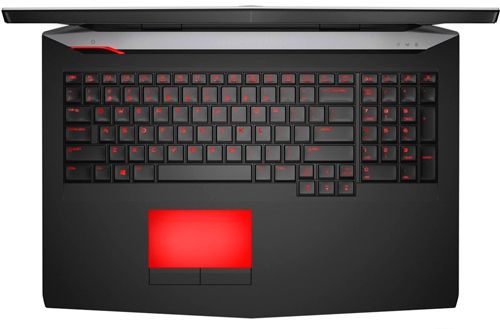 Above the keyboard, you can see only the power button, which is not distracting from the overall style. Although, if we compare, for example, Dell Alienware M17x, its design has changed. Now this diamond shape instead of alien head. Also out of the keyboard has three LED's indicating the job storage, wireless, and Caps Lock.
As for the touch zones laptop, it dull, like the rest of the working area. However, the use of the touchpad convenient not only because of the slip surface, but because of high sensitivity. In addition, the area is perfect for medium-sized positioning performance of standard multi-touch gestures (scrolling, zooming). By the way, the touchpad is made traditionally, ending two classic physical keys. As the keyboard keys, they work is relatively quiet. However, hardly touch zone will use during the game, in this case, the advantage is on the side of the mouse.
Performance
Dell Alienware A17-9226 is not a top, but quite productive version. In it there is a 64-bit operating system Windows 8.1, as well as set fourth-generation processor Intel Core i7-4710MQ, built according to the norms 22-nm process technology. This is quite a powerful quad-core chip that easily cope with a lot of calculations, including gaming. It has a cache in the third level of 6 MB and a clock speed of 2.5 GHz, which can grow up to 3.5 GHz via Turbo Boost. Also in addition to this technology, there is support for Hyper-Threading, whereby Core i7-4710MQ will master up to eight data streams simultaneously. This will ensure a smooth and quick work regardless of the level of complexity of running applications. The maximum ratio of the processor TDP of 47 watts. I must say that depending on configuration can stand and other family processors Core i7, including: Core i7-4810MQ, 4910MQ or the most powerful – Core i7 Extreme 4940MX.
It is worth mentioning about AlienAdrenaline Accelerator. With this function, you can increase the performance of the device. Also, you will be able to customize the game to create multiple game profiles.
Another important component of the filling is RAM. Its volume in this configuration is 16 GB standard DDR3. For RAM has four slots, each of which is worth 4 GB strap. Of course, such a simple laptop too much capacity, while the gaming device is normal. By the way, the maximum amount of system memory that can be installed in a Dell Alienware 17 is 32 GB. In this case, each unit is placed on the 8 GB.
Knowing that laptop gaming, and high-level, all eyes will be not the built-in Intel HD Graphics 4600, and by the powerful discrete graphics card NVIDIA GeForce GTX 880M. It has a capacity of 8 GB of internal memory standard GDDR5 and is responsible for visual computing laptop. Also, this accelerator may be used up to 3 GB of RAM allocated. The video card is built on 28-nm technology architecture Kepler, supports DirectX 11 and has 1536 CUDA cores and 128 units TMU. In fact, GeForce GTX 880M – it's GTX 780M, but with more video memory and increasing the operating frequency. So she razrulit any modern games on high settings, perfectly show itself in a variety of complex tasks. By the way, using the NVIDIA GeForce GTX 880M can display the image simultaneously on four external display, of course with the appropriate number of ports.
It is clear that with the graphics performance in games everything is going well. Here are some examples of just a few of the great number of modern toys of 2014, in which you can play: Far Cry 4, Call of Duty: Advanced Warfare, Alien: Isolation. Of course, all of them will go to the highest setting, Full HD-resolution and with a frequency of more than 40 fps.
The notebook for storing data selected hybrid drive. Firstly, it is a hard drive 1TB and 7200 rev / min. Secondly, there is provided SSD, the capacitance of which is – 80 GB. It is unlikely that the owner of Dell Alienware A17 will not be enough.
Filling laptop certainly impressive, it does include performance components. Given such a high power, we can not ignore the cooling system of the device. I must say that in this case it works effectively as a separate coolers cool the processor and graphics card to remove warm air provided large ventilation grilles. Even if you play demanding games, body Dell Alienware A17 does not become too hot, rather warm. In addition, you should not obsessing about the noise from the fans running, although they are not the quietest.
Ports and Communications
Interfaces in a laptop is more than enough. They are placed on the right and left side of the housing, wherein on their last longer. So, on the left you can see the slot for charging, Kensington lock slot, microphone input, including to connect audio system 5.1, a pair of audiodzhekov: separate headphone and earphone with microphone. This will significantly expand the capabilities of a notebook, making the process much more convenient operation. Moreover, on the left side there is Mini DisplayPort, combined HDMI (1.4 input, output HDMI 1.3), as well as two USB 3.0 standard, one of which supports PowerShare, allows you to charge multiple devices from the laptop. Of these can be called a rarity input HDMI, usually in laptops provided an outlet for broadcasting images on an external display.

The right side Alienware A17 is the optical drive DVD ± RW slot-loading, over it – card reader 9-in-1. Closer to the rear panel is a network RJ-45 connector and two more USB 3.0. Also there is a complete set, which are equipped with a Blu-ray-drive.
Wireless communications this notebook are Wi-Fi 802.11 b / g / n and Bluetooth 4.0. It is worth noting the presence of the network card Killer, providing high-speed connectivity and fast data transfer.
Battery
The device is equipped with 8-cell lithium-ion battery capacity of 7800 mAh (86 Wh). However, a strong pull stuffing with Full HD display will not be easy, even on the basis of such indicators. Therefore, the time from the battery and do not exceed more than three and a half hours, if engaged in a little of everything: watching videos, games, web browsing and so on. Of course, at full load Dell Alienware AA17 exhausted after hours of work. In general, high autonomy does not fit with this, as, indeed, any other productive gaming device.
Conclusion
Well, it looks like a laptop Dell Alienware A17 no less fantastic than its predecessors. The design has not changed, it is still very original and memorable. So at home will not look less impressive than any other gaming device.
Of course, this high-performance gaming machines can not be even a moment's doubt that she can not cope with modern challenges. In addition display with Full HD-resolution and excellent acoustics is a great experience in the game, or watching videos. As for programmable backlit keyboard, then forget this is unlikely to succeed. Especially since it is not just beautiful, but also very convenient, because allows you to set different color zones, convenient for the player. If we talk about the ports, in addition to four USB, still has three connectors for microphones, headphones, and not only the output but also input HDMI – a rare phenomenon in the laptop. In addition, I want to praise the 2 MP webcam and excellent build quality.
Certainly count on high autonomy is not necessary, but this laptop will often be at home near an outlet, rather than traveling. In general, the laptop will not cause disapproval, and even considered the cost of equipment is about $ 1,900, will not reduce the army of fans of the game.
By the way, most recently at CES 2015 was presented once again updated Alienware 17. So fans of this series are waiting for new experiences and perhaps unexpected surprises.
Read another very interesting article about alternative energy of the Sun, water and air.