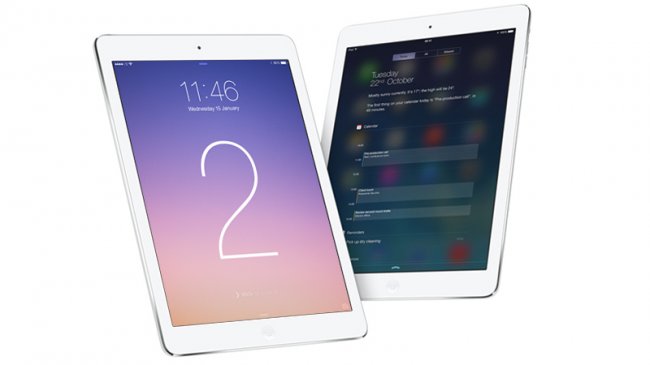 The latest rumors say that has a little more than a week, we once again plunge into the atmosphere of Event from Apple. Oct. 16 – that day, which we expect, and the main event of the day has to be the announcement of the second-generation iPad Air 2. Previously, the web floated various rumors about the future of the tablet, and to get a general idea of ​​the product and the future of the event, put it all together.
About the event:
What: Presentation iPad Air 2 and other products of the company
Where: Apple Town Hall in Cupertino
When: Thursday, October 16
On the iPad Air 2:
The modified design of the holes for the speaker – presumably instead of two rows of holes on the body of the tablet of the future will be located one row, as it is implemented in the iPhone 6.
Displacement of the microphone – one of the device's microphone, is rumored to be moving on its back, closer to the camera.
The new anti-reflective coating – it can facilitate the reading from the iPad to the world.
Touch ID – button Home, fingerprint reader user, which is already used in the iPhone, and may appear in the iPad, making it possible to run Apple Pay on the tablet.
Redesigned volume buttons – is rumored to have buttons for volume control may become more recessed into the body of the tablet.
2 GB of RAM – maybe, iPad Air will be the first iOS-device with so much RAM.
A8 / M8 – A8 processor and coprocessor M8 are used in the iPhone 6, and probably, they will also be installed in the new iPad Air.
Golden color – just as it happened with a ruler iPhone, Tablets can also be released in three colors.
Apple Pay – payment system from Apple, which is to start work with iOS 8.1, and can go on your iPad.
Multiple windows – these rumors for a long time go, but there is a high probability that it was the 16th day of Apple shows several windows open simultaneously on the screen iPad.
It is understood that none of the above is not a fact, until Tim Cook did not announce it from the stage. Also, the company can surprise us devices like iMac with Retina-display or, for example, new players, which I personally would be very interesting to see. But for now, you should at least wait for the official invitation to the event from Apple.
Read another very interesting article about alternative energy of the Sun, water and air.