A few days ago it became known that Lenovo has become one of Google's partner that few years ago launched Project Tango. As you may remember, the project engaged in development of mobile gadgets that can scan the surroundings and "carry" its 3D model in the digital space.
Lenovo does not wait a long with the presentation of its first consumer product of Project Tango and announced its prototype in Las Vegas exhibition CES 2016. Smartphone has tablet phone display with a diagonal of 6.5 inches. It is equipped with 4-MP rear camera with angles of 180 degrees. The front camera with angles of 120 degrees has third camera with a low resolution of 180×320 pixels, which is necessary to determine a depth.
The commercial version of tablet phone almost certainly will have this set of cameras. But we expect that smartphone will receive a complete redesign, which will use it in a more familiar phablet portrait rather than landscape orientation.
During the presentation, the director of Project Tango demonstrated some possibilities of smartphone. First, he used the toolkit developers to render the scene, where the presentation took place.  Moreover, he placed virtual refrigerator in the corner of scene. All this action looks fantastic.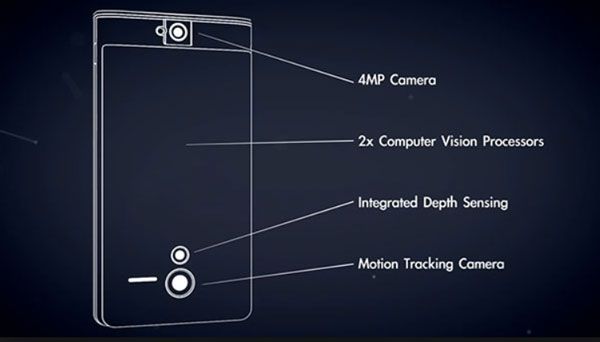 As for the tablet phone Lenovo, we expect that it will be released on the market next summer, and its price will be less than $500.
In addition, Google and Lenovo have launched an initiative that aims to support the development of interesting games and applications related to technology 3D-scanning of surrounding space.
Developers can submit applications until February 15, then Google will select the best ideas and provide them with funding and support to bring them to augmented reality. New applications for augmented reality will be available in the new smartphone.
Note that Intel has already started taking orders for similar smartphone/developer kit with 3D-camera RealSense, which also supports the technology Project Tango. Intel smartphone can be ordered for $400.
Read another very interesting article about alternative energy of the Sun, water and air.