Perhaps you've seen Android Beam in your smartphone, but do you know what it is? Today we want to tell you about Android Beam and how it can be useful for Android users.
With Android Beam?
In simple words, Android Beam is the software that controls the technology NFC. As you probably know, NFC is an acronym for Near Field Communications. This wireless system allows you to transfer data between devices at close range.
As a fact, we note that the first phone with NFC technology was the Nokia 6131 and it was released in 2007. Over time, it began to appear more and more devices are equipped with NFC chips, especially high-end smartphones. The new technology has been applied to mobile payment, identification systems (access to buildings, transport, etc.), or simply exchanging information.
As I said before, Android Beam is software that optimizes the use of NFC. Android Beam function first appeared in the operating system Android 4.0 Ice Cream Sandwich on the Galaxy Nexus smartphone four years ago.
What is the Android Beam?
Android Beam function can be used to send pictures, videos, links, contacts, location and more. To do this, you need to activate the NFC in setting menu.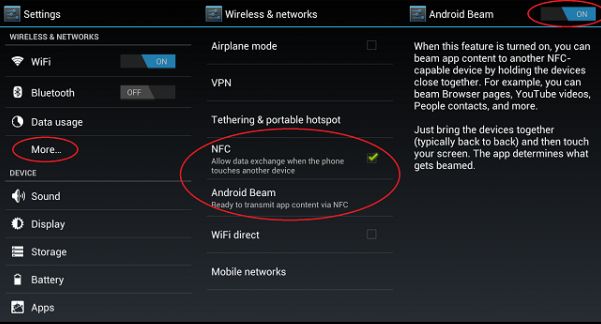 Once you enable NFC, you can select the file you want to share, for example, a picture, click on the icon Share and choose "Android Beam". Now attach your phone to another device, which you want to transfer a file, and the data is sent.
NFC technology is becoming popular in many stores and has great potential. Also we must not forget that NFC is one of the most secure technologies that available today.
Do you use Android Beam to transfer data? Do you believe in the bright future of technology NFC?
Read another very interesting article about alternative energy of the Sun, water and air.