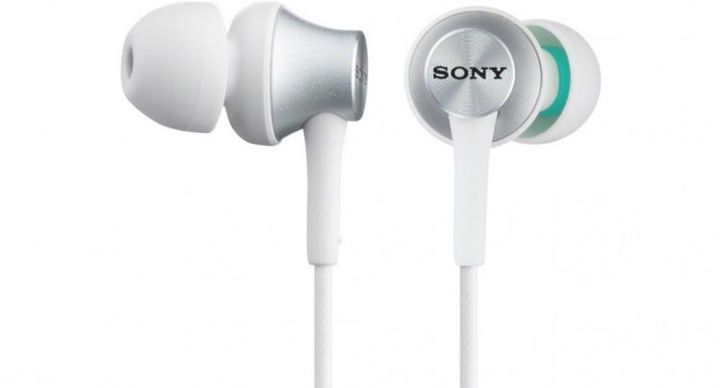 The choice of headphones for listening to music outside the home is a very delicate topic. Firstly, these devices must have good ergonomics, it was convenient to wear them, and robust design, because there is always a chance to catch the wire for anything. The second factor is the sound, which, of course, though, for many is the main criterion. Let's see how headphones Sony MDR-EX450AP suitable as a daily musical companion.
Packaging, equipment
Packaging MDR-EX450AP has an elongated shape, similar to other models of intratubular type. Inside you can find yourself "gag", carrying pouch, 3 pairs of extra ear cushions winding headphone and documentation.
Have not even listened to a model already created a positive impression thanks to this set.
Appearance and quality of materials
To put us to the test headphones white. In general, Sony MDR-EX450AP look good and have a peculiar features for the producer. The upper part ergonomically shaped bowls made of aluminum, while the bottom of the plastic – a good solution can improve the appearance, but the cold of metal is not transferred to the auricles, which is important in the winter.
Ear pads are made of the same soft silicone and perfectly kept in the ears. The cable is thin enough, but the type of durable, has a relief coverage for greater tenacity. Jack 3.5mm made an L-shape to a lesser probability of inflection in the wire cable than the famous headphones with a straight base from the connector.
Convenience in daily operation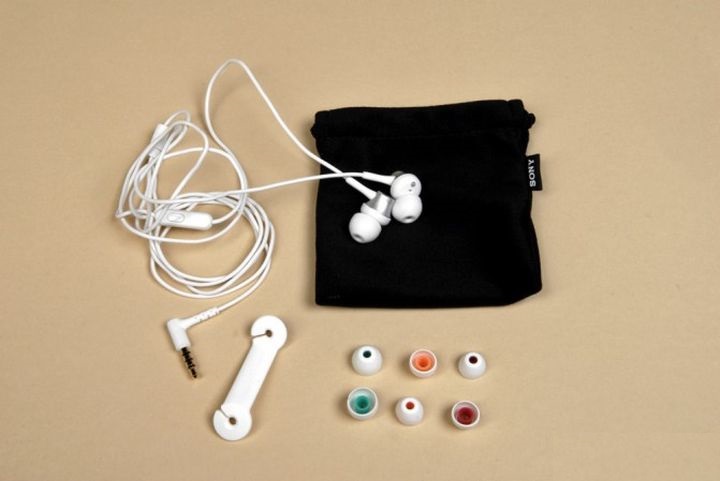 The author of this article has been a week of time to enjoy all the advantages and disadvantages of headphones Sony MDR-EX450AP. In general, the picture is quite worthy – thanks to the curved bowls with minimal weight and excellent ear shells fit like a glove and not fall out. 1.2m long cable that is optimized for use on the street and do not tangle in your pocket, and to adjust the length has a jumper that allows you to choose the desired length or to make asymmetrical headphones.
Sounding
Sony MDR-EX450AP tested using a digital-to-analog converter Asus Essense One MKII Muses and smartphone LG Optimus G with the player PowerAmp. To evaluate the sound used songs of different genres formats FLAC and WAV. The first thing that is noticed, it's total dominance of low frequencies – they are too many. Pleasantly surprised by the scene with a clear arrangement of musical instruments, but the last detail is mediocre. When playing Michael Jackson – Smooth Criminal almost lost guitar riffs in the background, but Gary Moore – Oh Pretty Woman clears elegant, but with an excess of bass. The maximum volume suit almost everyone, even when using portable devices. Soundproofing is not bad and is at a standard level for vnutrikalnyh without active noise cancellation headphones.
Compared with the model considered almost standard for their money Xiaomi Piston and Soundmagic E10 – the gap is felt mostly through the detail and scope of, well, the balance frequency response. Although we can not say that in front of us on the exhibit uninteresting part of the sound, because for such a cost that is 500+ USD as of this writing, this is not a bad option. The sound has its own flavor, which will be enjoyed by many, especially fans of electronic music.
Functionality, compatibility with devices
As we face the model with an index of AP, in addition to the classic headphone buyer also receives a remote control with a single button and a microphone on the wire. The functionality of the standard – the best you can skip, play, stop, tracks and answer / end calls. Microphone copes with its task and bad passes voice even when talking in noisy places.
Encouraged by the fact that the Sony MDR-EX450AP can work with smartphones on Android, iOS and BlackBerry. The right decision, because some manufacturers produce models that are not able to work correctly with all of the above devices.
In summary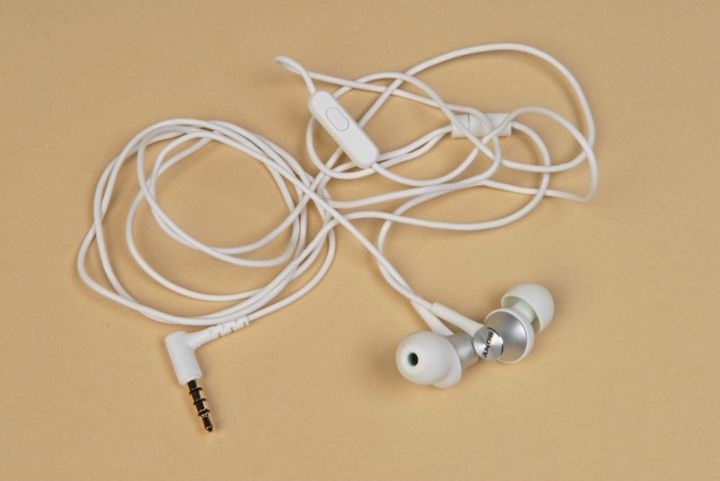 So, we have a pretty good option for those looking for a headset with a microphone for your smartphone that has good ergonomics, good materials and workmanship. Also, it is worth noting a complete set, which includes winding, case and extra ear cushions. Sounding Sony MDR-EX450AP not the standard in its price range, but not an outsider. I seriously doubt that most people buy their "gag" with excellent sound, to listen to them in a noisy environment – in this sense is a little. But for such purposes hero of our review will approach can be very useful.
We liked:
+ Appearance
+ Quality materials and workmanship
+ Functionality
+ Options
We do not like:
– The sound is not the best in its price segment
Read another very interesting article about alternative energy of the Sun, water and air.