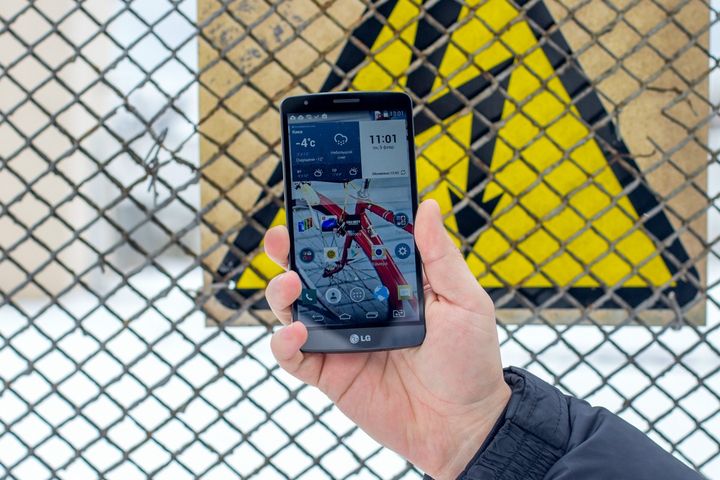 LG G3 Stylus – a smartphone aimed at the audience for which important details such as a large display that is relevant to everyday tasks "iron" and, of course, a stylus. In the case of the models tested last neatly tucked away in the upper part of the body. Price, detailed specifications and our impressions of the tube later in the review.
Design and body
Outwardly naked eye is difficult to distinguish from LG G3 Stylus flagship G3. And it is certainly a huge plus, because the status design will always be held in high esteem. Long to write about the exterior of the tube does not make sense. It does not go beyond last year's concept of the entire series, built on the style of the G3. Stylus version only expands the range offered by LG devices, each of which received its own unique "touch." Whether it's more compact size, support for two SIM cards or built-in pocket for the stylus, as in our case.
The front part of the smartphone is fully closed glass and additionally protected slightly protruding rim of the housing. Glossy marginalia gradually transformed into a matte lid covering the rear panel. Last received coverage under the polished metal, does not collect yourself extra prints and fingerprints. I think that behaves similarly to the panel and white G3 Stylus or, as indicated by the official website – silky white. We have to test – metal black.
But the location of the main elements still need to be reminded. Are located on the rear panel power button divided paired volume control buttons, camera, flash and multimedia speaker. When you look at the smartphone from the rear, it is difficult to err on the manufacturer, even if you do not pay attention to the applied immediately logo LG.
Directly under the cap is removable battery, two slots for microSIM-cards and one for memory cards microSD. The rear panel can be removed without much effort and help this special clearance on the right side. Apart from him, by the way, at marginalia nothing. Infrared port, microphone, 3.5mm and microUSB port are located on the lower and upper end. There also was a place for the stylus.
Work with smartphones more comfortable with both hands. Keep it handy and one, but only if you have at least a hand of average size. In the hand unit does not slip, assembly performed at a high level and do not bother with unnecessary gaps or tight interfacing elements.
The Hardware, operating systems and applications
The test device is running Android 4.4.2. Of innovative applications, which we have not seen before, nothing to note. Of course, the most interesting "chips" G3 Stylus tied to the stylus. For these purposes, for example, the preinstalled Quick Memo +. It is easy to create both standard text notes reminder and fotopamyatku. After that, in order not to forget important, bring it to one of the desktops.
Stylus behaves very predictable – exactly fulfills your ideas by drawing and responds correctly when working with the interface.
Large display and easy to use smartphone to work with documents, and games, and watch videos. Incidentally, the latter can be viewed, including Full HD-resolution. Already become a classic Asphalt 8 runs at a high level of detail and no brakes.
Moreover, it is worth noting that the hardware stuffing tube – it is just a 4-core processor MediaTek 6582 1.3 GHz, 1 GB of RAM and 8 GB of internal. Drives are available to the user in a little more than 3GB. Checked in practice – our memory card to 64GB GoodRam recognized. USB-OTG interface is not supported.
It is important that this set of hardware support and simultaneous operation of two applications. Also, the software provides the function of gesture control and work with a pipe in one hand, a simplified desktop and the ability to run applications using the keys on the rear panel. And, of course, how can not remember more about Knock Code – one of the most convenient, in my opinion, the way to unlock the smartphone.
As part of wireless modules and interfaces note Wi-Fi 802.11 b / g / n, Bluetooth 4.0 and A-GPS.
Display – LG G3 Stylus
In LG G3 Stylus installed 5.5-inch screen. It is made by IPS-technology and only slightly less than the entire area of the front of the smartphone. This is a large format, and it's great for movies and photos, as well as a great notebook for notes and drawings.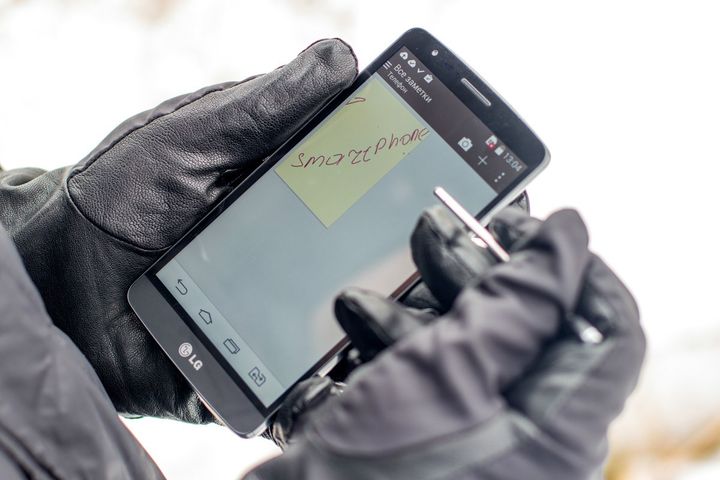 Display resolution – 540×960 pixels. It's a bit for the diagonal. Viewing angles are excellent in all planes, and fingerprints are deleted only if enough efforts. Information from the screen in a sunny day to read well, especially at high brightness. Last regulated manually.
Top display covered with protective glass, but it's not Gorilla Glass. While on a test sample which has passed through not one hand, signs of damage and scuffs not – so reliable coverage.
Speaker
With regard to the speakerphone, the sound of it clean, but a little lacking bass. Maximum volume is sufficient for any circumstance – Up on the subway or on a busy street will not miss. The earpiece flawlessly.
Camera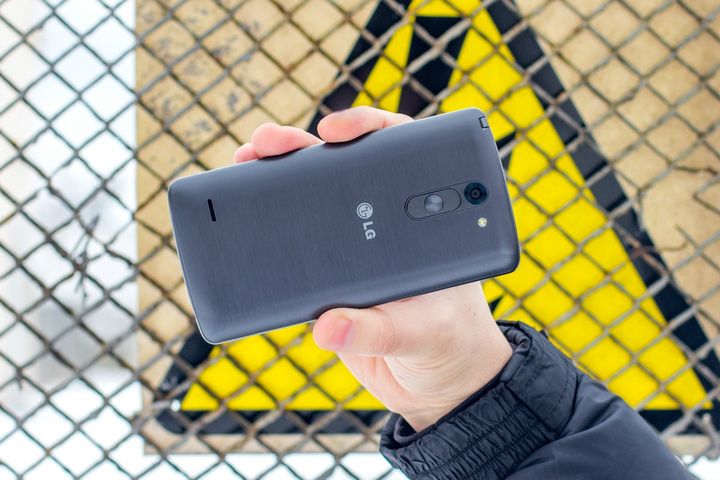 In the model G3 Stylus involved 13 megapixel primary and 1.3 megapixel front camera. The latter would be sufficient to videoozvonkov, but for the quality it self is of little use.
More interested in the main photo module. The photo is of good quality, especially when a sufficient amount of lighting on the street. Maximum resolution when shooting 13 megapixel – 4160h3120 or widescreen 10 megapixel version – 4160h2336. Settings are not very many. But at the same pictures can be done on the touch screen, voice or gesture. Enough to squeeze an open hand into a fist and the camera will launch a three-second countdown before taking a photo.
Battery

As part of the autonomy of the LG G3 Stylus deserves special praise. 100% battery capacity of 3000 mAh allow us not to worry, that at the end of the day you will be without communication and his diary. It is in this mode, I used a tube. Completely abandoned paper records, add and view them on your phone – it's about 30 minutes a day. Of course, listening to music – on average about 1 hour, watched the video – up to 1 hour, photographed – 10-15 minutes, and was still talking on the phone – 30-40 minutes and check my email. Total before going to bed I had at least 30-35% charge. And this is a very good stock. In a more economical mode can stretch the process of operation without recharging and for 2 days. Power-saving mode is provided.
Competitors
Real, a little close to the price, competitors G3 Stylus virtually none. Most of the smartphones in our market with the stylus supplied with a HD or Full HD screen, while the hero of our review indicators of 540×960 content. It is paired with a more modest "iron" makes it to $ 60 affordable Samsung Galaxy Note 3 Neo. About rivalry with Alcatel ONETOUCH Hero and other giants and say nothing, the price tags vary in a hundred or more dollars.
Findings – LG G3 Stylus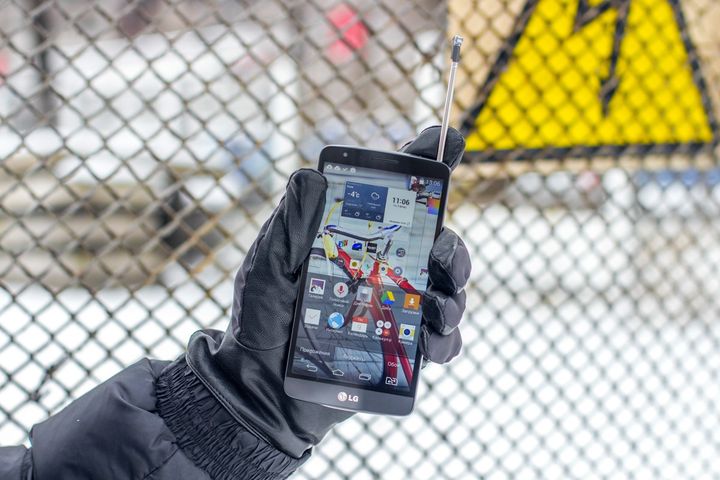 Well, LG G3 Stylus can be called a wagon on the part of possible areas of application, and for a very affordable price – just $ 215. May confuse a small display resolution of this great smartphone. But believe me, it far exceeds the capabilities of the handset software, built-in stylus and balanced hardware stuffing.
Pros:
Designed in the style of the flagship;
Stylus;
Good photo main 13-megapixel camera in the daytime;
Powerful battery;
Cons:
A small display resolution
Source: LG
Read another very interesting article about alternative energy of the Sun, water and air.