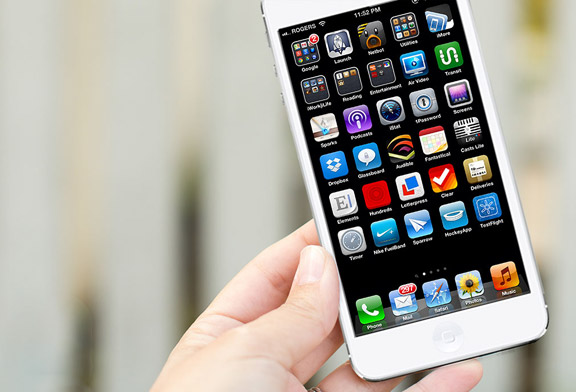 Apple testing new iPhone model with a larger screen, according to its electronic version of the newspaper The Wall Street Journal. Representatives of the American corporation that information could not comment.
According to the publication, in the last months of the iPhone and iPad maker ordered from suppliers screens prototypes with a diagonal of 4.8 to 6 inches. "This is a substantial increase over the current modification of the iPhone, presented last fall. Diagonal display iPhone 5 is 4 inches, "- writes WSJ.
The Wall Street Journal notes that the decision to test the Apple iPhone with a larger screen is a response to increasing competition, especially from the South Korean Samsung. Last Wednesday, the last introduced a new planshetofon Galaxy Note 3 to the screen 5.7 inches. The device has a display with a resolution of 1920 x 1080p, processor speed of 2.3 GHz, 3 GB RAM, 13-megapixel camera and a pen-stylus. New made in a similar with other Galaxy devices design, with planshetofona back cover is made of artificial leather, and ends mimic metal.
In the WSJ point out that while it is only about testing, but not for the production of large iPhone. The publication notes that in the case of an increase in the size of the screen, the company will have to reconsider many aspects of the smartphone: first, the software that is to be calculated at a higher resolution, and second, larger screen – is the increased power consumption, which indicates the need for another battery. So will there planshetofon Apple's market is not yet clear.
It is expected that Apple will introduce 10 September two new smartphone – the flagship and the plastic in the colored casing. The first model will be called the iPhone 5S, second – iPhone 5C. Display size of these smartphones will remain the same.
Read another very interesting article about alternative energy of the Sun, water and air.