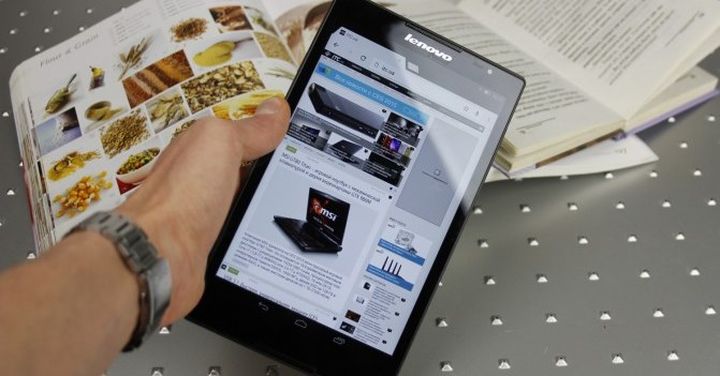 Today we look at one of the new Android-plates Lenovo. Model Tab S8-50 began selling in late October, she performed in 8 inch format and has one of the most compact in its class sizes. In addition, the tablet is built on a chip Intel Atom, and his FullHD screen devoid of the air gap.
Options
Lenovo Tab S8-50 comes in a simple cardboard box. Inside there are only cable microUSB, charger unit and documentation.
Design and usability
Like most other tablets, the hero of the review carried out in the most simple style. Housing Lenovo Tab S8-50 rectangular, slightly rounded corners of his, at the same time back has a noticeable ergonomic curves.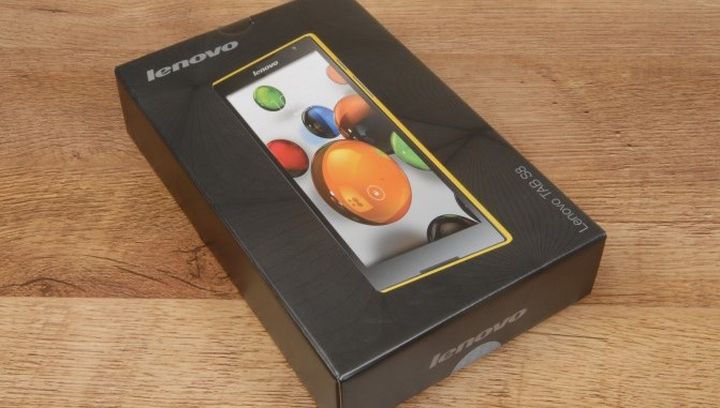 Screen size is 8 inches tablet, but the body has turned out rather compact, if you wish Lenovo Tab S8-50 fit in your pocket jacket or coat, moreover, it weighs 299 grams, which is quite small for such a device. Let's compare its size with the best competitors:
While maintaining the compact size of the frame plate can hardly be called too thin, their width is optimal for retention in a horizontal or vertical position, people with average palms will be able to securely hold Lenovo Tab S8-50 one hand.
Secure grip promotes competent selection of materials. The back is made of practical rough matte plastic. He is pleasant to the touch and practically does not collect fingerprints. The backrest can be black, white, yellow or blue, while the front panel is always black.
Location of controls is standard. The obverse features the manufacturer's logo, web camera and stereo speakers lattice.
The power button and the volume collected at the top of the right side. The keys are thin, markedly protrude above the body, are firmly in place, they are convenient.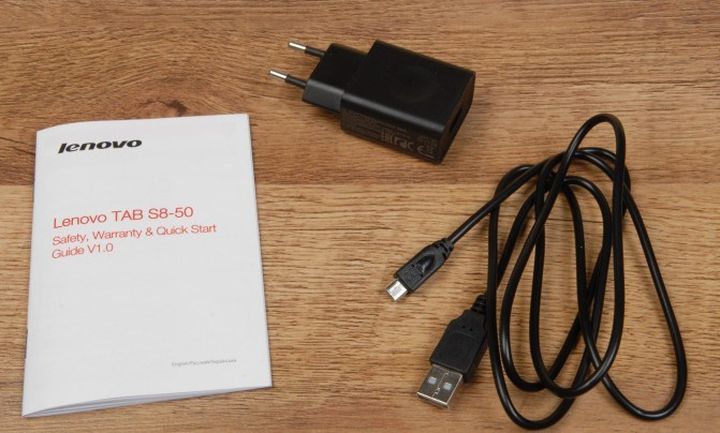 On the opposite side of the body symmetrically buttons below the door, you can find a slot for a memory card and SIM-card (in versions with module 3G).
MicroUSB connector and the main microphone were on the bottom, the top, you can find the headphone jack.
On the back are the main camera lens with LED flash, the manufacturer's logo and the chip maker.
The build quality Lenovo Tab S8-50 is very good, the design is already too tight, it is weakly amenable to deformation. The glass screen is framed by a thin frame that barely rises above the surface.
The back is made in the form of baths, this tablet is reminiscent of some models Nokia Lumia. The design does not require any user intervention, so the latch tight, but if necessary you can easily reach the interiors of the hero.
Display
Lenovo Tab S8-50 received IPS display diagonal of 8 inches with a resolution of 1920 by 1200 pixels. The air gap between the glass and the matrix is ​​absent, unlike smartphones, where such screens have become the norm in the plates they occur less frequently.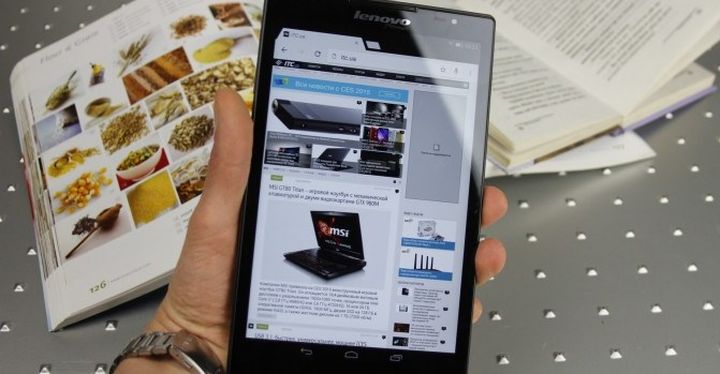 Display brightness varies from 6.2 to 367 cd / m², which is enough for comfortable use in any environment – from total darkness to bright sunshine. Automatically adjusts the backlight is not provided. The quality of the factory calibration is at a normal level, the screen of the tablet quite accurately renders colors and shades.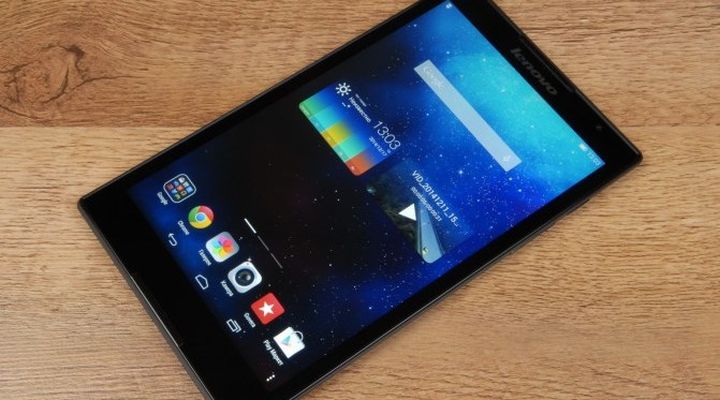 The display good anti-glare properties, for which we must first thank the missing air space. Horizontal and vertical viewing angles are maximum, but when you look diagonally image contrast is slightly reduced.
In general, the screen of the tablet there are no significant observations can be put forward except a few small requests. For example, I would like to see better oleophobic coating so that it is less than collecting fingerprints and other contaminants.
Hardware Platform
Hero of the review is based on a relatively new 64-bit hardware platform Intel. SoC Atom Z3745 is made in compliance with the standards of 22 nm process technology, it includes four processor cores running at up to 1.86GHz and graphics Intel HD Graphics. The amount of RAM is 2GB, 16GB built-in, there is a slot for memory cards.
In synthetic tests Lenovo Tab S8-50 shows good, but not record-breaking results. Speed ​​under normal use is located at the normal level, which is slightly lower than expected.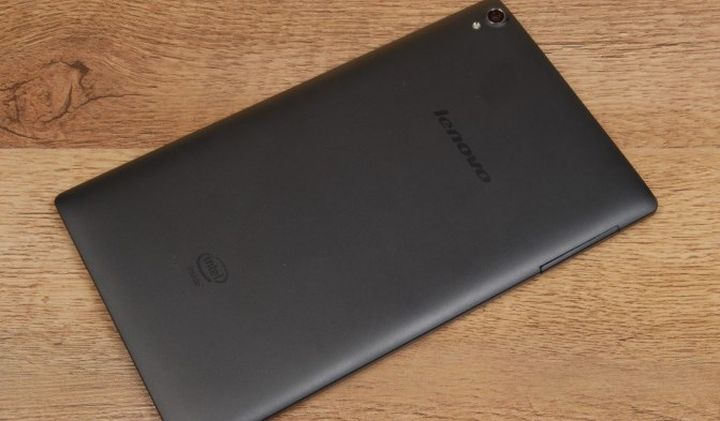 In general, everything happens quickly and smoothly, but sometimes you can notice a slight braking, which may be insufficient or optimization software or related to the specificity of the chipset. For example, podlagivaniya noticeable when changing screen orientation lock, and occasional jumps brightness when installing low-level lighting.
With games in general there is no problem, for example, Real Racing 3 and Modern Combat 5 went without problems, but wait for the download Red Bull Air Race and failed.
Work modules Wi-Fi and GPS does not cause any complaints. On sale there are several versions of the tablet. They are distinguished by the color of the back cover and the presence of GSM-module (support for GSM, 3G and 4G). GPS is in each of them, and models with a modem can be used as a phone.
Multimedia
Multimedia features Lenovo Tab S8-50 implemented at a good level. Built-in video player supports popular codecs, and test Antutu Video dials 478 points, but the sound track format ac-3 is not always reproduced.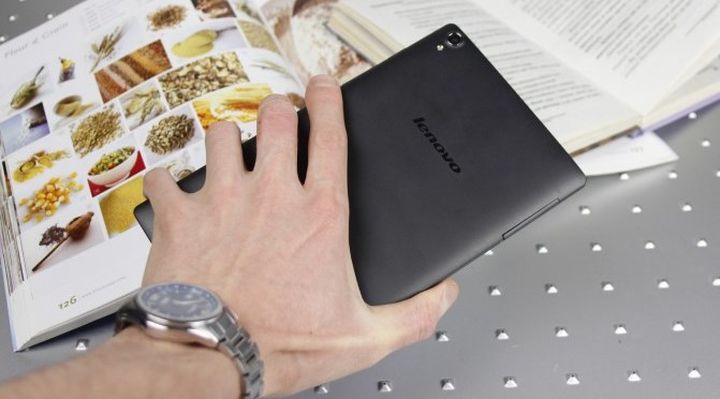 Located on the front panel stereo speakers play into the hands of the plate. Call their outstanding sound does not work, although in general they play nice – a relatively loud and clear, that allows the device to stand out among the many little classmates.
Operating system and shell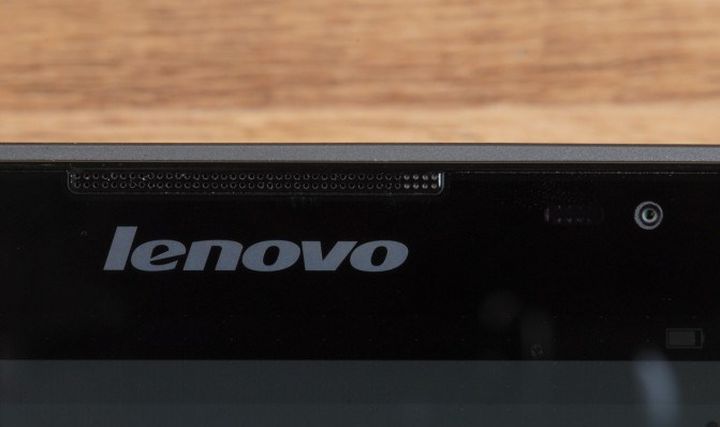 Lenovo Tab S8-50 is running an operating system Android 4.4.2 with a proprietary user interface.
Operation time
In the tablet has a Lithium-polymer battery capacity of 4290 mAh (16.3 Wh). According to the manufacturer, it is enough for 16.5 days of standby or 7 hours of active work.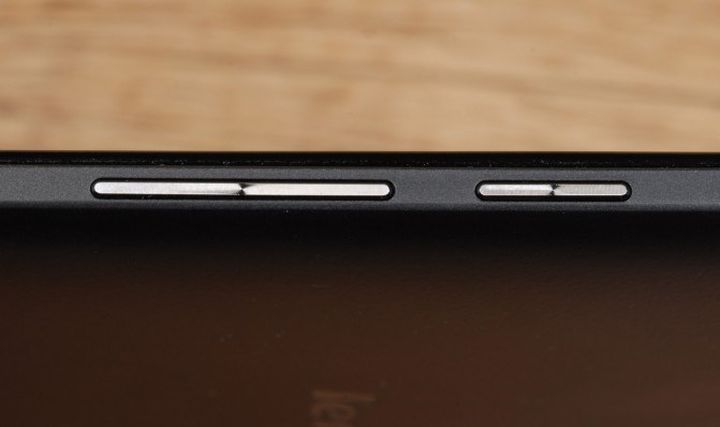 Using the Battery modest capacity – one of the major drawbacks of the tablet, but it was he allowed to achieve attractive weight and size characteristics. On average, the tablet can run for a day or two showing up to 5 hours of screen. In the test sample had a small problem with charging – it is charged only off by about 85%, so fully check the autonomy Lenovo Tab S8-50 we could not, but even these results are enough to make conclusions.
Camera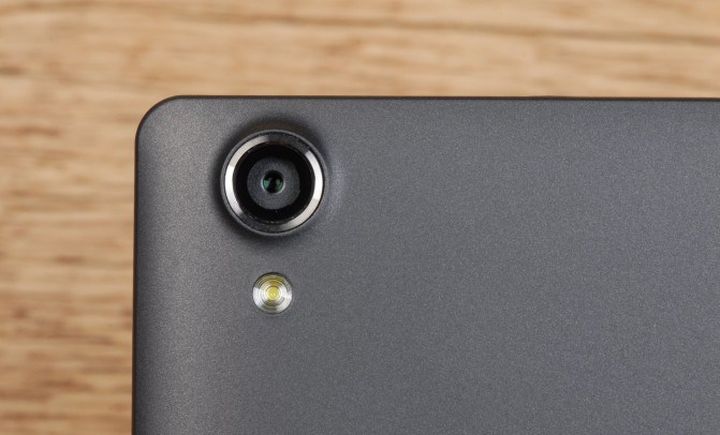 Lenovo Tab S8-50 boasts two cameras: front has a resolution of 1.6 megapixel and has a sensor on the main 8 megapixel with autofocus and flash. As for the tablet, the device removes the bad, if necessary, they will be available for capturing static scene.
Results
Lenovo Tab S8-50 – 8 inch tablet attractive in quality lightweight body. Based on the positioning and characteristics in front of us could be a successful replacement Asus Nexus 7 (2013), but the reality was not so rosy. Because of its shortcomings device looks a bit of a compromise, but let's talk about everything in order.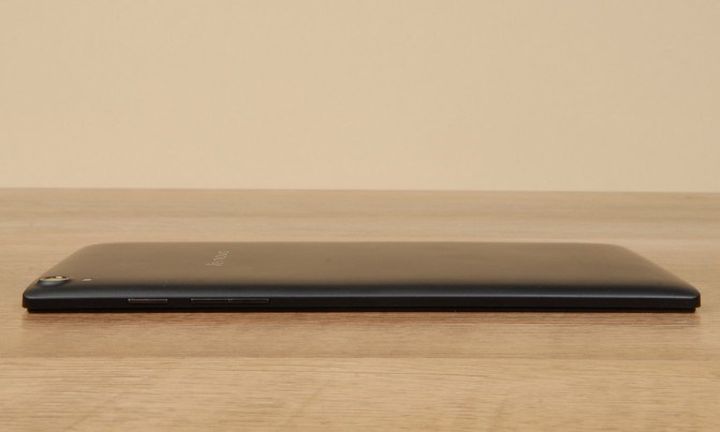 For obvious advantages Lenovo Tab S8-50 must be attributed compact size, light weight, practical body materials, good quality screen and camera. The relative performance of the platform still lacks competent optimization that periodically feels like in the interface, and third-party applications. Autonomy of the tablet is its main weaknesses, which (in theory) could be acceptable if it were not for one "but", which make local realities. Cost of new devices at all difficult to comment, but in the global market review hero is sold for about $ 200 in December.
Liked:
+ Body materials, dimensions, weight
+ Screen
+Camera
+ Productivity Platform
Did not like:
– Hours
– Price, lack of optimization software
Read another very interesting article about alternative energy of the Sun, water and air.