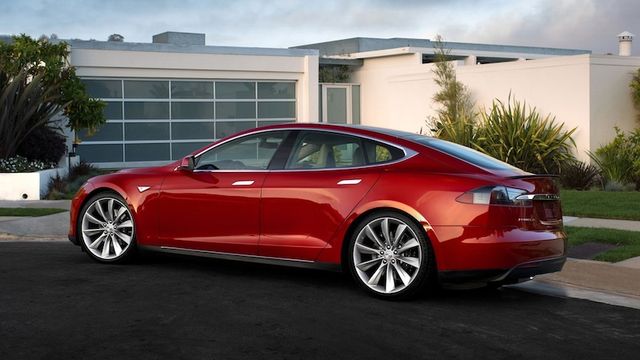 What new product from Apple, you most want to see this year? I think most will remember about iWatch TV iTV, while others are limited in their desires next-generation iPhone and iPad. But if you think, there is another very interesting industry, where the company would be able to realize their innovative potential. No, refrigerators – this niche long ago took Samsung. It comes to cars.
Last year, Apple could discuss absorption American car company Tesla Motors – known manufacturer of electric vehicles , according to San Francisco Chronicle. According to rumors, Adrian Perica, head of the corporation for the acquisition of startups, met with the CEO and one of the investors in Tesla Motors Elon Musk. In addition, at a business meeting, probably present himself Tim Cook.
Analysts say that the meeting was aimed at introducing technology «iOS in the car" in the most common at the moment electric car Tesla – Model S. In fact, at the presentation of iOS 7 last June, Tesla Motors logo was absent among the producers who wish to help Apple in the development of new technology.
But if this is true, why not meeting held Eddy Cue ? After all, he led the development of «iOS in the car," so it would be logical if I talked with Mask Kew. Yes, and vice president of acquisitions Apple is clearly not just a coffee went there to drink.
Elon Musk is often called the "new Steve Jobs" , and companies established by them, do have something in common. Tesla is trying to make electric cars as accessible as possible for the average consumer – the U.S. retail price for the Model S does not exceed 60 thousand dollars. Of course, after the passage of the Russian customs car will cost much higher, but until Tesla focused more on the U.S. market than the European.
Certainly, Tesla would be a great foundation for the automotive division Apple. The latter has no experience in this industry, so it obviously needs an assistant, and the best candidate for this role than the company Elon Musk, simply does not exist.
While this is only a rumor, but it is not excluded that in the future they will find a confirmation from other sources. Who knows, maybe we will see the long-awaited iCar in the next five years.
Read another very interesting article about alternative energy of the Sun, water and air.