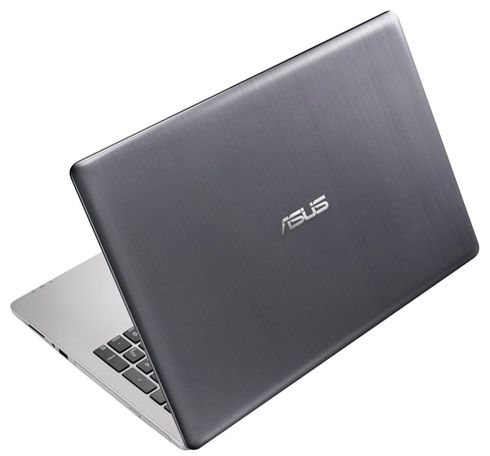 ASUS K551LN is a typical representative of the universal range, it can be used both at leisure and at work. He successfully solve everyday problems associated with the office or multimedia. For example, in addition to movies, games and music, you will be able to review a collection of photos and, if necessary, easily edit them. What to speak of affairs when working with important documents will not cause any trouble. In general, there will be no obstacles in the one or in the other region.
Naturally, for multimedia tasks and modern toys should approach a discrete graphics card NVIDIA GeForce 840M, ergonomic keyboard will appreciate the one who often picks up a text, and a good body of metal will appeal to all who suggest ASUS K551LN often take on trips.
Design – ASUS K551LN
The notebook looks quite attractive, stylish and monolithic. Its cover is made of black brushed aluminum, which is unchanging logo ASUS, a work surface, on the contrary, of silver.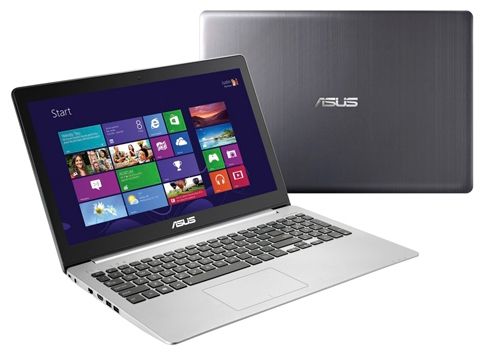 Design does not claim to originality, decorative elements in the design there is little, but it can be called elegant and graceful, in particular, by gradually tapering to the front end panels ASUS K551LN appears thinner. On the practical side of the materials used in the building, not too Mark, imprints left on them is not particularly noticeable, and quickly erased.
The bottom and the frame around the display is made of plastic. The bottom panel is only one vent hole in addition, there are two bars, concealing stereo. In the upper part of the frame allocated space for the integrated webcam. The laptop case has dimensions 380h258h21-23 mm, its weight is 2.2 kg.
Display, audio, web camera – ASUS K551LN
In our configuration set 15.6-inch glossy display with a resolution of 1366×768 pixels, which is now considered to be low. However, the company provided an alternative option with Full HD-TV (1920×1080 pixels), display a picture much better.
Using the traditional aspect ratio 16: 9 display allows you to comfortably watch movies, even if the matrix was not TN, and the IPS, we would have avoided some of the problems with visibility, such as constant inversion while changing the tilt. As for brightness, it's enough for now are using a laptop in the room, not on the street, where there are added glare and reflections especially in direct sunlight.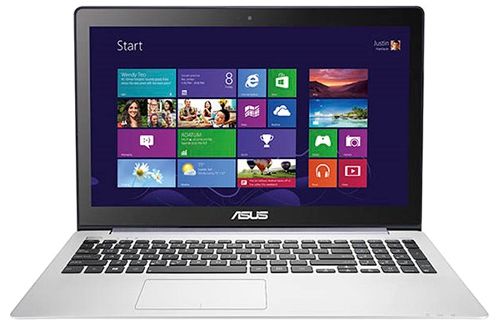 But when using the proprietary ASUS Splendid, you can count on a more accurate color reproduction, resulting in a more comfortable perception of the display. Depending on what you want to watch on a laptop, you can use the proposed regime, for example, standard, or gaming.
But to improve the sound quality will support the proprietary technology SonicMaster, as well as the application MaxxAudio. With the latter, you can significantly optimize the sound to hear it pretty clean and deep, over a wider range. Of course, the bass is quite a bit, however, they complement the prevailing mid and high frequencies and make the sound fuller and richer. By the way, at maximum volume the sound remains undistorted.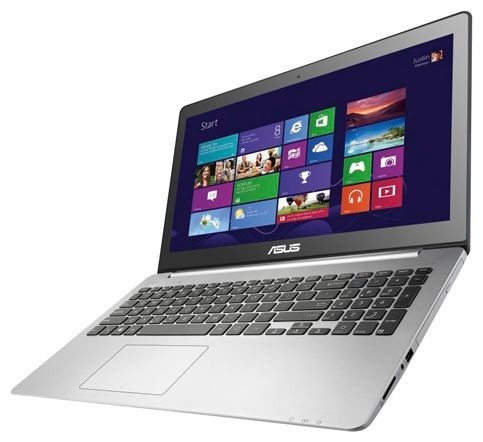 Also help setup another technology – ASUS AudioWizard. With its help, you can select one of the five scenarios («Music», «Gaming», «Movie», «Recording», «Speech»), in order to achieve optimal playback.
The camera in the laptop has a very low resolution of 0.3 megapixels, which is enough except for video calling in Skype, although most users do not need another. Unlikely to want to take pictures often, that at this resolution the camera will not please good quality.
Keyboard and Touchpad – ASUS K551LN
In ASUS K551LN installed a full-size island keyboard, supplementing nampadom. There is nothing to complain about, because normal-sized keys, pressed softly, but with a clear commitment, the standard layout, only the dial unit slightly reduced, but this can eventually get used to.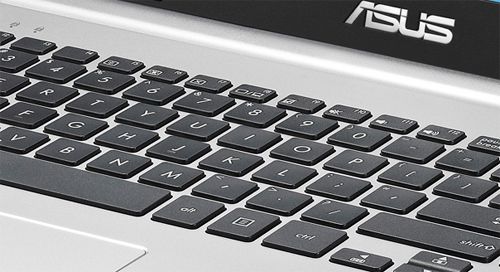 Below the space bar is the touchpad. It is quite large, sensitive, in a contemporary style besknopochnym. Using the touch pad can perform horizontal and vertical scrolling with two fingers, as well as rotate, enlarge or reduce the image. In general, do not use this touchpad is less convenient than a mouse.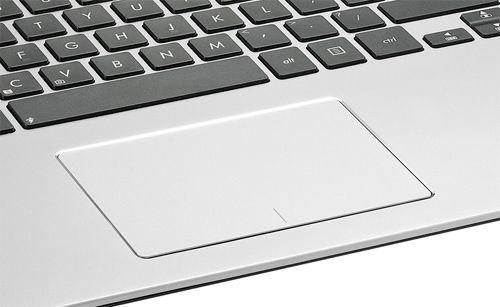 Performance – ASUS K551LN
The laptop works with preset 64-bit operating system Windows 8.1. Depending on the equipment on board the laptop can be three different levels of CPU performance – Core i3, Core i5 and Core i7. They are united by the fact that they are all low voltage. In particular, the ASUS K551LN 90NB05F2-M00140 installed dual-core Intel Core i5-4200U with a clock frequency of 1.6 GHz and a third level cache 3MB. For most computing operations it is more than enough, besides the CPU frequency can be increased up to 2.6 GHz with support Turbo Boost, and it leads to a more rapid implementation of the tasks.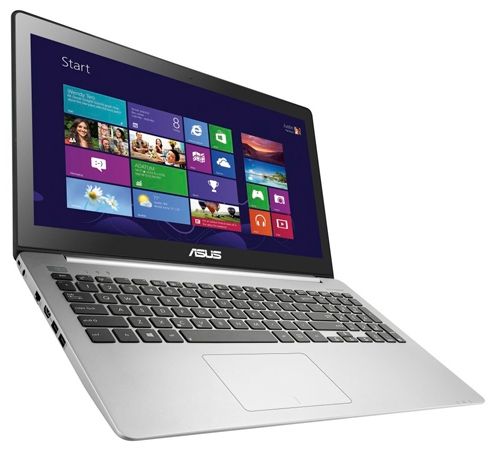 With RAM in ASUS K551LN following situation. 4 GB soldered on the motherboard and 2 GB standard DDR3-1600 MHz are in a separate slot. Total we have 6 GB of RAM, which should be enough for normal operation with many applications. The amount of system memory can be increased by placing a module in the bar, for example, 4 GB.
Visual computing is engaged in built Intel HD Graphics 4400 and discrete graphics card NVIDIA GeForce 840M with 2GB of internal memory standard, DDR3. The first is used when it is not supposed to work with demanding applications and can save on the battery charge. The second is the representative of the average, it is built on 28-nanometer technology, supports DirectX 11. It's pretty graphics performance, which is enough for various multimedia tasks and modern games. For example, it will Wolfenstein: The New Order at medium settings with a frequency of about 30 fps. However, the resolution of the display will have to be reduced to 1280×800 pixels. But in The Elder Scrolls Online from the category of toys or RPG-shooter Titanfall will play at native resolution and high settings (30-32 fps).
For data storage provides 1000 GB hard disk drive. HDD has a spindle speed of 5400 revolutions per minute. Those who lack even the butt of such a large amount of disk space, it is unlikely rescue the "cloud", however, a small portion of the content may be stored exactly in it. ASUS WebStorage offer you an additional 16 GB and the ability to use them throughout the year. Log in cloud storage is easily done from any computer or laptop, you need to know your login and password.
Please be aware that offers a complete set ASUS K551LN as a hard drive larger or smaller volume of up to 1.5 TB and one with a hybrid drive where the SSD-cache capacity will be 24 GB.
Ports and Communications – ASUS K551LN
The notebook offers a standard set of interfaces. Right face takes a card reader 2-in-1 (SD / SDHC), a combined audio jack port and USB 2.0. There is also provided an optical DVD-RW drive that supports Double Layer.

On the left side are placed two USB 3.0, HDMI, Ethernet port and an RJ-45 socket for recharging. At the end you can see the Kensington lock slot.
Power, battery charge status and work drives located on podladonnoy site closer to the front. Also you can see the three LEDs above the keyboard activity of wireless modules, Caps Lock and Num Lock.

Laptop wireless modules are Wi-Fi 802.11b / g / n and Bluetooth 4.0. This is sufficient for everyday tasks related to the Internet and exchange data.
Battery – ASUS K551LN
In the laptop installed 3-cell Li-polymer battery 4500 mAh (50 Wh), which will work on a single charge for about 4 hours if the ASUS K551LN will be used for office applications and web surfing. Of course, during the games autonomy significantly reduced.
Conclusion – ASUS K551LN
In terms of price / quality of this laptop will appeal to many. In ASUS K551LN modern and strong body, a stylish finish and productive filling, suitable for multimedia tasks. It has everything you need to work or have fun: a comfortable and quiet keyboard, responsive touchpad is needed to connect the ports and connectors, as well as plenty of space on the HDD for data storage. Perhaps the resolution of this display is not the best option for video or games, but support ASUS Splendid technology will improve the quality of the image by color. In general, if you are not too demanding user who is not scared price tag $ 600-700, then you have every chance to make friends with a laptop ASUS K551LN.
Read another very interesting article about alternative energy of the Sun, water and air.