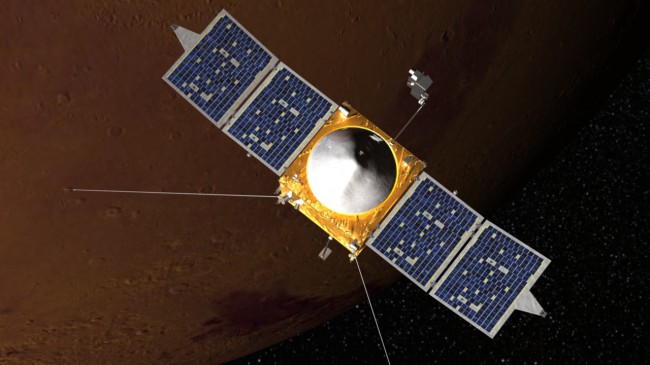 National Agency of the U.S. National Aeronautics and Space Administration (NASA) in February of this year reported that the assembly of the space probe MAVEN (Mars Atmosphere and Volatile EvolutioN) is completed. Recall that the spacecraft was built by specialists Lockheed Martin, and the launch of the mission, which will help determine how Mars lost its atmosphere, will be held next Monday – November 18.
The probe will be launched from the space center at Cape Canaveral, Florida. Will be used to launch the rocket Atlas 5. According to NASA, to get to Mars MAVEN spacecraft will take about 10 months. It is expected that the probe will be released on an elliptical orbit around Mars in September 2014.
On board the spacecraft are 8 different devices, forming three sets of tools. They are designed to help scientists to accurately measure the rate at which the red planet is losing air, and to find out how the rate of loss of the atmosphere affect the climate of Mars in the past.
Finally it is worth noting that the construction of MAVEN spent $ 671 million if the rocket launch for some reason not be able to do during the launch window (from 18 November to 7 December), it will have to wait for the next two years.
Read another very interesting article about alternative energy of the Sun, water and air.