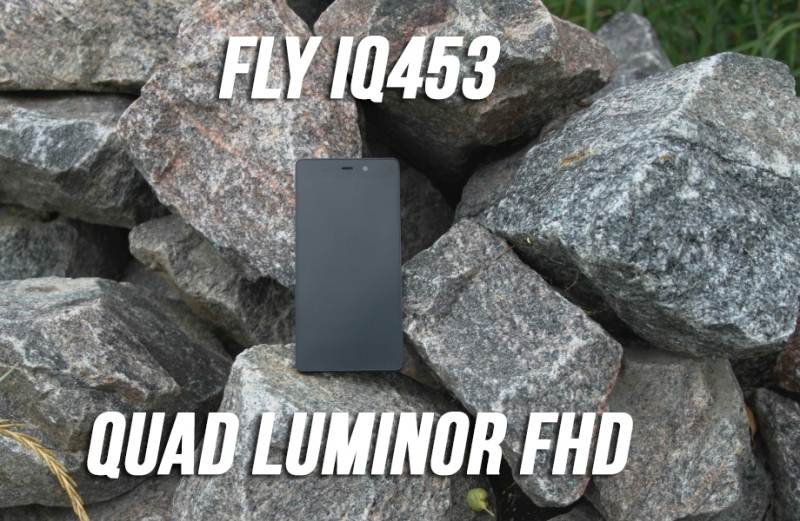 Fly British company has long been in the smartphone market, but despite this, the ratio of users to the brand ambiguous. Some do not trust, citing a bad experience with these phones in the past and love the second, and even enjoy. Anyway, Fly tries to meet all the requirements of the market, and now we look at one of these attempts – phone Fly IQ453 with FullHD-screen.
Personally, I am very pleased that the company is trying to develop something, and doing it right. For example, recently it was reported that the Fly has become a bestseller in Russia (ahead of the 0,9% Samsung). Becomes especially joyful for the company, when you remember that it was the Russian market for them is one of the key (the list still includes Ukraine and India).
Appearance – Fly IQ453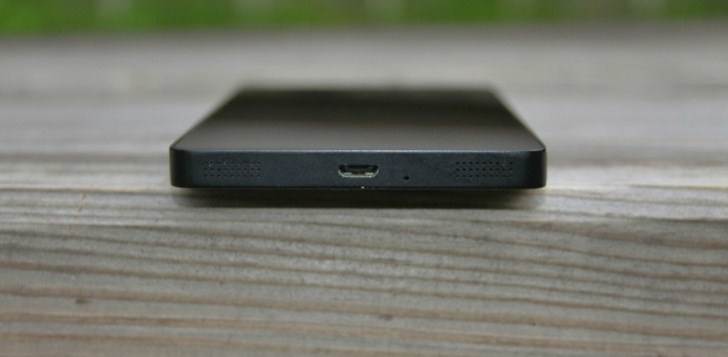 Sometimes surveys in describing the appearance of smartphones found Humorous comparison with monochrome rectangular bricks. So, in the case of Fly IQ453 is not a joke. The design is not bother at all. It really is a black rectangle with slightly rounded corners, about as much as the iPhone 4/5. Yes, looks like a really smart device Apple, especially if you look at the lower end, which put the speaker, microUSB and a microphone.
Top has more variety (not as in iPhone) – a headphone jack and screen lock key. On all sides modestly left – slot microSIM-cards right – the volume button.
Front, above the 5-inch screen, lighting and sensors placed volume control, also did not forget about the front chamber (which is 5 MP) and the earpiece. Fortunately, the company logo is not here (in front of your friends will not be ashamed).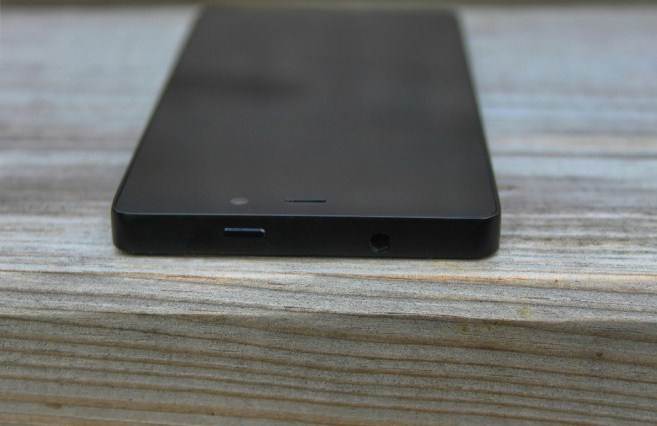 Below the screen are the same familiar three touch buttons: "Context Menu", "Home" and "Back". The rear panel is almost empty, in the upper left corner of the flash, eye 13-megapixel camera and an additional speaker to be used when recording video.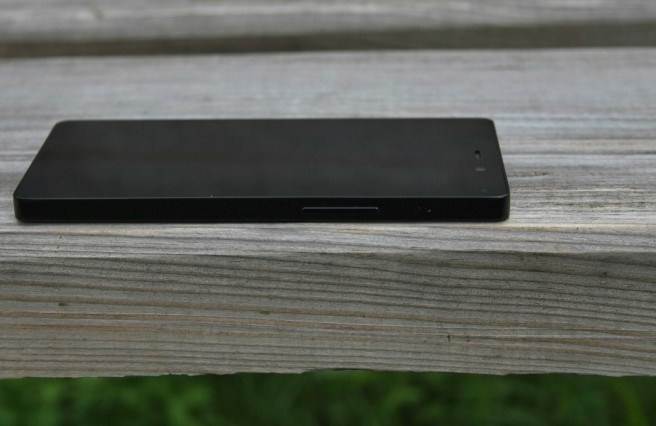 To assemble the device, I have no complaints, but to housing materials – is. If two words to describe, so you get – matte plastic. And it's not that, "but he would have been a metal …" problem fingerprints, which is sometimes very difficult to scrub even with special napkins. By the way, the screen is the same problem.
Screen – Fly IQ453
The screen is very high quality, made by technology IPS. Resolution 1920 x 1080, for five inches – just perfect (it turns 384 PPI). Maximum brightness, according to the manufacturer, 294 cd / m ², minimum – 26.4 cd / m². As it turned out, in practice, not so bright enough to work in the sun – the screen fades.
Pay attention to how visible fingerprints.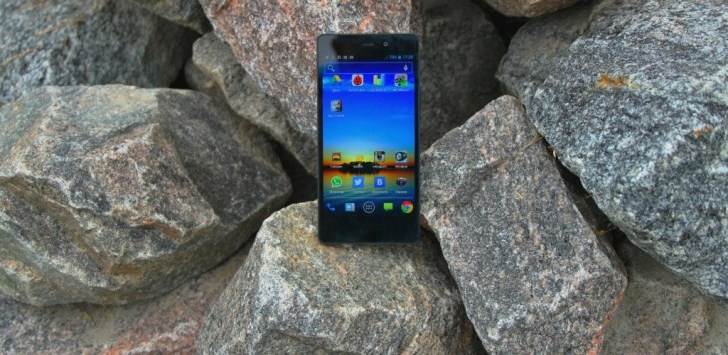 Protective glass Gorilla Glass is present here, and here about oleophobic and anti-reflective coating manufacturer must have forgotten. Otteret fingerprints will not be easy. Sensor itself works well, responsive, no "dead zones" no. Auto Brightness Sensor also behaves well (to constantly go to the settings I have not).
Camera – Fly IQ453
In terms PhotoChances Fly IQ453 really cool. Main camera 13 megapixel smartphone (Sony Exmor R), the pictures are of good quality, even in low light. Front camera – 5 MP. I am heartened by the trend that even vendors such as Huawei and Fly not skimp on this part number. Lovers do SELF clearly appreciate such a move.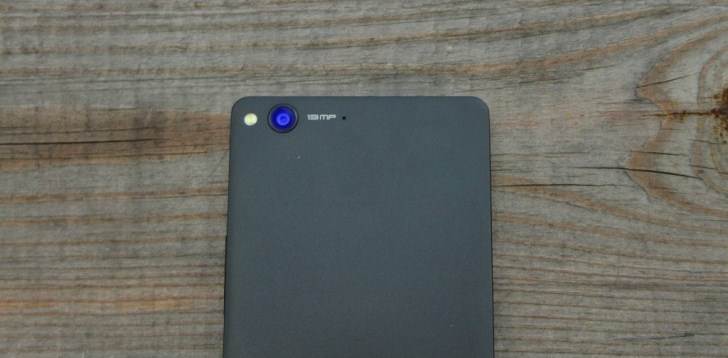 Settings in the application "Camera" a lot. You can select different modes (panorama, best photo, focus on the face), and have the opportunity to apply effects (b & w, sepia, negative, under water, etc.). A pleasant surprise for me was to see the HDR-mode. But with video problems. No, it's certainly good, written in 1080 p at 30 frames per second, but clearly inferior to other smartphones with a 13-megapixel modules.
Performance and memory – Fly IQ453
Inside the quad-core smartphone set MediaTek MT6589T (Cortex-A7), running at a clock frequency of 1.5 GHz. Responsible for the graphics PowerVR SGX 544. RAM is 2 GB (approximately 1.2 GB available). Filling a very solid, games such as Real Racing 3 or Dead Trigger 2 go to "excellent." Though, I admit, I thought that because FullHD-screen FPS will sag noticeably, but no. Also, this configuration is enough to play demanding video. Everything would be fine, but a bit annoying in the heating area of ​​the rear camera.
His Memory 32GB Smartphone (2.7 GB – for installing applications, everything else – for files). Memory card slot, of course not. But this is not a big disadvantage, I enjoyed more than two weeks as the primary smartphone, and the amount of memory I had enough.
Interface – Fly IQ453
The device runs on the operating system Android 4.2.1 (at this point, every self-respecting geek should cry), and, apparently, no updates are expected. Interface here "Google release" recycled only some system applications and settings menu. But this is precisely the moment when it would be better not to touch anything. Frankly – graphics chips Fly I did not like.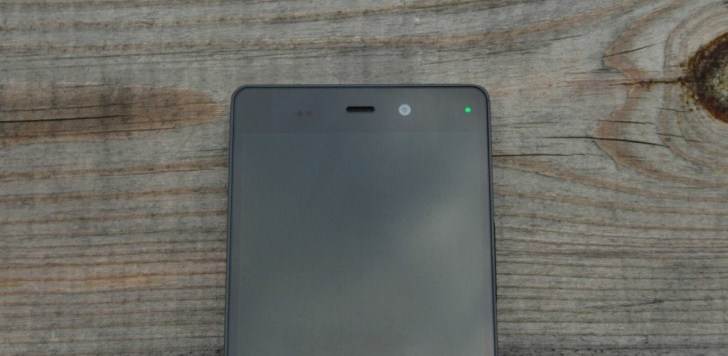 But there was also some really useful features. For example, a smart call (dial the number and holding the phone to your ear), smart answer (to answer an incoming call, is enough to bring the phone to your ear), stop the alarm (you just need to turn the smartphone screen side down) and several others. In general, they work well and almost unmistakable.
Autonomy – Fly IQ453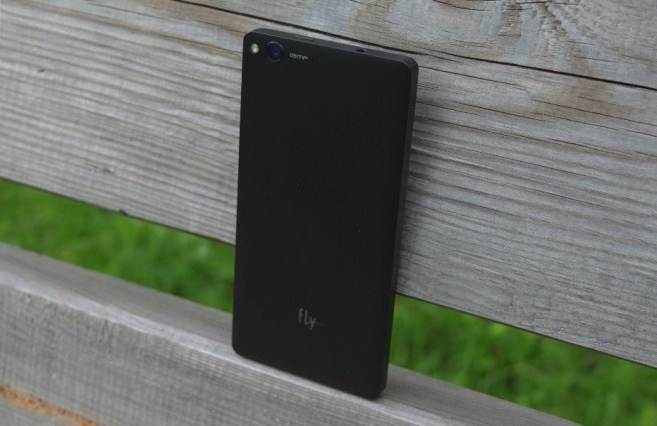 Autonomy Fly IQ453 provides battery capacity 2020 mAh. I have to say that the record of it should be expected. Gives himself know FullHD-screen. In normal use (calls, messages, social networking, video and music a bit) Smartphone barely stretch to evening, a whole day of it does not even go. In the "positive, albeit lies" (with the included Wi-Fi, notifications to come) phone will be able to live for almost two days.
Eventually – Fly IQ453
In general, the device turned out good, only two significant disadvantages: on-screen fingerprints and would like to work more on a single charge. Performance Fly IQ453 fully sufficient for running demanding toys and play large multimedia files. If you like taking pictures, you can safely look towards this phone, it makes pictures of good quality, but the video features, of course, a little pumped up. Fly IQ453 price is about $ 315, which is equal to the time of writing 3680 USD, and can say that the phone is worth the money.
Read another very interesting article about alternative energy of the Sun, water and air.