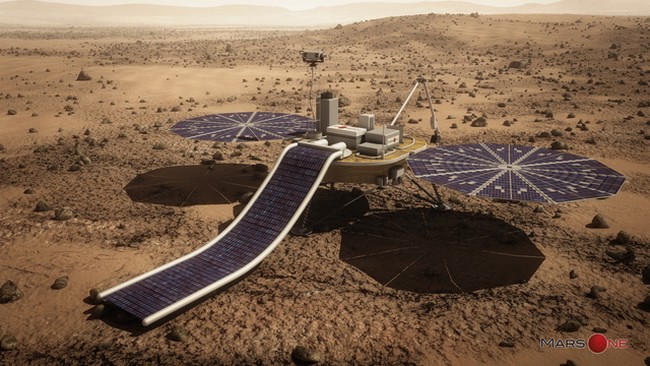 The Dutch team Mars One, who became famous thanks to his project to colonize Mars One Mars, now reported the conclusion of partnership agreements with companies Lockheed Martin and SSTL.
Joint efforts of the above companies are going in 2018 to send to Mars first private spaceship. Instead of running the team of astronauts, in accordance with the ultimate goal, this mission is presented as proof-of-concept, and probably as a way to draw attention to the project Mars One.
Lockheed Martin's and SSTL in this collaboration will work with Mars One on different projects. The company Lockheed Martin will develop a modified lander Phoenix, which was sent to Mars in 2007. An updated version of Phoenix is ​​designed for in-depth study of the Martian soil, getting water from the Martian soil and test the deployment of solar panels. The spacecraft is also planning to install a camera that will broadcast streaming video in real time on Earth. Broadcast video will be assigned to the relay satellite, which is to create a company SSTL. Executive Director of Mars One Bas Lansdorp said that according to estimates satellite will last at least two years.
Before starting the lander Mars One intends to hold a competition among high school students in order to find ideas for the mission. Top of the ideas will be selected as the main tasks of the mission. Bas Lansdorp also promises to launch a campaign on Indiegogo, to allow people to vote in favor of the main tasks of the mission.
Joint project of Mars One Team, Lockheed Martin and SSTL signals big leap forward in the commercial spaceflight industry over the next few years, but it is difficult to say how good such ambitious long-term plans for Mars One Team.
Earlier, Mr. Lansdorp expected that the desire to get a one way ticket to Mars Mars One program will show more than 1 million people, and thanks to a small entrance fee of problems with financing the project will not arise. However, acceptance of applications ended on 31 August, and still want to be much less than expected – a little more than 200 thousand over the next two years, 200 thousand of these will be selected for training from 24 to 40 people. However, on Mars in 2025 will fly only a team of four. Earlier, it was planned that the flight will take place two years earlier.
By the way, plans for Mars One, Lockheed Martin and SSTL currently exist only on paper. Thus the cost of the project is $ 332 thousand if in the near future will be able to find investors, the company will begin the next stage – the development and launch of the satellite system and the comic.
Read another very interesting article about alternative energy of the Sun, water and air.