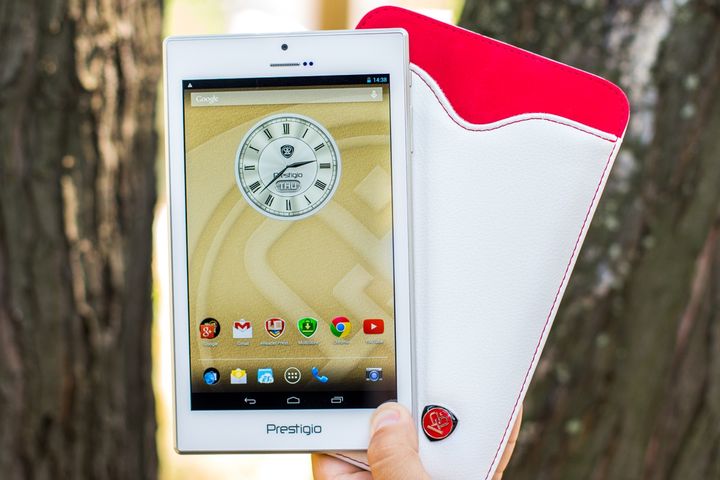 Tablet Prestigio MultiPad Color 7.0 in six trims with NFC and 3G -modules, IPS LCD monitor and many other "sweets"! But the most interesting – the colors! Now you can choose not only compact and functional device, but also a shade that will emphasize the image, as well as the commitment to all kinds of accessories … However, let us all in order!
Packaging and delivery – Prestigio MultiPad Color 7.0
Model Prestigio MultiPad Color 7.0 comes in a fairly compact cardboard box. With the design of the last manufacturer of the most "not played" – easy to see the texture of "carbon look", which is a "calling card" packs almost any portable product of this brand. But has its own distinctive feature – the image of the tablet in several trims. And even a cursory glance is enough to tell which of them are dealing with.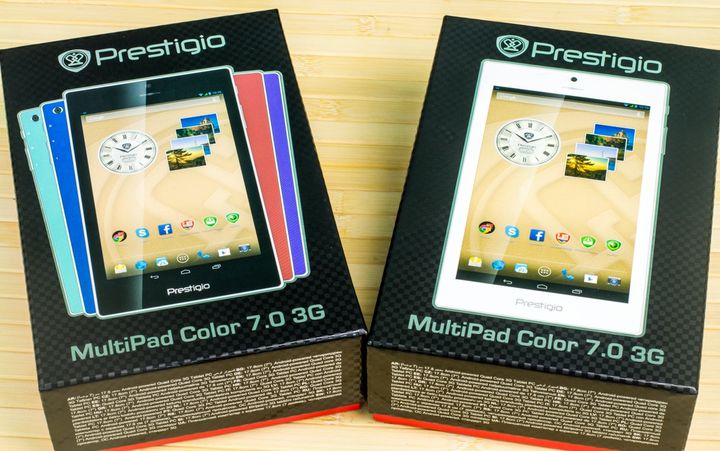 Inside the box, except, of course, the device, the user will find the cable micro- USB / USB, prefabricated charger and USB OTG adapter and the necessary documentation.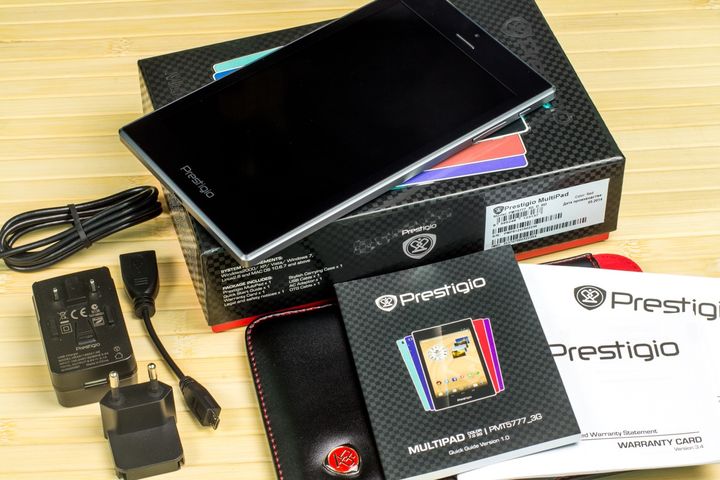 The very same tablet is initially placed in a special case with a recognizable, as is the case with the box design. This accessory is the manufacturer of "smart" – giving it MultiPad Color-enabled display, the latter instantly shuts itself!
Materials and build quality – Prestigio MultiPad Color 7.0
Despite the modest fact that housing is only used plastic, the quality of fit of the elements the user even carp will not work – docking is very dense, virtually no visible seams. Gaps and no if you do not take into account the small border sills, made by a little over-coated screen. However, the usefulness of the latter no doubt – albeit small, but still protection in the event that the user puts the plate face down on a flat, hard surface.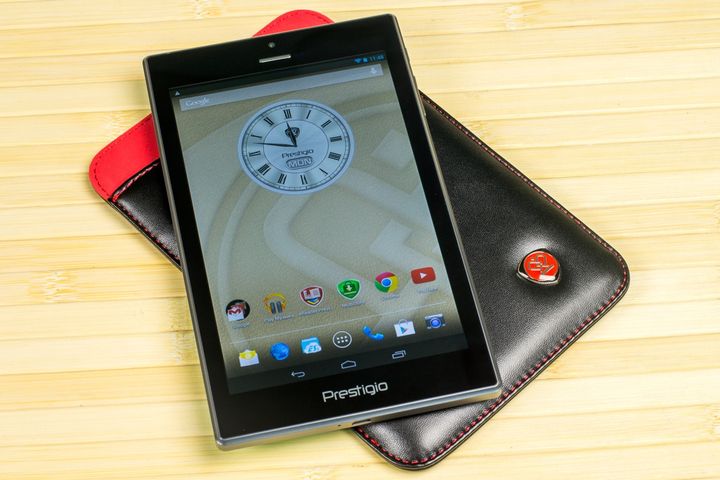 Selected items not creak even with a significant compression, as for me, is also a plus.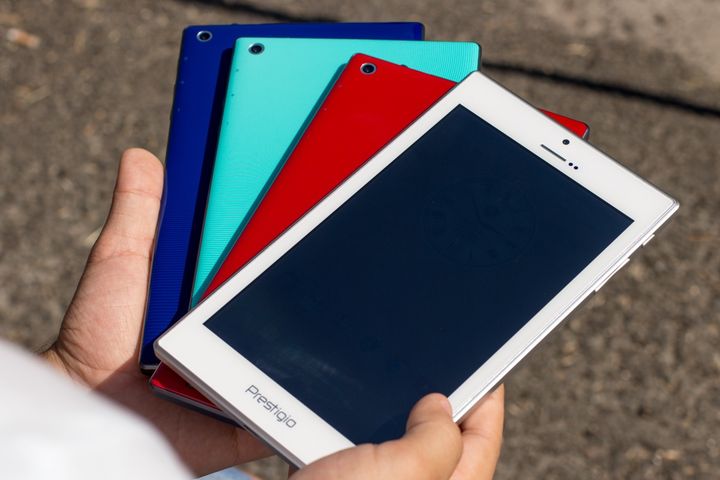 Given the opportunity to make regular phone calls to the manufacturer is to say thank you and in such a format the device. Of course, the full control of the fingers of the hand holding the device, there is a priori impossible. Do not get member "reach" and to the hardware buttons, but the pen tablet in hand "sitting" comfortably. In short, I do that, but to carry out a telephone call on MultiPad Color will be much more comfortable than on the weight of such devices competitors.
Design – Prestigio MultiPad Color 7.0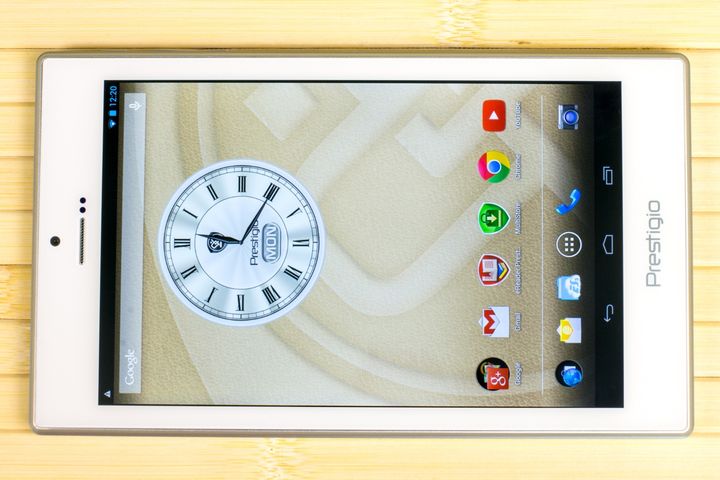 In general, the idea itself to produce tablets in several colors on the body today is not new, but still very fresh to the market and "a great success" made by users. Well, if we add to these colors still good "iron inside" – as a result there is no need to seek a compromise between the desired and the actual.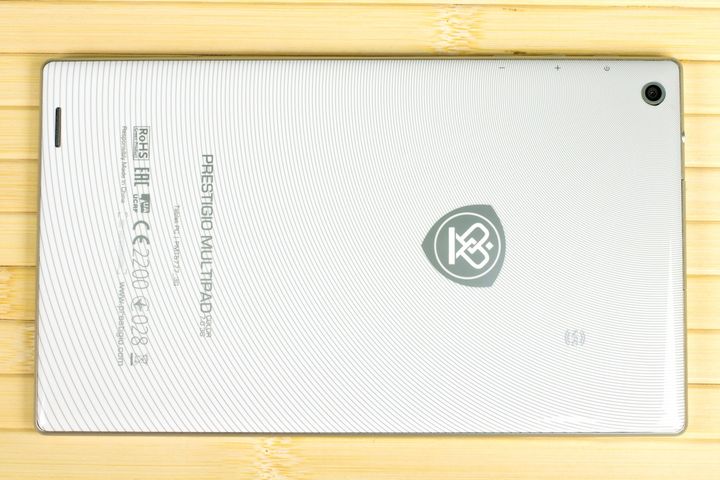 Color options Prestigio MultiPad Color 7.0 3G as many as six pieces. In addition to the two classic colors – black and white, you can purchase a device in a red case, purple, mint and blue.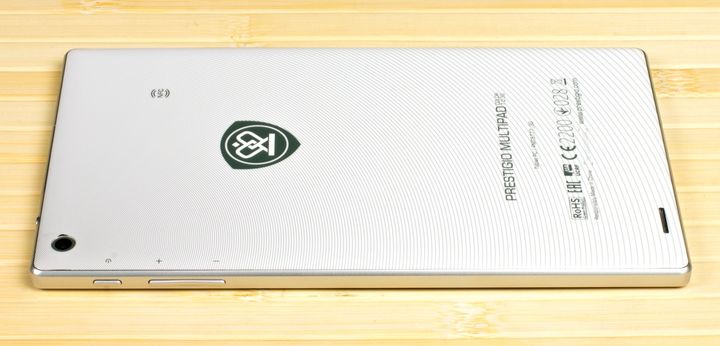 I do not know why, but personally, I was most impressed with the mint color. Do not rule out completely banal reason – toPrestigio MultiPad Color 7.0 3G in this color I have not seen a single portable device. Looks very unusual!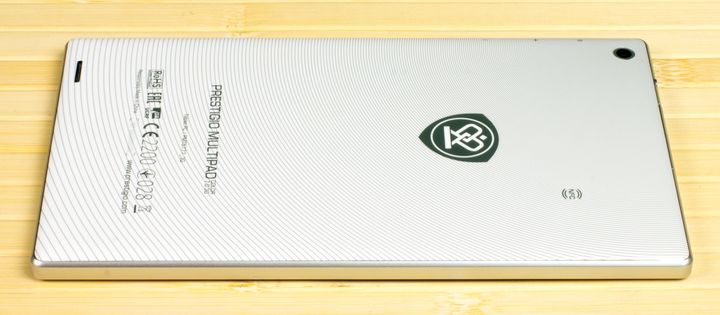 White turned "adult", in his own business.
Blue – format female students – a bit austere, energetic, neat and comfortable, as well as his brothers.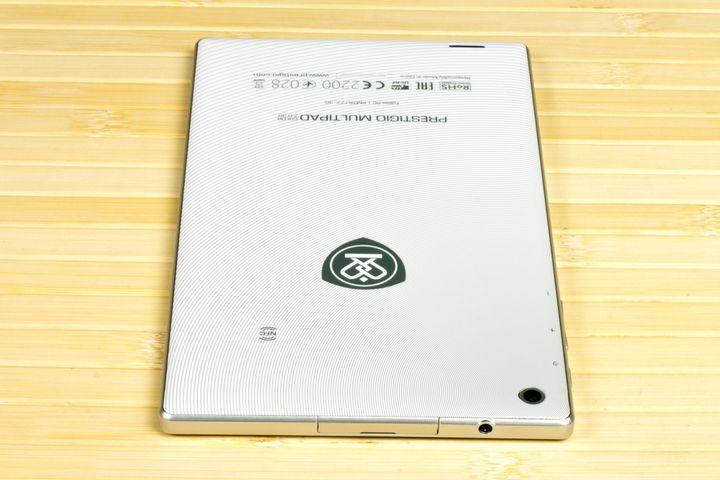 Red – bright. It shows your commitment to a catchy, but at the same time you are able to work out the right style to any of your endeavor.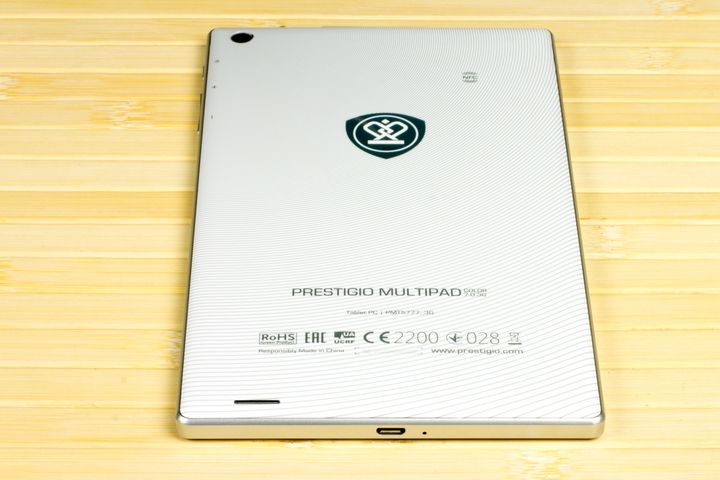 Yes, everything is simple and easy – each color displays its owner, his habits, style, and to some extent even in nature.
Functional elements – Prestigio MultiPad Color 7.0
The front panel of the device is divided between a large display, earpiece, eye frontal VGA -camera and a light sensor / proximity.
On the opposite side is easy to see slightly recessed window basic 2 megapixel camera, and is closer to the lower end output speakerphone. In addition to the mentioned in this panel various technical label, including the manufacturer's logo, as well as the "hint" of a NFC «on board!"
Further, if we consider the plate in the vertical scan display to itself, on the right "edge" will be "discovered" the volume rocker sound, plus on / off switch off the unit.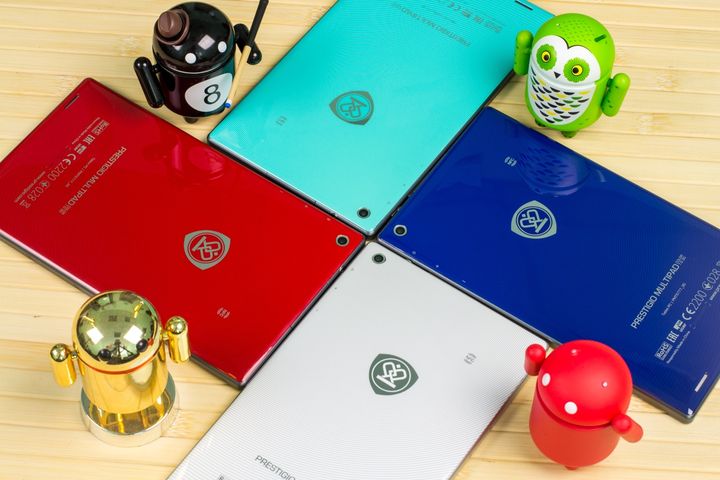 Opposite "marginalia" no functional elements not received.
At the top end classic 3.5 mm jack, and slots for SIM-card and memory card MicroSD .
Finally, at the bottom there is a micro-USB port, plus a miniature output built-in microphone.
Display – Prestigio MultiPad Color 7.0
7-inch display with a resolution 800×1280 points. These are the official figures. In practice, the latter slightly smaller because the strips allocated for touch buttons.
At the heart of IPS-matrix with good viewing angles both vertically and horizontally.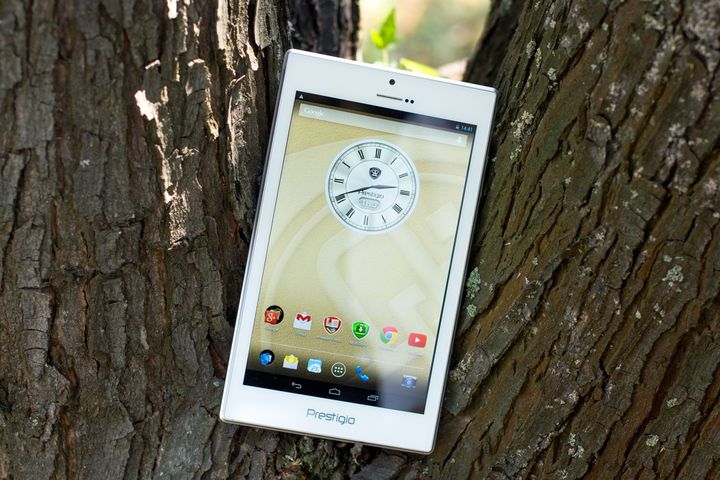 There is a slight pixelation, which, however, makes no discomfort, even when working in sunlight around. "Extinction" the data in this case is also important not name.
The backlight is available in two classic ways – manually or (s) automatically.
The sensitivity of the claims does not cause – support touch control through five fingers simultaneously.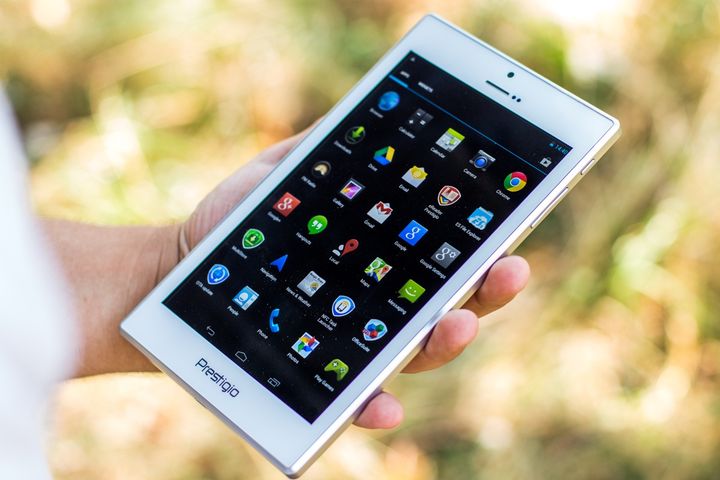 The display is covered with a material similar to the tactile glass. In practice, with the proviso that in the tablet manufacturer went as said "on the thumb" applied layer created from glass and plastic. In its protective features we, dear readers, is not convinced once.
Memory – Prestigio MultiPad Color 7.0
In Prestigio MultiPad Color 7.0 3G 16 GB of internal memory. However, the user work with the entire volume can not – about 13 GB available, the rest of "withdrawn" by the system.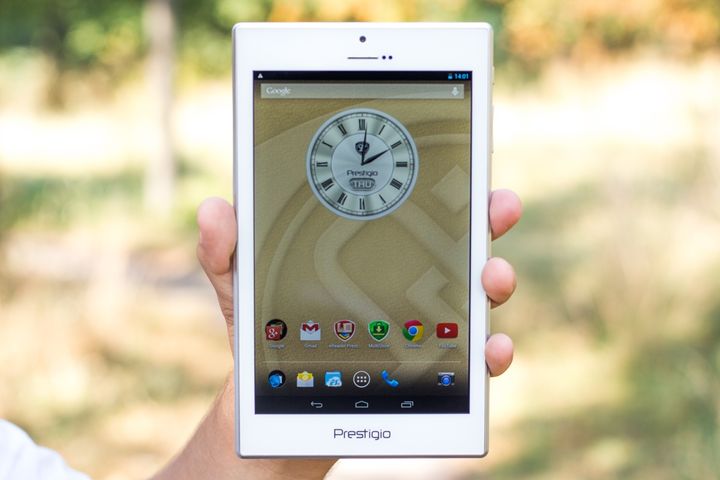 Utility SD Tools showed very good results velocities of this "storage".
Extension is allowed through microSD memory cards up to 32 GB or less. You can also connect a USB-stick.
Speakers – Prestigio MultiPad Color 7.0
Two separate dynamics – Elementary and speakerphone.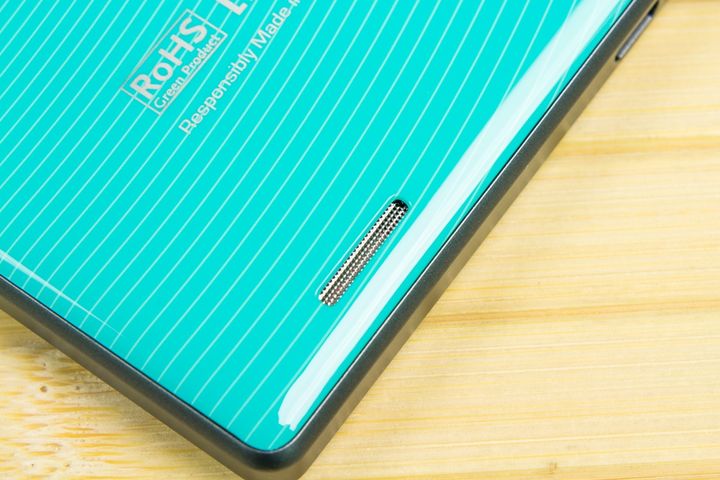 With their immediate tasks, both the first and second handle quite well – good volume and purity of sound, especially given the media not positioning device.
Battery – Prestigio MultiPad Color 7.0
Capacity built-in battery – 3500 mAh.
Officially declared figure of autonomy – up to 5.5 hours. Test Conditions manufacturer does not specify, however, in practice the two hour and a half plus a half-hour film WEB-surfing on the automatic display illumination is able to discharge the battery by more than half. Thus, it is likely that a question of battery life when watching videos.
Equipment and device version – Prestigio MultiPad Color 7.0
Powered tablet running Android 4.2.2 "out of the box."
The "heart" of the system is a 4-core processor MT8382V, the clock frequency of 1.3 GHz. The amount of RAM 1 GB. In addition, "on board" graphics Mali-400 MP.
Apart from the many colors on the market Prestigio MultiPad Color will be available in a version with a different diagonal display, and a more capacious battery. Already in you can buy an 8-inch version of the device with a battery of 4400 mAh. In addition, according to rumors, will be a little later, and 10-inch MultiPad Color. Last receive a "fuel cell" with capacity of 6400 mAh.
Performance – Prestigio MultiPad Color 7.0
Possibilities of this "iron link" is enough for demanding games, as well as for high-definition video.
Testing of the system was carried out by means of several popular tools. Results below.
Wireless interfaces and pre-installed applications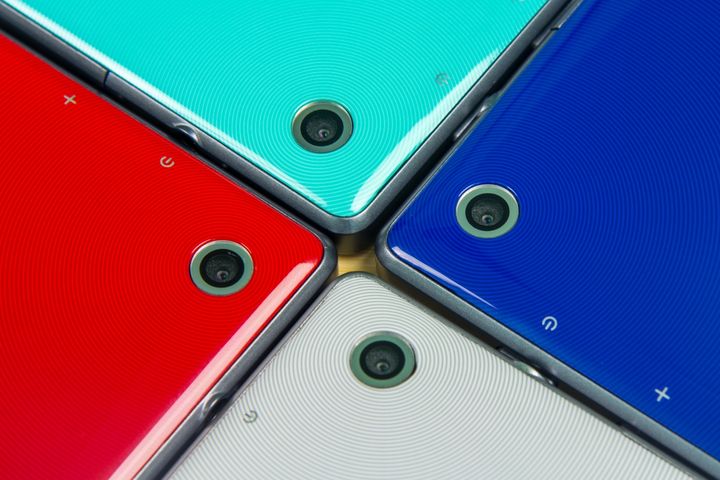 With respect to wireless interfaces, "on board" Prestigio MultiPad Color 7.0 3G has Wi-Fi 802.11 b / G / n with support for Wi-Fi Direct, Bluetooth in the fourth edition with support profile EDR , VPN, NFC, GPS , 3G and so on.
Among the pre-installed applications note proprietary reader eReader Prestigio (app review here), FM-receiver, "Alarm Clock" and many others. al.
Some of the findings – Prestigio MultiPad Color 7.0
In the final conclusions regarding this decision Prestigio I hold to a certain extent their initial impressions – Prestigio MultiPad Color 7.0 3G – one of the most interesting proposals "mass of the tablet," not only in the product portfolio Prestigio, but also against the background of competing solutions. In the model of well-defined balance between functionality and design, plus the maximum account of all user preferences in colors.
Pros Prestigio MultiPad Color 7.0
"Smart" cover supplied;
Level of assembly;
Many colors of the housing;
Not a bad performance considering the price tag;
NFC and 3G
Cons Prestigio MultiPad Color 7.0
Read another very interesting article about alternative energy of the Sun, water and air.