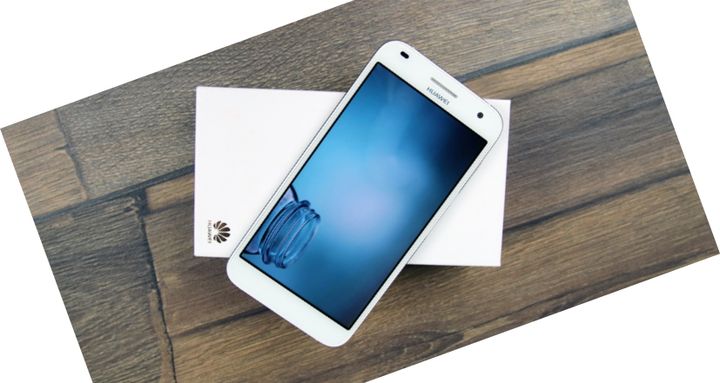 At the end of last year we told you about Huawei Mate7. Together with Mate7 at IFA 2014, Huawei introduced and G7 – the model is not the flagship, but no less interesting.
Entry
If our community had its own manifesto, he would have started with approximately these words:
We do not need a slim body, we want a more capacious battery. We do not need plastic, metal we crave. We do not need a shovel, we want a compact smartphone with flagship features.
At least, that such sentiments are observed in a good half-geek community. However, the manufacturer before they have no case. And in vain, because it is often these people, not consultants in stores, helping their moms / dads / sisters / brothers to choose a new phone.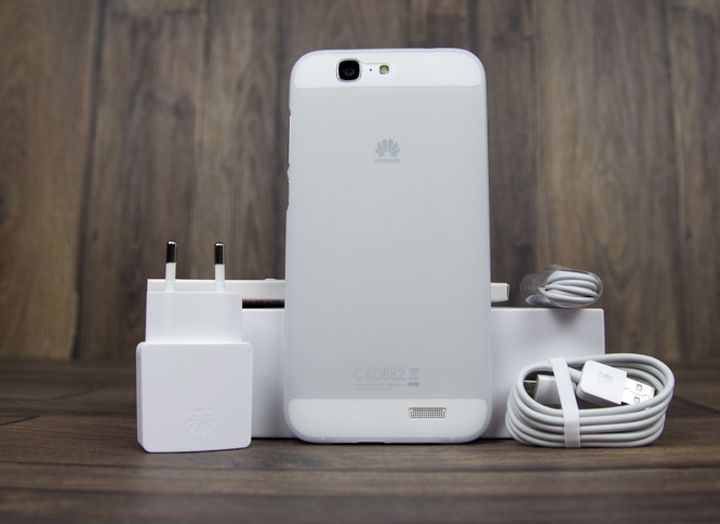 However, all is not lost. On the example of Huawei's latest smartphone, we see that the manufacturer can listen to the wishes of advanced users.
First impressions and appearance
What Huawei remained true Chinese, so it is supplied. You never know for sure what is in the box with the device Huawei. So it was with G7 – besides the standard headset cable USB-microUSB, AC adapter and paper, the manufacturer delivers the smartphone plastic bag overlay. I must say, rather strange accessory for gadget with almost all-metal body, but still nice.
Huawei G7 – from small smartphone is not, I would call it Phablet, but this concept is so arbitrary, that features a leg break, figuring that there Phablet, and that – no. As I said, the case G7 almost entirely made of metal, most of this aluminum and it's cool. Diluted its two fairly large plastic insert behind and four stripes on the frame. However, hold your smartphone, you feel only metal – no finger in the insets of plastic just does not lie. The entire front side, of course, covers the protective glass.
As for the elements of the case, everything is standard. Front – proximity and light exposure, earpiece, display and front camera. Located behind the main camera with flash and a multimedia speaker. On the right side you will find the power button, volume rocker and trays for SIM-card and memory card.
Display
Diagonal IPS-display Huawei G7 is 5.5 inches, resolution – 1280 x 720 pixels, pixel density – 267 ppi. But do not spit. Huawei G7 Nexus instead of 5 I enjoyed over the past two weeks, and discomfort on the basis of insufficient high-resolution felt only the first few hours of operation. But what I got in return? On average, 7 hours of screen that Nexus 5 may issue only after two full battery.
However, the autonomy of the G7, we'll talk, but I ask you to pay attention to how Huawei refers to an index-resolution displays their smartphones – in the same Mate7, according to the latest trends in smartfonostroeniya had to be installed QHD-matrix, but it did not happen . Whether suffering from this owner Mate7? I do not think. At the same time increased the autonomy of the smartphone.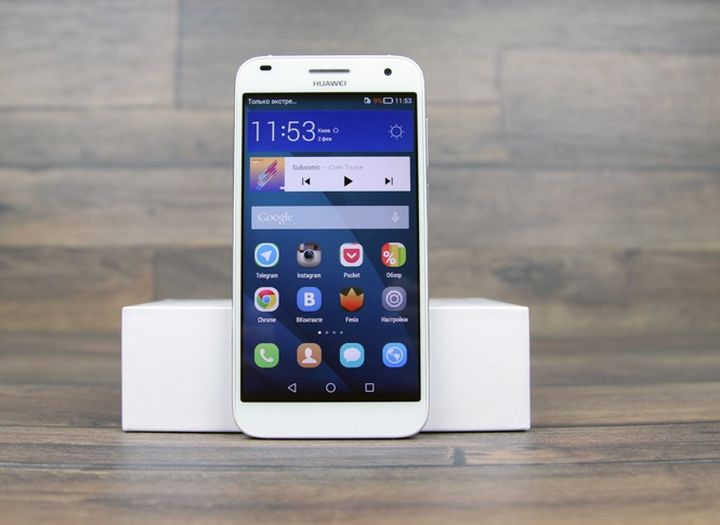 The rest of the display G7 no major complaints or questions – it is bright and responsive. However, if Sophisticated, you can find the angle at which the screen is viewed from still goes into the blue.
Camera
And front and main camera – not the strongest side Huawei G7. Perhaps they simply do not live up to my expectations. Resolution main is 13 MT frontalki – 5 MP.
The probability of getting a good shot on a "pulled-clicked" extremely small. This applies to both conventional images and the self. Every now and then they do not get enough clear, slightly smeared, and the focus is often drunk. Because of this, the frame has to make a copy, which in most cases is an unaffordable luxury.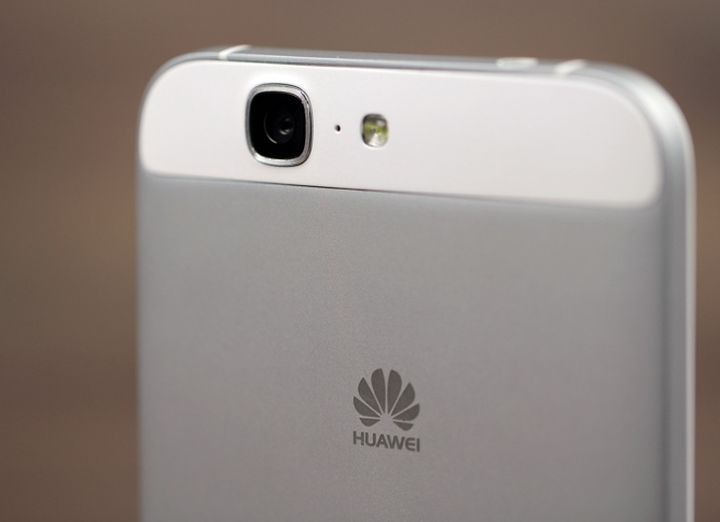 Throughout the test of time I had a feeling that the problem lies in the software, because the same Mate7 with similar modules fared much better. Who knows, maybe with future updates and the camera will shoot Huawei G7 better.
Hardware & Software
In Huawei G7 set Qualcomm Snapdragon 410 quad (MSM8916), clocked at 1.2 GHz. Graphics accelerator – Adreno 306, its frequency is 400 MHz. RAM smartphone – 2 GB user – 16 GB, you can expand it using memory cards format microSD.
C such iron gadget does not claim the laurels of the flagship. In the benchmarks it is also not listed in the lead. But on it with pleasure can play Real Racing 3, and for unknown reasons, I absolutely can not play Dead Trigger 2.
G7 running the operating system Android 4.4.4 KitKat thumb over proprietary shell Emotion UI 3.0. Then I had to once again write about that firm shell, and especially Emotion UI, nobody wants (as was the case with Honor 3X and MediaPad T1 8.0), but no. In its third version of Emotion UI has become very good. At first glance, it is clear what the developers were inspired by Huawei. Emotion UI 3.0 – a mixture of MIUI and iOS, how sees these operating systems Huawei.
The first thing to note – smooth operation. Huawei G7 pleasure to use. Of course, brake happen, but the overall impression of the shell is not particularly affected (eventually these sin and Nexus-device). In addition, the Emotion UI 3.0 is integrated set of buns, relating not only to customize the appearance of the system (as is often the case), but directly to its functionality, which can not but rejoice.
Battery capacity Huawei G7 – 3000 mAh. Screen G7 produces an average of 7 hours on a single charge, that in my mode of use is two days of battery life. Of course, if you spend all day on the couch, without parting with the G7, by the evening the battery level will be equal to 20-30%, and then neither of which the second day of use out of the question. But during the week of this you should not worry.
It should be noted that the Emotion UI 3.0 carefully monitors the power of your smartphone. Shell tell you that this is an application consumes too much energy, and there is constantly hanging in the background. However, in some cases, Emotion UI may not have to report, but secretly save the battery charge level. For example, notification of Instagram I got activated only on the third day using the device, but the notification of Fenix for two weeks did not come once.
Output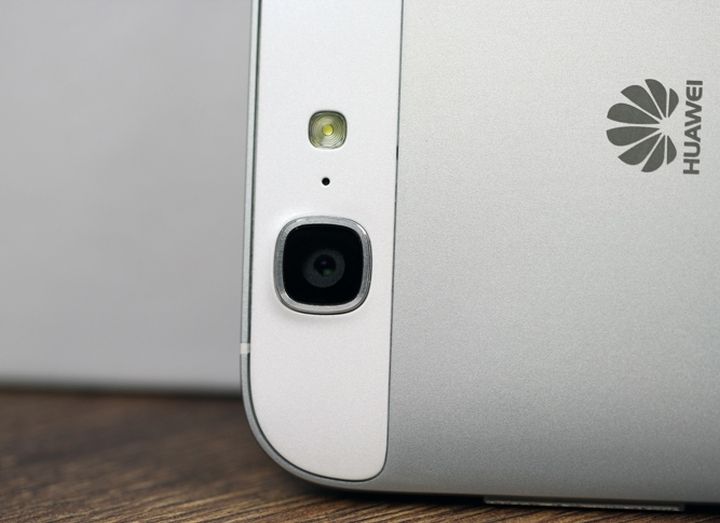 I like that Huawei listens to the geeks. In the case of the G7, this translates into a good autonomy, metal housing and shell – it pleasant to use and interesting to delve into the settings. At the G7 have a problem with the camera, it can not be denied. I hope the developers will pay attention to it. Despite this, the smartphone can be called successful and recommend to buy, if not one "but" – its price.
As always, everything depends on the price. Buy Huawei G7 in Ukrainian retail can be an average of $ 340. Last week we had a material in which we talked about the actual ex-flagship. So, a couple of ex-champions from our list of expensive G7. Of course, they are not without their flaws, but can not be called G7 former flagship.
If you are fascinated by the size and appearance of the Huawei G7, then go ahead and buy it – this Chinese no skeletons in the closet. He may even be pleasantly surprised and will please you.
Read another very interesting article about alternative energy of the Sun, water and air.