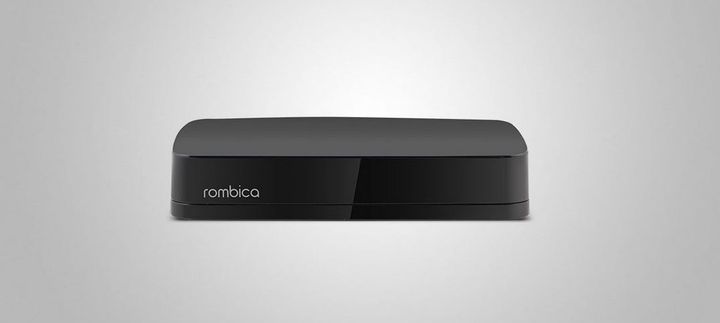 Recently, much attention is paid to the internet of things and other technologies that are associated with the smart home. Major giants release their SDK, to become the focus of a new system, and the joke "pay 33 rubles to open the refrigerator" have become classics.
However, conservative consumer preferences and lack of revolutionary products iPhone level do not allow the industry to make a major breakthrough. On the other hand, are gaining popularity different media centers and set-top boxes for televisions, the main function – to entertain their owners. About a year ago Google announced a special version of Android TV for such devices, but Apple has already sold a few years and gradually develops the Apple TV. Today we will discuss another similar device that turns your TV into the living room in "smart" device – Smart Box Quad from the company Rombica running Android 4.4.
Instead of introducing – Rombica Smart Box Quad
4 years ago I was faced with a typical domestic product brand – the company was added to the box with the device instructions in Russian, changed the logo and product on the shelves. Its small price tag might like gadget and cost, but the user experience was almost all spheres negative.
Last year, as the fate brought me to this company and feel of the device were roughly analogous – low cost and low quality, alas, are often associated. When it was suggested to try something from Rombica, impressions immediately developed a two-fold: on the one hand, and a beautiful place, on the other – "logo again in the Chinese unit."
Box Rombica
What device is a really? Pretty good "box", which has some disadvantages, but here a couple of unfortunate "value for money" is still broke. For more details and the points – below.
Options
Rombica Smart Box Quad delivers the usual green cardboard box, which keeps the intrigue: slag inside or still a good device. Includes himself SBQ, instructions, power supply, wire to connect to the composite output and remote control. R-mouse, mouse or another pointing device you want to buy separately, in agreement with the shops in the box left only the usual IR. Buy and also have HDMI-cable, if you do not.
Appearance
And remote device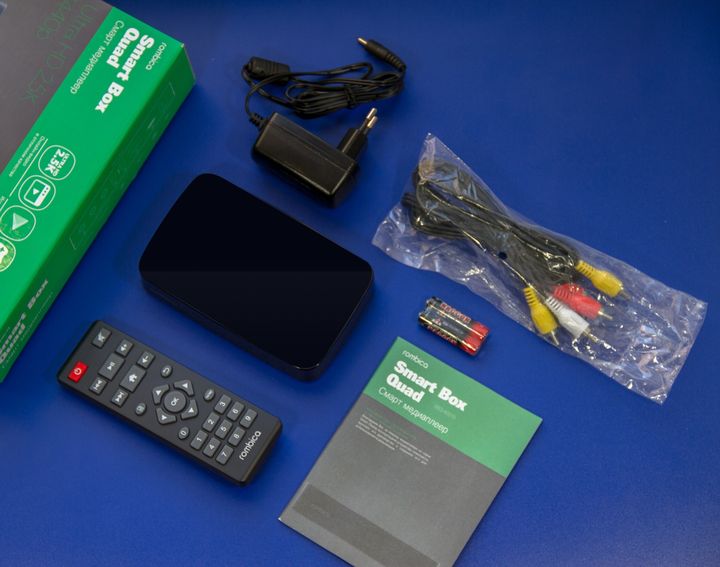 Himself SBQ – a small black device made of black plastic. The material is very glossy and easily soiled, fingerprints and dust on it can be seen perfectly. The only plus in this situation – the gadget can be wiped clean after installation and away from human eyes, otherwise it will have to regularly put in order. All sorts of scratches and damage to the SBQ also collects without any problems, so exterior gadget deserves characteristics "impractical", but for this category of devices, this problem is not too critical.
The lower bound is not monolithic, it is placed in a grid of holes is likely to passive cooling. Bottom also has 4 rubber feet for the week static placement they have left on the table any trace.
Connectors
All connectors are disposed of at the rear of the housing and the receiver and the IR LED signal – at the front. In total, this makes it possible to only horizontal positioning Rombica Smart Box Quad if you control will be used regularly. A few words about the LED – blue glow in the dark distracting, and some practical functions it is not entrusted. You can resolve this issue trite and collective, having stuck "Firefly", you can simply ignore this flaw.
The overall design of the device – a simple, not too practical, not too bright, but not too important. Emphasis on subtle design refinements in Rombica do not, but quite horrified at the shelves do not set up. "Normal" – a correct assessment appearance Rombica Smart Box Quad.
Operating experience
Talk about the characteristics and synthetic tests no sense, so we first go on some technical aspects, and then – on the quality of "boxes" in real life and options for its use.
Main Menu
Starting the device takes 10-15 seconds for the first time the system offers to connect to Wi-Fi and enter the data from your account Google, the standard process, not interested. Something remarkable begins immediately after a Rombica not only added its proprietary shell but left the standard desktop Android. On the one hand, our favorite "farm" on the other – you can make your choice once (or install something from Google Play Market) and forget. Considering might look like branded shell company took quite a wise decision.
Settings menu
The second unusual solution – add-producer itself. It is a surprisingly high quality and nice look. In the settings you can choose which applications appear in the list, you can add back and sides.
4k player
Rombica Smart Box Quad supports decoding resolution 2.5k, but here pops up two points: first, the maximum delivery of pictures – just in FullHD, and secondly, representatives Rombica themselves honestly recommend not to load SBQ video heavier than 1920 by 1080. Now resolution televisions often do not exceed FullHD, so this limitation can be seen only in the long term, but for now it will hardly be noticeable.
List of files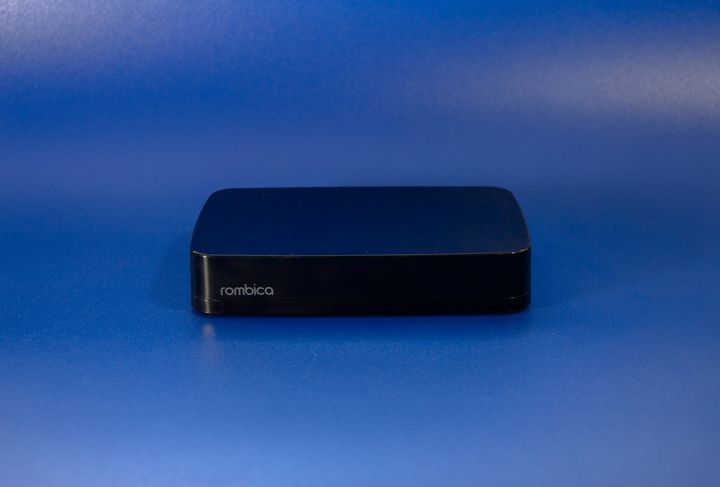 One of the unusual but interesting features – the ability to "boxes" to play 3D Bluray record. For this purpose, we use a special player and a special file manager.
In normal move in the menu, a small number of sites or services using iron SBQ ensures smooth operation. If a start shipping "box" heavy programs or active web surfing, then immediately begin a noticeable delay – "narrow neck" becomes 1 GB of RAM.
Where does it feel? With long-term up-time gadget from time to time to reflect, to free up memory; attempt to play Asphalt 8 or other resource-intensive game will lead to a long pause when you start; SBQ also unlikely to be able to keep in the background of 5-6 web pages.
The most important technical points regarding the "box" is already marked, so you should talk about possible options for operation of the gadget.
Google Play
Apple TV has already been mentioned in this text, Rombica Smart Box Quad trying to make alternative for this device. Instead, AppStore and iTunes here Google Play. AirPlay is available "out of the box" with the help of special tools and works quite a passable. Why, then, only "trying", and does not act? Yet proprietary add-on – it's good, but third-party applications on Android a little ground under the big screen TV. On SBQ really can "Stream" music, videos and games with your devices through AirPlay, watch movies from Play Store, but whether it makes sense to take a cheaper alternative to Apple TV? If your home is filled with devices from Cupertino and want to buy a conductor between the "apple" of the world and a TV in the living room, then I would recommend thinking yet about branded devices. Here and higher quality user experience and tighter integration, and corporate design Apple. SBQ is slightly cheaper, but in this situation it is better to pay the difference now is to not think about it then.
Interesting to think about Rombica Smart Box Quad as an independent unit with a capacity Apple TV. Such a device can be considered a set-top box on the Android TV, but in Russia they are not very accessible. What additional functionality offers a gadget? First, the device is no longer able to work independently and without additional "donors". Second, a variety of services like Meggo and ivy, offer a more diverse content than the Play Store or iTunes. Third, if desired, can be connected to the SBQ hard drive even with external power supply, so watch your favorite movie archive succeed without problems. Another little nice bonus – support gamepads, joystick on PlayStation 4 earned with "boxes" and be recognized in the same Asphalt 8. Frankly, the maximum setting gadget does not pull, but at medium behaves quite bearable. Here there is rather a question of graphics – how much you're willing to watch mobile graphics on your TV.
In general, the location Rombica Smart Box Quad under the TV makes use of the latter more diverse – you can include background music, you can watch a movie from the Play Store, the series of ivi or family video from your hard drive, you can play Heroes of Might & Magic 3 with your friends, and do it independently from any of your gadget.
Browser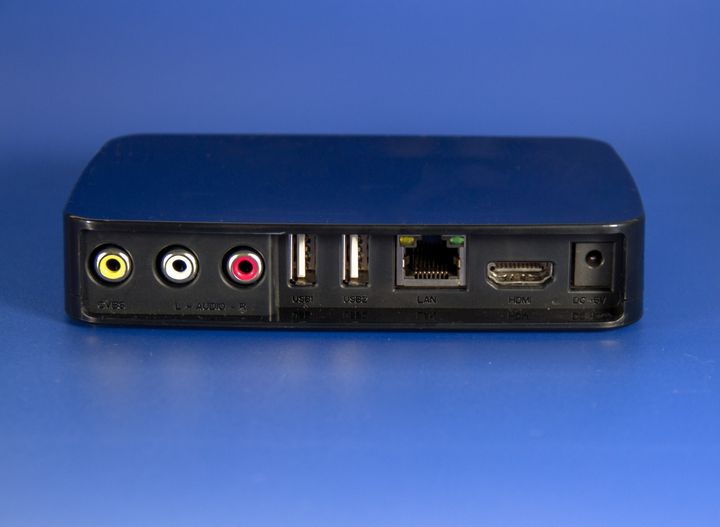 Immediately it should abandon the idea of making SBQ analogue mini-desktop PC – too little RAM in the "box", actively working on the device will be uncomfortable; although 1-2 pages in the browser operation remains comfortable. According to the company, «Smart Box Quad is perfect for those who use the computer for entertainment, not for the work – all the things that you do on a normal average smartphone – social networking, online video, web browsing, casual games – all too The same can be done and Rombica Smart Box Quad on the big screen TV. "
The gadget is designed for entertainment, and is unlikely to frequent or more multimedia – otherwise PS 4 or Xbox One look much more interesting, though are much more expensive, if you're interested in games, the consoles will be more useful if you prefer to relax with your favorite TV series or film, a variety of services for streaming films make choices SBQ preferable.
The little things
Complete control is disappointing: the buttons are extremely tight, treat him uncomfortable. Better just to buy R Mouse, and along with it and stick – suddenly want to play.
The device has the built-in player XBMC. Soon will be flashing with its new version and root-rights. Fans will appreciate the drums.
Update your device to 5.0 depending on the manufacturer of the processor – the driver is not yet available, so the outlook for a Lollipop on SBQ rather vague. Although it is not entirely clear whether this update is here at all.
What is the result?
Rombica Smart Box Quad – this is an interesting gadget for his 5000 rubles – a good competitor to Apple TV, but with a particular embodiment, highly specialized interaction with Apple-technique (streaming only) use of the latter looks a little more profitable.
While America can not conveniently buy consoles for Android TV, SBQ clearly should be seen as a worthy representative of his class – "crazy pills" for TV. The main problem with the device – the amount of RAM, but if most of the time use to consume content (watch movies, run the game), with the net can live with.
Smart Box Quad is perfect for those who want to choose what will happen on the TV screen, as well as cinema and popcorn prefer games and joysticks.
Source: Rombica
Read another very interesting article about alternative energy of the Sun, water and air.