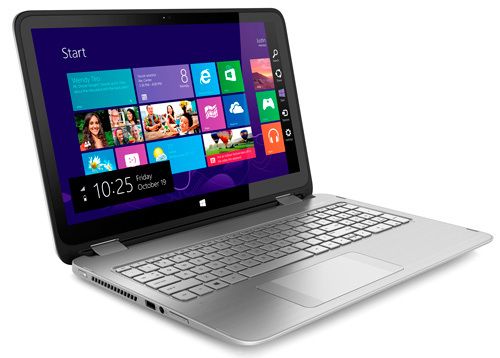 HP brand for a long time is no stranger to the business, and for many is not new to its well-designed and high quality made transformers. Of course, to such masters of "transformation" as, say, Lenovo, it far away, and yet the show definitely has that.
Proof of this – HP ENVY 15 x360. This multi-purpose 4-in-1, which can be used in a mode such as a laptop or tablet, and in the console mode or tents. In addition to the stylish appearance of the gadget is able to offer the buyer also a good stuffing, which will cope with many problems. The idea, of course, not new, and has long been realized, for example, in the lines of Yoga and Flex from Lenovo, in a model of Dell Inspiron 13 (7348), etc. However, when a new product is always want to believe that it will be different from the others, and the good side. Well, maybe it will be possible HP ENVY 15 x360?
Design – HP ENVY 15 X360
Laptop hardly claims to be the premium, its appearance is not surprising originality, nevertheless, to him a nice touch and hold. The materials used mainly plastic, with a matte, but with imitation metal texture, so fingerprints will not pester the user. The entire case – gray, only black display frame and glossy. What was for such a decision by developers, it is not clear, in fact, this area is subject to frequent touch with his hands. As for surface, it aluminum, and are pleased that during work it stays cool.
Except in the mirror on the cover logo «HP» nothing. Pick it up and see an ergonomic keyboard under it – interesting elongated touchpad. At the top of the screen frame webcam located on the bottom – button «Windows». Is mounted on two swivel display hinges. The hinge mechanism is arranged in such a manner that allows the display to scroll through 360 degrees, turning the tablet into a laptop. Needless to say, that in this situation the keyboard is disabled and can be used only touch input on the screen.
By the way, the process of transformation is not obstructed: hinges are quite stiff, make no squeaks or other extraneous sounds. There are also no backlash but have a claim to the cover: because of the small thickness is easily squeezed from what appears on the screen divorces. In addition to tablet mode, there is also "intermediate": console and a tent. They are useful if you want to start a slide show, presentation, film, etc.
Unfortunately, as for the transformer weight and dimensions are large and did not have a comfortable operation. Anyway, its dimensions are 384h259h24 mm, and weight – 2.4 kg integers. Definitely keep in the hands of such a heavy plate is not possible, and it would look weird.
Display, sound, and webcam
Despite the fact, that the hybrid devices usually can not boast of good displays (the rate is still on their ability to transform), HP ENVY 15 x360 has a relatively good screen. Resolution 15.6-inch touch screen is 1920×1080 pixels, which today is perhaps the most optimal for everyday work. But here is the use of TN-matrix led to limited viewing angles. Brightness and contrast, in general, are not very high, so the average brightness is 245 cd / m2 and a contrast ratio – 447: 1. To work in a room that's fine, but for street lighting – a little.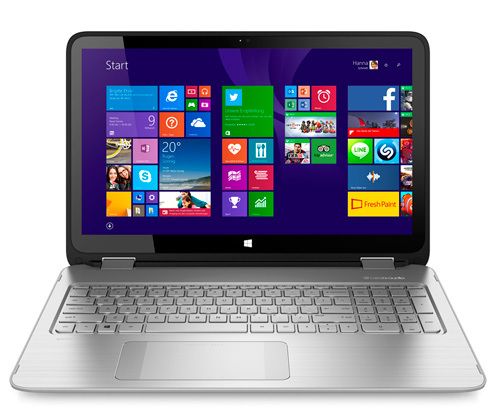 Even considering the inappropriate use of the device in tablet mode due to the bulkiness, the user can successfully switch to a console or a tent. In these positions the touch input will be most relevant, fortunately, quick return, there is no need to repeat the command several times.
Two speakers located on the front bevel transformer supports Beats Audio. In principle, the sound is not particularly reproach: Feel the bass, treble, and bass. At maximum volume, the sound quality may deteriorate, but it does not spoil the overall picture. Dynamics allows you to comfortably watch videos, listen to music, word to perform daily tasks.
Resolution web camera is 1.3 megapixel, but the quality leaves much to be desired. Unfortunately, only a lack of possibilities for video calls. However, for more hardly anyone had hoped, because hybrid gadgets like laptops and generally created explicitly for photography.
Keyboard and Touchpad
Keyboard HP ENVY 15 x360 island type, between the keys, is enough space to avoid false clicks. Square shaped buttons marked in black. There are gamepad that uncommon for Transformers. Form frequently used keys quite successful – they stretched for more convenience printing. It's about these buttons as [Enter], [Shift], [Caps Lock], [BackSpace]. But in the block with the arrow keys [Up] and [Down] is very small, and their use can cause irritation. The same applies to the function keys, they are small and not very comfortable.
By the way, for the good operation of the key should click them strictly in the middle, and clicking the angle (which is especially likely when touch typing), you risk not getting any response.
However, the fact of pleasing illumination, however, adjust the brightness level does not work, it can be either on or off. But it is still better than nothing, is not it?
Located under the keyboard touchpad is slightly shifted to the left. Developers used here rather an unusual approach, and both sides have added him two vertical bars. They can be seen at once because he manipulator of the same color as the work surface and the bands are somewhat lighter. Designed to last the following purposes: left bar allows you to select applications and switch between them, and the right is a miracle menu buttons. Undoubtedly, the decision interesting, if not for one "but": it in practice, because, by clicking on the touchpad, willy-nilly, you touch one of the two bands. As for the work of the touchpad, then it was no problem – a good return, support for multi-touch gestures. Physical buttons, such as no.
Performance
In Transformers HP ENVY 15 x360 15-u050sr (G7W63EA) worth preinstalled operating system Windows 8.1 64-bit, it is ideally suited for touch control, which in such devices takes on new meaning. Processor Intel Core i5-4210U belongs to a generation Haswell. Dual-core chip has a frequency of 1.7 GHz base, and with the support of Turbo Boost it can be increased up to 2.7 GHz. In addition, there is a multi-threading technology Hyper-Threading, which allows to simultaneously handle four streams two cores. CPU is made on 22nm process technology and features low power consumption (15 W).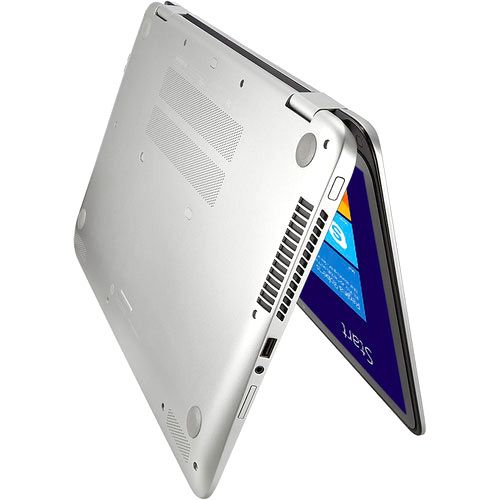 Graphic shows integrated graphics Intel HD Graphics 4400, which is great for simple operation, which, in general, and is designed Transformers: web surfing, office work, run simple applications, watching videos, etc. This accelerator for its performance can be compared with a discrete graphics card AMD Radeon HD 7610M, which speaks for itself. Also worth noting is the presence of a decoder for video encoder 4K and Quick Sync, there is support for DirectX 11.1 and Shader 5.0.
Amount of RAM – 8 GB DDR3-1600 MHz standard, and this is the maximum. For storing any kind of information on the laptop hard drive, provides 1 TB with a spindle speed of 5400 rpm.
Ports and Communications
Since the number of interfaces in the gadget no problems and they are evenly distributed on the lateral faces. On the right side, you can see the two-port USB 3.0, video output HDMI, Network RJ-45 connector, card reader SD / MMC, socket for charging and a slot for a Kensington lock.
Located on the left side port USB 2.0, a combined audio jack, rocker for volume control button on the device (which is more typical for tablets) and a large ventilation grille.

No rear or front nothing.
Wireless modules are only two, and it's good to see 802 Wi-Fi b / g / n and Bluetooth 4.0.
Battery
When we talk about Transformers, we mean a mobile device that is capable of long enough to work without outlet. As we have seen above, transportability our hero did not work out because of the large size and weight, but what about the autonomy? Perhaps it is able to rehabilitate the laptop? But, unfortunately, the 3-cell Lithium-Ion battery 43.5 Wh is not demonstrably survivability. For example, in the Web-surfing capacity battery will last about 5.5 hours of video playback quality – no more than 5 hours. And under heavy load the laptop will not last 2 hours.
If this device is positioned as a laptop, the results of the battery could be satisfied, but since we're talking about a gadget capable of operating in different modes, including a tablet, the results disappointing.
Conclusion – HP ENVY 15 X360
Due to the peculiarities of the hinge mechanism HP ENVY 15 x360 can be used as a notebook, tablet, tents and console, which certainly can be useful in many situations, such as when you need to carry out a spectacular presentation. Screen laptop middling confident in his favor is the highest Full HD-resolution, but rather a narrow viewing angles are not very high brightness contrast with disappointing.
The advantages of the gadget can also be counted on its stylish appearance, non-marking surface, and good filling. Last, a processor Intel Core i5-4210U not last, but very current 4th generation, as well as integrated graphics, which easily "off" with everyday tasks.
Unfortunately, without the drawbacks too, was not, and most important – its positioning discrepancy device manufacturer. Hard to imagine almost 2.5-pound tablet in his hands, which can be operated for a few hours without recharging. Moreover, many models of other manufacturers far more competitive, take the same Lenovo IdeaPad Flex February 15 or Dell Inspiron 13 (7348) with the same form factor. However, the taste and color of comrades not, and if called cons you do not stop, it is possible that the price tag of $ 600 a little chastened?
Source: HP
Read another very interesting article about alternative energy of the Sun, water and air.