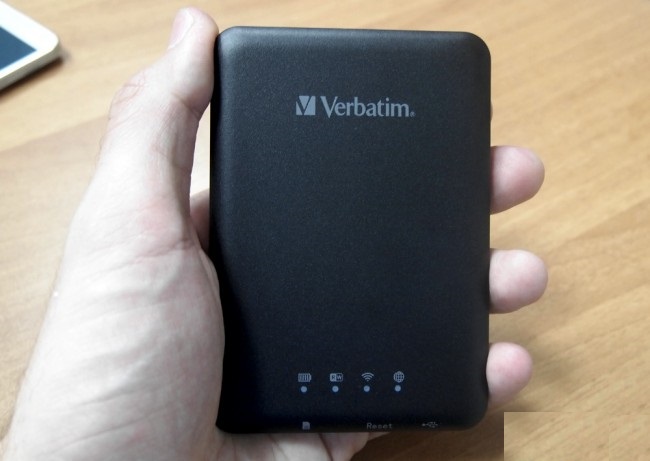 Simple external battery for the smartphone can not attract the attention of consumers, as the market simply a huge amount. Therefore, manufacturers have come up with a new category of devices that combine an external battery, wireless card reader port and USB. Not so long ago we visited on test such a device from Kingston , now the competition he decided to make another gadget this kind of Verbatim, called MediaShare Wireless. Let's see what the this new product.
Scope of delivery
Verbatim MediaShare Wireless comes in a small box, which in addition to the device itself and the documentation can be found only a short cable with a USB to microUSB.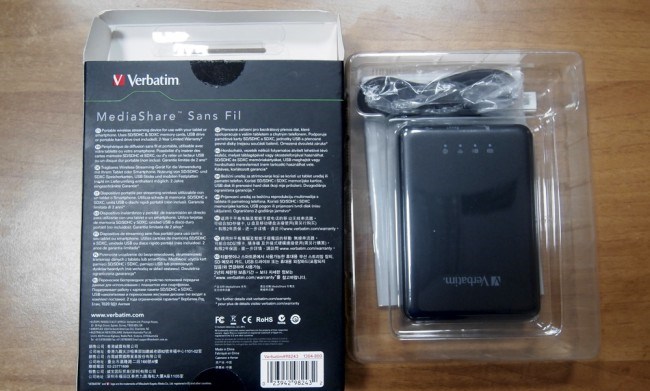 The latter is used for charging the built-in MediaShare Wireless battery and to recharge the battery smartphone.
Design
In appearance the Verbatim MediaShare Wireless is very similar to a portable external drive. Its body has dimensions 143h112h79 mm and weighs 127 grams. The main material – plastic.
The top of the device is designed with a practical black matte finish. But the lower half of the body is made of smooth gray plastic coated with lacquer, which is very quickly covered with small scratches.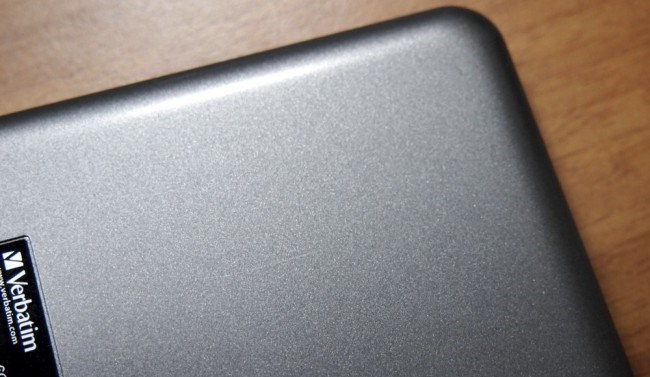 In terms of design – it is questionable move, and it is not adding device identity, but the practicality of this suffering.
On the left side of the MediaShare Wireless is a power button and a port microUSB.
At the bottom is a slot for memory cards SDXC, SDHC and SD, reset button and port USB 2.0. All other parts of the body devoid of the connectors.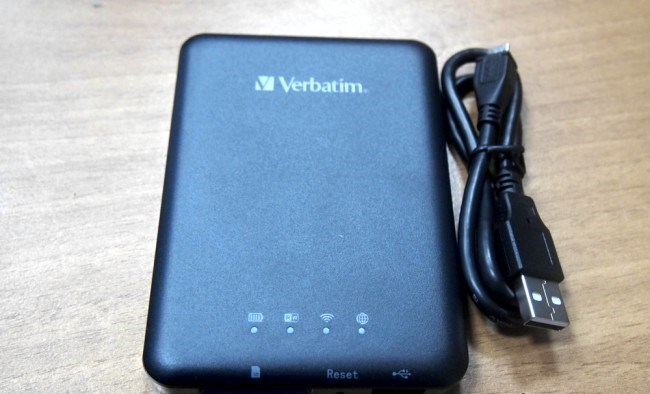 As a result, the design of the MediaShare Wireless is normal, but the device is compact, and it is convenient to take along for the ride, a lot of space in your bag, it will not take.
Wireless USB-drive and a slot for SD memory cards
The main purpose of Verbatim MediaShare Wireless – is to work with mobile devices for Android and iOS, for which he may be a wireless card reader port and USB. Thus, the user can write files to a memory card SD, USB flash drive or portable external hard drive and view them on your mobile device while connected to MediaShare Wireless Network Wi-Fi b / g / n. In this smartphone / tablet is connected to the drive via a wireless channel directly.

As a result, it would seem, the bandwidth should be enough for watching movies and videos. In Verbatim claim that at the same time to the MediaShare Wireless can connect up to 5 people. In theory, all this is true, but in practice, in spite of the higher data rate of 6 Mbit / s, even if you connect one person with a video resolution of 720p or do not play, or go with visible strokes. Thus, Verbatim MediaShare Wireless difficult to use as a portable mediahranilische.
Mobile application that is designed to work with the device, it is written as if in a hurry and does not correspond to the interface as Android, and iOS. For all this to work with him is possible, though not very convenient.
The program allows you to copy files from an external drive and watch them in streaming mode. As we have seen, with the transfer of the video device does not work very well. As for the photos, here the situation is better. After removing the card from the camera SD, it can be inserted into the MediaShare Wireless and copy the images to a mobile device, or simply view them.
As for the music, here the application developers for Verbatim went a strange way. If you try to open a video program prompts you to select a video player, in the case of the music she plays some of its built-in player himself. Not only that, he has the basic functionality, so also do not understand all the formats.
Despite the direct connection to the MediaShare Wireless smartphone / tablet on Wi-Fi, the device is able to create a bridge, so the user can connect to your network and use the Internet. This function works is also not very good, speed access to the Internet in a mode for some reason, it drops sharply, causing abandon it.
We should also say that in the Verbatim quite calmly approached the issue of security MediaShare Wireless. When you first turn the device creates a secure network, but the password is it written in his own case.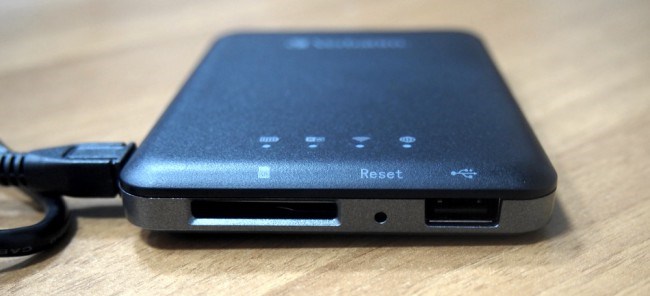 And the app when you first start Verbatim does not offer to change the password. Thus, we can assume that most users and will use a standard password.
Despite positioning, MediaShare Wireless can also work with your computer, acting as an external card reader. It may be useful to owners of those notebooks that SD card slot is not provided.
External Battery
In the Verbatim MediaShare Wireless embedded battery with a 3000 mAh battery, which was enough to work through as a wireless drive a little more than 7 hours.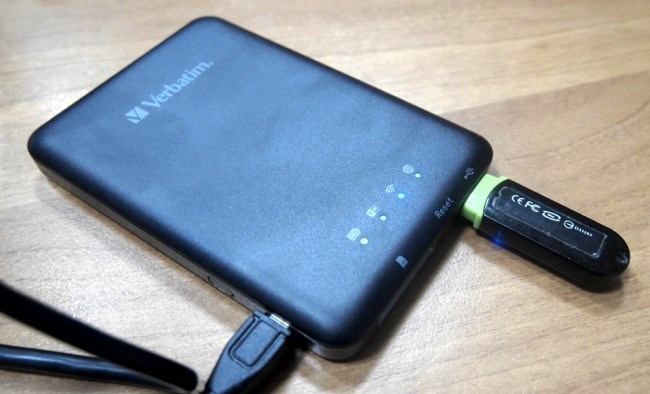 Using the same battery, you can charge your smartphone / tablet. In this mode, the device works perfectly without any glitches. It is charging about 2 hours.
As a result,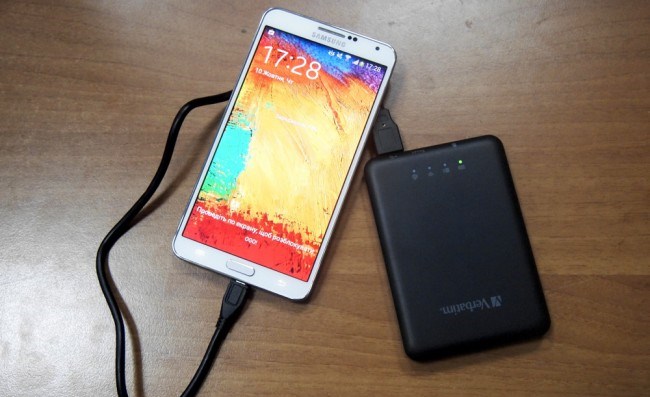 To sum up, we can say that we got a great Verbatim external battery and good wireless card slot for SD. Unfortunately, with the stated functions of a wireless device mediahranilische not cope. And the blame for this, for the most part, a mobile application that needs serious improvement.
Like:
+ Wireless USB port and a slot for SD memory cards
+ Size and weight
+ Battery 3000 mAh
+ Works as an external card reader for your computer
Did not like:
– Mobile application
– Slow data transfer
– Security issues
Read another very interesting article about alternative energy of the Sun, water and air.