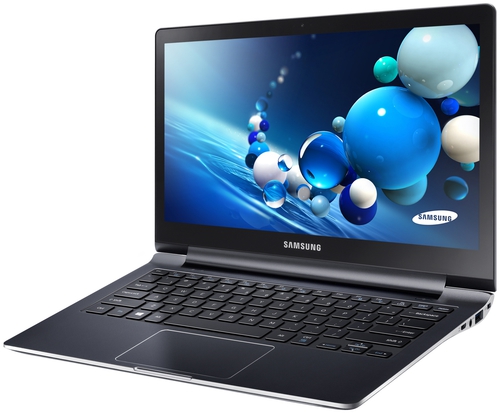 It seems Samsung is not seriously took up the development of the segment of premium Ultrabook , announced in June 2013 a new ATIV Book 9 Plus. It seems that in some ways this kid with a resolution of 13 dots per 3200×1800 inches quality display panel can move many recognized flagships today . But worth it , even by today's standards for the abundance of expensive devices , rather a lot, so surely the question arises how this purchase would be justified … Wait and see , but until more details are introduced to another representative of an elite unit of laptops from Samsung.
Technical characteristics Samsung Ativ Book 9 plus
Processor: Intel Core i5-4200U 1600 MHz
Memory: 4GB 1600MHz DDR3L
Storage: 128 GB SSD
Display: 13.3 "3200×1800 QHD + PLS, glossy touch
Video: Intel HD Graphics 4400
Wireless: Wi-Fi 802.11 a / b / g / n, Bluetooth 4.0, WiDi
Audio: SoundAlive, 2 speakers
Interfaces: 2hUSB 3.0, micro-HDMI, RJ-45, VGA, card reader (SD / SDHC / SDXC), combo audio jack
Extras: 0.9 megapixel webcam
Battery: 4-cell Li-Polymer 7300 mAh
Dimensions, weight: 320h223h13.7 mm, 1.4 kg
Operating system: Windows 8
Options: Samsung ATIV Book 9 Plus (NP940X3G-K01US)
Design Samsung Ativ Book 9 plus
Samsung ATIV Book 9 Plus – this is an extremely attractive model ultrabook with comfort for 13-inch display. Outwardly, he practically does not differ from the rest of the ninth series, changed unless the individual parts, not immediately evident. The body is made of light metal gray with a bluish tinge (the official website of color sounds like «Mineral Ash Black»). Build quality is impressive, ultrabook looks very reliable machine that is able to survive a lot. Moreover, the opening angle of the display is 180 degrees, and even the loops in a position perfectly fix upper panel.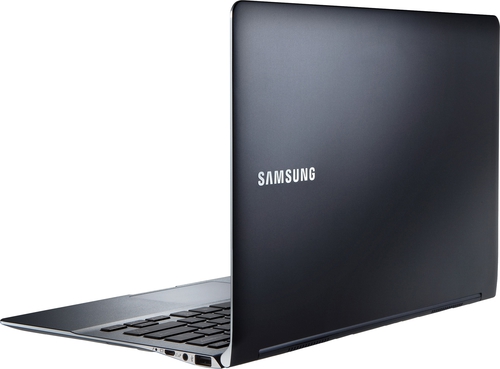 Surface of the body ATIV Book 9 matte coated with lumpy – it solves several problems, among them, though not absolute, but still no fingerprints and slippery during operation. Bottom ultrabook cast, with four rubber feet wide, perforated grilles and ventilation zones speakers.
The presence of the touch screen has caused a slight increase in the thickness of the upper lid, and of weight naturally, although ultimately the situation can not be called completely critical – weighs 1.4 kg, dimensions 320x223x13.7 mm.
Display, audio and webcam Samsung Ativ Book 9 plus
Armed with ATIV Book 9 Cost Plus 13.3-inch touchscreen display with PLS-matrix and the huge resolution 3200×1800 pixels (QHD +). Of course, this is a significant achievement for ultrabooks, and the manufacturer needs something to motivate the user, at the same time, such a decision may cause inconvenience, because the icons and fonts are obtained with very small, so much so that we have to get them straight. Overall, it really chip device, because in this respect very little gadgets laptop competitors, for example, Lenovo Yoga 2 Pro.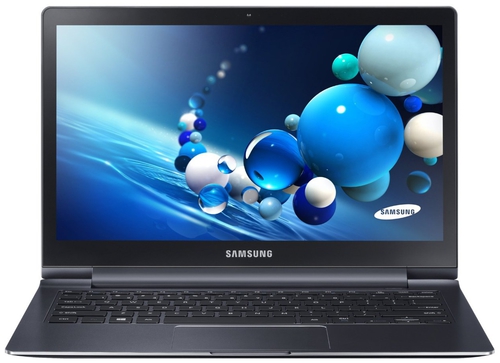 As for performance, the brightness The display was actually slightly lower than that stated on the official website – 284 cd/m2 350 cd/m2 against. Contrast colors, as well as color, at a decent level, and wide viewing angles (not in vain because the display can vary up to 180 degrees) complete the overall standings on the quality of the screen.
Sensor display functions very well, quickly and correctly recognize up to ten touch points. Excellent work with the device, but again, great resolution – this is a very small icons in kotorye-to finger does not always get. By the way, here was originally proposed scaling to 150%, but even that does not help the situation much.
Sound system in a laptop is represented by two speakers at 2 watts each, located on the bottom of the device, and technology SoundAlive. Thanks to the latter, the system can independently determine the characteristics and type of the sound source, automatically selecting the optimum settings. Emitted sound can not be called loud and sonority is also lacking. Volume problem can be solved with the help of audio jacks, which connects to the headset or external speakers.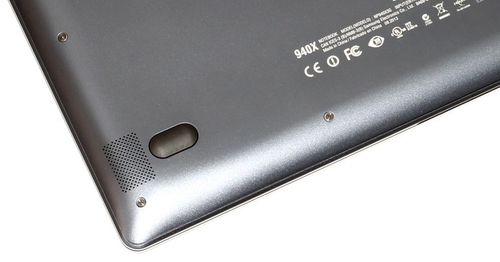 Opportunities webcam quite small considering the low resolution of 0.9 megapixels, but this is enough for full video and the other from a laptop and is not required.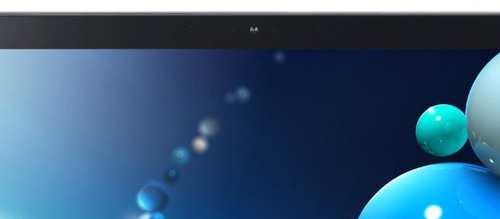 Keyboard and Touchpad Samsung Ativ Book 9 plus
In ultrabooks Chiclet keyboard installed, fully recessed deep topkeysa. When typing text, it is absolutely no flex, thanks to strong support, by the way, is also matte. 80 keys of medium size (15×15 mm) are located at a distance from each other, they are pressed easily and clearly, so work with such a keyboard is a pleasure.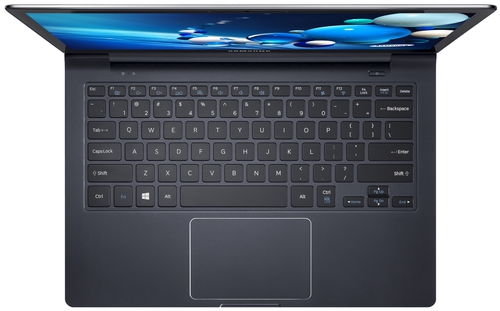 Significant advantage ATIV Book 9 Plus is the presence of the backlight that illuminates the keys from the bottom, allowing you to work comfortably with the device in the dark. Its brightness level is adjusted so that all users will be able to put it at its discretion.
The touchpad is also slightly ducked into the body, it has a medium size 107×76 millimeters, pleasant to the touch surface roughness and high sensitivity. Great input device if there is no desire to use the touchscreen display. Of course, it supports a variety of multitouch gestures – zoom, scroll, etc.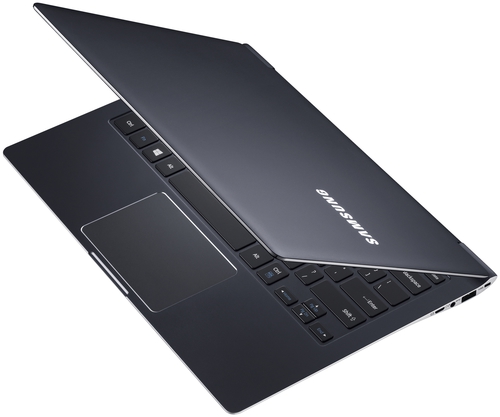 Performance Samsung Ativ Book 9 plus
Ultrabook Samsung ATIV Book 9 Plus (NP940X3G-K01US) is running a 64-bit operating system Windows 8.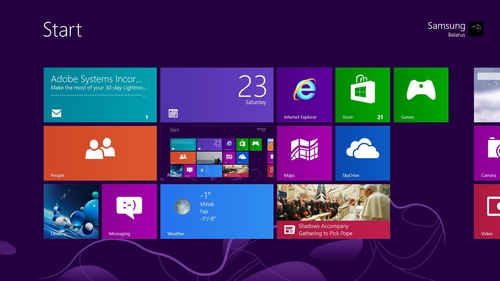 The "heart" of a laptop is a dual core processor Intel Core i5-4200U ultra low power at 15 watts. Base clock speed is quite low – 1.6 GHz, however, CPU can accelerate to 2.6 GHz, while simultaneously processing up to four computing threads (technology Hyper-Threading). Third level cache is 3MB. At the core of the processor is 22-nanometer Haswell architecture with support for new instructions AVX2. Core i5-4200U is designed specifically for installation in ultrabooks, and for its level shows a very good performance.
Integrated graphics Intel HD Graphics 4400 – it is more graphics performance than its predecessor HD Graphics 4000 , which is associated with some optimizations, as well as increasing the number of actuators (20 vs. 16). Integrated graphics runs at 200-1100 MHz and supports DirectX 11.1.
As for gaming performance, then more with ultrabook can not count, but even more so in the native resolution. Will likely have to reduce the resolution to at least 1920×1080 pixels, and that's when you can safely play, for example, in FIFA 14 (2013) on the maximum graphics settings or Dota 2 (2013) on average (1366×768 pixels), thus, the frame rate second will be 38 and 33 fps, respectively.
System memory ultrabook standard – 4 GB DDR3L-1600 MHz, it is soldered to the motherboard, moreover, without the possibility of extension. Store their data on the proposed 128-gigabyte SSD, which works quickly and efficiently through the SATA III.
Ports and Communications Samsung Ativ Book 9 plus
On the left side of the notebook power socket located one port USB 3.0, micro-HDMI, card reader 3-in-1 (SD / SDHC / SDXC) and jack adapter RJ-45 connection for the wired Internet. By the way, the appropriate adapter is included.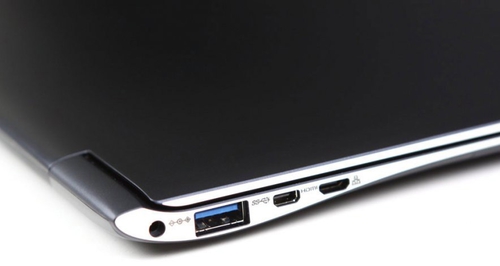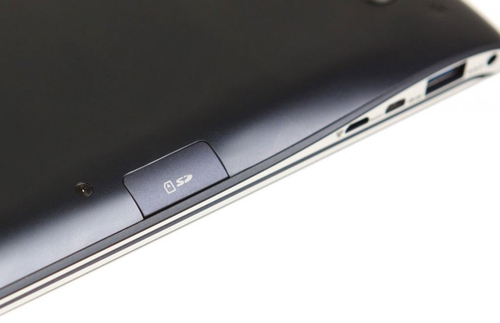 On the right side you can find Kensington lock, a second USB 3.0, audio jack and a combo port for connecting adapter VGA (provided in the kit). As you can see, to save space used by the old trick with multiple adapters.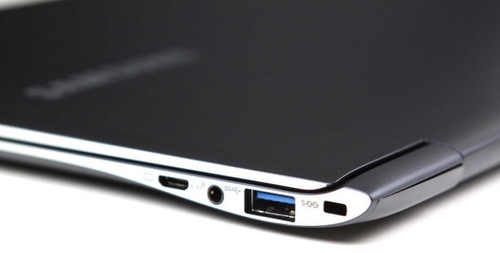 Front and rear bevel empty.
Opportunities for wireless data transmission at Samsung ATIV Book Plus 9 more than usual. There is Wi-Fi 802.11 a / b / g / n, Bluetooth 4.0, and even throwing WiDi for content from a laptop to a TV.
Battery Samsung Ativ Book 9 plus
The device is a 4-cell lithium-polymer battery with a capacity of 7300 mAh. Indicators of autonomy, which shows battery common to many ultrabook with a similar filling, but with a lower resolution display, so that in our case, the combination of ULV-CPU and demanding with its high-resolution screen could not be more used to the way of compromise, to keep energy consumption at a reasonable level . So, the maximum loaded ATIV Book 9 Plus lasts just over two hours, reading mode will last almost eight hours, but you can watch movies about 6 hours without a break.
Conclusion Samsung Ativ Book 9 plus
Premium ultrabook Samsung ATIV Book 9 Plus, no doubt, deserves attention. So far it is not available on the market, and its exact price is unknown, but the official site considered equipment was valued at $ 1,400, we will naturally be more expensive. What we liked in this laptop? Of course, the design – the device is extremely stylish and fully complies with today's fashion. Definitely impressive display, such a decision until that new and neobkatano manufacturers, but its appropriateness had doubts, since not all adapted to 3200×1800 pixels, including the eyes. Performance, autonomy – all indicators are not beaten beyond possible, ATIV Book 9 Plus is good to use at home and in travel. We get the bottom line? Good Ultrabook a famous brand, which have something to surprise, if you're willing to spend on cool its acquisition.
Read another very interesting article about alternative energy of the Sun, water and air.