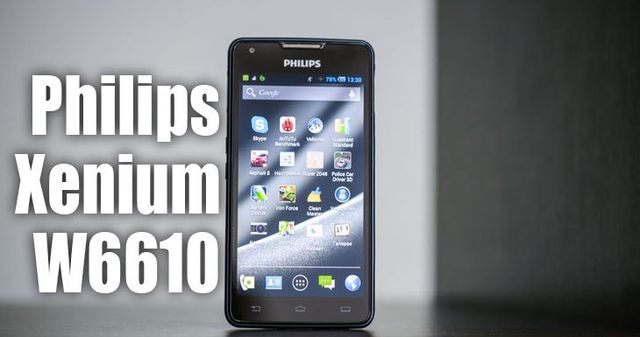 Last year I got my hands on Lenovo P780, and he was discharged only after 3 days of use. A week ago I picked up the Philips Xenium W6610, and he still charged. Do you know why he was 66? Because it is 66 days, he can hold on a single charge.
Philips chose a very precise path – a huge battery. I was lucky enough to be familiar with almost the entire line of Xenium and they all fit on the blades other cheap android-dialer features is the battery. I have a Philips phone external battery X130, which is able to charge all portable equipment. There kompaktysh metal with capacious batteries X333. W8510 have a smartphone with a capacity God forbid anyone. But now before us with smartfonische akkumulyatorischem! And his name is Philips Xenium W6610.
Design and Ergonomics Philips Xenium W6610
If suddenly someone comes and asks you, "What kind of freak?" Long can explain to the person that this phone is made in order to defend them from wild animals, this thick casing set maximum huge battery, and its weight, dimensions and functionally justified. And can this uncomprehending man never talk. Yes, looks like a smart cobblestone. But, I think it's mimicry. To survive in difficult circumstances, when you still be buried on the deserted island. Philips Xenium inscriptions and easily erased, bluish body itself, so yes, it can be tucked away in the rocks. But not in the water! Protection against water and dust stripped phone.
W6610 front completely covered with glass. The back of a smart plastic, bluish color with black metal tapping. Which, incidentally, with the first fifty times I open and failed. Edited all we came to the conclusion that she was terribly uncomfortable. Such embarrassing covers the world has never seen! Hiding under the strap slots for two full-size SIM card and microSD card.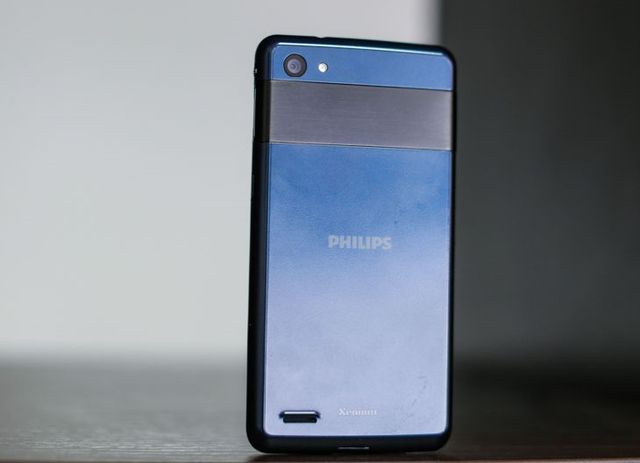 The whole structure is wide enough (145,4 x 74,1 x 11,4 mm) and heavy (200 g), and from the first minute, when it appears in your hand, it seems like a long time for your cooperation will not last. Or end pumped muscles on the right one. But no. To all this quickly get used to, if not bother, and no, beautiful biceps this week I have not delineated.
Location keys in a smart standard, except that the connector microUSB, which is located at the bottom, hidden under a flap. And if you thought at first it was because of security smartphone, greets you at my club. But I just checked – protection from water and dust in a smart no.
Better clarify that the power button located on the right side in the center button (not swing) volume left, top audiodzhek 3.5mm. More on the right side there is a small switch, but what is it and why I tell about the battery in the unit. In this recalculation buttons connectors over.
Display Philips Xenium W6610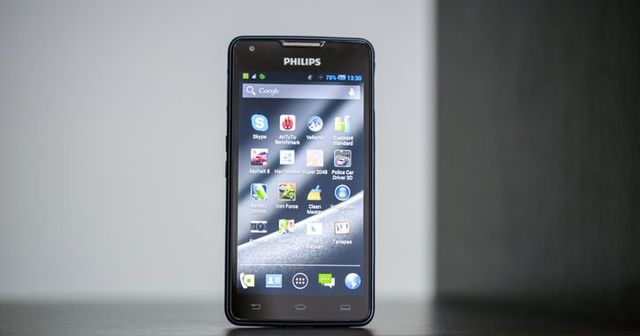 Display smartphone received no special privileges because he did not have. Because 540×960 resolution with 220 ppi density would be enough to run the card, see the schedule of ships-planes book a hotel room, hostel or zaguglit "how to light a fire" and "how to put a tent." Inversion and viewing angles of this smartphone should you be interested in the least. And on a sunny day, you can use it at all, like a mirror. And do you know what it can be useful on the island?
Hardware and software Philips Xenium W6610
Brain Xenium W6610 were 4 core CPU MTK 6582 processor with a clock speed of 1.3 GHz and RAM to 1 GB. On average, this is enough, and that in the 2048 play and run Asphalt. Fpsami game will not shine, but the fact that – well run, and even music bed. If to compare, here's some benchmarks. Parrots on comparable unit c Nexus 4. And he was very bad.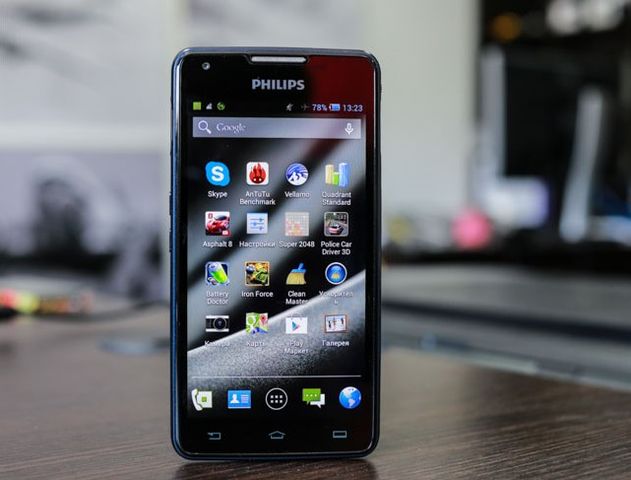 Dimensions: 145 x 74 x 11 mm
Weight: 200 g
Operating System: Android 4.2.2 Jelly Bean
Communications standards: GSM (900/1800/1900 MHz), UMTS (2100 MHz)
Processor: Quad, MTK MT6582 1.3 GHz
Display: 5 "IPS (540 x 960 pixels) / 220ppi / touch screen, capacitive
Memory: 4 GB expandable flash (Micro SD up to 32 GB)
RAM: 1 GB
Camera: Basic – 8 MP, video recording 1080 p, front – 1.2 MP
Interface connectors: 3.5mm headphone jack, MicroUSB
Battery: Li-lon battery 5300 mAh
Pro version of the OS and even the shell is not worth talking – Android 4.2 Jelly Bean with a minimum amount of add-ons are not so necessary or at home, or in extreme situations. Well, Kingsoft Office is. It's kind of as a useful, if someone else uses them. A couple of screenshots to show, and then show two cool things that are worth paying attention to.
The first feature – the battery and its software Philips Xenium W6610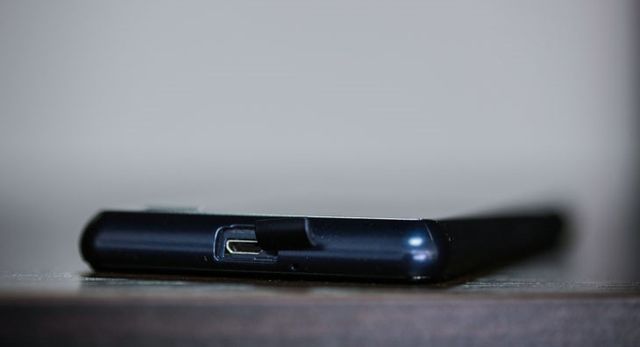 5300 mAh – it deserved second place among smartphone-lived. First received Highscreen Boost 2 aka brick with their 6000 mAh. However, inside the unit so no, it negates his dignity. W6610 really long lives. For a week he was able to defuse the test from 100% to 10%, though I have not indulged in any toys or in 3G and Wi-Fi, and generally yuzala it as the main smartphone. But when, after a 10% translated it into power saving mode, and only responded to calls, the idea was born that I would grow old with this phone. He lived a few days so did not want to turn off, call-smsil and lived his commercials prespokojnenko day two or three. Regime had to shut down.
But do not worry, charging it will last a month. My copy from a socket with family-wire adapter is fully charged in 3 hours with a trifle. But here's the truth – from the company he had been charged more than 8, and it is not until the final. But there is good news – if this smart is completely discharged, and soon you run, and you still do not have an external battery charger to save even an hour. That's enough for active use, and to talk in a few hours.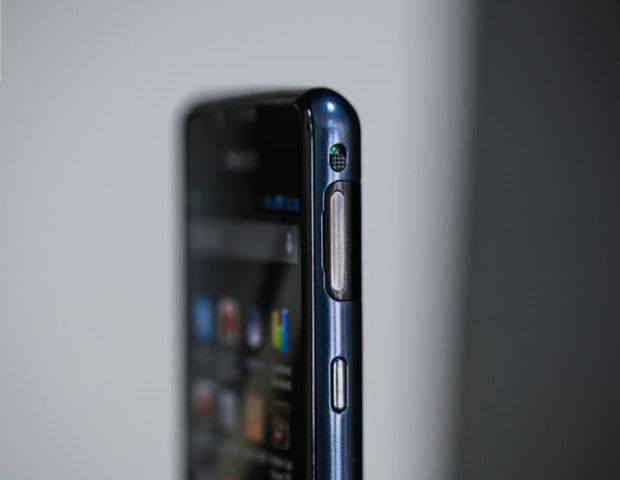 And it's not a record. Because there Xenium Freaky energy saving program. It provides complete information on the consumption of the battery – what? Where? When? and offers a choice of two power-saving profiles. If you have an Internet deserted island not, then feel free to put the default mode. He cuts off all data, sets the brightness of the screen and gives you yourself waiting for a call or SMS from rescuers. It is in this mode, the machine can hold out for two months with a ponytail and never utter a word about battery drain. I have not tried, but did not believe the producers in this matter I have no excuse. If you just went on vacation in another city, forgot charging and you rest for another week, then go to user mode and configure it as you see fit: the brightness of the display, which chop off – Bluetooth, GPS, Wi-Fi. Included it in one motion. And if you thought at first that this lever, like the Apple devices, in favor of the phone from silent mode, congratulations, now we have two. One click – and you already know exactly what the next hundred years, your phone is not in the least be discharged. I have a button on the Oppo Find 5 …
As part of the test, the issue here is beautiful screenshot from Antutu Benchmark I did not succeed, because the machine overheats and complete the test fails. Ask to take my word.
The second feature – communication standards Philips Xenium W6610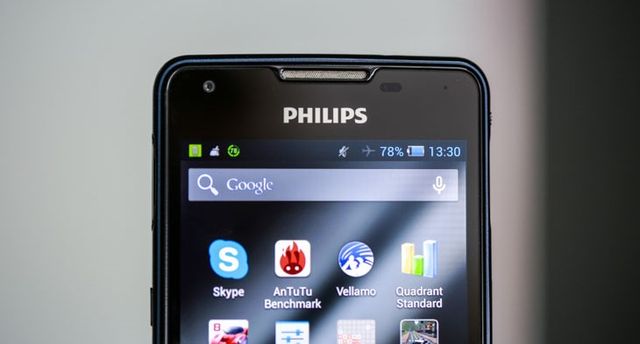 Even if you actually brought into the unknown distance, on the part of an Internet nothing to worry about. If it is there, you are not left with nothing thanks to the double coverage area, that is a dual-mode WCDMA availability and GSM. Dual sim card – two modes. The most honest phone in the world!
Camera Philips Xenium W6610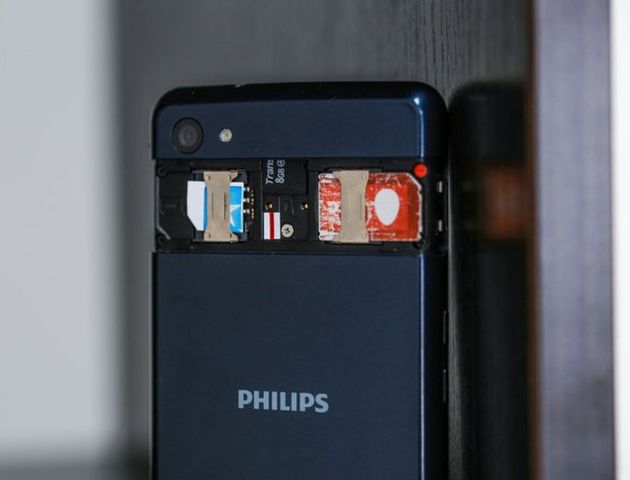 The main camera 8 MP received a shoot-modes do not want to stuff in general availability on the screen. The menu may not the most beautiful and sophisticated, but simple and informative. All in one place and confused not work. As a bonus, the developers have left even shooting modes monochromatic or sepia. And what do you want? And added to the gallery staff uluchshator with frames and effects, which is hardly anyone uses it. Except for me. Autofocus and flash – all the better class. White Balance, Scene Modes – it all right there. As a result, even can get photos that will not be ashamed to share with friends. Before that you had the camera 2 MP and curved hands.
Output Philips Xenium W6610
While the company Philips heartily sure that this phone will be buying yourself dandies in business suits, they can lose real audience of this tough machine. But have we, ordinary people who love to ride a bike that break in unplanned travel and be able to appreciate such a huge battery. If you take a sober assessment of the situation, you realize that this can be a smart solution for every day, but not for everyone. Someone is not satisfied with his appearance, or insufficiently steep technical content. But for traveling such Philips Xenium W6610 – this is what you need.
Read another very interesting article about alternative energy of the Sun, water and air.