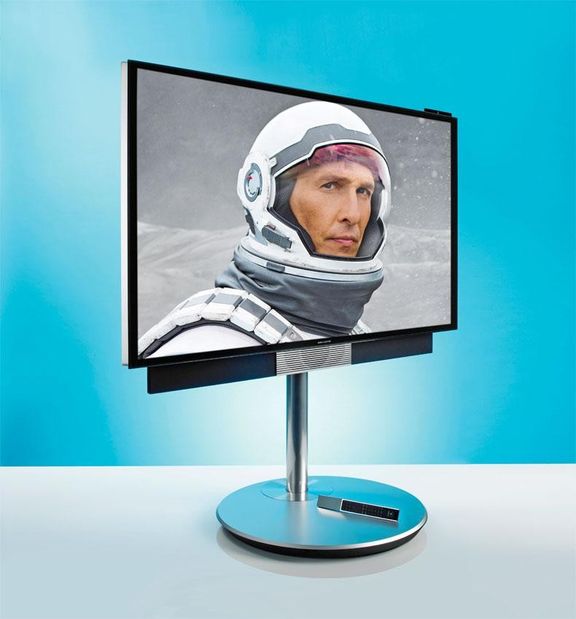 Luxury – a quality rarely inherent TVs. Even the model class High End renowned brands such as Samsung and Panasonic, no more than hint at it. Of course, the equipment and support the most advanced technologies in the flagship TV at the height of luxury but they are not related. We think this concept is associated more with the feelings that the product is in its holder, as well as with the quality of his work. Bang & Olufsen has it understands.
TV BeoVision Avant 55 supports a resolution of 4K, but it is primarily draws attention to it. First of all, striking elegant motorized stand. And this is not a joke; strict metal programmable stand (cost nothing at all – $ 1800) makes it possible with the grace of a ballerina deploy a television in the desired position; several of its engines allow rotate and lift the base on which the TV. Pretentious? And how! But also convenient if you are to watch TV, sit in a room for it in one place, then the other.
After switching off the TV set rack to its original position, freeing a little more space in the room. At B & O also has a motorized wall bracket, which performs similar operations, and is exactly the same.
List of motorized objects does not end there: after installing Avant 55 to the desired position of its dynamics fall down. In fact, it's built soundbar. It employed as many as eight heads, each of which is equipped with a 60-watt amplifier – namely, three tweeter, three midrange speaker and two woofers. B & O is renowned for the quality of the sound of their television sets, and looking at this intricate design, it is easy to understand why.
When you turn on the TV unit acoustics BeoVision goes down – very unusual decision, and it is not just for beauty: an eight-speaker sound is excellent
The company also understands that regardless of the quality of manufacture of the TV (in this case, it is great, especially good metal case) the main point of contact for the user is remote. Surprisingly, many manufacturers have completely forgotten about it. B & O always takes this into account in the design.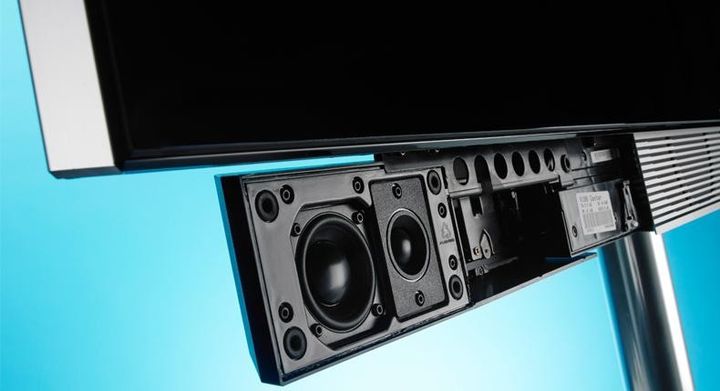 Ideal pultUzky aluminum housing remote control that accompanied the BeoVision Avant 55 – thoughtful, powerful and balanced. When compared to many others asked him straight to the basket.
Remote control models of premium quality is not always good, but it is amazingly ergonomic BeoVision
But that's not all. If you're buying other TV lug them home and you will have to connect yourself with Avant 55 is different. Seller will make the installation of it, though, and for an additional fee, the amount of which will depend on the workload. Nevertheless, we recommend not to neglect this opportunity, because a lot of the TV settings and features, and if you are not familiar with them thoroughly, it's easy to miss something right.
Smart motorized stand, luxury remote control and effectively block retractable speakers combined with stylish looks make sure to reach for many wallets. However, we need more. Having carefully considered the list of characteristics, we were worried.
This TV has only connectors HDMI v1.4, limiting the frequency of the received signal in the format of 4K only 30 frames per second. Furthermore, no built-decoding HEVC, which excludes the reproduction of 4K with Netflix.
So, B & O launches 4K-TV, unable to connect to the only source of 4K. Not the most sensible solution! And if you find an external network player that can perform the function of a mediator, its quality will be limited only by the presence of older HDMI-inputs.
In a sense, this is an own goal. Probably, the company's engineers with that sooner or later the right – at least we hope so. Make any restrictions 4K format refuse to buy? Frankly, hardly.
For many years the vast majority of available material is still in HD and SD. The most important thing to evaluate the quality of reproduction of video standards, Avant and 55 did not disappoint us.
The film "It" on Blu-ray-drive admire the quality of the image. BeoVision creates a vivid and compelling picture with rich, but accurate color palette. Such complex objects like skin tone, very finely worked; more saturated colors, such as green grass and blue sky, masterfully executed.
The detail is excellent; the contours of objects clear, long slow camera rides exceptionally stable.
The film "Thor 2: The Kingdom of Darkness" delights contrast. Avant 55 perfectly possible to mix dark and light elements in one frame.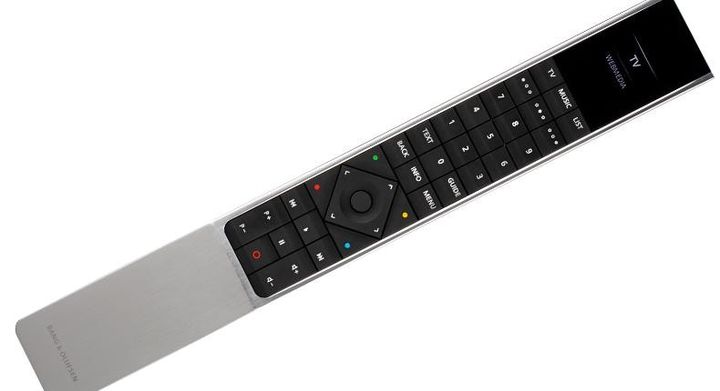 A plurality of connectors are located next to the TV stand with support
LCD panel with backlight end perfectly recreates the rich black color, no smoothing parts dark. Few of the competitors is only as perfect balance. Bright objects also worked out perfectly – for example, the sun's rays in a dark space admire many nuances.
We proceed to the 3D format in the face of "Guardian of Time" by Martin Scorsese. The opening scene of the film, in which the camera flies over the city and across the railway platform, extremely convincing. Clear picture delights depth. Sometimes the image appears more like a series of two-dimensional images than on the world volume, but it is stable and active 3D – a very pleasant during prolonged viewing. Glasses are not included and are sold separately for $ 150 per couple; TV at this price depressing their absence.
As to the quality of the display 4K, then the starting material in this format is still very small, and at Netflix unavailability of us are only demos B & O, depicting plants, skyscrapers, beaches and castles. They look wonderful; no more meaningful than ever before, but visually sumptuous. Even almost buried in the TV, you will see a clear, clean image. Vivid, bright colors look quite natural contours of the objects are faultless.
The transfer of motion stability, especially in the video where the camera flies over the sights of London. After viewing inappropriate restrictions even more sorrowful.
4K TV format is not too good for the material in standard definition – the processor has to "guess" 19 pixels from the image Avant 20. But 55 we love. The picture in the film "Stoker" on DVD is somewhat blurred in fast motion, but overall quite pleasant.
While watching TV in SD, this effect is also visible; but the color palette and contrast in height. When you switch to HD-channels are doing smoothly. Clean and clear image only slightly spoils the screen noise.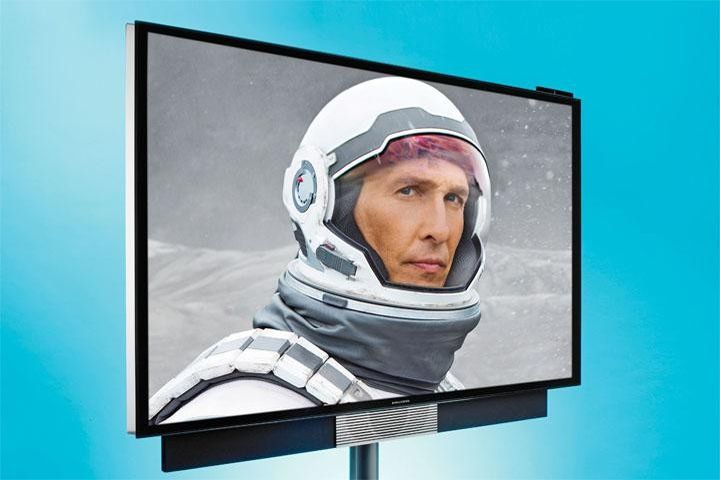 As to the sound quality of the notorious "remote" system, it is excellent, as one would expect. It does not replace a full-fledged multi-channel kit, but much better than most of the other TV. It has an inherent highly detailed and expressive dynamics ensures accurate emotional content of the vote.
But that's not all that can be said about the sound. B & O TV is equipped with a built-in 7.1-channel processor that supports a considerable number of surround formats, in addition to Dolby Atmos. Connect to Avant 55 from a variety of sets of speakers, and it will turn into a home theater hub. When properly configured, you can program the TV speakers so that they changed position by changing the position of the TV; This is very true step.
As to the smart functions, it is particularly clever not call them; except BBC iPlayer and YouTube, almost nothing. The Company may reasonably argue that any modern Blu-ray-player or other source is happy to share their capabilities; Nevertheless, their lack of shame. There is also a built-in music services – Spotify and Deezer.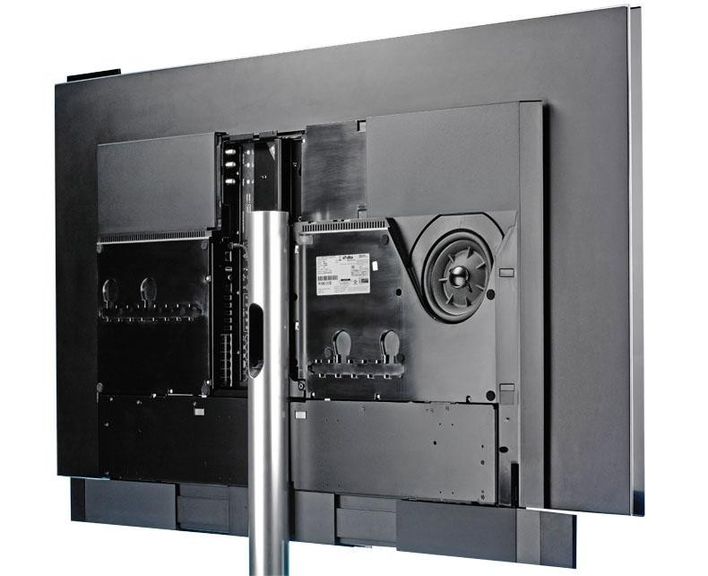 In summary, we are saddened by way of implementing 4K much more than a lack of smart features, and the price is too high. However, this is offset by a magnificent picture in HD and quite decent display of standard definition material, as well as superb sound quality and the ability to add speakers to form a full-fledged multi-channel system.
Not to mention the high class of this TV. It differs from all others in everything – from the remote control and motorized stand up well thought-out menu organization. This is one of the coolest TV that we have seen, and such things are never cheap.
Make up your mind, if you are looking for a luxury TV and are willing to part with a round sum
Special features: perfect remote and unusual motorized stand
Price: $ 8600
Rating: 4
FOR: Luxury design, design and decoration; stunning image from any source; great sound; 7.1-channel processor; excellent remote control
CONS: Limited format 4K; little smart features
VERDICT: BeoVision is expensive and is not without flaws, but we still want it
Read another very interesting article about alternative energy of the Sun, water and air.