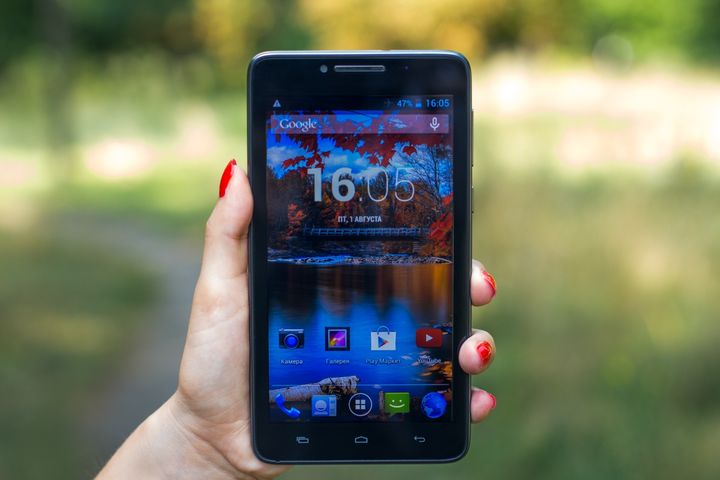 Fly Era Style 2 is 145-dollar fablet British brand with a 6-inch screen, 2-core MediaTek MT6572AW, 2500 mAh battery and a 5MP camera. How lucky to get the decision and what else can "bribe" user !? All this on.
Options – Fly Era Style 2
Comes unit in a white cardboard box is quite large. On the front side of her – the image of the tube, and on the back – its specifications.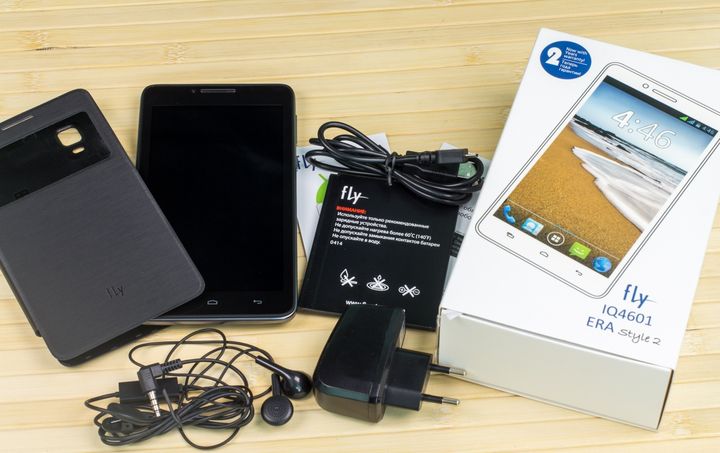 Package Includes several were unusual for solutions TM Fly: the unit itself, the cable micro- USB / USB, charger adapter, instruction manual, warranty card, a headset with microphone and answer button, plus a pleasant surprise in the form of additional rear plastic panels, combined with "smart" cover.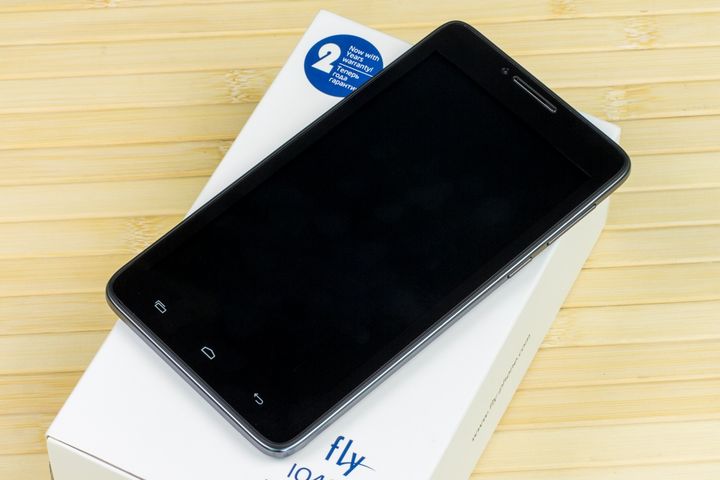 By analogy with the Samsung S-View Cover the upper part of the front of the accessory Fly received a small rectangular window that informs about the current time, incoming calls and SMS -messages, without having to "drop in" on the display of the gadget. In my opinion, a very useful feature in everyday life.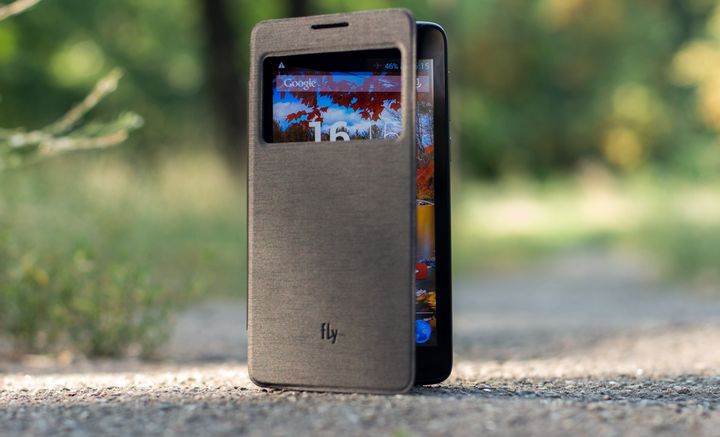 By the way, the smart phone "knows" that it is worn on the cover of the Proximity Sensor – When closing the Fly Era Style 2 receives a signal from him about the need to include only part of the display allocated for a window, and when you open the device returns to normal operation.
Design – Fly Era Style 2
Externally Fly Era Style 2 – this is a typical candybar with a rather big enough size, to "create" a 6-inch display.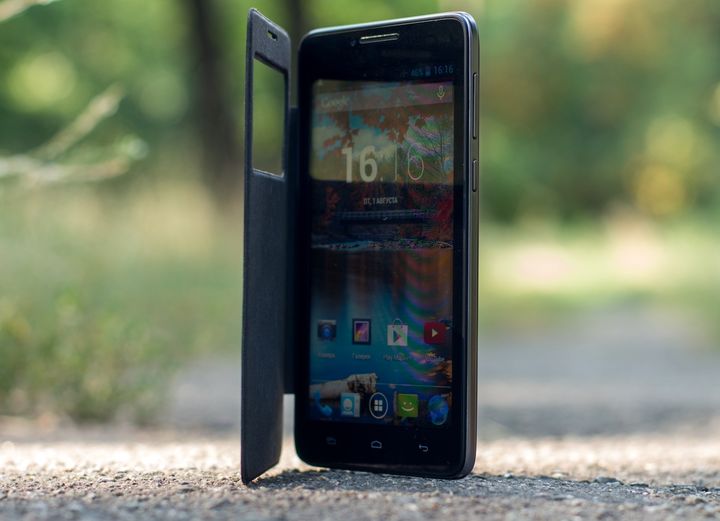 The only remarkable for the eyes of the user detail – extending around the perimeter of the side shell plastic bezel "under the metal."
The unit received a removable lid of the battery pack in a dense black plastic with touch-smooth, matte texture. Remove it not so easy, but "sitting" it in the phone securely fixed thereto by a plurality of latches.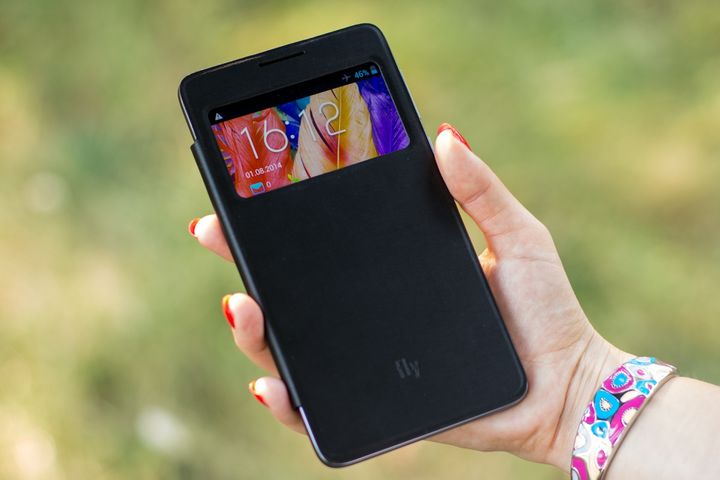 Even with tangible squeezing and "twisting" of the tube, the details do not creak, and the back panel of an inch does not "pressed" to the battery. In short, I liked the build quality – materials chosen well, members of the body fit together perfectly.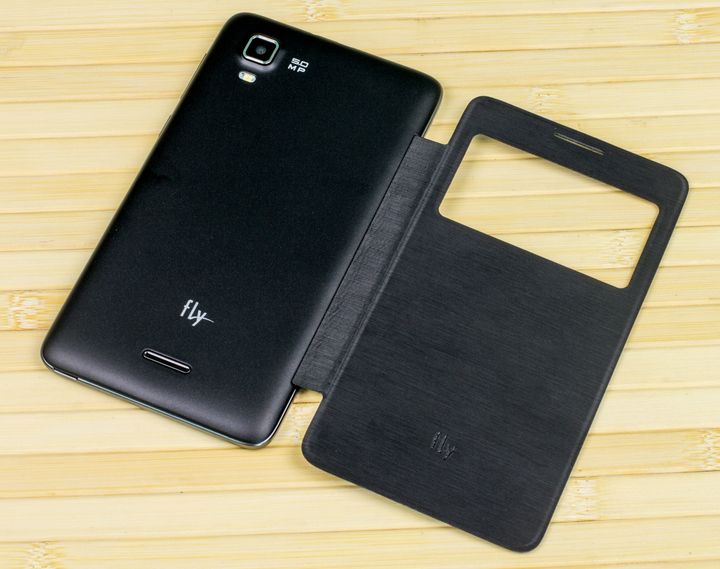 Hold Fly Era Style 2 in one hand, despite the impressive dimensions, conveniently enough, but to manage it the same hand is almost unreal. But the pluses are obvious larger display – perfect, as regards facilities for gaming, WEB-surfing, reading books and watching movies.
By the way, the market Fly Era Style 2 will be available in two body color options – black and white.
Functional elements – Fly Era Style 2
Over a 6-inch display smartphone "settled" peephole VGA camera -frontalnoy, earpiece, light sensor and proximity indicators.
Just below the screen are touch-sensitive buttons, and below them on the left barely noticeable hole built-in microphone. By the way, the backlight for the hardware key is provided, though dull. However, due to the rather large distance between the stray keystrokes should be.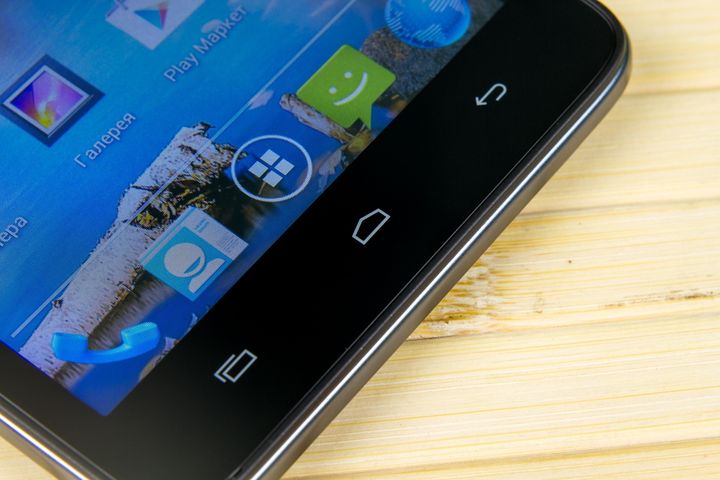 Rear panel of notable eye 5MP camera, noticeably protruding above the plane of the body, LED-flash, multimedia speaker and clearance necessary to remove the battery pack.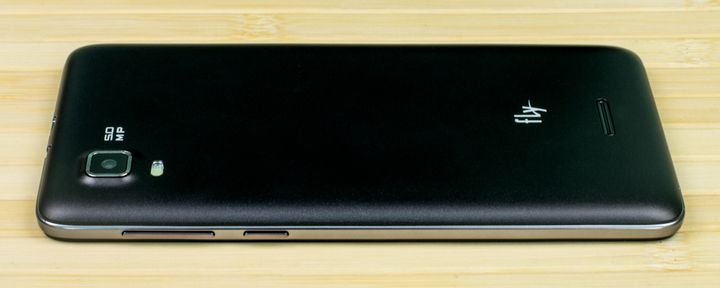 Under the latter equipped slots for two SIM-cards of standard size and one for the MicroSD -card. Their "hot" replacement is not supported – you have to reboot the device when removed.
The right side edge of the device is occupied by the power button and volume rocker sound.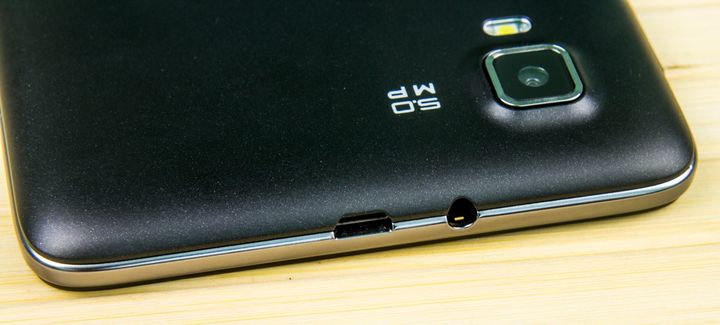 At the top end user will find the 3.5mm audio jack and micro-USB.
Display – Fly Era Style 2
6-inch display fableta made ​​by TFT -technology. Viewing angles are average.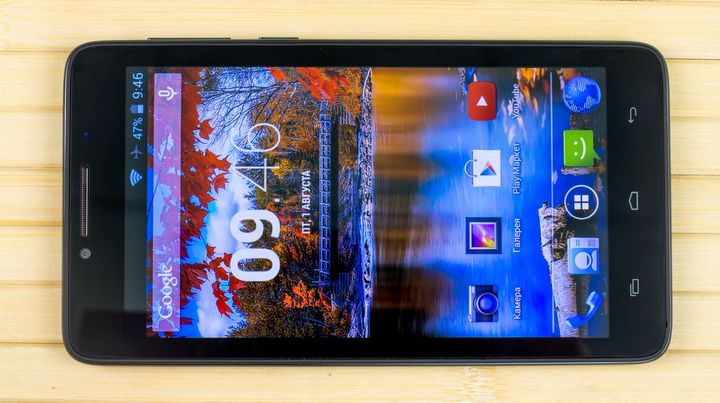 The panel is covered with glass, but what class of this material, the manufacturer does not specify. However, in practice, its protective qualities were pretty good – our classic test of friction on it with a coin has been passed "perfectly well".
Screen resolution – 854×480 pixels, pixel density per inch 163 Pixelize visible even to the naked eye, but at a distance half-bent arms significant discomfort to the eyes causes.
Brightness, which is regulated here both manually and automatically, it seemed to me not enough for comfortable viewing of the content in bright sunlight. And here in a room with this absolutely no problems.
Sensor detects up to 2 simultaneous keystrokes – its sensitivity can be called average.
Memory – Fly Era Style 2
In the Fly Era Style 2 has 4 GB of internal memory, from which the user to install the application and storage of various data is available just over 1.5 GB.
Also provides for the expansion of its microSD-card maximum capacity of up to 32GB. USB-OTG specification is not supported.
Features and performance – Fly Era Style 2
Powered Fly Era Style 2 under the operating system Android 4.2.2 "out of the box." About updating the axis to more recent release has not yet spoken.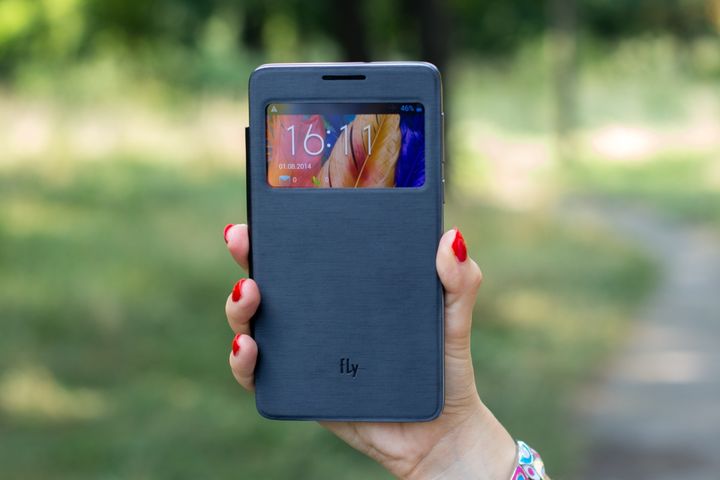 Hardware inside the 2-core processor MediaTek MT6572AW clocked at 1.2 GHz, Mali-400MP graphics and 512 MB of RAM.
Performance testing was conducted with the help of specialized tools. The results are introduced below.
In daily work drew the attention of small "meditation" interface while navigating through desktops. But HD -video plays without any problems, a good job smartphone and simple games.
Communication features – Fly Era Style 2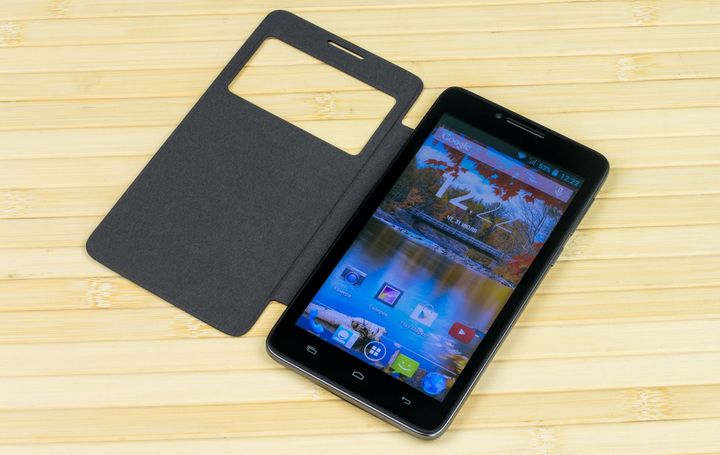 Fly Era Style 2 received support for two SIM-cards in the standby mode. Sure, busy people will appreciate.
Of wireless modules here: Wi-Fi 802.11 b / G / n 2.4 GHz with Wi-Fi Direct and the ability to input PIN-code WPS, GPS C A-GPS , Bluetooth 3.0, VPN, etc..
Battery – Fly Era Style 2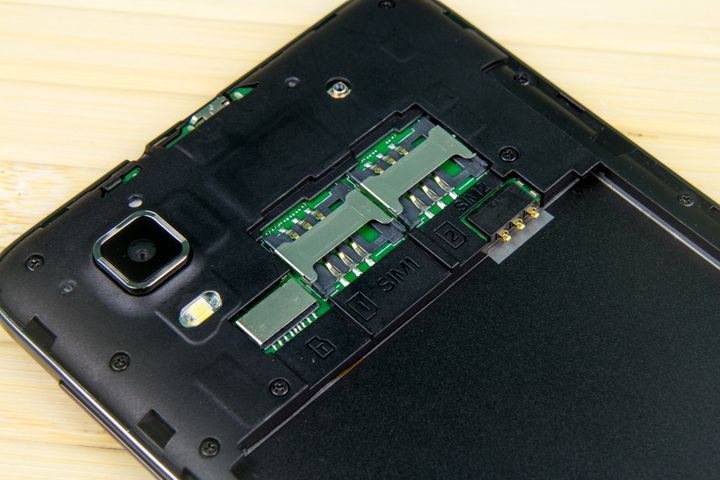 100% charge removable battery Fly Era Style 2 Capacity 2500 mAh enough for me 3 hours viewing HD-video, another 10 hours of music and 2 hours of reading, plus 17% left to surf the web and phone calls.
In general, under moderate loads smartphone can survive without charging for some, or even one and a half days.
Speakers – Fly Era Style 2
The smartphone has two separate speakers – Elementary and speakerphone.
The first well-transmits it – during intercourse no extraneous sounds were noted. Its volume is sufficient for communication not in the noisiest places.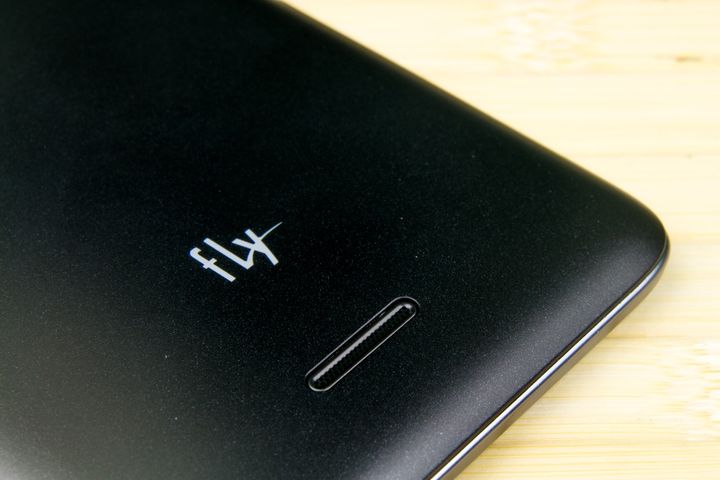 The sound quality of multimedia, I would rate as average – at a maximum audible rattling. But it seemed to me enough power for comfortable listening of audio and video in a room without unnecessary background noise.
Camera – Fly Era Style 2
5MP main camera smartphone with autofocus and LED-flash records videos in full resolution HD.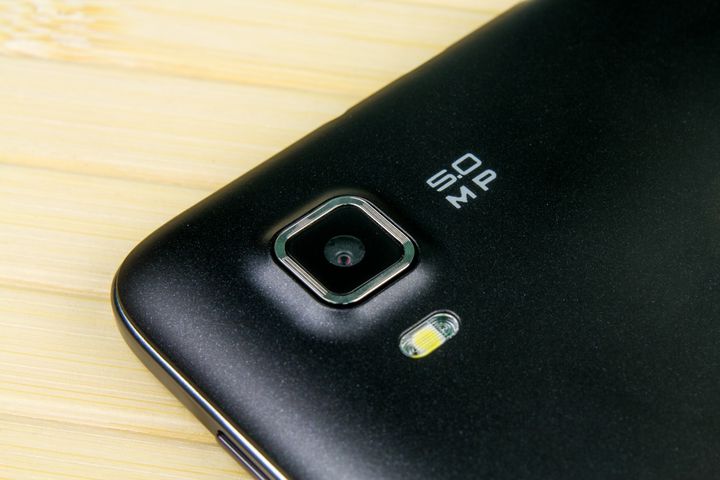 It makes quite good photos in good light and close to the subject, but the images of distant plans to be not particularly successful.
Provides a standard set of settings and modes for both stills and video for, among them, including HDR.
VGA-front camera will provide a more or less comfortable communication through Skype only if good lighting.
Conclusions – Fly Era Style 2
If you are not fixated on high-performance "androidovets" and looking for a smartphone with a large screen for easy web surfing, reading and watching movies, then Fly Era Style 2 an interesting candidate for dating.
Small screen resolution here compensates for a good battery life. I should also note the presence of a fashionable cover as an accessory supplied, and, of course, loyal price tag of $ 145.
Pros Fly Era Style 2
– High-quality assembly;
– "Smart" cover supplied;
– Good battery life;
– Price.
Cons Fly Era Style 2
– Rattling speaker at maximum volume;
– A modest amount of internal memory.
Estimated price Fly Era Style 2: $ 145
Read another very interesting article about alternative energy of the Sun, water and air.