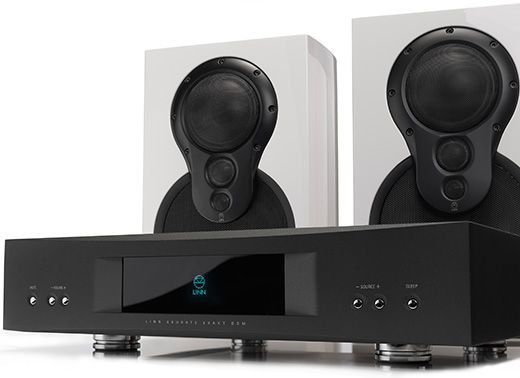 The company is proud of its line of Linn Exakt class High End, and not without reason. She argues that this system is "the most direct connection between you and your favorite artist." We usually do not attach much importance to such loud statements, but in this case surprisingly holistic approach to transferring music made a strong impression on us.
The company understands Linn features all aspects of the recording and playback better than many others. It produces everything – from your own entries to the analog and digital source components, as well as cables and speakers. It is not often one manufacturer is able to boast such a variety of products. Perhaps only Naim Audio can be compared with Linn latitude range.
Exakt line idea was to keep the music file to its native format as long as possible before any treatment, and then to make it as small as possible distortions.
The signal path is as follows. Take, for example, the studio master file in the format of 24-bit / 96 kHz, which is stored on the NAS-server. Network player Exakt – in this case Akurate Exakt DSM (streaming player and preamp) – reads the file and sends it to digital processing module Exakt, contained in enclosures under the AU.
Speakers connected to the DSM simple Ethernet cable. The trick is, as the signal is transmitted. Linn company did not accept any of the available standards, and it has developed its own; it took eight months of work, three engineers, and the result was a standard Exakt Link, enables transfers of up to eight channels of audio streams of 24-bit / 192 kHz ultra-low jitter and excellent timing speakers.
Initially, data is extracted left and right channels without loss of quality, and sends the corresponding processor Exakt. This is where the magic is happening. First of all, they are optimized for a specific room, then a digital crossover "cut" on the band frequency range for each of the four speakers Akudorik. At this point, the processor eliminates the amplitude and phase distortion caused by crossover speakers and housing. To ensure synchronization signals to the speakers used individually selected delay.
At the next stage, the data are scaled according to the volume setting on the DSM. Again, volume adjustments executed by a processor in the rack, not the device Akurate Exakt DSM.

Then, a digital stream is sent to a DAC which delivers the analog signal has a power amplifier directly. The final stage in the signal path – a direct connection between the amplifier and dynamic heads.
It is important to note that the source file format into 24-bit / 96 kHz remains intact right up to the contact with the DAC (in contrast to the traditional approach where the data is converted into an analog representation in the source). All processing is done with 32-bit sampling so that the distortion data is not recorded.
Linn approach is impressive – and it becomes even more worth seeing system Exakt. This is a true High-End-product, but at the same time stylish and solid. Workmanship and finish are excellent; Akurate Exakt DSM – strict and cool as the other components of Linn.
He has a lot of analog and digital inputs, including HDMI, but all of them are designed for music in stereo – multi-channel audio decoder is not. Here are balanced and unbalanced analog outputs, as well as the notorious Exakt Link.
Sami speakers Akudorik even more exotic: they stand are not just for the installation – they are hiding four Chakra amplifier and digital processing module Exakt. All electronic components are located in these ribbed columns; it is not surprising that the value of these gems of technological prowess – as much as $ 5670. Together with speakers price increases to $ 20,670; In addition, you need a more consistent source Exakt.
In the monitors used traditional specialties three blocks, including 13 mm SUPERTWEETER with silk dome, 25 mm tweeter with polyurethane and 75 mm midrange polyurethane dome mounted on a curved metal holder (polyurethane material is too heavy for the diffuser, which leads to reducing the emission efficiency, but Linn believes his damping properties and, as a result, high sound neutrality compensate for this defect). 16.5-inch woofer cone impregnated paper complements the set.
Height compact Akudorik – only 35 cm, and they will not take up much space in the room, and six standard finishes – black ash, cherry, oak, rosewood, walnut and plain white color – will help them better fit into the interior. All colors are available in both standards and in glossy versions. And if that's not enough, you can choose any of the two options of glossy colors Catalog Linn.
Problems installing speakers almost certainly not arise: Config program from the official website will optimize the sound for most Akudorik options for the location of the room. And in the open, and very close to the wall, they play almost identically. This versatility rarely inherent in speakers of any class, not to mention the segment of High End, which is of paramount importance quality.
In many ways set Linn exceptionally well. None of this system is not so detailed and focused sound. All digital procedures to synchronize the phase of the radiation and the AU pays off handsomely. So smooth sound in the entire frequency range, we have heard only the columns with a single speaker.
In addition, the sound is very fast, agile and legible. We are delighted with the performance of such demanding works such as John Williams soundtrack to "Jurassic Park." In a coherent picture of the music is easy to trace the performance of each individual instrument. If you appreciate the thoroughness and control, in this category you will not find anything better.
We also gave a high mark straightness sound. Attack – surprisingly clear; even the best passive speakers compared to Akudorik played listlessly and grease.
The stereo image is flawless; it is extremely stable, perfectly focused and multi-layered. The impressive size and the music scene: it goes far beyond the borders of the AU, once you close your eyes – and you're unlikely to be able to know exactly where they are installed.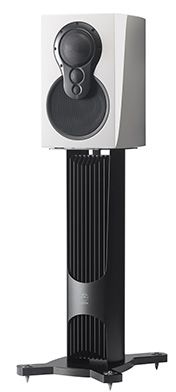 Music of all genres – from Michael Jackson's Thriller (24-bit / 176.4 kHz) and Kind Of Blue Miles Davis (24-bit / 192kHz) to the album This Is All your group Alt J with a bitrate of 320 kbit / s – sounds equally great. System meticulous enough to make a difference as was evident (sometimes too much), but let it successfully recorded material – and you'll be delighted with the result.
All components of this kit are good, but its main star – a speaker Akudorik. Out of curiosity, we brought them to the digital stream player reference network Naim NDS / 555PS, which costs three times more than Exakt DSM, and noted a clear increase vitality, credibility, and rhythmic drive. This proves that the AS capable of more than they can give DSM.
The whole system Akurate Exakt / Akudorik seems to us very talented. Workmanship and finish, revolutionary technological solutions and versatility will appeal to many potential owners. We would like to see other High-End-company shared a similar approach.
Make up your mind, if you want a stylish, compact and very high-quality system
Special features: sound philosophy of product development Exakt
Price: $ 37,000
Rating: 5
PROS: The best-in-class accuracy and clarity; coherence; Stylish and compact
CONS: The tendency to analyticity not everyone will have to taste
VERDICT: An exceptionally talented, stylish and compact system
Source: Linn
Read another very interesting article about alternative energy of the Sun, water and air.