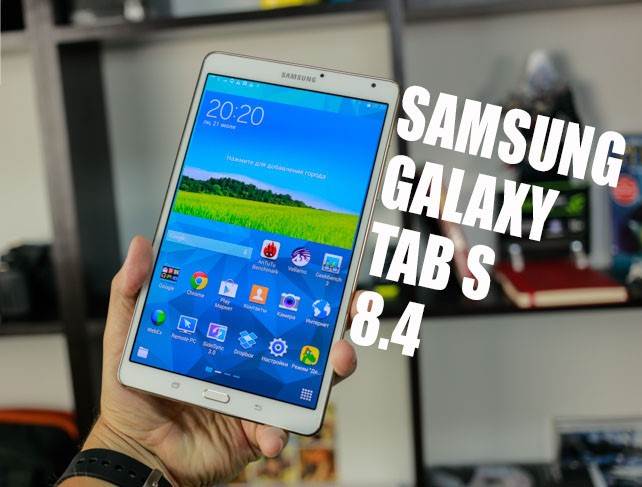 I do not know about you, but I have respect to the plates very biased opinion. If, among the smartphones is not the first year there, what to choose, especially if you look at the flagship model, the plates the situation is much worse. They, like, much, but standing just a few. Until recently, I only liked iPad (Mini Retina and Air) and ASUS Nexus 7 (2013). These models are pretty high quality, productive and still straight draw to themselves. Too little goes a really interesting tablet, which is a pity. Of course, it's not all interesting news, but very few of them. And recently there were two standing.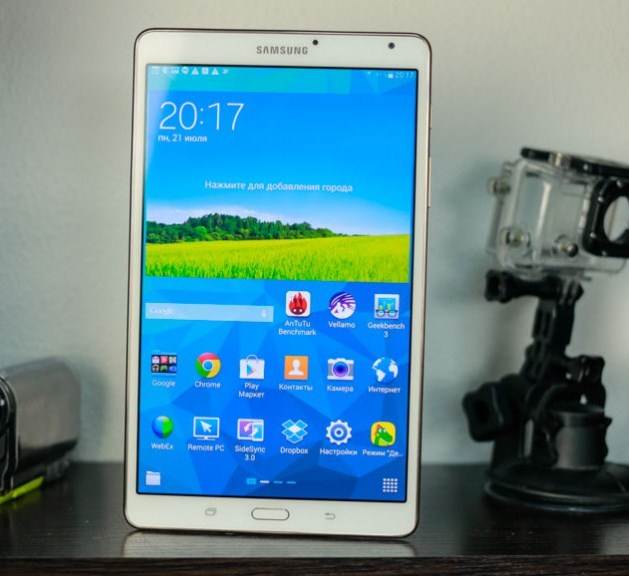 This, of course, goes about the model  Samsung Galaxy Tab S 8.4 and 10.5 from Samsung. This tablets that immediately catch the eye because of its design, but their main feature – the display. In 2011, Samsung has produced a model with Super AMOLED screen – 7.7 Tab and then he vygdno different from all the rest, apart from the cost and some lags in TouchWiz. Cost explained dearness just did matrix display and after the model of almost 3 years is nothing like Samsung was not allowed. Today we look at a smaller model, which I liked more, but only because I like the smaller diagonal displays in tablets, otherwise identical model and it's good – the user does not have to worry that the display size cut something else.
Design and ergonomics –  Samsung Galaxy Tab S 8.4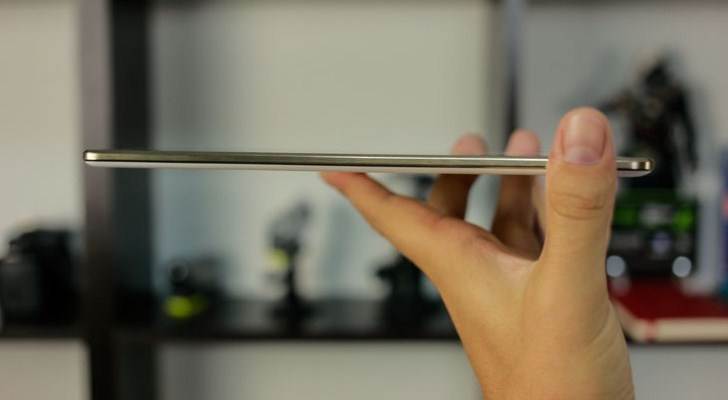 In the tablet very small frame around the screen, so at first it seems that the diagonal of the screen just 7.7 ", but it is 8.4". The device is very thin, but it does not harm him, body stiff and not pliable in torsion.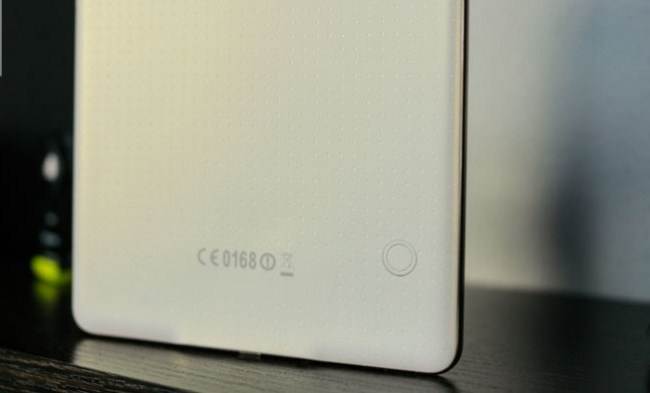 In addition, the device is small and weight – 297 g, but the tablet does not feel toy. Material – plastic, great assembly. The back side has a similar SGS5 perforation, although tactile difference.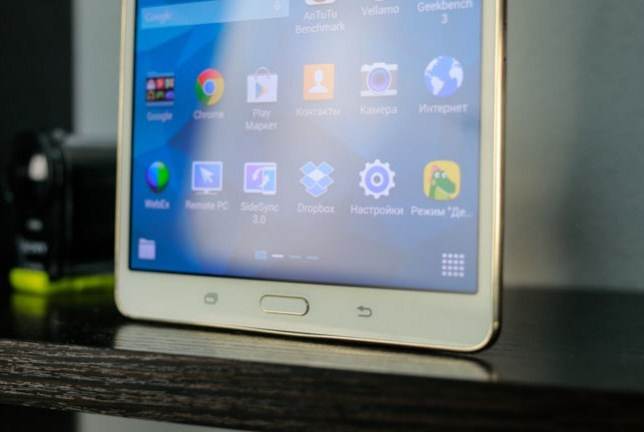 This is not a soft touch plastic, but it is not easily soiled – Matt. Side frame too plastic, it's not metal. It is painted in gold, looks cool, but not for everybody. Despite the fact that the tablet fits easily in hand, I'd be careful, my feelings – the body tries to slip out of hand. Better keep both hands.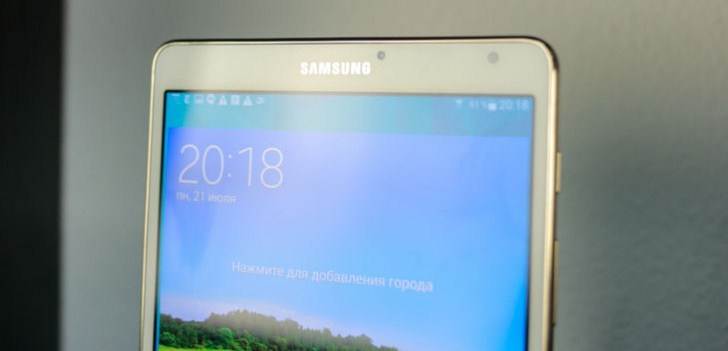 Overall, I liked the minimalistic design, however, there are two pitfalls that confuse me. First – the function keys are illuminated somehow not presentable little light breaks through the paint and get hazy. And second, that quite obviously – two brackets for corporate cover directly on the body. Two buttons, located at the back made for connecting the cover, but that production Samsung. That is a very narrow-accessory, indeed, many do not use covers. And these mounting not only detracts from the appearance, it seems to me, but the mere presence of that will not be involved, a little confused. I think it would be better to make a more traditional – place a magnet under the body.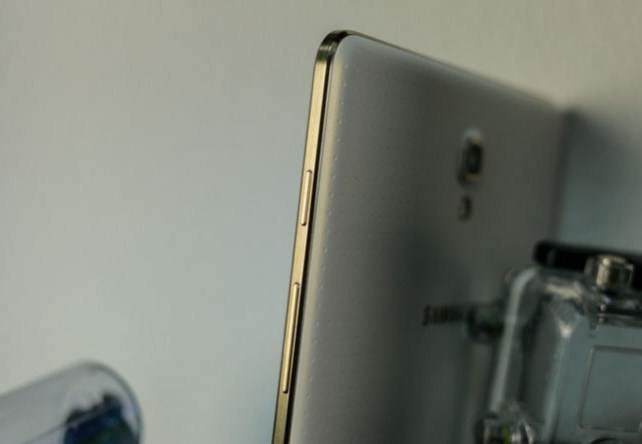 The rest of the layout completely standard: under the display, if you hold the tablet vertically placed control keys, one of which is a manual on it – front camera; top and bottom there are stereo speakers on the bottom edge as connectors for the headset and cable MicroUSB; right volume keys and locks, infrared and a slot for memory cards MicroSD.

 Samsung Galaxy Tab S 8.4- the first tablet with a fingerprint reader. I expect that Apple sells Touch ID in the last year in its line of tablets, but no, and Samsung were the first. Job scanner built into the key Home, exactly the same as in the Samsung Galaxy S 5. To unlock the device – no need to hold your finger, and conduct them on the button. Recognition accuracy is good, but the number of errors is slightly larger than in the solution from Apple. However, the presence of the scanner in the plate – it's definitely good, because many people use them as valuable tools, especially on the road. And keep the information on this castle is safe enough.
Display –  Samsung Galaxy Tab S 8.4
And now to the main feature – the display. Unlike all the other tablets on the market, he immediately Super AMOLED. Previously, the company already had a model with a matrix – Tab 7.7 and it could call. But then the device was unnecessarily expensive because of such a matrix, therefore, the idea of ​​covered until better times. Displays are unusual, as for tablets, such a type of matrices have a lot of fans. Maximum viewing angles, black is really black. The only thing – the color a little richer than life and IPS screens, but in the display settings, you can change it. By the way, there is a preset and adaptive mode that will change not only the brightness but also color saturation, depending on the situation.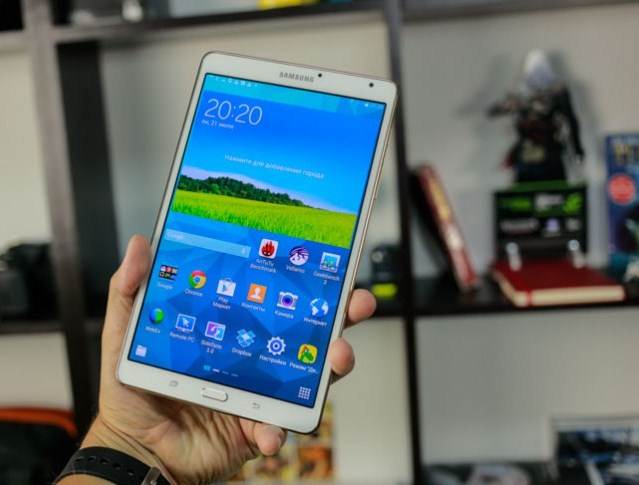 Screen resolution 2560 × 1600 pixels and pixel density of 359 dpi as much, it's more than iPhone 5s. However, there is still grain a little more because of the structure of the scheme subpixels Pentile. But for a tablet – just super.
Camera – Samsung Galaxy Tab S 8.4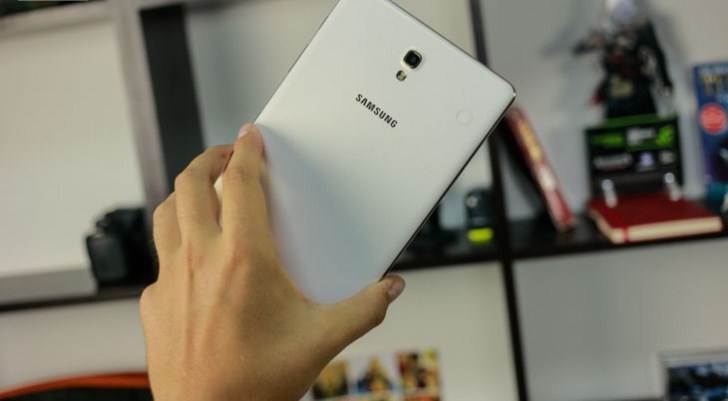 In Tab S has two cameras: the front and rear, 2.1 and 8 megapixels, respectively. In the 8 megapixel resolution pictures are 4:3 – cool, I do not like widescreen pictures with strongly distorted edges. In the main camera has a flash, which is rare for tablets. Quality is very good, again, as a tablet, given that the photograph you will most likely documents, rather than landscapes. Video is recorded at 1080p. There are a variety of modes and the standard set of options.
Specifications and Software –  Samsung Galaxy Tab S 8.4
Processor, the new product Samsung Exynos 5 Octa (5420), consisting of eight cores, four of which – Cortex-A15 1.9 GHz, and another four – Cortex-A7 1.3 GHz. Graphics – Mali-T628 MP6. The same solution we have seen in the model Galaxy Note 3 and some others. Well, there is one interesting feature – Tab S no modification Snapdragon processor from Qualcomm, and LTE support and Exynos. And rightly so, do not torment more or less experienced polzovateely choice previously had to look exactly the model with Qualcomm. 3 GB of RAM, which is also very cool. This iron is easy to cope with any severe problems, including severe and demanding video games. True, Real Racing 3 is a lower resolution, but it is the problem of the game, before the same problem was on the Nexus 7 (2013). Entertainment lovers will be pleased. But to say that there is a serious gap in performance in the future I can not either, Benchmark model showed not the highest score. Built-in memory 16 or 32 GB, but you can insert into the slot Micro SD right up to 128GB! In general, iron is OK, though, I'm sure there will be those who lack Snapdragon will not like.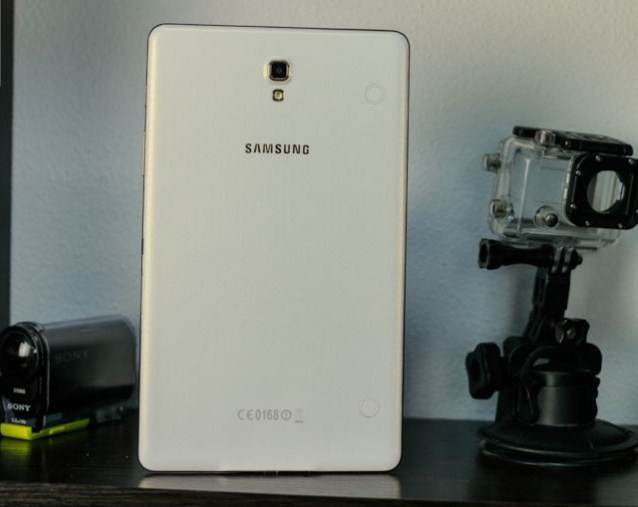 Battery capacity 4900 mAh in 8 "model and 7900 for the majority. Like not much, but in the mode of browsing, reading and social networks, tablet live longer iPad. There is likely an effect Super AMOLED screen, which consumes less energy in dark colors. Also, the manufacturer claims up to 11 hours of video playback. However, it defuses the game as fast as smartphones – right somehow anomalous. If you want the tablet lasted as long as possible on a single charge – has extreme power saving mode, as in S5.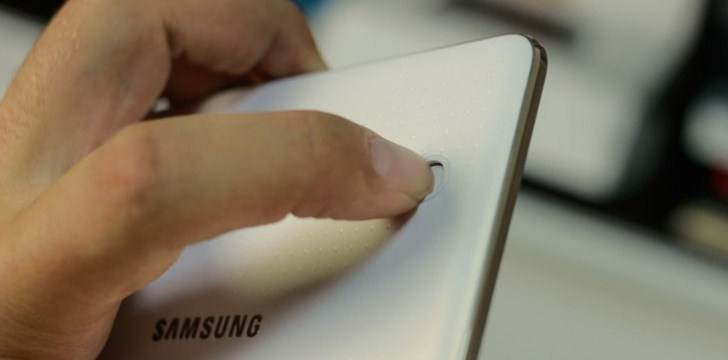 Version of Android – 4.4.2. Installed on top of it proprietary interface Magazine UX. As with most Samsung, then you can divide the screen into two parts, there is a child mode appeared saving mode and much more. But the tablet has some nice chips as free annual subscription to the steep Publishing (NY Times, Bloomberg Businessweek), semi-annual subscription service video conferencing Cisco WebEx, remote control applications for smartphone and PC SideSync 3.0 and RemotePC and more. All will be happy, even business users. And here again reminded about the scanner – the latest it will be very useful. But there is one thing – in the current version, the interface often podlagivaet. Sometimes a couple of seconds the screen does not light up when you try to unlock the tablet, sometimes just falls FPS. Nothing critical, stable job, but I want to get better.
Output –  Samsung Galaxy Tab S 8.4
 Samsung Galaxy Tab S 8.4 – interesting model and not only for its display. Lovers Super AMOLED matrices, of course, now know what tablet to choose, but everyone else will find here a lot of good chips. For example, a small thickness and compact body as a whole that, while not caused fragility devices, good autonomy, very decent camera for a tablet, the presence of a fingerprint scanner and said subscription business services.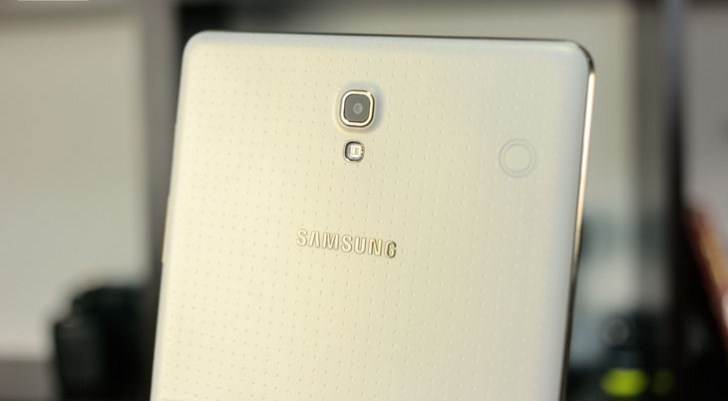 Disadvantages Availability'll take cover mounts for branding right on the rear side of the tablet, small games and autonomy podlagivaniya interface. I think the last two points may improve with time, but have to put up with the first, or, again, to buy branded accessories. The average cost of the device in our area is slightly larger than that of the iPad mini 2 – $ 600 versus $ 500, but overseas models are the same. In signs of youth is given this model, eventually the price tag a little lower. If we compare the Tab S with iPad mini 2, the first will be many more interesting by the presence of a fingerprint reader, flash memory card slot, video omnivorous, greater density of pixels on the display and the flexibility of Android. However, it seems to me, the main enemy  Samsung Galaxy Tab S 8.4  – not iPad mini 2, and budget tablets on Android. They are not enough and some of them are interesting models which, although they are weaker and larger, but also take part in the battle for the user.
Read another very interesting article about alternative energy of the Sun, water and air.