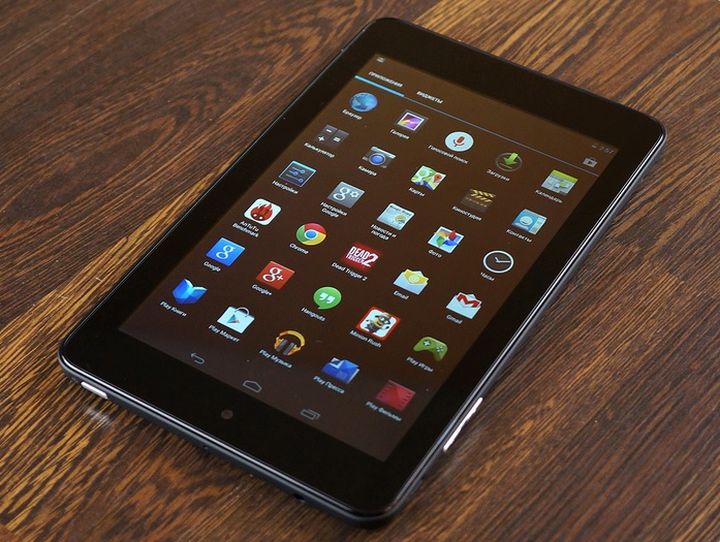 Tablet with good features for the price of six thousand rubles? Why not? Dell has launched a new line of tablets running Android, which included a seven-inch Dell Venue 7, equipped with a gigabyte of RAM, high-quality IPS-display with a resolution of 1280×800, 8 gigabytes of internal memory and a dual-core Intel Atom Z2580. This kid is worth 150$.
Technical characteristics Dell Venue 7
Screen: TFT IPS, 7", 1280×800, capacitive, multitouch;
Processor: Dual Core Intel Atom Z2580 1,6 GHz;
Graphics Accelerator: PowerVR SGX544MP2;
Operating System: Android 4.3;
RAM: DDR2 1GB;
Internal memory: 8 GB;
Support memory card: microSDXC to 128 GB;
wireless interfaces: dual-band module Wi-Fi (802.11a/b/g/n), Bluetooth 4.0;
Navigation: GPS, A-GPS, GLONASS;
Camera: Basic – 3 megapixel front – 0.3 megapixel;
sensors: a light sensor, gyroscope, accelerometer;
Battery: 4100 mAh;
Dimensions: 193 × 118 × 10 mm;
Weight: 314 grams.
Package and Accessories Dell Venue 7
Dell Venue 7 came to the test in a light brown box made in a recognizable corporate design. Despite its size it inside, we found only the tablet, charger and user manual.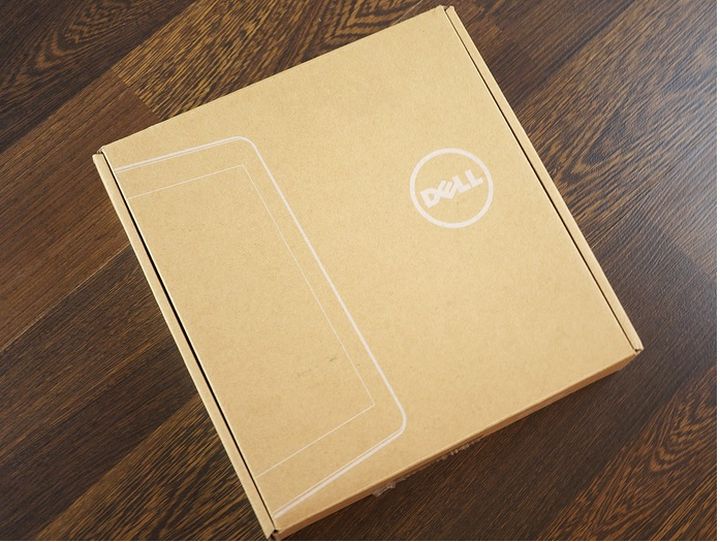 Appearance Dell Venue 7
Dell Venue body 7 is made of dark gray Soft-touch plastic, its dimensions are 193 × 118 × 10 mm. Surface of the rear panel is very pleasant to the touch, but actively collects fingerprints, and some time after the beginning of use looks bedraggled.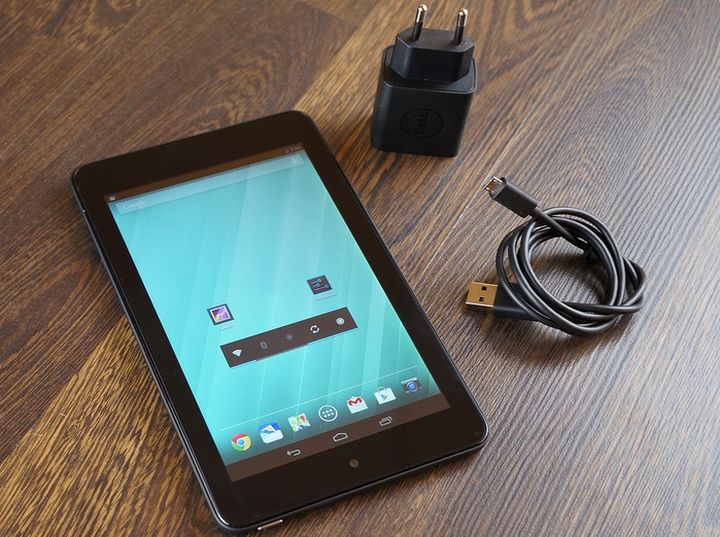 Front panel, coated glass, along a seven-inch display, and above it the front camera lens.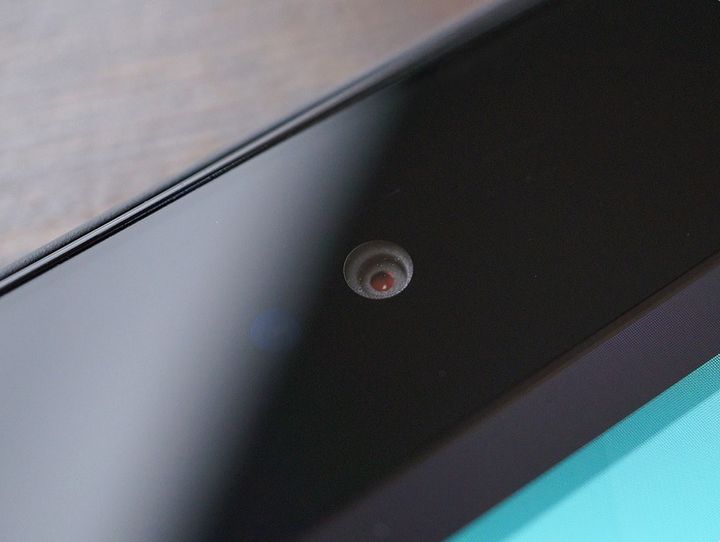 On top of the device placed power button and 3.5mm jack.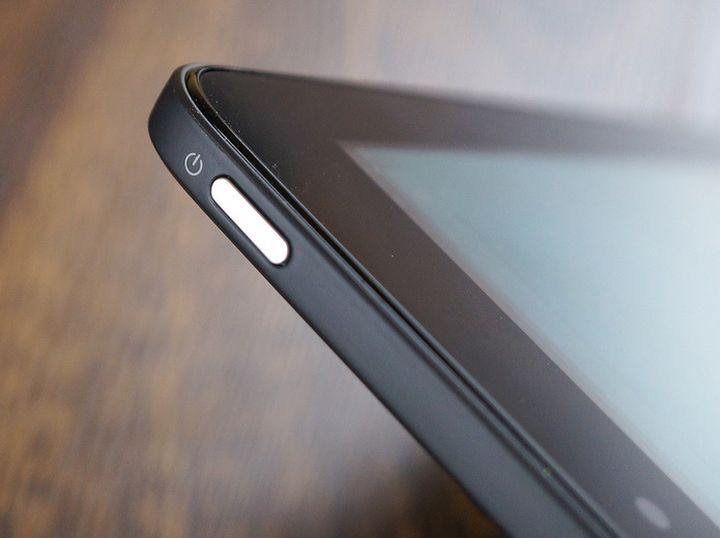 On the left side – volume rocker and the connector micro-USB.
On the right side is the memory card slot with a plastic cover.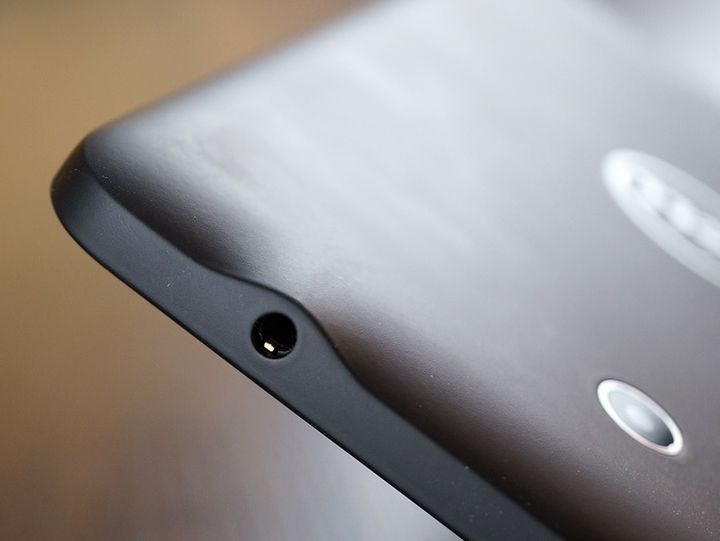 External speaker tablet put to the lower end of the device.
On the rear panel – placed in the upper part of the rear camera and below – silver logo Dell. Interestingly, it is not deposited on the surface of the panel and is printed simultaneously with the cover.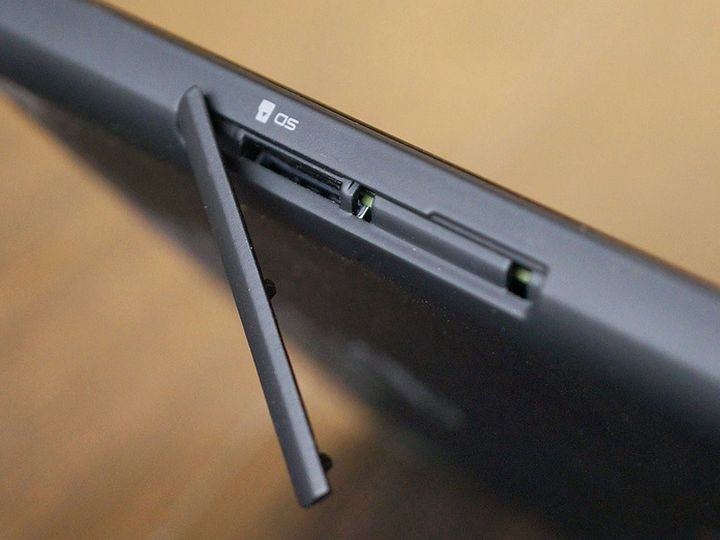 Nothing superfluous design Dell Venue 7 no. He looks a little stern and massive because of its size, as well as on a broad framework around the display.
Ergonomics Dell Venue 7
At seven inches diagonally and weighing 314 grams Dell Venue 7 seems hard, but of course it is not the weight of which may become tired hand. Tablet can be held in one hand, while the surface of the case provides excellent grip palm.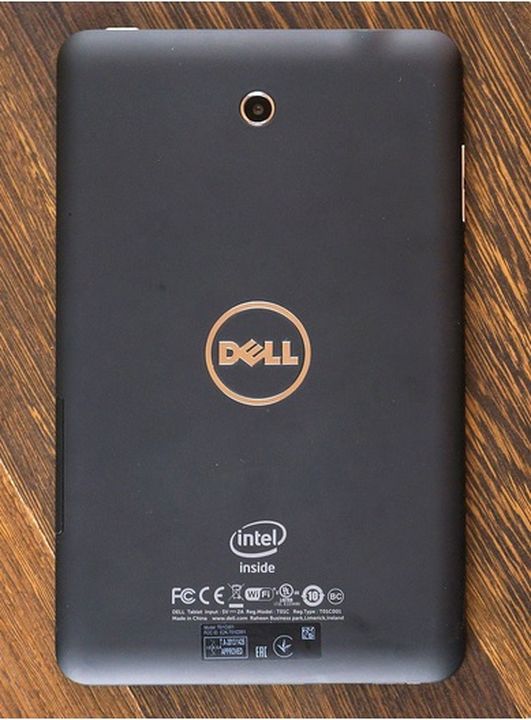 Of course, the most comfortable to work with the device in a horizontal orientation, holding it with both hands. However, in this situation the speaker is closed, and the sound of his fairly muted. Location speaker is not very comfortable even in the sense that when watching a movie or while playing the sound comes from the side. Incidentally, you can get used to this.
It is worth noting the excellent build quality: body seems absolutely solid, it does not flex when pressed and does not creak.
Screen Dell Venue 7
Dell Venue 7 got a pretty high-quality seven-inch screen with IPS-matrix.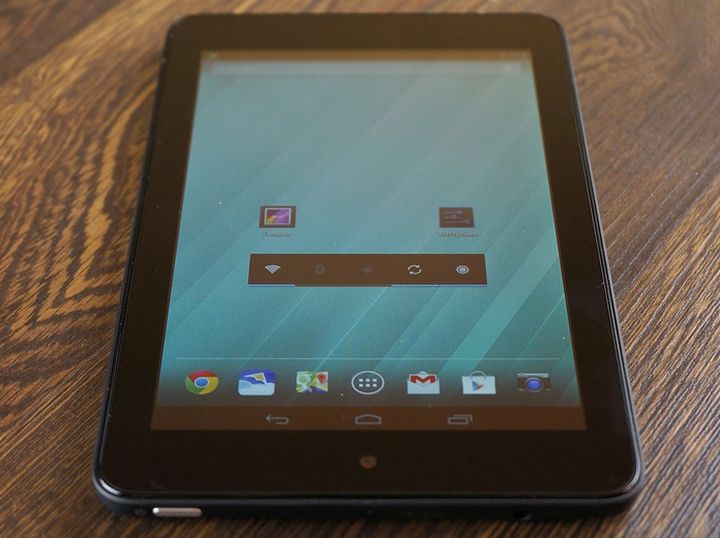 At a resolution of 1280×800 density of 216 ppi. In the display uses a capacitive sensor that can simultaneously detect up to five keystrokes
Protective glass covering the screen is made of technology Corning Fit. Oleophobic coating is missing, however strong problems with fingerprints does not occur.
Sensor display is surprisingly responsive and very accurate. The only downside: at a very slow scrolling content moves small spurts that prevents read.
Display pleases the eye clarity and color reproduction quality. Preview smooth, virtually no pixelation, and the colors are saturated and natural.
However, the viewing angles are not the best: color distortion can be observed at an inclination of 45 degrees. But in everyday work it does not cause discomfort.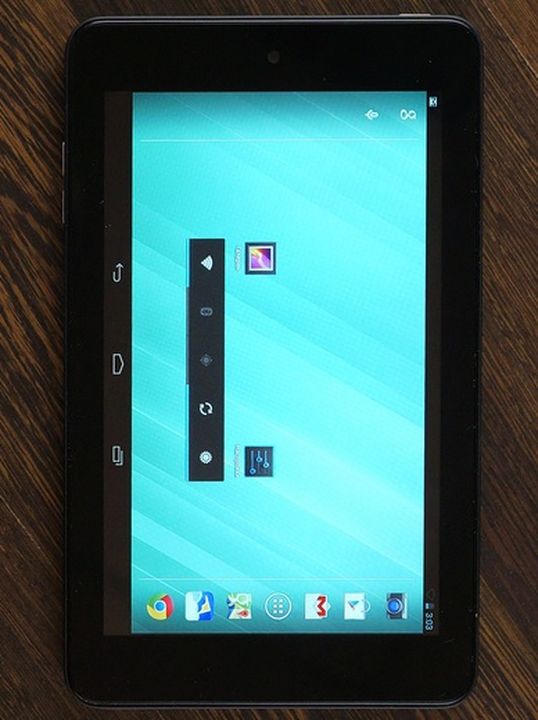 Reserve enough brightness in any environment, including work on the street, in the bright sun. The tablet is equipped with a light sensor, and this sensor is working adequately.
In short, the screen Dell Venue 7 deservedly is listed advantages of the device.
Interface Dell Venue 7
Installed on the tablet version of Android 4.3. No significant changes to make the manufacturer did not. Of the features of the interface – turn quick access icons when you turn the tablet and consequently the change of orientation of the screen, while they themselves will also roll over.
Set of preinstalled programs corresponds to the usual set of OS Android. Mention may be made unless the application for remote access to a computer – Pocket Cloud.
Performance Dell Venue 7
In its price category Dell Venue 7 stands out "stuffing":
dual-core Intel Atom Z2580 processor, 1.6 GHz and a graphics accelerator PowerVR SGX544MP2. The amount of RAM was 1GB, and built – 8 GB available for the user 6GB. That's enough to download and install two or three heavy games. In this tablet supports memory cards up to 128 GB microSDXC.
The first impression from working with the tablet – once seen that he was very fast. Office applications, reader, browser – it works perfectly, instantly loaded and no freezes. For some people, heavy gaming GPU lacks Thus, Minion Rush executed with slight slow down. With Dead Trigger 2 7 Dell Venue coped better: image lag occurred less frequently than in the aforementioned runner. Angry Birds went generally well, that is not surprising. When this device is not heated even from long load.
In Ashpalt 8 showed problems with textures, so play it failed
Pleases multitasking: You can load a large number of tabs in the browser and keep a lot of applications minimized without unloading them from memory.
The tablet supports OTG, although the cable is not supplied. We successfully connected to a USB-drive and mouse – it works.
Speaker at 7 Dell Venue decent, but a little squeak. But enough reserve volume even in noisy places.
Benchmark Antutu tablet scored 19,257 points, taking place in the ranking of the performance between the Samsung Galaxy Note 2 and Samsung Galaxy S3.
In 3DMark Dell Venue 7 showed the following results: Ice Storm – 6122, Ice Storm Extreme – 3457, Ice Storm Unlimited – 5478.
Camera Dell Venue 7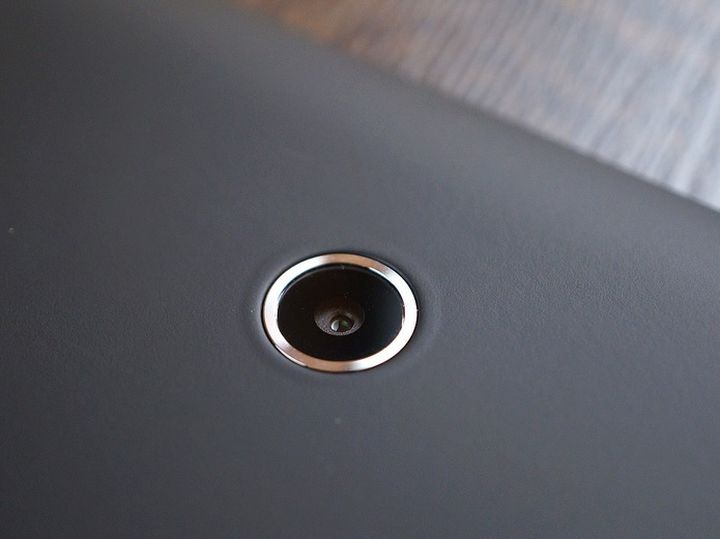 Photographing was predictably weak side devaysa: trehmegapikselnaya main camera does not have any flash or autofocus, and the camera application is not possible to manually adjust. One consolation: start shooting and implemented quickly.
In normal light can be made sufficiently clear shot with normal color. With a lack of light and noisy images are obtained, and greased.
Video device shoots in 720×480 resolution, stored in the format 3GP.
Front camera, of course, can take pictures, but it is better to use it for other purposes – for example, for video. Self obtained such that not every user himself beloved, know.
In short, the possibilities of Dell Venue 7 enough to do simple frame on a bright sunny day. For more cameras there.
Autonomy Dell Venue 7
Battery capacity Dell Venue 7 – 4100 mAh. Full charge it easy enough for the day: mixed mode (movies, web surfing, gaming) tablet keeps about 9:00. With continuous video playback at maximum brightness the battery is dead for 7 hours. Per hour of play Minion Rush spent about 15% charge. The device is entirely charged for 2.5-3 hours.
When used for three or four hours a day tablet enough for two and a half days. In general, fiscal autonomy for the "pill" is very, very good: we can confidently take Dell Venue 7 with a full day and not worry about the presence of nearby outlet.
Wireless interfaces Dell Venue 7
7 Dell Venue is perfect for navigation: it is equipped with systems GPS, A-GPS and GLONASS, and works with them rather quickly, finding satellites in less than a minute.
Wi-Fi catch well, problems were observed with the compound, including a weak signal area. 3G and other mobile technology tablet does not support.
Results Dell Venue 7
This is the case when you can chase two hares and catch both – and save money and get a decent gadget. If you do not plan most of the time to play 3D-games, and do not push the big requirements for quality photography – this tablet is right for you. Overall, Dell Venue 7 – good quality device assembly, speed and autonomy. Incidentally, the sale is more "advanced" version with 2 GB of RAM and 16 GB of internal memory.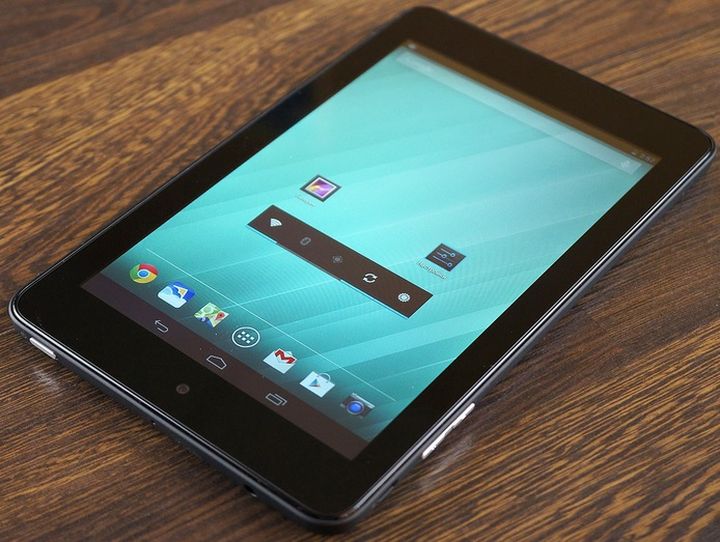 Pros Dell Venue 7:
quality screen;
performance;
good autonomy.
Cons Dell Venue 7:
Read another very interesting article about alternative energy of the Sun, water and air.