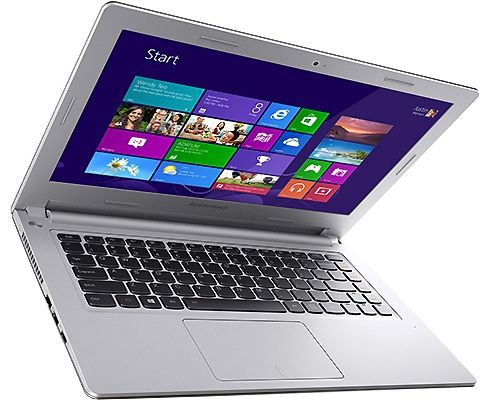 Notebooks Lenovo IdeaPad M – devices for business. Although they are not designed for complex professional tasks, however, in business will be good helpers. This is still a small number of groups to include several laptops, including the IdeaPad M3070. In contrast to his brother's shop, a 15.6-inch M5400, it is 13.3 inches, respectively, more compact. However, there is no fingerprint scanner, which is especially for buyers are betting business devices. Rather, it is a laptop for business, but the entry level. However, discard the speculation and see what's what.
Design – Lenovo IdeaPad M3070
Lenovo IdeaPad M3070 laptop comes in a pleasant and somewhat unusual coloring. The outer surface has a brown color that is interesting is combined with silver-gray interior. Both colors complement each other, by which the device looks modern. In fact, the only thing that attracts attention, because of the additional design elements can be seen only logo Lenovo, located on the lid. The rest of this panel, tapering to the front end face, classical, a little strict design.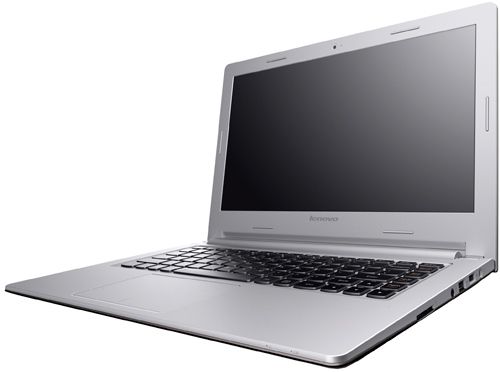 The bottom of the notebook contains the battery compartment, multiple vents and grilles, under which the hidden dynamics of the speaker. In addition, the bottom has two sliders in which the battery is easily removed.
To assemble the laptop and strength of materials, then there is no problem with them. In any case, the plastic casing is hard enough, so almost no flex, except that if excessive force in the lid. Incidentally, the hinge holding the display, however strong, because it is not able to open notebook with one hand.
Lenovo IdeaPad M3070 very compact. His body has dimensions 330.8×230.2×8-22 mm, which means that it is always a place in the bag. Especially that weight 1.8 kg did not become an obstacle to carry a laptop every day.
Display, sound, webcam
Laptop screen has a diagonal size 13.3 inches and a resolution of 1366×768 pixels, which is standard for many displays. Indicators luminance to 200 cd / m2 and contrast of not more than 170: 1 are low, by using a device outside the image have straight. But in the room such a display did not prevent the work or watching movies, the more matte finish that will not shine.
Speaking of visibility, the image on the TN-matrix can not be equally clear and bright display with different slopes. Horizontal viewing angles are, of course, much better than vertical, but the overall impression is not the best.
As for acoustics, it sounds good laptop. Two stereo speakers out loud sound, but it can be heard only the high frequencies. Settings Dolby Advanced Audio V2 will help to improve the sound, but not so much that it appeared bass and it became less monotonous. Hear really balanced sound headphones help.
Webcam in the laptop has a resolution of 0.3 megapixels. With it, you can chat on Skype with friends or colleagues.
Keyboard and Touchpad
Without departing from the tradition in the Lenovo IdeaPad M3070 established brand AccuType keyboard with a standard layout. It consists of small keys having a smooth concave surface and a short stroke. When pressed there is a clear return, so typing on a keyboard comfortably. Nampad naturally absent, and a row of buttons [PgUp], [PgDn], [Home], [End] delivered in a vertical row.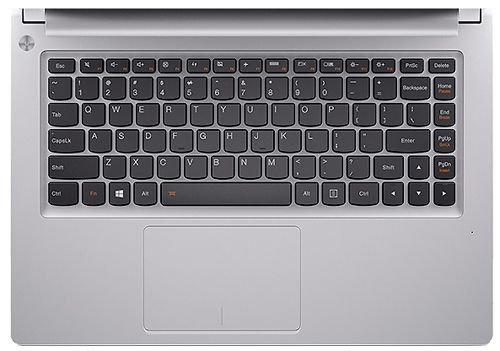 Touch pad on a laptop has quite a large area. Under the panel hidden mouse button, and all of it is clickable. By the way, the touchpad area is a bit rough, but it does not interfere with positioning and implementation of multi-touch gestures (scrolling, zooming). In place of the surface of the keys is pushed clear, although it is characterized by a short stroke.
The manufacturer indicates that the Lenovo IdeaPad M3070 refers to the line of business notebooks. However, one of the important elements of such a device – the fingerprint scanner – not here.
Performance
59426232 Lenovo IdeaPad M3070 comes with pre-installed operating system Windows 8.1 64-bit version. The laptop is worth the entry-level processor Intel Celeron 2957U with a frequency of 1400 MHz and the third level cache 2MB. This chip Haswell has two processing cores, low power consumption of 15 watts. However, it does not support a number of technologies such as Turbo Boost and Hyper-Threading. For this reason, the base processor frequency will remain at 1.4 GHz Celeron 2957U also not be able to simultaneously handle more than two data streams. In general, the performance of the CPU is enough for simple office tasks.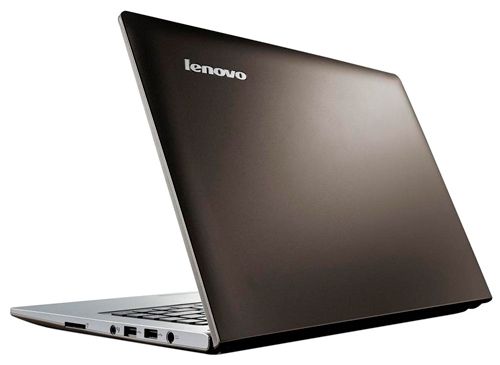 In the filling device includes 4 GB of RAM standard DDR3-1333 MHz and hard drive capacity of 500 GB. This capacity RAM ensure smooth operation of the laptop and quick launch programs, while the hard drive will hold a lot of files. Manufacturer is the possibility of increasing the basic amount of system memory up to 8 GB, which is enough even for some complex calculations.
As for the video, then this configuration is provided only integrated Intel HD Graphics (Haswell) with support for DirectX 11.1. It is certainly better than the Intel HD Graphics (Ivy Bridge), referring to the previous generation, but still its performance is not always enough to cope with a variety of graphics tasks. For example, it can pull a number of games, but not the most modern. For example, Counter-Strike: GO – at medium settings with 30-34 fps or FIFA 14 – at high speed with 34-37 frames per second. And not have to change the display resolution, as it will be 1366×768 pixels.
As such, the possibility of this laptop can be described with a few words: good for everyday tasks.
Ports and Communications
Interfaces in a laptop placed on the sidewalls are fairly evenly. Thus, the right side is IdeaPad M3070 socket for charging, card reader SD / MMC, two USB 2.0 ports and a combined audio jack for an external microphone and headphones.

But on the opposite side of the device can see the USB 3.0, digital output is HDMI, press Novo, as well as network RJ-45 connector. In addition to the ports located on the left ventilation grille, which eliminates warm air. If we talk about the button Novo, it launches Lenovo OneKey Recovery, which allows the system to recover the laptop in case of failure.
On the front panel interface, there is only two LEDs. One shows the power the laptop, the second – the battery level.
IdeaPad M3070 is equipped with wireless communications, Wi-Fi 802.11 b / g / n and Bluetooth 4.0.
Battery
The device is equipped with a 4-cell lithium-ion battery. Capacity in the battery is 2200 mAh, so when you surf the web, it is discharged after 3 hours and 30 minutes, and under high load will not last more than two hours.
Conclusion – Lenovo IdeaPad M3070
Thus, familiarity with a laptop Lenovo IdeaPad M3070 held. In it, we see only a part of what is optimal for the business model: an ergonomic keyboard, modern processor, the required set of ports, suitable dimensions and low weight. Complements the image of a nice design and good build quality. However, in order to fully justify the name "business notebook", it was necessary to provide a fingerprint sensor, possibly, better display and capacious battery. Of course, the cost of the laptop is not very high up to $ 400, however, and it gives the right to demand more from a notebook designed for business tasks.
Source: Lenovo
Read another very interesting article about alternative energy of the Sun, water and air.