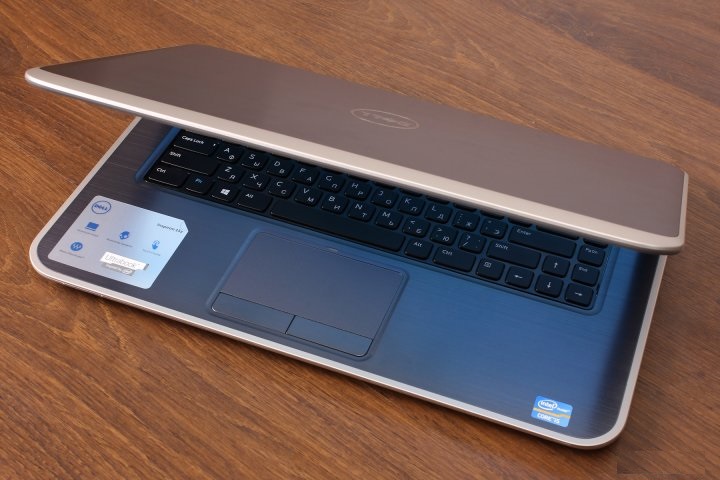 Through the efforts of Intel and notebook manufacturers the term "ultrabook" is constantly expanding. Initially, under this name were miniature laptops, stylish and powerful, with a strong body of metal, which can be easy to take with you on the go. But over time, the concept of change – from now on "ultrabooks", not just the 11 – and 13-inch models, but also devices with screens 15 inches, and even touch. The result of these innovations was our today's hero – a 15-inch ultrabook for home Dell Inspiron 5523 .
Design and Ergonomics
Appearance of this model does not differ from the design line of fellow Inspiron. It is certainly convenient to the manufacturer, but I would like some diversity.
The case perfectly assembled and trimmed sheets of brushed aluminum. The ends are made of high quality gray plastic, and the base ultrabook – from the practical black plastic with a rough surface. Fingerprints on the case, of course, remain, but they are almost not visible, and it is easy to scrub.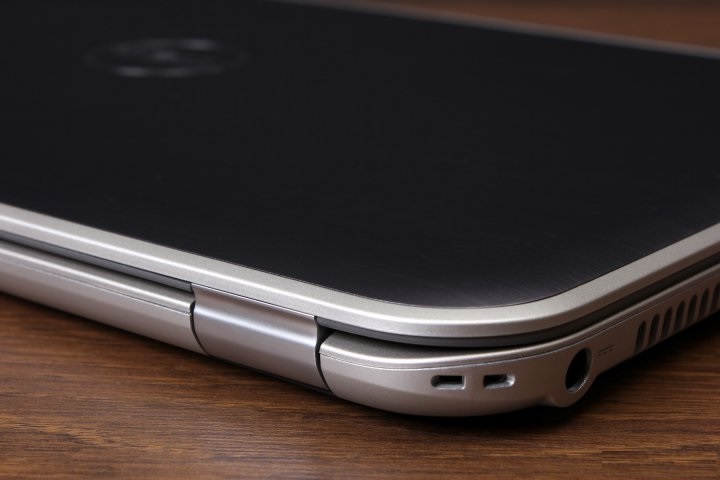 Kohl, this model is called the ultrabook, you should evaluate its weight and size. With a typical thickness of the screen Inspiron 15z is 21 mm, and the installation of touch incur extra couple of millimeters. But the weight of the model starts with a mark of 2.17 kg. Our test sample weighed 2.46 kg of all – to be moved to another room, to go to a friend's or transported in the car – no problem, but in the long journey to take this as something not very desirable, heavy.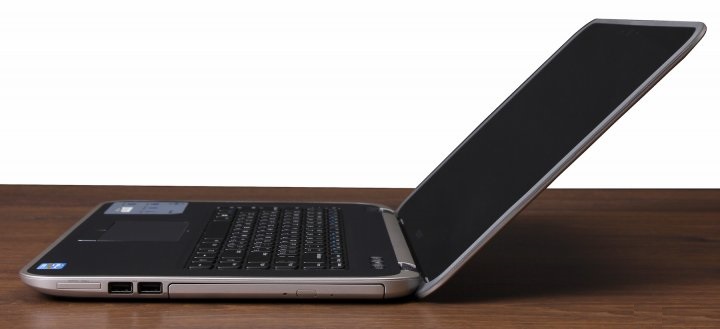 Interfaces
A set of interface connectors good. In total, located on the sides of the housing 4-port USB 3.0 (one of which is to support Power Share), HDMI video output and VGA, composite connector for a microphone and headphones, LAN-connector, Multi-card reader, DVD-drive and a Kensington lock.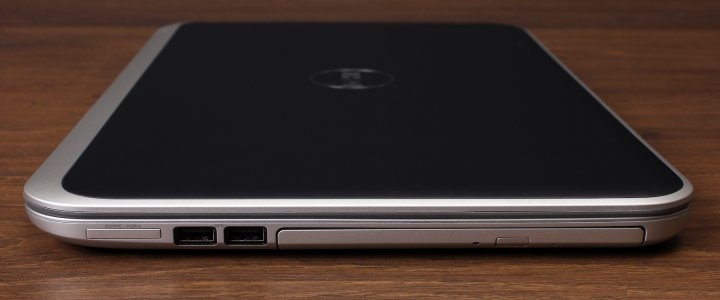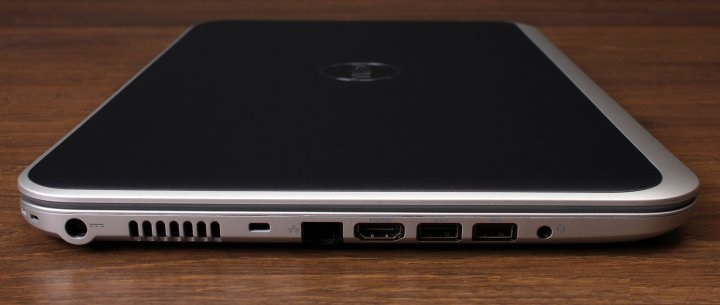 Wireless connectivity modules Wi-Fi 802.11 b / g / n and Bluetooth 4.0.
Keyboard and Touchpad
Installed in a Inspiron 5523 keyboard is very good. Feels like it's one of the best keyboards I've ever seen in recent times. Average keystroke provides comfort while typing, and adjustable backlighting helps when working in the dark. The keyboard is securely fastened and not pressed. In addition, it works quite quietly and gently, so get in the way members of the household at night, you will not.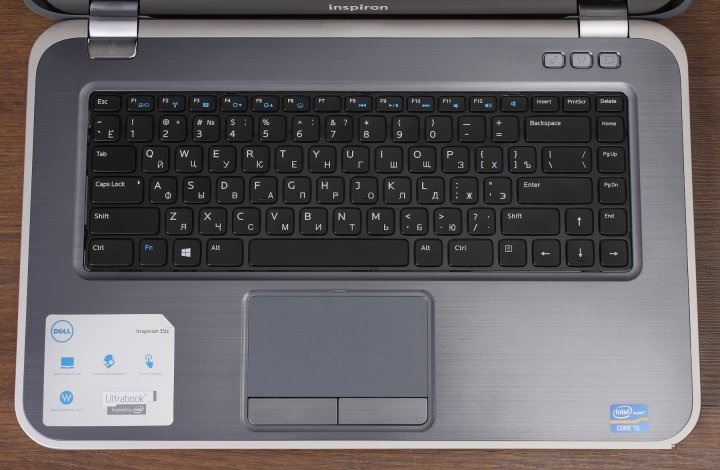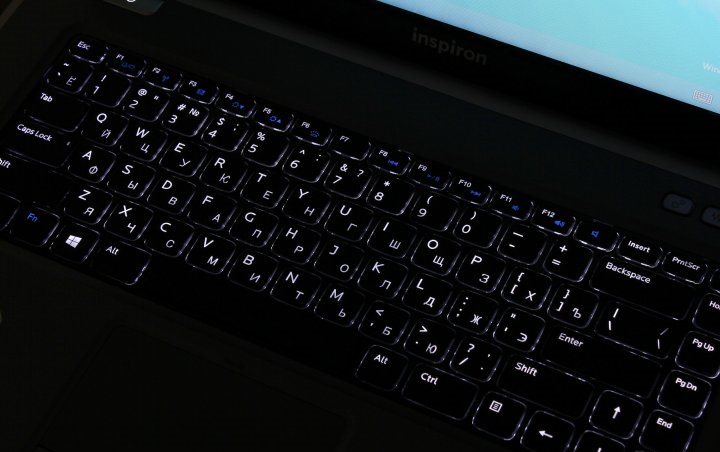 The touchpad is of medium size, with a nice matte finish touch panel, clearly responsive to touch, supports a large number of multi-touch gestures, and generally works without any problems. A pair of mechanical buttons pressed softly and gently.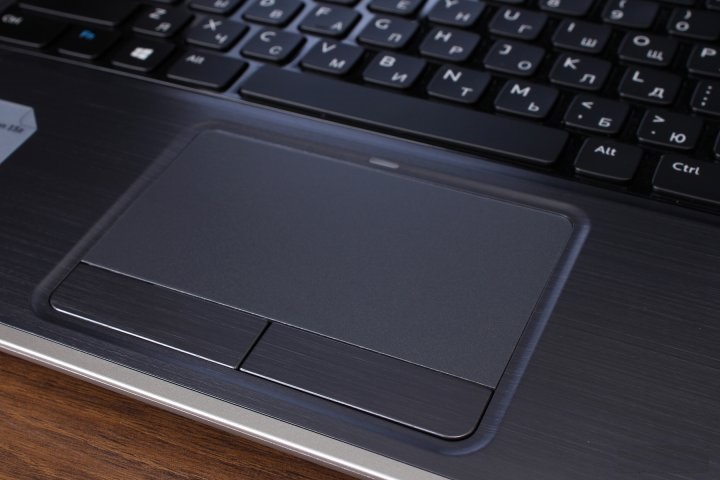 In addition to the keyboard and touchpad on the operation panel are three function keys, familiar from other models of Inspiron – menu button settings, switch between playback and Dell Instant Launch, the value of which can be assigned independently.
Display and Sound
Dell Inspiron 5523 is equipped with a TN-matrix with a diagonal of 15.6 inches and a standard resolution of 1366×768 pixels. Modification of the touch screen has an additional protection in the form of a glass Gorilla Glass, naturally glossy, with oleophobic coating, so that the dirt is easily removed.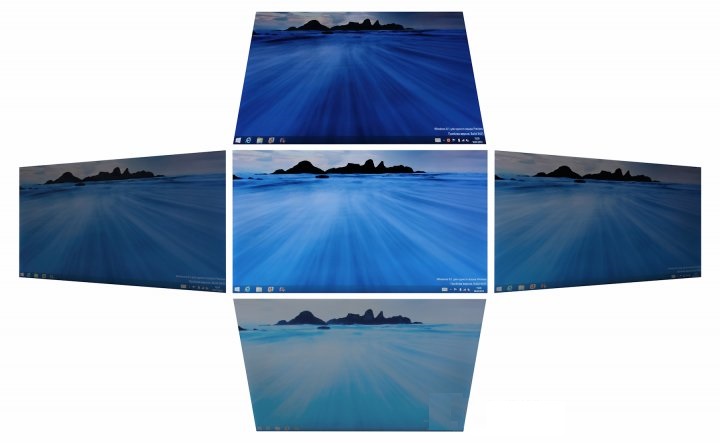 The panel, installed in our test sample, was dull, the maximum brightness level does not exceed 150 cd/m2, which is very little – in bright light work will be problematic. Contrast ratio – 90:1. Colour reproduction is not very picky suit the user to watch movies poydet.Sensor detects up to 10 simultaneous touches and is reasonably responsive.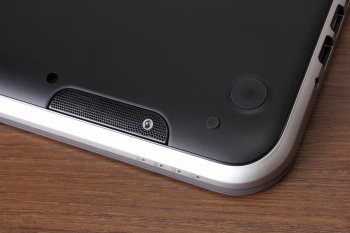 The audio subsystem consists of a pair of Skullcandy speakers with technology MAXX Audio 4 located on the front bevel. The sound quality is good for a laptop, with a good margin and volume without distortion. However, the noticeable lack of medium and low frequencies. To fine-tune the included utility Dell Audio.
Functionality
This model is equipped with energy-efficient processor Intel Core i3/i5/i7 up to the third generation i7-3537U. The maximum amount of memory – 8 GB. Installed hard drives up to 500GB, supplemented by a small flash module for caching, and solid state drives up to 256 GB. Responsible for the graphics integrated video card Intel HD Graphics or discrete graphics card NVIDIA GeForce GT 630M.
The configuration in general is typical. Models with any CPU perfectly cope with everyday tasks, watching videos and other things. Variations with the discrete card will be able to serve, and good gaming computer for casual gamers.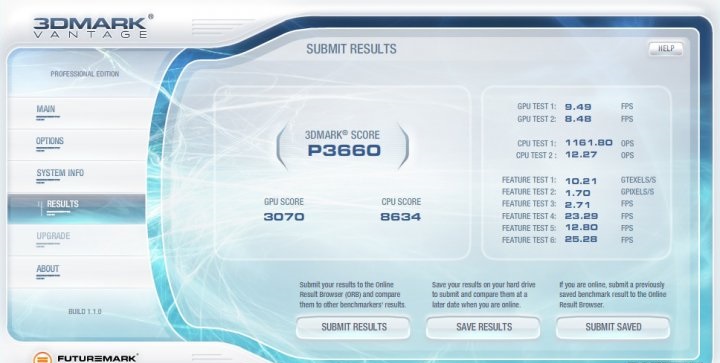 Here is set battery with 44 W * h A single charge lasts a little more than 6 hours of battery life (Core i5-3337U, 6GB RAM, 500GB HDD) as read with disabled wireless modules. Under load, the notebook lasted exactly 2 hours. Not bad, though not a record autonomy.
The results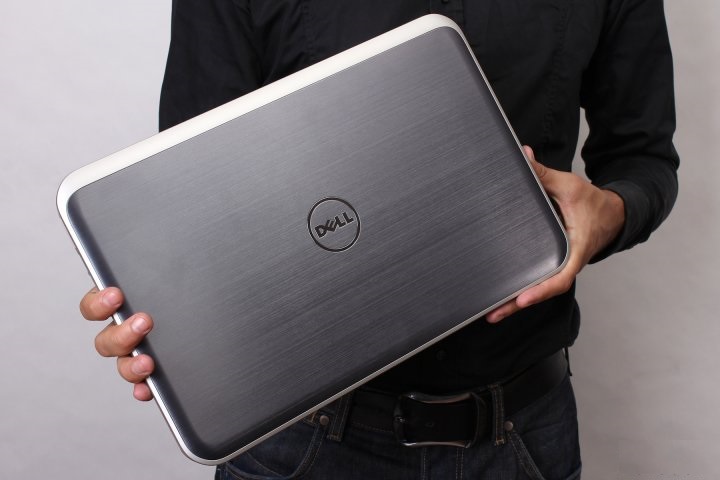 Personally, I do not dare to call Dell Inspiron 5523 ultrabook – it is too heavy it was like for me. However, if we forget about its original purpose and the label "ultrabook", then there will be no problems. Excellent model with a strong non-marking aluminum casing and cover, which has a good performance. This model is an excellent choice if you are looking for a laptop for home use.
Read another very interesting article about alternative energy of the Sun, water and air.