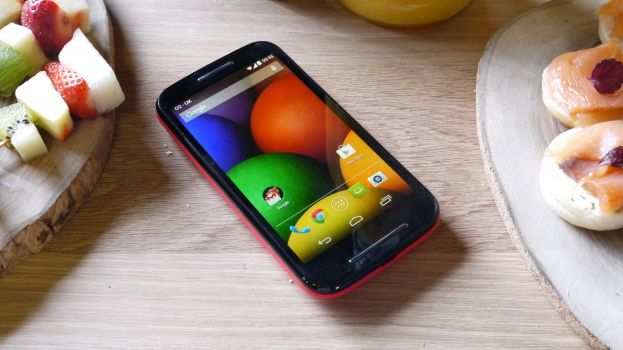 Smartphone Moto G made a lot of noise in the mobile market in the past year. Within five months of phone from Motorola is a bestseller.
The main feature of Moto G was its budget price. Now it's time to move over to one side old men, as gains on the new device Motorola Moto E. To be as accurate as possible, the new smartphone – not a replacement Moto G, but rather an additional device for entry-level smartphone market.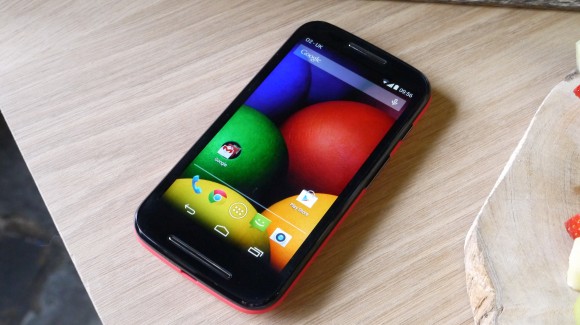 Moto E Price is about $ 150. For the same price you could buy a Samsung Galaxy Fame or Nokia Lumia 520.
Among the main specifications Moto E is worth noting a 4.3-inch display, 1.2 GHz dual-core processor, 1GB of RAM, 4GB of internal memory, 5-megapixel rear camera and battery capacity of 1980 mAh.
The screen has an attractive resolution – 540 x 960 pixels, which together presented the density of 256ppi.
I was pleasantly surprised by the quality of the text and images on the screen. Of course, the display Moto E incomparable with flagship phone, but when you consider that the new smartphone from Motorola is almost two times less pixels, and the cost is much lower, it is possible to make concessions.
The screen has three protection Gorilla Glass, which provides safety against scratches, while a removable rear cover is made of plastic.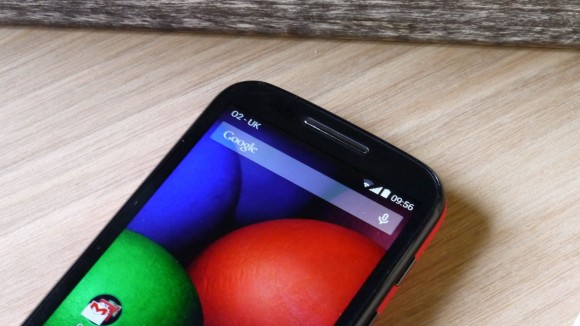 From a design standpoint, the smartphone Moto E is very similar to Moto G. plastic build quality feels nice in the hand, and is likely to survive a few falls.
As I mentioned, the back cover is removable and Motorola offers nine different color options.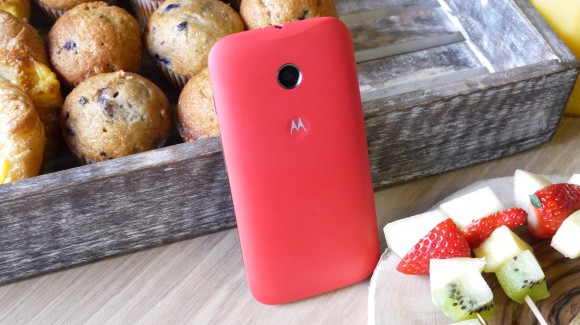 Besides Motorola will launch an accessory – a rubberized case, which will be available in five colors.
The rear of the smartphone Moto E curved, so the phone fits comfortably in the palm of your hand. Furthermore, the weight is quite acceptable – 142 g
On the part of Moto E looks a little big, but when compared to other devices, we obtain the following results: shell thickness Moto E-12.3 mm, while the thickness of the Moto G – 11.6 mm, and the Lumia 520 – 9.9 mm.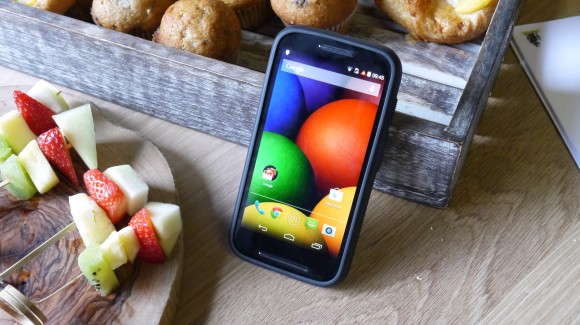 Built-in speakers have been moved from the rear to the front, there was extra space for holding a smartphone.
Moto E size is 124.8 x 64.8 mm. Physical buttons are very reasonable reorganized, so that they are easy to press with one hand. The power button / lock and volume control button located on the right side, while the headphone jack is located on the top panel, and MicroUSB port – at the bottom of the device.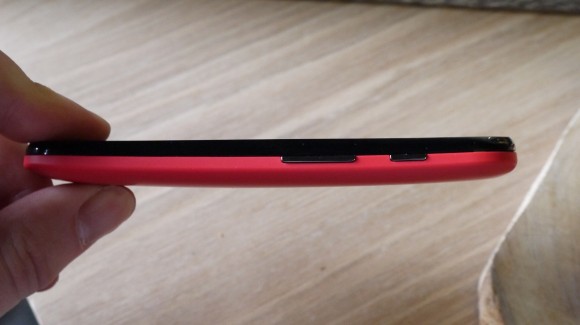 1.2 GHz dual-core processor does not sound impressive, but as this Snapdragon 200, and if you take note of 1 GB of RAM, a smartphone's performance should not hesitate.
Software is the latest version – Android 4.4.2 KitKat. Motorola Company claims that the update Android for Moto E will come much faster than many major budget smartphones.
Navigating the desktop applications and menus multitasking was smooth and fast, no signs of braking or delays I had not noticed.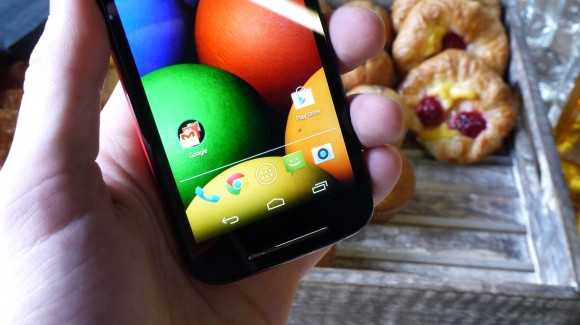 Yet it would be interesting to see how Moto E maintains its high performance at a completely filled a variety of built-in memory applications, movies and photos.
Moto E is not equipped with 4G connectivity, but your service 3G, GPS, Bluetooth 4.0 and Wi-Fi B / G / N.
Quality Display lets you watch movies and TV shows, and MicroSD slot adds extra space on your phone. MicroSD slot is certainly necessary as built-in memory Motorola Moto E only 4 GB, of which only 2.21 GB available for use.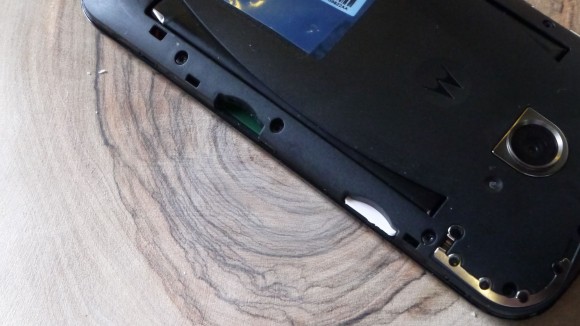 For those who prefer a more traditional form of entertainment, Moto E equipped with an FM radio.
As I mentioned, the speakers are placed on the front panel Moto E, just below the screen. At maximum volume audible distortion, because it certainly does not BoomSound.
On the rear panel Moto E is a 5-megapixel camera. You can find similar devices Moto G, Galaxy Fame and Lumia 520. Unfortunately, the smartphone comes without a flash, so I have to avoid low light.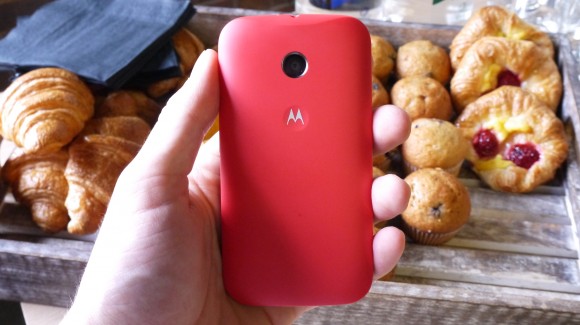 Prolistnite finger of the left hand side of the display in the center – you will quickly go into the camera app, where you can configure the basic functions. Here is a selection of different shooting modes, including at the HDR, panorama, or 16:9.
The front camera is missing.
Since the back lid is removed, the battery can also be replaced. Battery capacity is 1980 mAh. Motorola says that the smartphone is capable of working 24 hours on a single charge.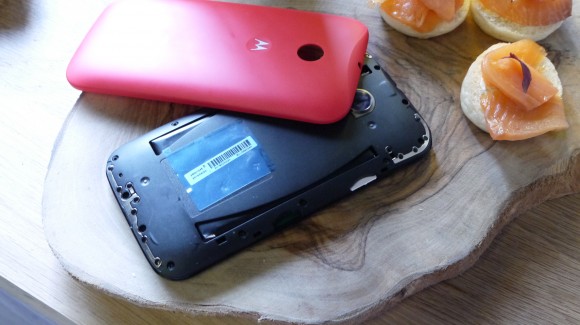 Summing-up  Motorola Moto E
Looks like Motorola's again managed to produce a decent budget smartphone at a low price and a good set of specifications.
The smartphone Moto E were made several significant concessions compared to Moto G – removed the front camera, rear flash and too little internal memory. However, instead of a smartphone gets decent screen and a slot for MicroSD cards, which in particular should compensate for the shortcomings.
Read another very interesting article about alternative energy of the Sun, water and air.