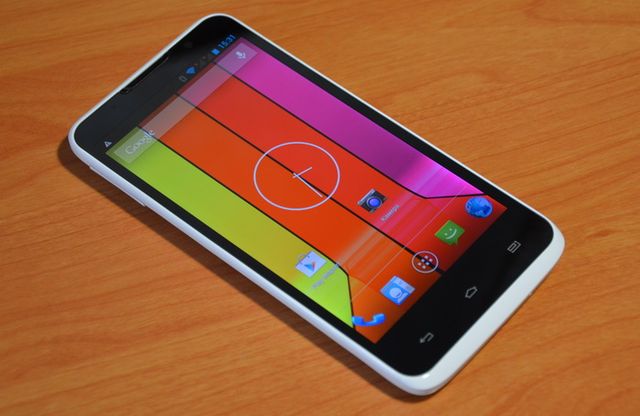 Smartphone Highscreen Alpha R, which we will look at in this review, is of interest only after consulting the child's characteristics "on paper" . Over 13 thousand rubles offered two batteries total capacity of 6000 mAh and a 5 -inch display with a resolution of Full HD. The first option in the apparatus of the ( middle ) class , we have not met , the second is extremely rare. Meanwhile, for the calculation of smartphones with Full HD- matrices and support for two SIM- cards available on the Russian market, enough fingers of one hand – they are very few .
In general , in theory Highscreen Alpha R is very interesting , but what about in practice? Let's deal.
The smartphone comes in a small cardboard box , which shows his " insides " with signatures. This is the standard version of the design of the Highscreen, the brand used for about a year . Reaction to it varies from " Cool! " To "Take this horror!".However , the formulation of interesting and definitely has a right to exist.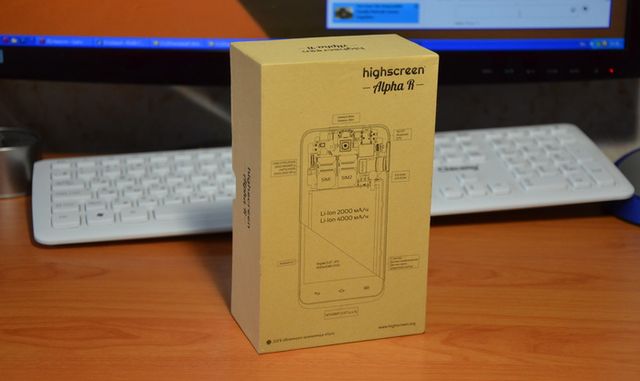 Scope of supply – a special subject. It includes a wired headset ( it looks expensive, but it sounds bad, so it is time to change it to something more solid ) , charger unit , USB-cable and Japanese protective film for touchscreen with oleophobic coating. Instructions and warranty card is also in place.
Further interesting: with Highscreen Alpha R ships with two batteries – the first in 2000 mAh battery, the second – in 4000 . Logically, a second much thicker than the first battery so that the box also found two removable rear panel. In our case, they are white , and because the unit itself is made of white plastic ( with a black front panel ) . However, in nature , there is also all black version, which , in our opinion , it looks a little less pretty.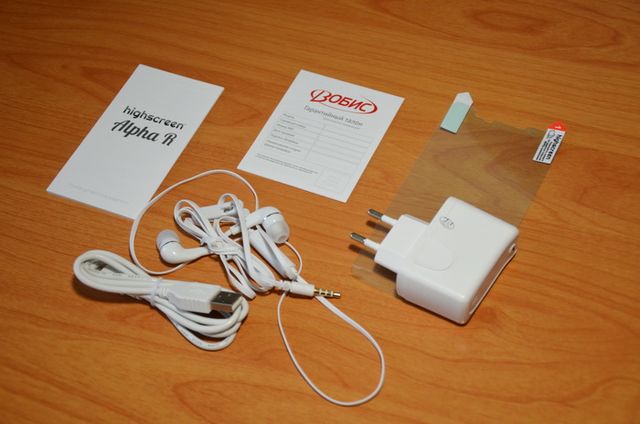 Appearance Highscreen Alpha R can not be considered quite so faceless , however , and the title of a masterpiece of design model does not apply. Ordinary smartphone – the best of a pretty , fairly quiet , fairly boring. I am glad that the white version of the black left front panel , through the course of this device looks better. Compiled Highscreen Alpha R carefully, both covers are kept as bonded , do not play and do not produce any sound when compressed.
The rear cover and side edges are made of glossy plastic , it is not visible any scratches or fingerprints. ( The main body of the black version is likely to be well marked , and the first and second . ) Front , including a display, nestled glass. Probably some kind of an oleophobic coating there are also – the surface is dirty, but in moderation.
On the left side edge is large enough volume control wheel . On the right side of the casing there are no connectors , but the microphone is on the bottom . In the same place you can see the hole for removing the rear cover . 
The top side has a standard 3.5 mm headphone jack, MicroUSB port and a power button device / activation of its display . In truth, praise the developers for such a structure we can not . Not only that in large vessels ( and Highscreen Alpha R just cattle) more logical to have the power button on one of the side faces , as in the case of our smartphone , it is also close to the port MicroUSB. If the cable is inserted into it the same charger , then press it very uncomfortable. 
The front panel contains light and proximity sensors , the lens is a 2-megapixel front camera , earpiece grille , touch-screen display and three touch-sensitive keys also control . They also have some questions: "Back" button and the " context menu " for some reason reversed , that is the first in Highscreen Alpha R is on the left , and the second – on the right . Yes , over time, get used to it , and yet a strange move .
With the battery on 2000 smartphone has a thickness of about 9 mm, with battery on 4000 – at 13 . Quite a few , but too thick Highscreen Alpha R is not perceived. In the hand unit is perfect for any battery. But the weight with a more powerful battery, let's face it , a large 204 g versus 156 g with battery capacity of 2000 mAh.
Screen smart phone , as mentioned above, has a diagonal of 5 inches with a resolution of 1920 x 1080 pixels. It is the technology TFT-IPS, which in theory guarantees the wide viewing angles and a nice looking calm color reproduction. In practice, all turned out well . Moreover , the brightness of the display is so high that for comfortable work in the room is enough to expose it to the 15 percent level . The street is quite 50 percent , and the rest – for special judges . The touch panel is manufactured using technology OGS, that is one with the whole matrix. The sensitivity of the touchscreen is very high, it is very precisely reacts to finger presses.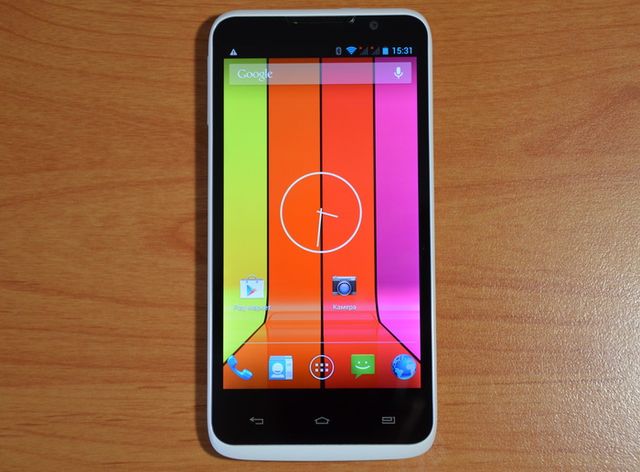 In general , the screen – definitely a strong point Highscreen Alpha R, previously nothing like we have not seen any devices Highscreen, or in any other Android-based smartphone in this price category.
The basis Highscreen Alpha R MediaTek MT6589T chipset supports quad-processor (architecture ARM Cortex-A7) and PowerVR SGX544 graphics accelerator from the company Imagination Technologies. Version of the "T " is different from the usual MT6589 frequency of computing and graphics cores: in this case MT6589T 1.5 GHz and 357 MHz, in the case of MT6589 « only" 1.2 GHz and 286 MHz. Logically, Highscreen Alpha R used a more powerful version of the chipset , yet he has to "serve" the screen with a resolution of Full HD. But the RAM model , alas, only 1 GB – would like to see here at least 2 or 1.5 GB ( as in some smartphones Samsung).
Built-in memory is not too much – 4 GB , and the user can use a maximum of 3 . At the same MicroSD card slot in Highscreen Alpha R, of course , there is. It is located under the back cover and the battery is not covered .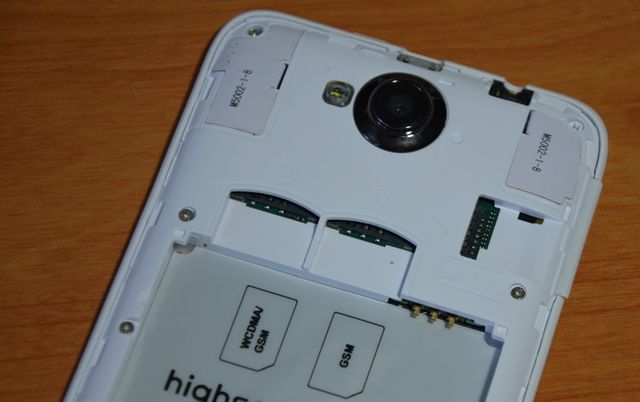 Here are a few screenshots of benchmarks:
Anyway , no delay in the Android interface is not – and it works quickly and smoothly, not to find fault with anything. With games a little bit more complicated : 3D- average toy like Shadowgun DeadZone Dead Trigger or go without any problems , but in a more modern Riptide GP Real Racing 2 or 3 you can play, but the process will be accompanied by a slowdown even on minimum settings . However, you can still play , though not with much comfort .
Some screenshots of games: 
With the wireless module is very simple – they have and work. Here is their list : Bluetooth 4.0, Wi-Fi (IEEE 802.11b/g/n), GPS. The work of two SIM-cards is implemented in a standard way : in standby mode, both cards are available , while on the second one off. With the 3G- compatible networks, only one slot .
The Android operating system in Highscreen Alpha R is version 4.2.1 Jelly Bean. It may be that later released an update to 4.2.2 , but so good. Special customization , both in the same Highscreen Omega Prime XL, not here – the usual icons , "dialer ", the notification bar , lock screen , and so on. Interface another camera such as a model Highscreen Alpha GTX. Out of the ordinary can be noted software for backup applications.
In addition, there is an application "Studio " ( simple and best of its kind video editor ) and the customer service 4sync. It can be installed for free on any device , in this case the user will have 15 GB of space in the "cloud." For some devices, Highscreen – including Alpha R – offers 20 GB.
Camera interface with screenshots can be found below.
As for the photographic opportunities 8-megapixel camera (there's autofocus and LED flash ), they are average. Of the features we mention the sports mode – it makes a very good still images of moving objects. HDR- shooting is not the most advanced , but in appropriate situations is quite helpful. One more thing: if you press the button once to create the image, the picture will be blurred , with a focus somewhere in the side . So first you have to click on an object on the screen where you want to focus on. 
Video Highscreen Alpha R records in 3GP format with a maximum resolution of 1920 x 1080 pixels (Full HD 1080p). The quality can be estimated on the four with minor flaw . Here we add that the front camera in the smartphone has a resolution of 2 megapixels, it is quite normal to work in the client Skype.
For dessert – a story about batteries . In the test AnTuTu Battery Test device with a battery installed at 4000 mAh won first place in the ranking. However Benchmark performance , much more interesting how things in practice.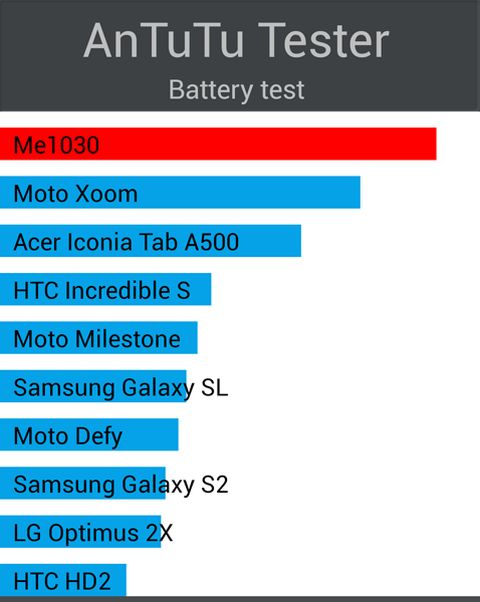 Things are as follows : in the " screen brightness at 15 %, 20 minutes a day , a couple of letters and a couple of websites , some photos » Highscreen Alpha R is able to last up to a week . That is two and a half days for the unit "lives" of the batteries with 2000 mAh and another four and a half days – from the battery capacity of 4000 mAh. Naturally, this is the perfect " hothouse " conditions , and in real life, two batteries provide up to 4.5-5 work days. However, this is a very good result , especially considering that the Android operating system is still rather " greedy " and Highscreen Alpha R is equipped with a quad-core processor and screen format Full HD.
Verdict
Highscreen Alpha R – Smartphone unique in its kind : it is enough to say that initially MediaTek chipsets do not support batteries with different capacities ( the controller is configured for one specific value ) , so that the creation of this unit developers had a good " plow " system software MT6589T. So, two batteries and a long battery life – this is the first feature Highscreen Alpha R. The disadvantages , of course, also have : I would like to see here 2 GB of RAM, a more capacious built-in storage , as well as other location of the key switch on.
Oh, and for serious games Highscreen Alpha R is not intended fact. However, due to the price ( $ 390) this point does not seem very much a serious disadvantage. Especially as the positives at the device much more.
Read another very interesting article about alternative energy of the Sun, water and air.