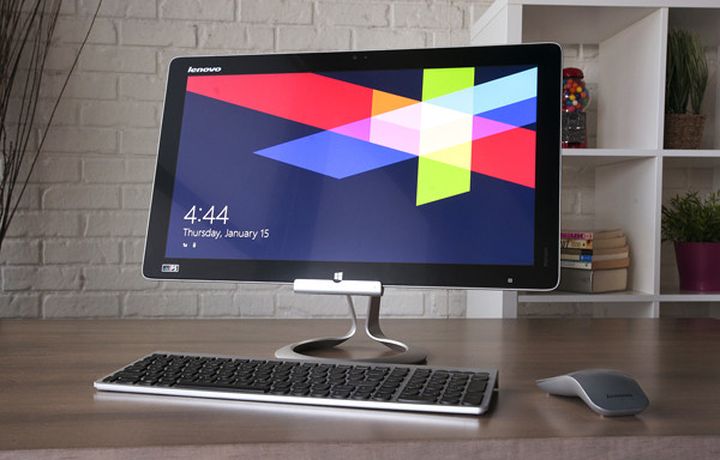 What comes to mind when it comes to the tablet, which is large enough to serve as a desktop computer? Lenovo Horizon 2s. And on the monoblock, which runs on battery power and is compact enough that it can be transferred from one place to another? Lenovo Horizon 2s. A computer system, which is placed on a table and is used by two or more people? Atari Pong! Well, or Lenovo Horizon 2s, of course.
Atari Pong, the first commercially successful arcade game was introduced in the version the for cocktail table. At the table there were two people who were sipping an aperitif and rotary knob controller. Virtual bits, controlled by these knobs, hit the ball to the email. Here's a socio-gaming functionality, Lenovo and wanted to create for its Horizon product family, and specifically for the model Lenovo Horizon 2s.
Circular Aura interface enables Horizon, both independently and in conjunction with other equipment and accessories. As an option, the company will sell the bits for the game of air hockey, joysticks and electronic dice.
The model Lenovo Horizon 2s unlike it is larger and heavier 27-inch sibling Horizon 2 and other relatives can be used as a giant tablet. But if the computer monoblock Horizon 2s, has a touch screen with a diagonal of 19.5 inches and a resolution of 1920×1080 pixels and weighs about 2.5 kg and seems very easy to move it from place to place there is no difficulty, then as a tablet it is not too convenient. If we consider it portable monoblock, everything falls into place. The computer can be kept in the office, move to the kitchen, the garage and even put on the coffee table. Recipes, videos in the style of "do it yourself" games, well, everything else.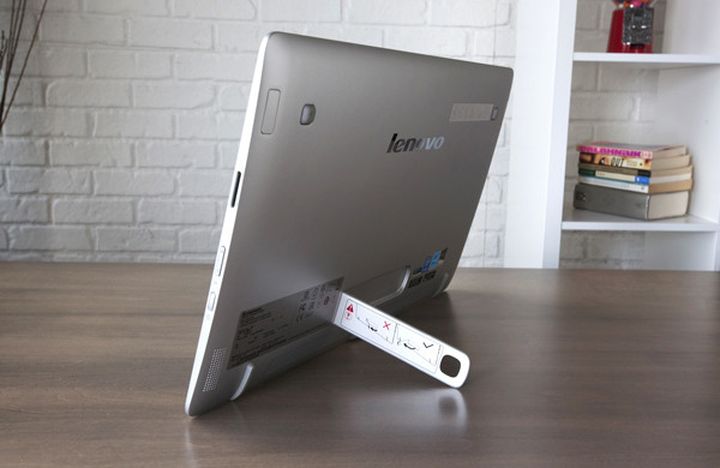 Lenovo Horizon 2s has a hinged stand allows you to set the screen to the desired angle. But for long-term use is better to purchase a commercially available charging station that provides improved access to the surrounding area. Unfortunately, this pretty stand no additional ports, and at a price of $ 90. It takes the model Lenovo Horizon 2s cost of $ 949. In the category of products that are more expensive than a thousand dollars. Not Cheap.
But let us return to the multiplayer online games … Already mentioned interface Aura, executable under Windows, the screen displays in the center of the dial, which is in rotation activates the desired component (music, games, photos, etc.) to suit your personal preferences. The user has the possibility to remove items from disk, drag them to another location, and rotate the disk, causing the desired mode. Very interesting opportunities open to gaming enthusiasts and even designers. Lenovo came with your computer 21 games, and some of them successfully used a metaphor. Aura interface allows even run applications Android, allowing a variety of game content for Horizon 2s multiplied. Nice to see that the computer functions expand the scope of electronic cocoon.
However, as much as I love Aura, it is worth noting that with the transition to Windows 8.1 operating system which Lenovo, like other manufacturers, has become increasingly supply their products to a variety of "useful" software utilities. Remove them mercilessly. It is not necessary to produce the background programs, issuing popups and start checking equipment at the very moment when you are plunged headlong into something else. The Windows operating system will take care of everything you need, including antivirus and anti-malware tools, and make it much more delicately.
If there is no dock Horizon translate into a vertical position, you can use a special retractable stand.
Equipment of Lenovo Horizon 2s
I can not call myself a big fan of glossy screens, but with a touch interface, they have a definite meaning. I hope that Lenovo will hear the cry of my soul, because the display Lenovo Horizon 2s equipped with anti-reflection coating. Through his fingerprints and his reflection is not so noticeable, but the display looks as though it a long time ago no rubbing. And I'm willing to pay a small amount for what the screen will not seem eternally covered with dust.
At Lenovo Horizon 2s, there are only a few ports, but their choice is quite reasonable. At the bottom is a connector for a docking station; Right – a device for reading memory cards, volume control lever and the power button; and the left – the headphone jack, two USB 3.0 ports and a power connector. With wireless all right – are present here 802.11ac, Bluetooth 4.0 and NFC. The keyboard and mouse are also wireless interfaces. Typing on the keyboard is quite nice, and the mouse responds well to touch, but the bump on her body, although looks good, creates certain inconveniences.
You get a two-port USB 3.0, composite connector and analog audio ports Lenovo.
Fan hybrid disc of Lenovo Horizon 2s
After a few minutes exploring the Lenovo Horizon 2s concept of a portable computer table I liked, but ran into a pair of eyes and omissions. Firstly, it is extremely noisy fan. Yes, your computer has a processor Core i5 4210U and 4 GB of RAM, but is stalking a continuous buzz I heard for the first time. And after starting the test and PCMark load increase its volume increased even more. Lenovo has sent me another one, and it really was not as noisy, but in fairness it should be recognized that the temperature in my house after the recent cold snap at the moment has fallen markedly.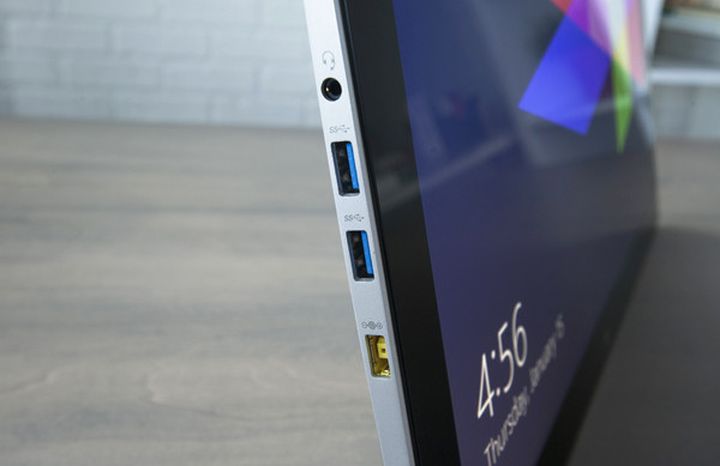 The second disadvantage is the lack of fast SSD. The model I tested was equipped with a hybrid device Seagate ST500LX012-
SSHD, combines the mechanical hard disk capacity of 500 GB SSD and 8GB. Hybrid devices slightly faster hard drives, so I would prefer to pay another $ 50. For a full solid state drive. With a price of $ 750. I would probably not complain to the hybrid drive, but when the cost of a computer is close to a thousand dollars, claims seem to me well-founded.
Performance of Lenovo Horizon 2s
According to my subjective feelings, to Lenovo Horizon 2s enough in what you can complain about. Unlike the recently reviewed models of HP Beats AIO, and of Windows, and the program worked quite quickly. After starting the computer PCMark scored 2779 points in the test and Work 2077 points in the test Creative. In the test 3DMark Ice Storm Extreme at high resolution and detail settings, integrated graphics Intel HD 4400, as expected, prevented to show a good result. The process of recording MKV file size of 30 GB in a tablet format took 2 hour and 13 minutes. Not bad. But nothing outstanding. For comparison, the reference system PCWorld, equipped with a quad-core Core i7 4770K, it took about 36 minutes. But a computer is certainly not shabby.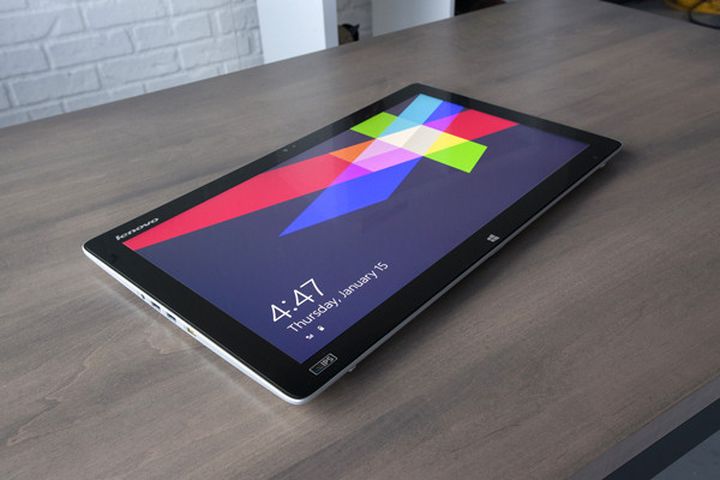 Not caused much enthusiasm and duration of the Lenovo Horizon 2s battery, was 1 hour and 43 minutes. In fairness, it should be recognized that connect the power adapter is a snap, and a computer for traveling speech is still not coming, and social games often delayed. Let's just say, a little, but the occasion for claims still there.
The absence of a solid state drive, we have already spoken. The CrystalDiskMark test computer showed the reading speed equal to 116 MB / s and write speeds at 106 MB / s. These results illustrate the specific advantages of hybrid drives to purely mechanical, but still three times the yield performance even cheaper SSD. Of course, tests are sometimes misleading, but the lack of SSD is definitely felt.
Conclusion of Lenovo Horizon 2s
Frankly, from the Lenovo Horizon 2s I expected less. Perhaps because in my mind it was associated more with a large tablet than with a portable monoblock. Forgive me, Lenovo. Now I understand that this computer will find its place at home and in the yard, and on the coffee table in the living room.
Conceptually Lenovo Horizon 2s can be considered the favorite. Of course, Lenovo needed something to do with the noisy fan and not really fit into the overall fabric of the hybrid drive. Nevertheless, Aura interface computer may qualify to engage in a new niche, even if the niche is actually formed in a long time.
Lenovo Horizon 2s looks much more portable than its 27-inch sibling.
Pros:
• a unique circular interface;
• ease of movement;
• the opportunity to play even on the coffee table.
Disadvantages:
• noisy fan;
• Lack of solid state drive;
• duration of continuous battery life, less than two hours.
Findings of Lenovo Horizon 2s
Concept Lenovo Horizon 2s is to be commended. However, the computer is quite expensive, SSD in it, and the fan is very noisy. However, already for only one circular interface Aura he certainly deserves attention.
Price: 949 USD.
Rating: 3.5.
Read another very interesting article about alternative energy of the Sun, water and air.