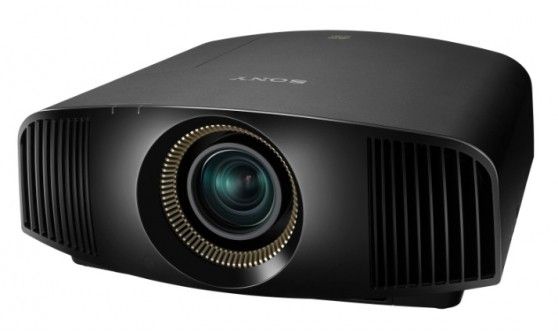 4K resolution is slowly but surely making its way into our living rooms and home theaters. Even overcoming the lack of relevant content seem to become practical. Albeit not with us, but as we have been able to make the period between the emergence of new information technologies "there" and the development of its "here" all the time is reduced. And the fact that 4K / Ultra HD – thing worthwhile, particularly controversial and does not cause those who care about the quality of video and sound (HD-Audio).
Flagship cinema projector Sony VPL-VW1000ES priced at $ 37,000 with a matrix size of 4096 × 2160 pixels "tempt" us in July of 2012. Two years later, in the same category came review 4K-model Sony VPL-VW500ES for $ 15 500. And here in our test lab youngest of series devices, ready to reproduce content perspective, and sold it for only $ 10,300.
Judging from the appearance and characteristics of the list of differences from VPL-VW500ES not so much – catches the eye is only slightly lower brightness. Everything else is very similar – and equipment, and functionality.
Motorized lens, simplify installation beyond its big shift: ± 31% horizontal and 85% / – 80% vertical. The projector body big and not so elegant as those recently tested our model of entry-level Sony VPL-HW40ES from the same line. It is painted in a dark gray color, so the device will be invisible in the darkness of the cinema. Besides, it works very quietly.
Like other projectors Sony, connectors are located on the left bottom side of the body
At that price, VPL-VW300ES have somehow and do not have to think about how much will have to overpay for the introduction of the technologies of the future – the projector to display their talents in any distribution of content. However, we still have simplified his task and take a look with the help of movies on Blu-ray-drives, with whom he has image only three of the four pixels, rather than the 19 out of 20, as in the case of standard definition video.
Blu-ray-player Oppo BDP-105D, which we used as a source, can independently perform scaling signal format to 4K, but the Sony do it better – the picture is clearer, vivid, colorful. A proprietary technology scaling Reality Creation Full HD up to 4K, which can be included in the menu or by pressing the button on the remote control to make the image more vivid and voluminous.
Blu-ray-disc "Casino Royale" was, I remember, almost the first release on the new optical media then; with his help, we tested a lot of equipment for DC. Projector Sony VPL-VW300ES creates an image in which the delicate design of the crane boom, which climbs James Bond in pursuit of a terrorist looks flawless: line thin, smooth, without any burrs. Sea in the background – now, not a single color, and with the provisions of variations of colors.
However, we understand that recording technology has gone forward since: movie scenes are not equal in quality, in some of them there is a screen noise. In a more recent "Angels and Demons" this is not observed. It's pretty complicated for video since it now and then shadows and dark objects are combined in a single frame with bright fragments. VPL-VW300ES easily overcomes these difficulties by combining black without a touch of gray and light without overheating in the rooms and halls of the Vatican. In a dynamic search for the second episode of the kidnaped cardinals in the square in front of St. Peter at night the tracks new to us the details and the details, and it is a sure sign of high information content of the image.
Foreground passed in great detail, sometimes unnecessarily. This property is inherent in LCD technology (or SXRD-embodiment, as in this case). Instead, it provides a three-dimensional image – people heroes convex; it seems that they protrude from the plane of the screen. Bright colors and rich, fine gradations of them, and skin tones – natural.
Stir in most cases looks like in real life, only occasionally visible light interrupted, and in those moments when it and should not be; spans the chamber, for example, it does not cause.
The upgraded SXRD-technology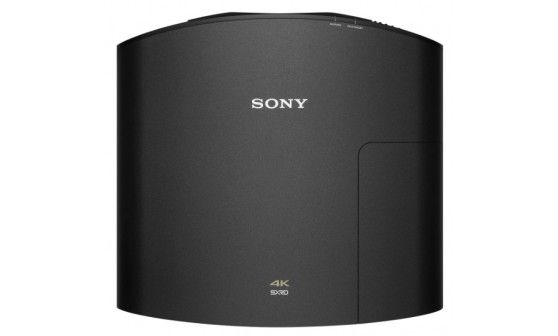 High image contrast and depth of black at the Sony VPL-VW300ES due to improved structure SXRD-matrix – the corporate version of Lcos-technology. In these improved vertically oriented alignment of liquid crystal molecules in the boundary layer and reduce the distance between the lattice layers. Excluded from the construction of projections in another matrix provides the structural rigidity of the system.
The skill with which Sony VPL-VW300ES reproduces 3D-content can spur interest in this technology. In the movie, "Avatar" pleases natural and deep perspective, which opens into the mysterious and colorful world of the planet Pandora. Although the unit is very meticulous when forming an image, a scene with real actors, and painted on look equally realistic. The picture is clear, the volume without crosstalk; movement is almost always transmitted truthfully.
If you plan to get your own cinema, it should be borne in mind in the future distribution of video 4K / Ultra HD-format. And buying a projector Sony VPL-VW300ES, you will get excellent picture quality even today, and even better in the near future – for a very reasonable price.
Make up your mind, if you do not want to pay twice – 4K is not far off
Special features: a large, but not striking to look at housing, low noise operation, excellent image on the screen, effortless viewing even in 3D
Price: $ 10,300
Pros: Bright, colorful, detailed images; Excellent implementation of 3D-format; easy setup; the prospect for the future; the cost
Cons: Nothing significant
Verdict: Good projectors lot, but many of them are morally obsolete before this Sony
Source: Sony
Read another very interesting article about alternative energy of the Sun, water and air.