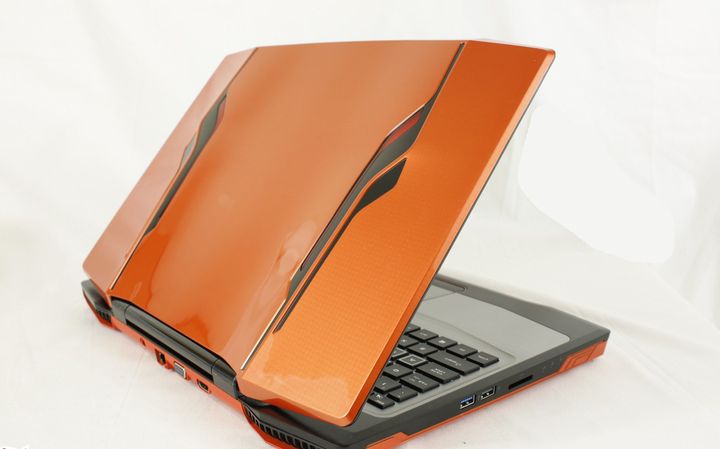 Tongue of flame. It was he who lights up in the eyes of any techno-enthusiast with a Chimera CX-9. The distinctive orange body and fast hardware configuration, what else is needed in order to play high quality?
Design and workmanship
CX-9 looks wonderfully, photographs perfectly capture it. Durable design, orange on the outside and silver-black inside, made of metal and thick, dense plastic. Hindrances to the quality of performance we have not found, although mount the screen could be more rigid (with shaking laptop opening angle changes slightly).
Massive, aggressive and attractive style causes some association with expensive bikes. Despite the considerable thickness (up to 4 inches when closed), CX-9 can hardly be called unwieldy. That is, a backpack to carry it pulls quite noticeable, but visually looks much more compact than it actually is. Bright color and beveled faces in many places it is responsible for a large extent.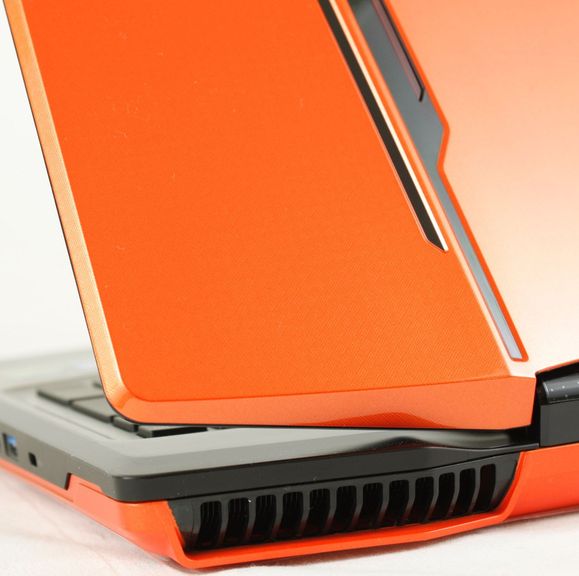 Most covering the bottom cover quite easily dismantled, after which the user gets access to the battery, motherboard, fan, hard drive and RAM.
Weight model – around 3 kg. Serious power adapter adds another 0.8 kg. The depth and the width is 280 millimeters and 387, respectively.
Nice lighting effects make a special impression in the dark.
Ports and Communications
There is nothing unusual in this section. Four-port USB – the norm for self-respecting gaming notebook. Two video output (analog VGA and digital HDMI) is more or less will bring the image to the external monitor, TV or projector. Wired Ethernet network functions as it should be.
The wireless module is our version of the CX-9 released by Realtek. It's pretty simple, only supports 2.4 GHz band (802.11b / g / n), and Bluetooth 4.0 (class 2). The second configuration option – this adapter with Intel WiFi a / b / g / n / ac.
input Devices
Laptop keyboard not only looks decent, but also able to provide a pleasant sensation from work. Good depth and sufficient return stroke keys allow you to type a lot of text without fatigue finger. The length of the keyboard to the width – 34.5 cm, height – 10.5 cm.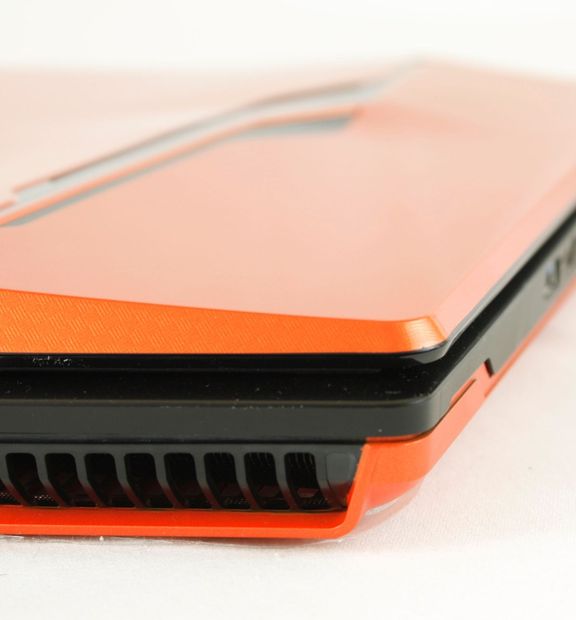 A little less than we liked the relatively small (10 x 5 cm) touch panel to control the cursor. Default multitouch gestures somehow disabled, which raises the need to open yourself to deal with the driver and settings. However, the touchpad has a pleasant surface, and two 'mouse' buttons emit a pleasant noticeable click when pressed. It is in moments will need to do without the mouse.
Display
The system defined matrix established by the manufacturer as AU Optronics AUO35ED. We have already seen such a screen, it was installed in the laptop HP EliteBook 755 G2.
Resolution 1920×1080 pixels very well suited for playing a 15.6-inch device. Power graphics card is enough for miscalculation pictures in this resolution, in contrast to the now fashionable QHD + (3200×1800 pixels) and Ultra HD (3840×2160 pixels).
Our screen was very bright, he even manages to direct sunlight. Contrast stars from the sky is not enough; angles more or less adequate, at least in a horizontal plane. For games and movies that should be enough for professional graphics work – is unlikely.
It is also worth noting the unfortunate factory calibration (or lack of it as such). Colorimeter readings so we did not like that we had own calibration; her colors were much closer to the right.
Illumination is good enough to work in any lighting conditions. However, angles, as mentioned above, is small, and it is typical for matrices made by technology TN. On the illustration below is noticeable that when viewed from above, from below and from the diagonal image is covered by a sort of 'haze'. So manifest themselves color distortion.
Performance iBuyPower Chimera CX-9
The main system graphics card, Nvidia GeForce GTX 860M, not too well suited to a couple of powerful quad-core processor Intel Core i7-4710HQ generation Haswell. It is slightly too weak compared to the more powerful alternative (GTX 970M and GTX 980M). But Chimera CX-9 comes exclusively with the GTX 860M.
This bundle will be sufficient for all applications, including the deployment of mobile server and modern games in resolutions up to Full-HD. However, in this resolution detail in the game will have to be reduced from maximum to medium or simply high. But the performance is very stable and does not depend on temperature or power (many notebooks exhibit more successful results at AC than on battery power – frequency of the incident). Here we like not noticed. Detailed results of the test slot (and not only) are shown below.
RAM in a laptop to 16GB; both available slots on the motherboard are occupied by modules Ripjaws. There are also optional memory from G.Skill, is for lovers.
User data is stored on two SSD-drives Plextor total capacity of 512 GB combined into RAID-array. Communication speed is delivered exclusively pleasant emotions. In general, the notebook has a site immediately to the three data storage devices (2 mSATA slot and one seat for the 2.5-inch hard disk or SSD Interface SATA III). Not Bad.
Noise and temperature characteristics
Excess heat disperse two 50-mm fans, almost constantly active, but not bothersome: slightly more than 30 dB when performing simple operations. In turn, provokes serious computational burden increased noise up to 47 dB, which is audible at a distance of two meters. But for the gaming device is normal.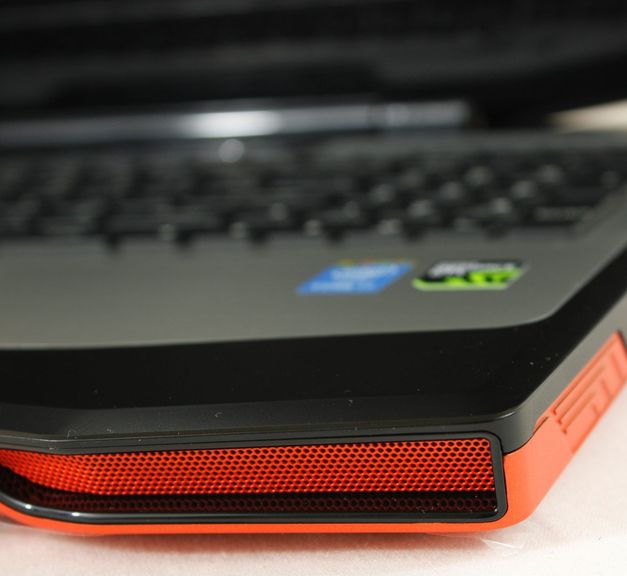 Cooling efficiency is no doubt that even if the average temperature of the bottom of the game is about 40 degrees Celsius, and in normal use the laptop at all can be called lukewarm.
Subwoofer yes – and no bass. Something like this can be described as a built-in 2.1 speaker system format that produces good and loud enough sound, but the bass in it, there is only a hint. However, background noise or distortion is not even a hint.
If necessary, connect the external speakers or headphones you can do so via SPDIF, 3.5-mm audio output, Bluetooth, HDMI or USB. (Although the popularity of USB-headset recently falls, and an external DAC has not everyone).
work Offline
Solid battery (74 Wh) is forced to deal with high-power high-power components and a bright screen. What comes out of it, demonstrated our standard test for the duration of the Internet WiFi (brightness exhibited by 40%, 150 cd / m2). Result – 5:00. Not Bad!
Watching movies, thus, the discharge device for 3-4 hours, and run the game at a high brightness and active interfaces even faster, little over an hour.
Verdict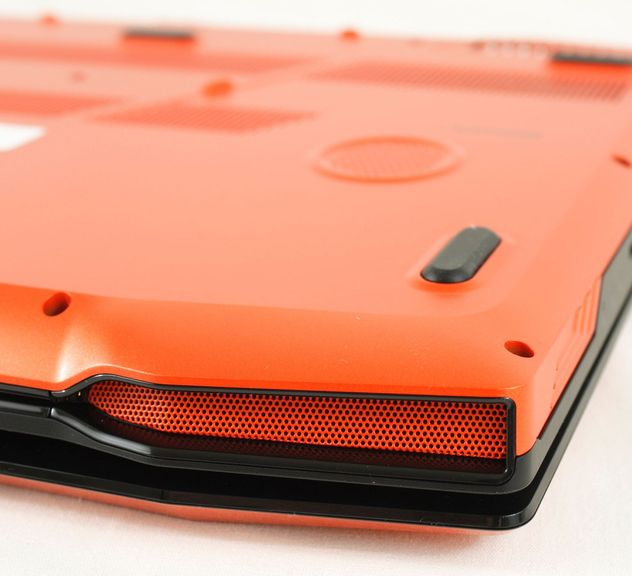 Surprisingly good model. Bright design fits soundly, fast filling. Laptop of this review clearly not disappoint its owner.
Of course, Chimera CX-9 clearly is not the fastest gaming device (available many models with a more powerful graphics card). Nor is it the most portable (compact fans should pay his view of the HP Omen or Razer Blade 14). However, CX-9 combines almost all the advantages of wishing for a gaming notebook, so boldly deserves a recommendation to buy.
Read another very interesting article about alternative energy of the Sun, water and air.