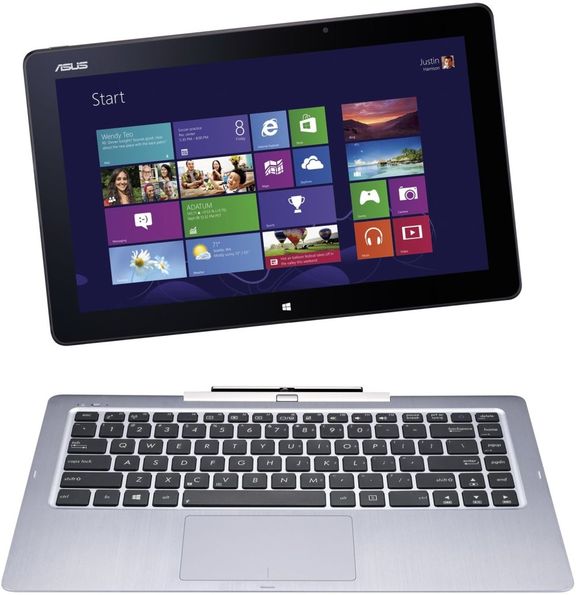 After passing the last year boom hybrid devices on the market able to hold only some models such as Lenovo Yoga. However, Asus has released a new hybrid computer. Hero of this review is a 13.3-inch Windows-tablet with the pluggable docking keyboard, the bundled with the device. Let's see how the advisability of purchasing this device.
Design ASUS Transformer Book T300LA
The device itself is quite large by modern standards, dimensions. The assembled weight ASUS Transformer Book T300LA is 1.9 kg, and thickness – 23.4 mm. Disassembled weight of the tablet is 1.1 kg with a thickness of 11.5 mm. Generally, 13-inch tablet – it's not the mobile solution, especially considering its weight, exceeding 1 kg. Some ultrabooks today weigh about as much as a part of the flatbed and ASUS Transformer Book T300LA.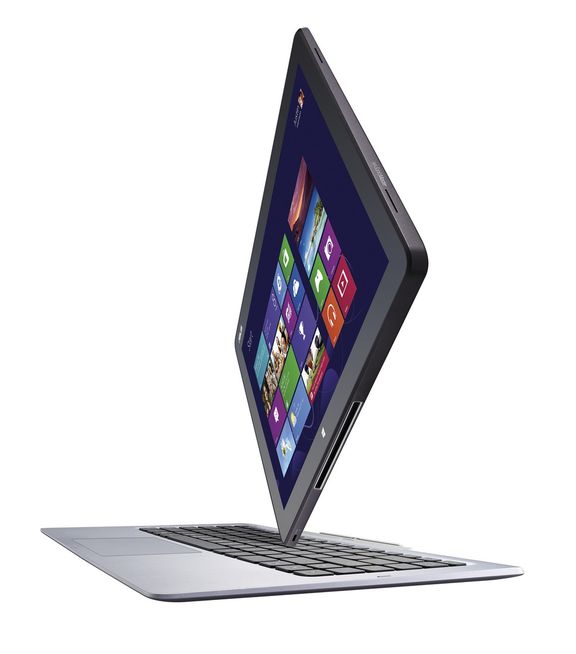 Despite the large size, ASUS Transformer Book T300LA has pretty decent appearance. The rear of the tablet is made of dark gray brushed aluminum, which makes the device look modern and expensive. The rear panel gets closer to the rounded edges, making the device comfortable to hold in tablet mode. On the back side of the device is engraved with a large logo Asus, and here is the main camera peephole.
The front panel of the unit is not much different from the other major Windows-tablets. Surrounded by a black frame screen and is covered with a protective glass oleophobic coating. On the top side of the device is another camcorder and company logo, and below is the key return to the main menu.
Working keypad is made of brushed aluminum, making the interior of the device assembled looks as good as its exterior. The lower part of the docking keyboard is made of plastic.
Input Devices ASUS Transformer Book T300LA
ASUS Transformer Book T300LA has a keyboard Chiclet having black keys, rounded at the edges. Keys are at a decent distance from each other, making text input occurs in relative comfort. Unfortunately, the keyboard has a fine move, which would have to get used to at first. Anyway, it's better than to enter text through a large touchscreen.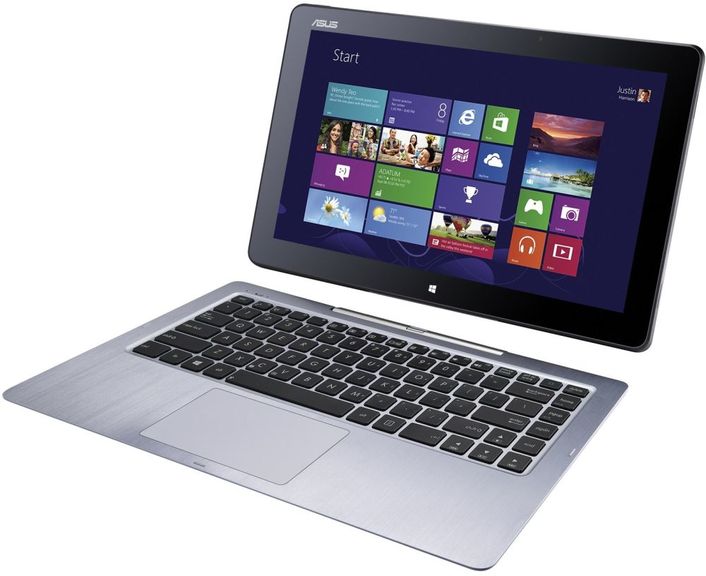 ASUS Transformer Book T300LA has a small touchpad that supports needed to work in Windows 8 gestures. The touchpad has a good sensitivity, but because of its size to work with it less convenient than with a touchscreen.
Screen ASUS Transformer Book T300LA
Screen ASUS Transformer Book T300LA has a diagonal of 13.3 inches with a resolution of 1920×1080 pixels. By the standards of this laptop is a very good figure, and by the standards of the tablet too. With high quality matrix IPS viewing angles of this display wide, the picture is quite bright and juicy. Also, the screen has good color reproduction.
Maximum brightness is not too high. Because of this, there may be some difficulties at work in an open space in sunny weather.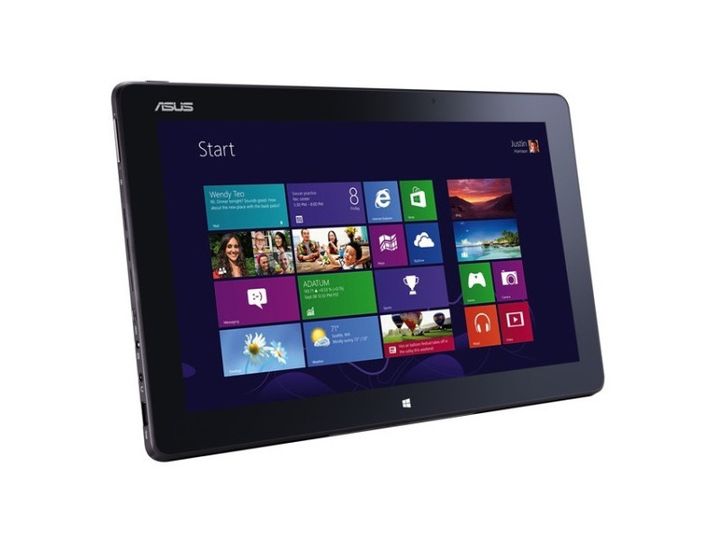 This screen well suited for everyday tasks, as well as to play games and watch movies. Perhaps the only downside to this screen – low level of brightness.
Performance ASUS Transformer Book T300LA
ASUS Transformer Book T300LA is based on low-voltage fourth-generation processor Intel Core i7-4500U. Besides ASUS Transformer Book T300LA has 4 GB of RAM, SSD storage, 128GB and Intel integrated graphics 4400.
Thanks to this stuffing this device can easily pull modern applications, work in multiple programs simultaneously, and perform everyday tasks such as working in a browser or reader.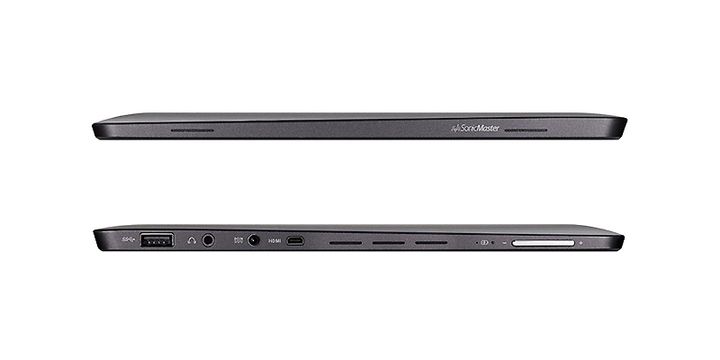 Interfaces ASUS Transformer Book T300LA
If you do not take into account the docking keyboard, the device has one connector USB 3.0, video micro-HDMI, power connector and a 3.5 mm headset audiodzhek. At the bottom of the device has an SD slot card.
The keyboard is equipped with the optional battery pack, significantly prolongs the life of the device, and a connector micro-USB, designed to charge this battery.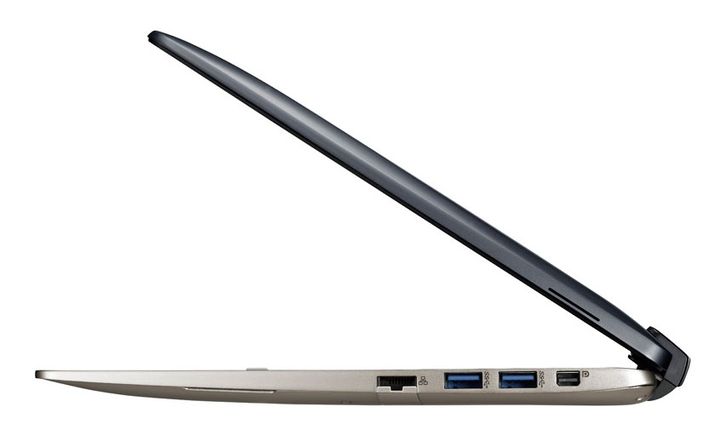 Output ASUS Transformer Book T300LA
Summing up, it is worth noting the positive and negative aspects of this device. Of the positive aspects can be distinguished comfortable keyboard, good performance for portable devices, as well as high-quality assembly and good design. Cons of this laptop are as follows: Tablet computer part weighs more than the average, which is why for a long time in the hands of her would not last. Also a bit lubricates good experiences low brightness level of the display. To buy or not – the choice is yours.
Read another very interesting article about alternative energy of the Sun, water and air.