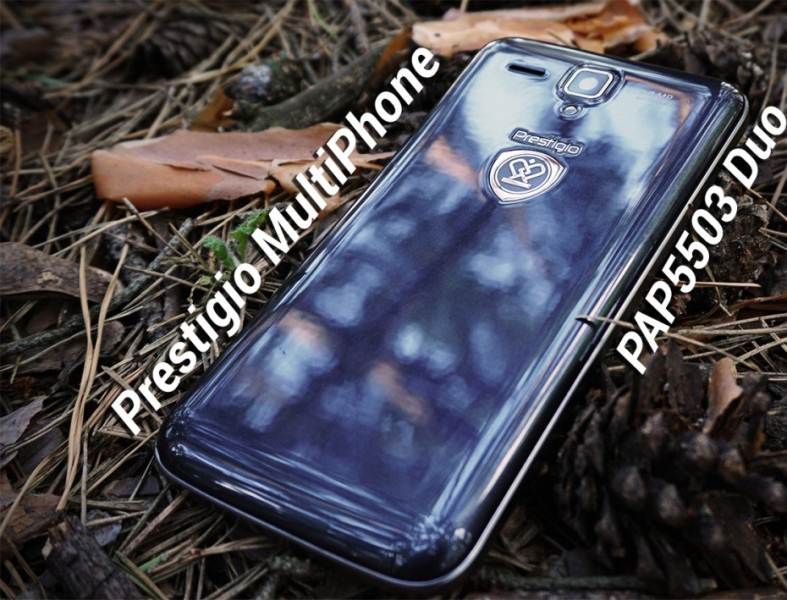 Prestigio company in our markets niche occupied the middle and lower price ranges. Typically, devices of this manufacturer can boast outstanding features premium materials or body, but all the same and they can stand anything. Hero of this review is as follows: for small money maker offers secondary device, the main feature of which is the battery, which then by as much as 4000 mAh.
First impressions – Prestigio MultiPhone PAP5503
Sensations resulting from the first acquaintance with the smartphone, one of the most important. No wonder they say that meet on clothes. This is especially true for mid-range devices, which are often chosen by consumers on store shelves. There's a situation similar to the pet store: what a kitten or puppy will look at the prettiest of all visitor slightly moist eyes, it is likely to take away and home. And no matter what he will then be more likely to spoil the furniture and shit in the sneaker owner.
The hero of our today's review, Prestigio MultiPhone PAP5503 Duo, just refers to the average price segment. Perhaps even bordered with very budget. In various stores its price varies from $ 170 to $ 200, and in this range, as you know, quite a lot of competition. What can we offer Prestigio?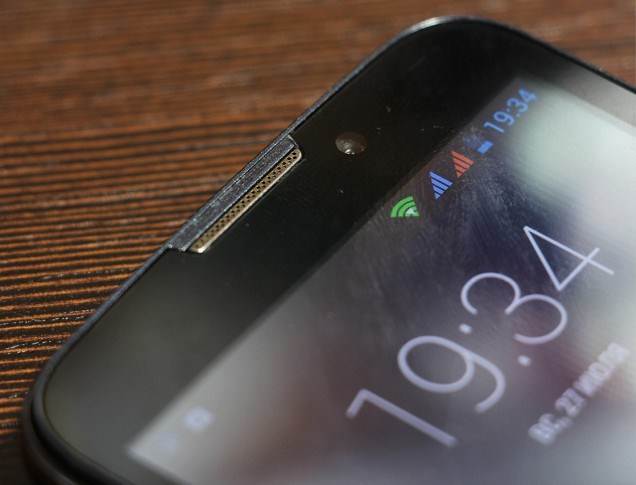 When you take the first smartphone in hand, I immediately felt quite large thickness and weight – 10.9 mm and 170 grams respectively. The remaining dimensions too tiny smartphone can not be called. This is due to the display on the 5 "around which the frame is not small, and the battery is 4000 mAh. It is a battery manufacturer and makes the main focus, as in the rest of the smartphone is not particularly interesting. Actually, largely because he capacious battery and turned out so thick and heavy.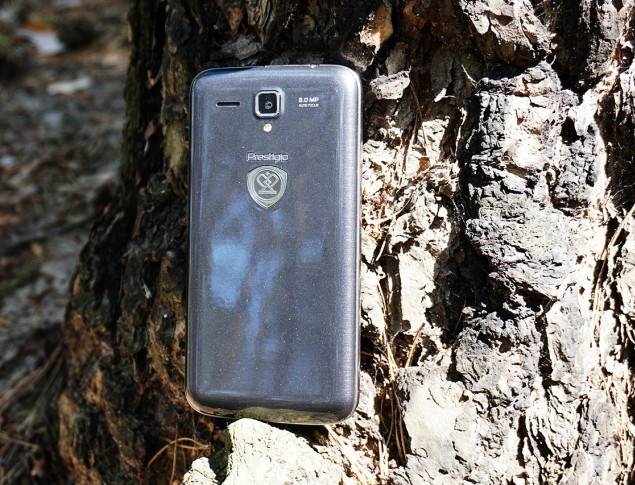 Outwardly Prestigio MultiPhone PAP5503 strongly resembles the design of Companies Which Must Not Be Named. To be more specific, its last year's model with the index or S4 – Note 2. Even drawing under-treated metal and the color is different. So, if you are somewhat familiar with the world of smartphones, then get ready for a very strong and explicit associations.
Design and ergonomics – Prestigio MultiPhone PAP5503
As already mentioned, about the design of no bother. If seal logo, then I am sure that many people may not recognize that it is in front of them Prestigio. Well, okay, probably will end on this question of who took what from whom – after all, this is not important.
Let's move on to the controls. Under the screen, the user can find three touch-sensitive keys. As for the device, which is released in 2014, is quite strange as they are set and location. From left to right are the "Menu", "home" and "back". Honestly, after using standard keys dictated onscreen buttons naked Android, I had a long time to get used to. This was especially true location of the arrows to the right of "home." Often, I clicked on the "menu" instead of "ago", which created some discomfort, although after some time yet used.
The volume rocker and power button are on the right side, and the inputs MicroUSB and 3.5mm jack – on top. Nothing unusual, it's pretty convenient, within reach. Slightly unusual location of the port for charging me personally nothing prevented.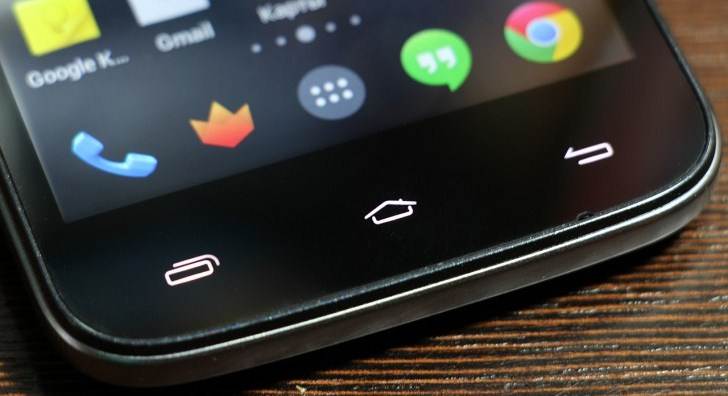 To say that the unit fits comfortably in your hand, I probably can not even make allowances for the size, which is now considered normal. Thickness and weight too big, and body materials considerably give cheapness. Fingerprints smartphone collects equally abundant on all sides, front, rear and sides.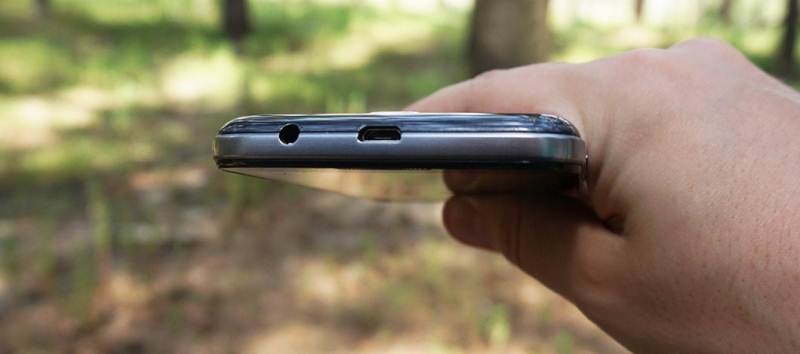 The latter can be solved with the help of a complete cover-flip. He did not open the side and down, which is not very convenient. This cover can save you from print, but not exactly the feeling of cheapness in their hands. And everything else he has to add thickness and weight.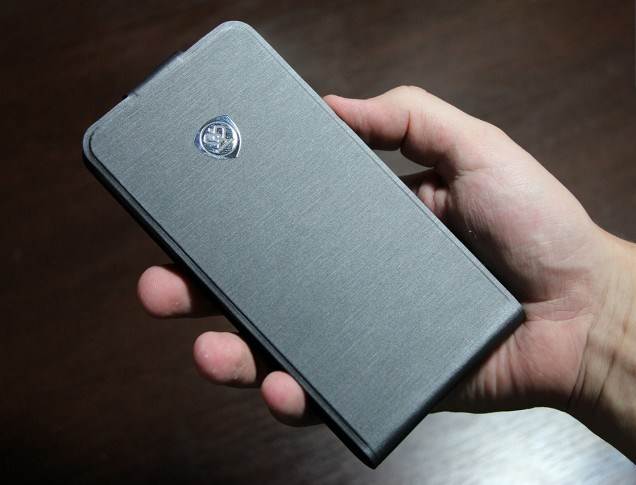 Responsiveness of some governments also leaves much to be desired. Maybe it's just in my sample, but often happened is that pressing on the touch button below the screen to recognize the second and sometimes third time. And it casts a significant shadow on the user experience.
Display – Prestigio MultiPhone PAP5503
When the diagonal 5″ – 960 × 540 resolution does not look very much and it's great. Still pixels highly salient. Of course, you can make allowances for the cost of a smartphone, but even at this price competitors already equip their gadgets p 720 panels, for example, Moto G or Xiaomi Red Rice. By the way, HD-resolution, in my opinion, in Prestigio MultiPhone PAP5503 would have been enough.
Does not add points screen and layer between the glass and the display itself. That same feeling that the picture is "right under your fingers," to which we have become accustomed to, it's not there.
The viewing angles are not the greatest, although I do not think this particular disadvantage. Much worse things with color. Black gives pretty gray, and all the other colors quite pale. Brightness is not entirely cover the desired range, leaving a margin on the one and on the other side.
Camera – Prestigio MultiPhone PAP5503
Main camera 8 megapixel images makes quite tolerable. Of course, print and hang on the walls of such photographs clearly not worth it, but provided good coverage for instagrama or other social services. networks come.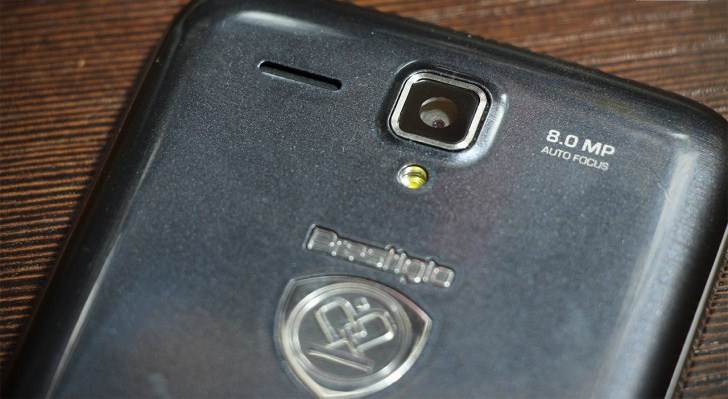 Especially for self improvement regime exists face. Judging by the fact that it smoothes skin tone and eye increases, this part of the software development is clearly taken from the eastern developers who like anime. As for me, the result is called beautiful is difficult.
Sound – Prestigio MultiPhone PAP5503
Main speaker sound to the left of the camera on the back, pretty loud, but the sound is flat and not the most pleasant. Watch videos and listen to music all the more, I would not recommend it. But you will not miss a call, unless the smartphone screen put up, so that the speaker overlap.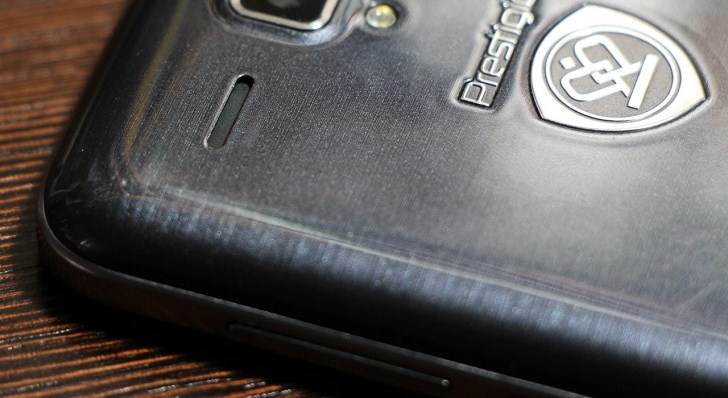 Included are ear-headphones. They flat wire and microphone with one button control. How to complete them very personal. While waiting for them sverhkachestva not worth it.
Software and Performance – Prestigio MultiPhone PAP5503
The operating system installed on board the Android 4.2 Jelly Bean. When you first start you will be asked quite a large number of third-party software, a significant portion of which is made Prestigio. Although from all this stuff can give some applications like toys left Danger Dash, package Office Suite, several branded apps from the manufacturer, and others will be installed without the possibility of removal.
Bearing in mind that the internal memory of 4 GB (and available at all 2.5 GB), not immediately get a memory card, because even without the heavy toys space very quickly end. Frankly, given the austerity in terms of space available out of the box, pre-toys that can not be removed, look strange.
The rest of us naked in front of Android is not the first freshness. Interface tossing very thoughtfully. By the way, my feeling is some third-party Extensions are faster than native, that for me was a big surprise.
Dialer and SMS app allows you to choose which of the two SIM cards installed to use. All standard. Incidentally, two SIM cards (both are "big", not the micro-and nano-) only one support 3G.
In games, oddly enough, smart showed himself very well. Demanding toys like Asphalt 8 worked quite quickly, no lag or hang-ups. Honestly, my expectations were surpassed. The contrast with the rendering speed interface is quite bright.
If anyone is still interested in reading benchmarks, the AnTuTu Prestigio scored a little more than 17k parrot-bagels.
Battery – Prestigio MultiPhone PAP5503
Life expectancy of a single battery charge – a clear place much smartphone, which emphasizes and manufacturer. 4000 mAh allow smartphone live really long. Two days he feels easy, but if podnapryachsya, you can squeeze more.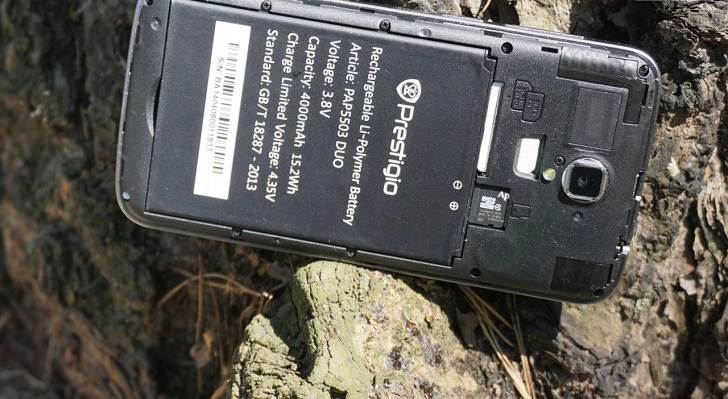 In this case plays a role not only the battery capacity but also the iron is not the most potent, such as the low-resolution screen. During testing, I was able to squeeze out a little of my copy of less than 8 hours on medium brightness. The manufacturer claims 11:00, but apparently it needs to create a "laboratory conditions."
I would like to mention the fact that the smartphone is very well behaved in sleep mode. Per night lost 2-3 per cent, and in fact such a luxury not afford even some flagships A-brands.
Output – Prestigio MultiPhone PAP5503
Prestigio MultiPhone PAP5503 is in the price range, in which competition is very high. Among the huge selection of inexpensive devices smartphone would have something to stand out. In this case, such a feature is the battery. It is really great and provides longer life between the approaches to the outlet.
In the rest in Prestigo everything works for their money, and sometimes even worse. Mediocre screen, large weight and thickness, with 4 GB of memory – all this leaves a negative impression. And it affects the price, because even undemanding users need a map microSD, which is not included.
However, if you need an inexpensive device that can not easily be recharged a few days, which will be used for calls to different numbers and at the same time to let the good taste of ownership smartphone like social networks or media content consumption, it may be a good Prestigio MultiPhone PAP5503 this.
Read another very interesting article about alternative energy of the Sun, water and air.