Sony has introduced a modern and flexible model Cyber-shot: compact camera  Sony Cyber-shot RX100 IV (model DSC-RX100M4) and a camera with a large zoom  Sony Cyber-shot RX10 II (model DSC-RX10M2). Camera equipped with the world's first multi-level CMOS-matrix with a diagonal of 1.0″ with chip Memory DRAM, 40x slow motion, 4K-video recording, high-speed shutter other functions.
Sony Cyber-shot RX10 II
Both new models feature the world's first multi-level  Sony Cyber-shot CMOS Exmor RS matrix [i] with a diagonal of 1.0″ with improved signal processing and included in the structure of the matrix memory chip DRAM.
The combination of high-speed signal processing chip and the DRAM allowed more than 5 times to accelerate the reading of the image data [ii]. It is this combination was the basis for a number of great features that were previously available only in some camcorders professional level.
Among these functions are accelerated to 40 times shooting up to 1000 frames per second [iii], [iv] for super slow motion ultra fast shutter with minimum exposure 1/32000 seconds, 4K-video with high resolution [v] and many others.
Shooting 40-fold
For the first time in a non-professional cameras Sony models RX100 IV and RX10 II can shoot video with – up to 40 times slower than normal speed, allowing users to capture images and play with incredible detail, clarity and resolution of the fleeting moments of action.
Before shooting, users will be able to choose the speed of 1000 fps, 500 fps or 250 fps and format , iv 50p or 25p [vi], to optimize the post in accordance with the speed of a moving object.
Sony Cyber-shot RX10 II
In addition, the possibility to use the record button as the 'start' to start recording by pressing a button or 'finish', so that when you press the button, recording stops.
Mode 'finish' button allows you to shoot for 2-4 seconds before pressing the button that enables the user to more consistently and accurately shoot the subject's movement at a crucial moment. For reference, the playback time of two seconds 25p format video at 1000 frames per second is about 80 seconds.
High-speed shutter, high-speed shooting
Impressive speed and power of a multi-level CMOS Exmor RS matrix with a diagonal 1.0″ and DRAM memory chip allows new cameras RX100 IV and RX10 II provides exceptional results with fast-moving objects.
Fast processing enables to realize continuous shooting at 16 frames per second in the model RX100 IV and up to 14 frames per second in the model  Sony Cyber-shot RX10 II for a longer period of time.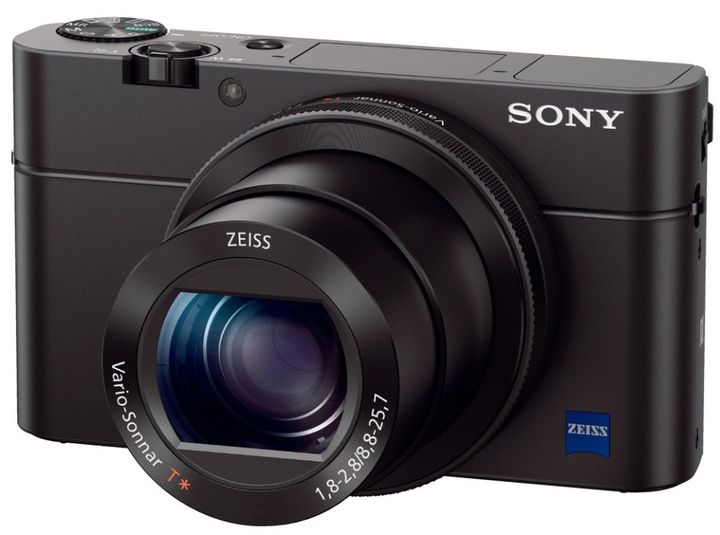 In addition, the ultra-fast data read from the image sensor has made possible high-speed shutter antidistorsionnogo (minimum exposure 1/32000 of a second) that allows new cameras to create a sharp, crystal clear images at wide open aperture and brightness levels to EV19 [vii].
Speed reading also minimizes the effect of «rolling shutter», which usually manifests itself when shooting fast-moving subjects. This allows photographers and videographers to shoot beautiful content with clearly focused objects and the defocused background even with the most complex bright light.
Sony Cyber-shot RX100 IV
Direct 4K-video with high accuracy
New models RX100 IV and RX10 II – this is the first camera Cyber-shot, which provide the user the advantages of 4K (QFHD 3840×2160) video. These cameras use the full pixel readout without combining them to provide post the smallest detail 4K-video with minimal expression of the jagged edges and moiré. This high quality is achieved through the use of advanced codec XAVC S, which is recording a high speed of 100 Mbit / s in the 4K format and 50 Mb / s format Full HDv.
Duration of shooting 4K-video in these cells is different. More professional camera RX10 II can shoot 4K for a long time (up to 29 minutes) while the RX100 IV compact camera for everyday shooting can shoot 4K-clips for up to approximately 5 minutes. Furthermore, in both chambers available professional level video features, such as a profile image, S-Log2 / S-Gamut other.
Both cameras offer dual recording feature, allowing the user to do during 4K-video images with a resolution of 16.8 megapixels in any of the 11 shooting modes. To do this, simply press the shutter button.
Stylish design, high-speed AF
The new camera RX100 IV retains the compact design of the family and the RX100 is equipped with a lens ZEISS® Vario-Sonnar T * 24-70 mm (35 mm equivalent) F1,8-F2,8. Model RX10 II retains the original design of the case is equipped with a camera and lens RX10 ZEISS® Vario-Sonnar T * 24-200 mm (35 mm equivalent) F2,8.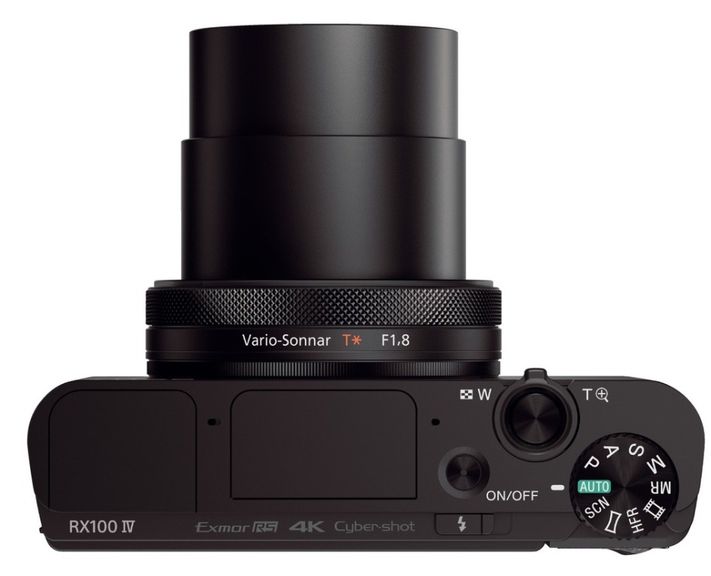 The cameras feature a new high-contrast viewfinder XGA OLED Tru-Finder ™ with a resolution of about 2.35 million pixels, which provides a realistic image preview and playback. The model RX100 IV retained the same convenient folding electronic viewfinder coated ZEISS® T *, as in models RX100 III, introduced last year.
Both new models use the modernized system of autofocus, which provides fast and accurate contrast focus of a moving subject in just 0.09 seconds [viii].
The patented Sony AF algorithm enables the system by pressing the shutter button halfway to identify and fix the object is much faster than in previous models. The new cameras are also compatible with Wi-Fi® and NFC ™ and can work with applications Sony PlayMemories Camera Applications, whose number is constantly growing. Learn more at www.sony.net/pmca.
In terms of aesthetics, the new models have many programmable functions and buttons, allowing them to adapt to any style of shooting. Camera RX10 II is protected against dust and moisture.
It provides a stylish new soft case LCS-RXG carrying cameras. Made of high quality genuine leather in two colors: black and brown. It perfectly complements the sleek design of the cameras  Sony Cyber-shot RX100, including the new RX100 IV.
Source: Sony
Read another very interesting article about alternative energy of the Sun, water and air.