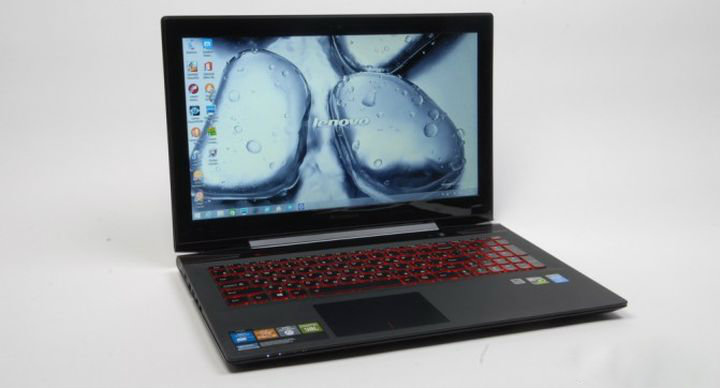 Gaming laptops are very specific goods – manufacturers need to accommodate high-performance components in a compact unit, take care of deriving heat, do not forget to draw the eye-catching design, add a comfortable keyboard, and so on. D. Do not overlook the value of such devices, the price tag often strive to be like a phone number. Today we look at it with one of these devices, meet – Lenovo Y50-70 (59-430837).
Compare prices
Series notebooks Lenovo Y50 consists of several variations of laptops, which differ in specifications. The most "stuffed" option has 4K display and 512GB SSD. The sample, which was granted by our editorial staff has a slightly more modest options, but we'll talk about below.
Scope of delivery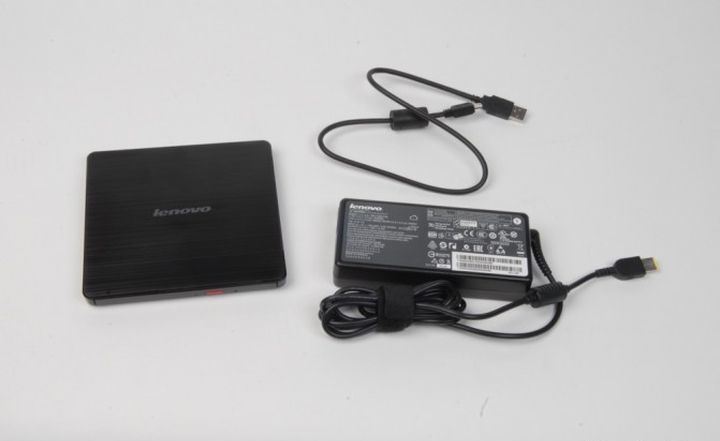 Lenovo Y50 is supplied as standard for the manufacturer of a cardboard box in which you can find the laptop, charger, external DVD-ROM drive with USB-cable and documentation.
Charger's connector is not quite a standard rectangular shape and at first glance resembles a USB.
Appearance, assembly
Taking a laptop with a little surprise package dimensions, namely thickness. Of course, affected by a lack built-in optical drive, but to reach 24 mm with similar equipment, not every manufacturer can. Competitors in this part of Lenovo Y50 virtually no, do-what Acer Aspire V Nitro.
Externally in front of us is a gaming device with a striking appearance, aggressive air ducts, bracing grid speakers and general superkarovskim style. The impression is that Filippo Perini, in addition to his work at Lamborghini, takes halturku from Lenovo and draws for the latest notebook design – it was too similar stylistics.
The outer part is completely framed with aluminum shabby texture. On the cover you can see the dark logo Lenovo, which at first can not miss. The lower part has gathered itself woofer with a bright maroon perforation, rubber feet for better traction more stable position on the table and the conclusion of heat. Also available at the bottom of the grid for the cooling system.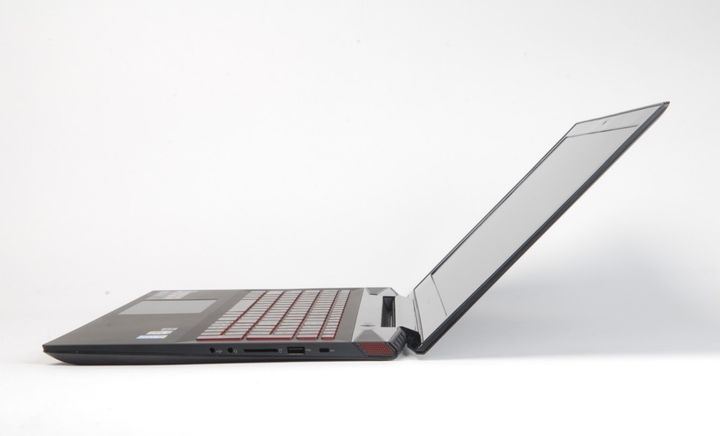 Opening the laptop immediately noticed dynamics, again performed as lights or air Lamborghini, which among other things from a reputable company JBL, but more on that later. And stands out keyboard with black finish and maroon ends – it looks expensive and beautiful.
In the role of the base material under the keyboard appears matte plastic with soft-touch coating. The touchpad is minimalistic, supports multi-touch and has a short, but quite stiff.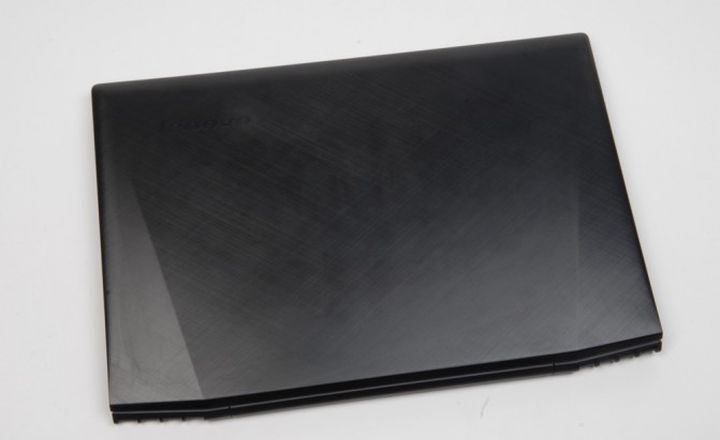 Area speakers and buttons on and recovery is made of glossy plastic, which goes to the edging matte display. Above the screen flaunts camera, LED-indicator and two microphones. To prevent damage to the display bezel has a small ledge.
Must warn that the fingerprints is quite noticeable thanks to the specifics of materials very hard derivable. Soft-touch coating inside is also excellent saves any traces. But the assembly on 5 out of 5 – nothing bad to say.
Connection indication
The left side is collected on a nest for the charger, plug Ethernet, HDMI and two permanently active USB 3.0.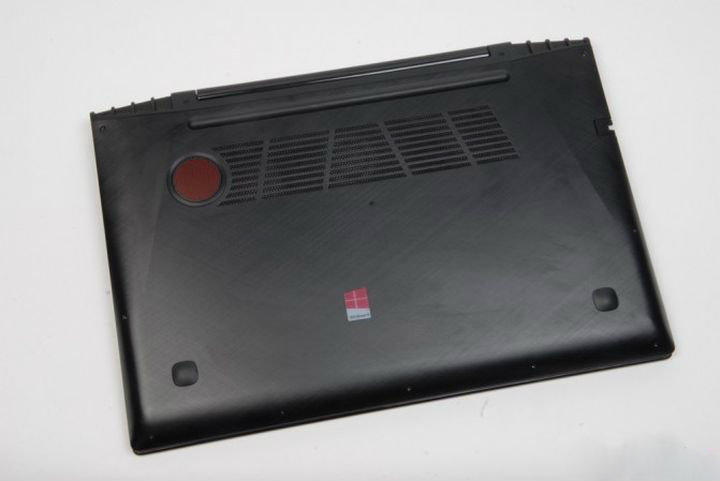 Right, in addition to the hole for the lock, has a port USB 2.0, slot for memory cards SD, combined Jack 3,5 mm headphone and microphone jacks and a 3.5mm SPDIF.
Front on the verge made four indicators in the left corner – inclusion, batteries, touchpad and hard disk.
Most users will complain no matter what.
Communication
Lenovo Y50, depending on the configuration, equipped with one of two wireless adapters – Intel Dual Band Wireless-AC 3160 (802.11ac) or Qualcomm Atheros AR956x (802.11 a / b / g / n). In our case this is the decision of Qualcomm, which almost always works stably, only once the signal was unstable and disappeared, but in the future it will not be repeated.
For Bluetooth 4.0 adapter that Qualcomm Atheros AR3012, with whom we have had no problems. Connecting via Ethernet gigabit adapters sold due from Realtek.
Ergonomics
I remember a gaming laptop Dell Alienware M15x sample of 2010, which had at that time as an impressive equipment and dimensions of the weight. Judge for yourself – four kilograms and thickness of 50 mm. Although at the time it seemed quite a bit. Now manufacturers have learned to accommodate more compact body filling, level gaming computers such as Tower. Lenovo Y50 is a representative of modern gaming notebooks.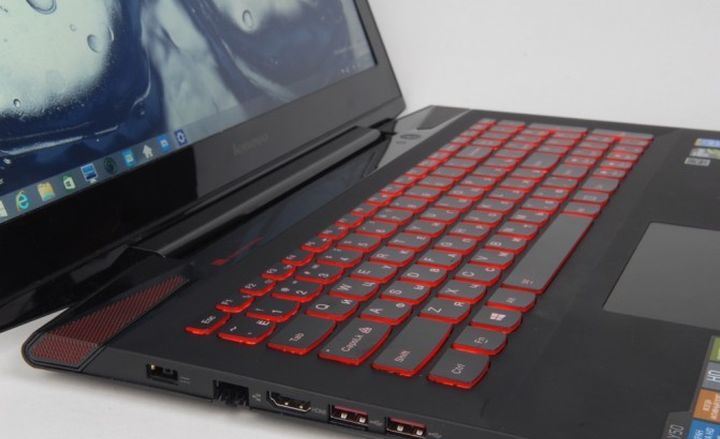 Weight 2.4 kg identical ultrabooks with such a diagonal , size is also very close to the latter. First and really can not believe that in the bag for 15-inch laptop fit game option. Actually, not only fit, but my work easier Lenovo Y570, which allows to arrange game sessions at any places.
Model is very convenient to use in the first place it is implemented using full-size keyboard with numeric keypad AccuType. The keyboard has an island style with rounded corners, blind set of possible just 10 minutes of work.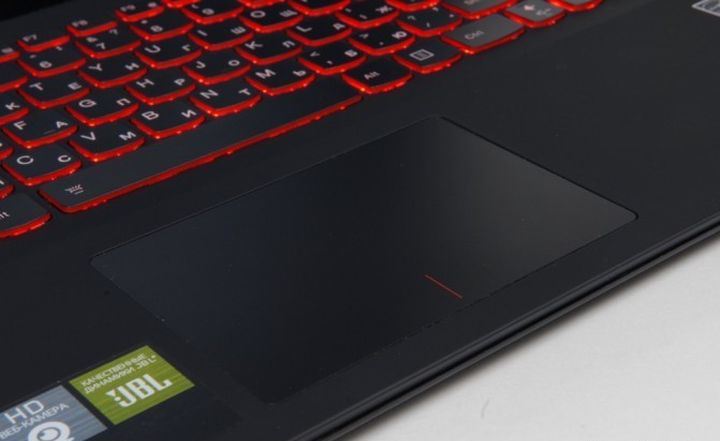 Well, of course, also want to note the aggressive red backlit keys, which emphasizes the purpose of the notebook and makes the design complete. The latter has two grades – dim and bright, well, the ability to shutdown (all using keyboard shortcuts Fn + Space).
Conclusion of hot air from the bottom and realized right below the screen, which is quite unusual. At high load and cool heated top of the keyboard, especially keys WASD.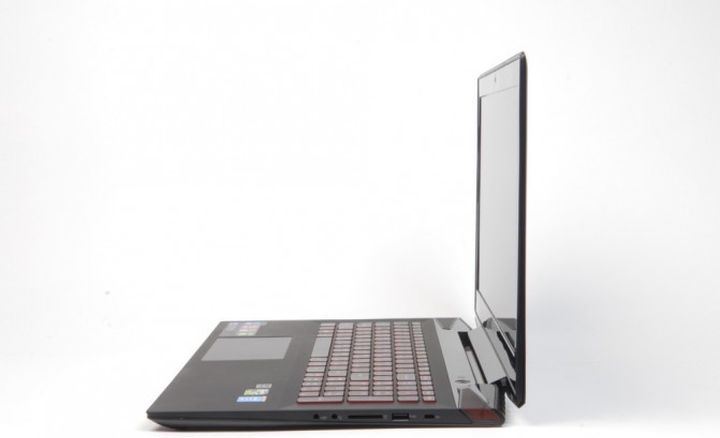 Since the bottom of the laptop is a perforation for the fans, then play something demanding on your lap or a couch should not be – could cause overheating of internal components. And for such devices, we would recommend to buy the stand with the fans – will not be superfluous.
Display
Our sample Lenovo Y50-70 (59-430837) is equipped with a Full HD screen with a matrix TN + film and a matte finish. Before us is a typical representative of such displays, with all the attendant advantages and disadvantages.
High resolution affects the good detail that cool significantly in video games. But the vertical viewing angles are sorrowful, especially when working not at the table. Well absorbs glare matte display that pleases – bad image visible even in bright sunlight, but the maximum brightness could be higher. Framed by glossy display frame.
Multimedia
Every time seeing on laptops logos JBL, Beats by Dr. Dre or other brand-name manufacturers thought creeps "Maybe this time really sounds?". But, no. At this time also.
You do not think the sound, as for laptops, it is good, that is also responsible for a small subwoofer on the bottom side of the notebook and two speakers below the screen. Such a decision would be enough for viewing movies on YouTube, or series of sessions in Dota.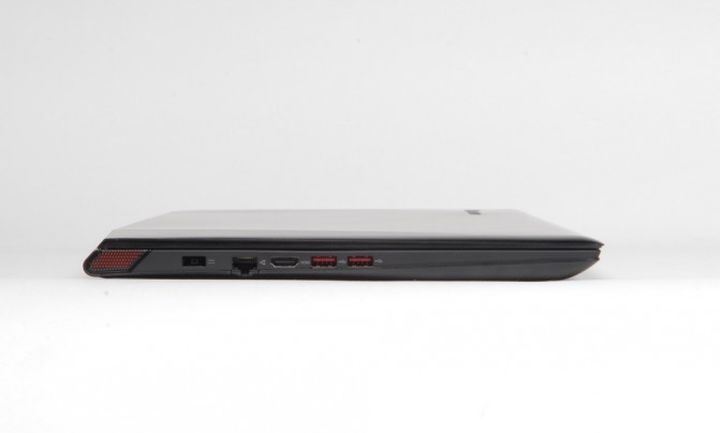 Audio system built on the codec Realtek ALC272 c technology to support Dolby Advanced Audio. When you connect a good sound system or headphones sound good, but nothing extraordinary.
Wide-angle camera and microphone are also nothing special in itself is not, but to communicate in Skype fit perfectly.
Functionality
And finally, the most important thing – what's inside. So there you go.
Processor Intel Core i7-4710HQ with a clock frequency of 2.5 GHz.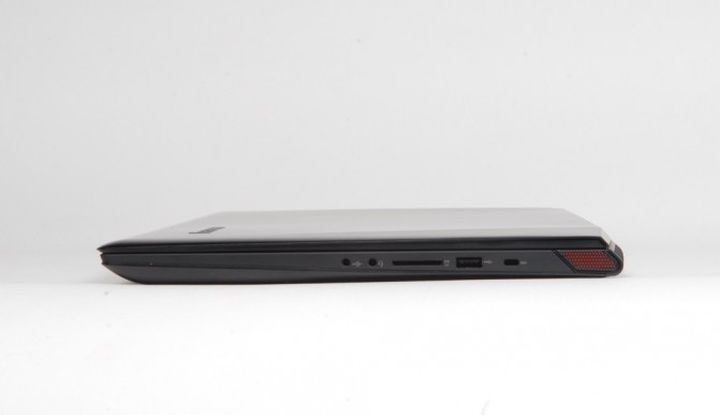 A discrete graphics card NVIDIA GeForce GTX 860M with 4GB memory + integrated video Intel HD Graphics 4600.
Hybrid hard drive with 5400 RPM 1TB and integrated NAND Flash-memory of 8 GB.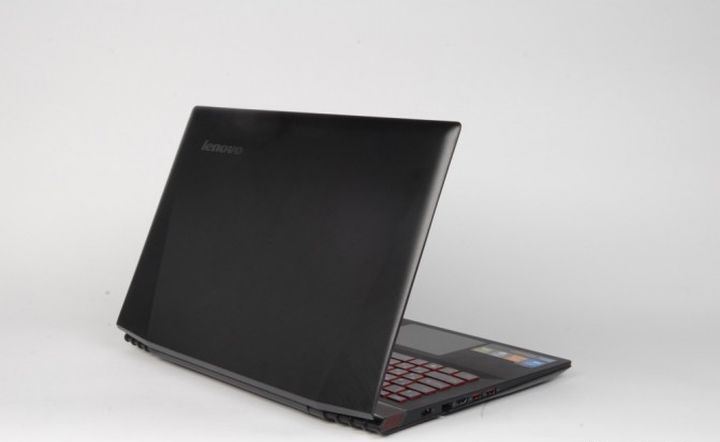 Performance, of course, at a high level, it proves benchmarks and modern computer games.
But, unfortunately, brand new Assassin's Creed Unity and Call of Duty: Advanced Warfare twisting at all graphics settings at maximum issue quite obscene amount of FPS – from 1 to 10. At high settings Lenovo Y50 shows excellent performance with a highly detailed image.
Benchmark built Middle-earth: Shadow of Mordor on the graphics settings "ultra" shows worthy of 30+ frames per second.
Need for Speed: Rivals also shows the maximum graphic settings fixed 30 FPS.
Many might upset by the fact that when you buy so not cheap solution is not possible to completely get the most out of all the modern game works, but the fact remains – for portability to pay.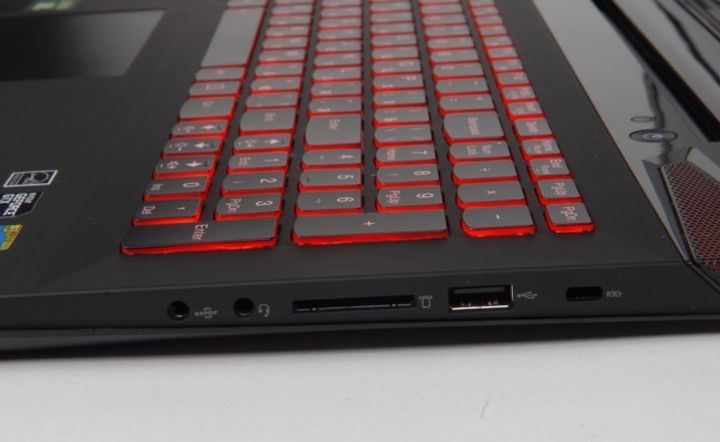 Comes Lenovo Y50-70 (59-430837) with pre-installed operating system Windows 8.1. And of course have access to a set of pre-installed software.
Special attention is given program Energy Manager, which has become a classic for laptops by Lenovo. Here you can put a performance mode (power saving, balanced, high performance) and a special mode to load, which prevents the inclusion of sleep mode and turn off the display. To avoid premature wear of the battery has a storage function, which does not allow for charging to keep the charge level of 100%, and supports a range of values ​​from 55 to 60%. Also, in addition to all of the above, there are a number of other useful features.
Autonomy
The battery is built-in and to get to it you need to remove the back cover of the notebook, which personally I have not come to remove, for a chance to break the attachment in speakers.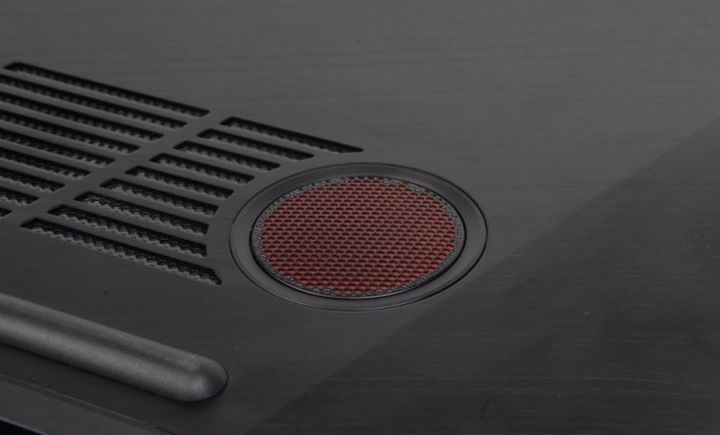 When testing the program Battery Eater with maximum brightness turned a little more 3:30 hours in read mode and about 1:15 in the maximum load. These results are typical of such devices.
In summary
So what will get intrigued by the player with the purchase of this product? Modern, slim, beautiful, productive portable gaming processor, which allows you to pass all modern games at high graphics settings. Represent good value, especially if you look at classmates – about the same price. But the fault, unfortunately, there is something, namely the display and viewing angles, I would like to see a better solution in this class.
We liked:
+ Productivity
+ Design
+ Quality materials
+ Build
+ Keyboard
We do not like:
– The viewing angles of the display
Read another very interesting article about alternative energy of the Sun, water and air.