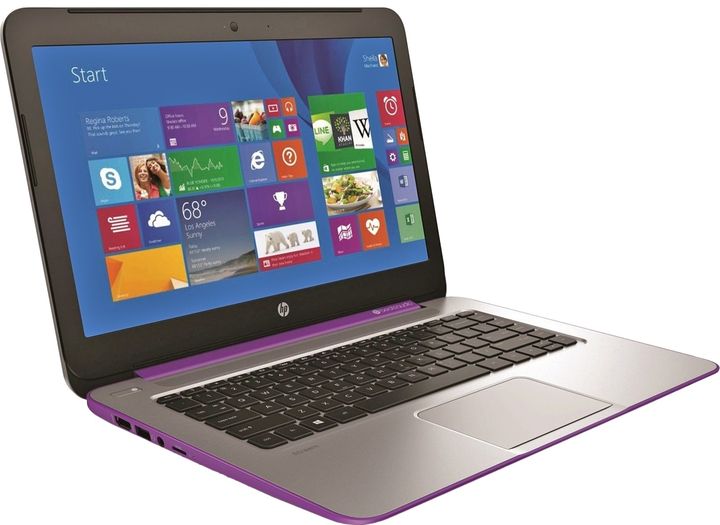 Despite their affiliation to the budget segment, HP Stream 14, worth about $ 300, is a very good example of modern portable electronics. Of the budget it is only filling, while outwardly he deserves accolades and envious sighs competitors. This 14-inch laptop is designed to work exclusively with neresursoemkimi applications or can be used as a companion in the journey. Moreover, it is equipped with a passive cooling system, due to what is virtually silent. But did little among us who do not need to perform heavy tasks, play demanding games or ship the system clock photoshop?
Scope of delivery
Supplied laptop completely not rich – only charger and instruction booklet manual.
Design
Yeah, on the exterior of the HP Stream 14-z002na ask many modern heat Hipsters – both from the budget segment, and more expensive. He is fundamentally different from the boring "chests", with which today the market is crowded, and offers the user a palette of bright colors. We tested a copy of a silvery-purple color, even commercially available option in the green and gray. Who would have thought that at first glance this little bar as bright body, brings so much positive perception in the notebook?
HP Stream 14 was almost completely metal body than fundamentally different from their counterparts in the segment. He is thin, fairly light and compact, with dimensions of housing 346h236h17 mm and weighs 1.6 kg. Metal cover of the laptop has a nice silver rough surface, which is absolutely not fingerprints. Located in the middle of the company's logo in purple frame, at the top – a plastic strip to receive the signal wireless modules.
Inside the purple performed a longitudinal hinge and slim bezel of the working surface. Working area metal – neatness, thus preserved, but the heat conductivity of the metal is too good and it is clear there is a load that is not very comfortable for the hands at certain moments. In the company to the silver and purple black color added to the keyboard and the plastic frame of the display.
The bottom of the laptop is almost completely released from the functional elements – only two speaker grilles, four support legs and a few locking screws. The bottom is a solid plastic panel entirely violet, which has a rough texture.
Open the laptop with one hand you are unlikely to succeed – the second half of the device is too easy. But hinge keeps the lid is fine, the maximum angle of inclination is small, and not always enough for comfortable work. But on the issue of the quality of the assembly manifest the first effects of budget: the laptop lid flexes too much, as well as a working surface.
Display, sound, webcam
According to AIDA64, we are dealing with a matrix LGD0466 resolution 1366×768 pixels and an aspect ratio of 16: 9. 14-inch monitor is manufactured with TN-technology. It is limited to a fairly wide plastic frame black. In the top part of the eye webcam accompanied indicator and microphone hole. Downstairs is another company logo.
Viewing angles are imperfect, but wide enough to, in most cases do not experience discomfort during use. Horizontal traditionally better vertical, although the latter is quite tolerant, even at the maximum disclosure of the display. The glossy screen coating helps to better color reproduction, but is playing a cruel joke on the question of reflection of everything around in bright light. The brightness is regulated keys [F2] and [F3]. According to the test results, the maximum brightness is 211 cd / m2, and the value of the black at 100% illumination 2.54 cd / m2. Contrast 80: 1.
Our laptop has a very good display, as compared with other budget devices in brightness is only 15 cd inferior ASUS K56CB, and 13 kd ahead of Dell Inspiron 3537. And in contrast so generally ranked second in the comparative chart.
The maximum deviation of the uniformity of illumination reaches 14%, particularly noticeable in the lower right corner of the display.
Color reproduction is also far from ideal, as space sRGB is covered by 64%, and AdobeRGB – 48%. In this paper it is certainly there, but it should be clear that in the performance of professional and multimedia tasks HP Stream 14 is not designed a priori.
Available HP Stream 14-z002na has audio technology Beats Studio (which is very surprising for such an inexpensive laptop) and as many as four speakers located on the bottom of the hull and above the keyboard.
The sound is very good, but no more. No matter how you tried to correct it by adjusting to the Beats Studio, significant improvements will not get. Acoustics clearly lacks purity, volume, not to mention for the bass. In general, be reserved headphones or external speakers, ladies and gentlemen, you need them.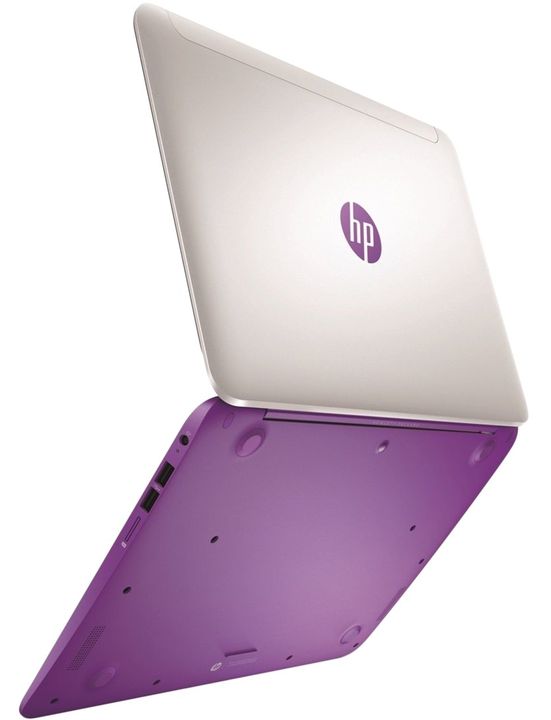 HD webcam is also not much of a potential. However, all is logical, if we recall that HP Stream 14 – an inexpensive laptop.
Photo taken with her help, bright, but the image is of low precision and are too grainy to be considered good. In general, enough for Skype, but more something is not required.
Keyboard and Touchpad
The keypad is located on a metal substrate, noticeably flexed under pressure. It is an island, with a fairly large plastic buttons, except for the arrow up / down – they are clipped at 50% height. It is not very convenient as when using one of these very often under the finger hits neighbor. The layout is standard. For example, functional digging [F6], [F7] and [F8] are responsible for the mute and volume decrease and increase, respectively. The keys have a middle course, pressed very gently – the first time was not very convenient to work with the keyboard. When you press it virtually silent.
Talk about the backlit keyboard, as well as on nampade, it is not necessary – in the first case, the budget allows, and in the second the size of the laptop.
In addition to the power button, equipped with built-in indicator, on the working surface is no separate keys not.
The dimensions of the touch zones constitute 99h68 mm. It has the form of a solid panel with a smooth texture. The touchpad is very sensitive, supports multi-touch gestures, such as pinch zooming to scale the image or icon on your desktop, and if you run your finger from the right side to the center, you can call the magic key Windows.
Performance
HP Stream 14-z002na (K3G99EA) running the operating system Windows 8.1, which is already available for application TripAdvisor.
Of course, we should not ignore the Windows Store with a mass of available applications.
In addition, all owners of HP Stream will be available cloud storage HP Connected Drive 100 GB capacity for storing files. However, free access will be limited to the first two years of use, and go to the cloud without the Internet, you can not.
In the HP Stream 14-z002na provided budget quad-core AMD A4 Micro-6400T. It is part of a new generation of architectural Mullins, presented at the end of the first quarter of 2014. CPU core operating at a frequency of 1-1.6 GHz. The chip has a TDP of just only 4.5 watts, which allows its use even in mobile devices such as tablets. Therefore, the use of AMD A4 Micro-6400T laptop with a passive cooling is more than justified. Cache size is 2 MB.
Integrated graphics card Radeon R3 is a rather weak graphics solution with a frequency of only 350 MHz. In terms of performance, it competes with built-in Intel-generation Ivy Bridge. Has 128 shaders.
With 3DMark06 benchmark we tested the capabilities of a notebook, eventually getting 2972 points.
In 3DMark 11 from Futuremark HP Stream 14, a total of 445 points scored. It uses a slightly different algorithm for measurements based on the physical, graphical and combined tests. Most were recruited in physics – 1277 points chart – 395 points combined – 435 points.
Predictably, the integrated graphics of the APU is somewhat weaker than that used in the ULV-chip version of Intel Celeron or fourth-generation AMD A8, despite the higher frequency and TDP, so the lag in the schedule completely justified.
3DMark06 in 2013, consisting of four subtests of varying complexity, analyze 3D-graphics performance. The lowest score was scored in the Fire Strike -217. Then went on increasing: in the Sky Diver – 1007 points in the Cloud Gate – 1774 points in Ice Storm – 21211 points.
Here, the performance of the test laptop was almost on par with the Pentium 2117U and video card Intel (Ivy Bridge), established in ASUS K56CB, although the frequency of the latter is slightly higher CPU.
Also, to test your CPU and graphics card we used two versions of Cinebench – R11.5 and R15.0.
Recall new test uses sophisticated scene, new estimates, supporting up to 256 streams. So, in the Cinebench R11.5 CPU was estimated at 1.19 pts, video card – a 9.62 fps. In Cinebench R15.0 graphics earned 8.77 fps, CPU – 95 cb.
Here our test laptop with Micro-6400T on par with Dell Inspiron 3537 with the processor Celeron 2955U (1400 MHz), but on the part of the evaluation schedules it occupies an intermediate position between Dell and ASUS K56CB with integrated graphics generation Ivy Bridge.
PCMark 7 offers a comprehensive assessment of all systems of the laptop, the result of which is the total score. In this test, HP Stream 14-z002na scored 2115 points – the result is brilliant, to put it bluntly, but we are dealing with a budget option, so no complaints.
On a comparative chart our test case proved productive Dell Inspiron 3537, which is powered by Haswell, and the difference is significant – nearly 500 points.

We used another comprehensive benchmark PCMark 8, which in the process of testing assesses the performance of the system in simple games, when decoding and viewing videos, editing photos and documents, surfing the web. As a result, the system has received 1318 points, to be honest, the result is not brilliant, but for a budget laptop is very decent, and the same HP Pavilion 15-p054nd left slightly forward.
Neither SSD, HDD or in this laptop is not provided. It uses flash memory of 32 GB eMMC. This means that store movies or music, mostly have on external media, and if you love toys – look for the presence of slots for microSD, as his participation in this matter will be necessary. The fact that the user of the total volume available just over 16 GB, everything else goes under the system. BHT WR202A1032G 6702 drive connects via SATA 2.5 interface and, judging by the results of the test HDTune, works quite quickly: the minimum read speed of 80.2 MB / s, the maximum – 115. 6 MB / s, the average – 113.8 MB / s. Access time just 0.333 ms.
The amount of RAM standard DDR3-1333 is 2 GB. Memory SK Hynix H5TC4G63AFR-PBA soldered on the motherboard, so that to increase the RAM will not work.
Game
Of course, you can not count on the fact that the issue of gaming performance HP Stream 14 show aerobatics. For testing, we used the two games, but far from the most demanding – FIFA 14 and StarCraft II: Wings of Liberty. In the first case were exposed to medium graphics settings, the second lowest, but in fact, and in another case, a native screen resolution left – 1366×768 pixels. As a result, in FIFA 14 have 44 fps, in StarCraft II: Wings of Liberty – 33 fps. It is a good idea, as the gameplay is comfortable without braking and locked up.
Ports and Communications
In the HP Stream 14 you will not find something special on the part of connectors – they are few in number and variety. On the left side are located close HDMI, USB 3.0, a combined audio jack, microSD card slot and a status LED for laptop.
Front and back nothing.
On the right side is a slot for the charger indicator and accompanied by a pair of USB 2.0.
From the wireless networks available Bluetooth 4.0, Wi-Fi 802.11a / b / g / n (combined controller Realtek RTL8723BE), as well as Wi-Fi Direct.
Heating
HP Stream 14 is enough small notebook, therefore, it can be used without problems "on the road". In this case, the laptop will be used most often in the knees, and this is a direct correlation with the degree of heating of the case. However, within this kid missing coolers, and, accordingly, the vents, so the hot air flow to the user is not threatened (and with it, and discomfort). Despite the lack of active cooling in this device is all right on the part of heating: in simple it is cold, as the highest rate of no more than 27.1 degrees Celsius.
With utility CPUID HWMonitor we looked at the picture of the heating of internal components, and, incidentally, were satisfied: the spread of CPU temperature was 42-63 degrees Celsius, the card warmed up to 64 degrees Celsius.
Battery
That the device is based on energy-efficient platform should be displayed in a positive way on the question of autonomy, because sacrificing performance, it has a low TDP. In fact, the assumption was confirmed, and the results were even higher than we expected. In power saving mode HP Stream 14, being armed with 3-cell lithium-polymer battery capacity of 32 Wh, is able to work in the «Read» 8:00 22 minutes, in «Classic» – 4 hours 15 minutes, to a simpler time is as much as 21 hours and 7 minutes. In comparison, only ASUS X550LA approached our sample on autonomy, other test laptops lagging far behind.
When installing the power plan "High performance" our test sample worked autonomously 6:00 25 minutes, and in the mode of «Classic» – 3:00 53 minutes. He is the undisputed leader in the comparative table, significantly ahead of the competition with other options for energy efficiency toppings.
Charging HP Stream 45-watt power supply for 2 hours 10 minutes.
This notebook can hardly be called "greedy", and the competition it looks most pretty in the issue of energy consumption. In a simple, when surfing the web and stress test it consumes 10 W, 12 W and 15 W, respectively.
Conclusion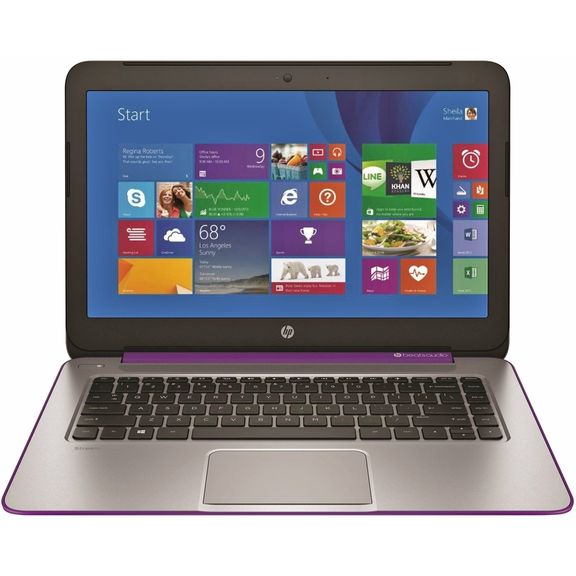 From the HP Stream 14-z002na was very interesting budget option that can make a winning competition tablets and Chromebooks. It has a compact design cheerful, with a metal body, which really did not expect from an inexpensive laptop. Of course, there is in him and disadvantages, which are entirely explained by price category – it's a mediocre display, and very limited number of slots, and a small amount of flash memory, and, by and large, low operating voltage. Therefore, if you are accustomed to the comfort and you can not deny myself the basic facilities acquiring HP Stream 14 for $ 300, will have to stock up immediately adapters and adapters with additional ports, as well as an external drive.
However, HP Stream 14-z002na is perfect for those who prefer a night sit-round gathering at the gaming laptop travel, communication and constant movement. If you do not need a laptop to something supernatural, only compact, the ability poserfit online, show photo from the wedding of a friend or print an article about polar penguins, then, of course, HP Stream 14 is just what you need. Albeit due to the shortage of performance, but it offers a good autonomy, excellent performance and heating energy consumption, quiet, and, sometimes, it is more valuable than, for example, the ability to mount a video or hack to death a couple of monsters.
Read another very interesting article about alternative energy of the Sun, water and air.