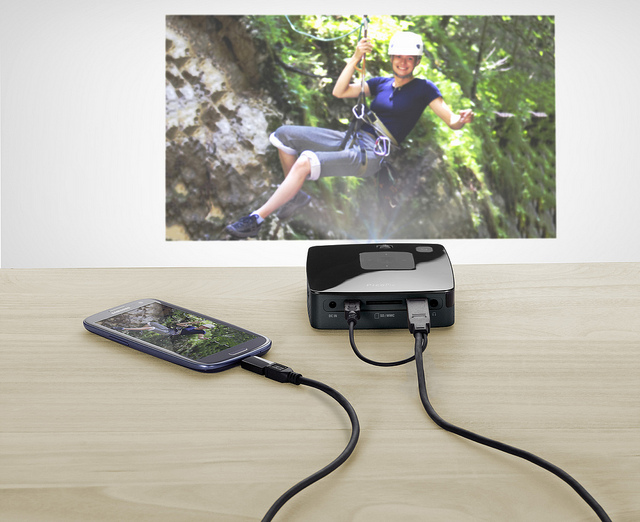 Under the brand Philips at IFA 2013 Four models of portable projectors. Of course, the Philips they only label , and themselves projectors will release a French company Sagemcom. The older model , Screeneo, can transmit the image with diagonal reaching 100 inches from a distance of 44 centimeters , and connect to any source with an entire package of interfaces (Bluetooth, WiFi -enabled Miracast, DLNA, LAN, USB, HDMI, a slot for SD- cards) . PicoPix PPX 3407 , PPX 3410 , PicoPix PPX 2340 – it's pico- projectors . By the number of interfaces, they are unlikely to yield Screeneo, and barely exceed the size of a smartphone.
Minimum working distance for Screeneo – 10 centimeters. Luminance information , unfortunately, is not, as the resolution of the image. It must be assumed that in these dimensions and positioning it comes to FullHD, no less. Using a variety of interfaces to the projector can be connected to anything: computer, laptop , hard drive, USB flash drive, smart phone, pad, tablet. Comfort and switch between different devices , and grandmother did not go , will depend entirely on the adequacy of the interface (with whom I am, alas, not yet known) . But the projector looks in the photos terribly seriously and personable .
It should Screeneo incredibly immodest – 1.5 thousand euros in retail in Europe ( 17,000 USD ). But that's no reason to be upset, because before our corners this expensive , but very beautiful and smart thing hardly will reach .
Projectors PicoPix PPX PPX 3407 and 3410 – one less than the other . Both are able to open Office documents . The maximum resolution is 854×480 issued pixels and the image size can reach 120 inches (305 cm). The truth at such a scale and resolution of the image quality is unlikely to be able to withstand criticism. But the document goes. Movies and photos , I think, will look only a bit better than on the screen, inexpensive smartphone. And to work with projectors will be available only in total darkness. Their brightness is 100 lumens and 70 , respectively. Should not be expected from the pictures and depth of color, natural colors . I think that especially valuable for these projectors are middle managers or for those who like to spend a weekend at the cottage. Hardly prices both devices will burn pocket , while occupying little space and can be connected to various devices including mobile.
PicoPix PPX 2340 – the youngest of the model presented at the IFA 2013 . Brightness – 40 lumens , the maximum resolution – 640×360 pixels . Honestly, imagine the purpose of this model is very difficult to me . It looks very nice , has , as can be seen from the images , thoughtful housing. And even a built- in battery PicoPix PPX 2340 is! But the resolution is too low and too little brightness hardly make PicoPix PPX 2340 useful thing . Rather, it is perceived as a trinket for children and adolescents.
Read another very interesting article about alternative energy of the Sun, water and air.