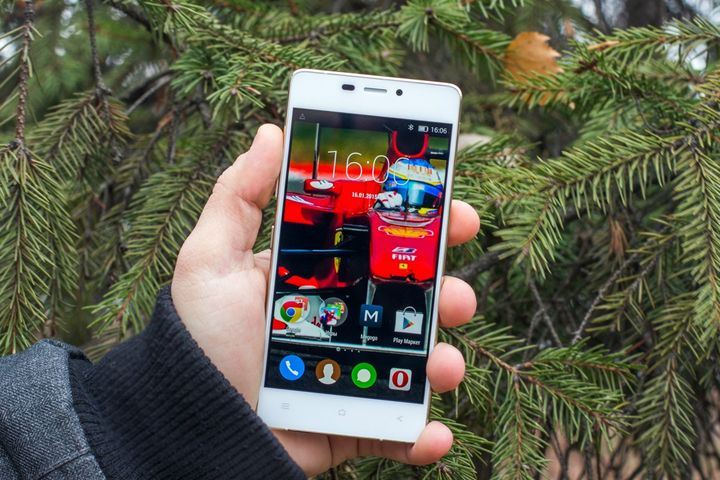 On the test Smartphone.ua the thinnest smartphone last year – Fly Tornado Slim IQ4516 Octa. He for his 5.15 mm thickness in the glory awarded the Guinness World Records. What hardware stuffing besides the 8-core processor manufacturer has put in such an elegant body, which is capable camera, and what else could surprise his owner this device worth 220 USD, read the review.
Design and body
Fly Tornado Slim IQ4516 Octa – is the result of a bold experiment designers and engineers who do not dare just thinnest smartphone, and ultra-thin. However, they did not deprive him by all the usual ports and connectors. Even a 3.5 mm audio outputs are not removed, such as is done in ALCATEL ONETOUCH Idol Ultra. In addition to the elegant metal rim in gold tested smartphone was thin frame on the right and left of the screen. Both panels, front and back, this is a durable glass Gorilla Glass 3, so that you can safely wear Fly Tornado Slim without a case, the main thing is not to drop to the floor. Cover this device, in my opinion, simply is contraindicated, such beauty can not hide.
The transition between the ends of the body and glass panels arranged through the polished slice on the metal. Visually, it makes the phone with a 4.8-inch display is even thinner actual dimensions (139.8 x 67.5 mm) and it weighs 95.5 grams.
On the test unit we have in white and fingerprints on it are practically invisible due to a light substrate. On the front panel, thanks to the oleophobic coating traces wiped touches in an instant. Tornado Slim also available in black.
If we continue the theme of the materials it is necessary to say that they really picked up as befits a flagship. In addition, during the operation model IQ4516 Octa did not raise a single question about the build quality and design elements fit together. This is really a one-piece molded candy bar, inside of which a frame made of aluminum alloy. He and at the ends.
The first time, by the way, I thought that it would not hurt to make this tube well at least an inch thick. But that was until I got used to after your smartphone with a thickness of 9 mm and a weight of 150 grams passes. By the second or third day I was not afraid to use the test machine with one hand, the more that control them so very handy and convenient. At least for my male, middle-largest palm. The girls still have to often use both hands. For the future, the manufacturer should, of course, think about the "Smart Menu", such as it is done in Lenovo VIBE X2, or similar software solutions.

With regard to the location of the main controls and connectors, then on the right side just under the slot microSIM-card left power button and adjust the volume rocker. The upper curve of empty, but at the bottom of audio, microphone and micro USB port.
Above the display is a mandatory set of voice dynamics, 5 MP camera and proximity sensors / light. Under – three touch-sensitive backlit buttons.
On the back side, which is important, absolutely smooth – a microphone, camera, flash and speaker. Speaking of the latter, when the smartphone is on the table face up, the sound is muted, but not much. It sounds without Bass, and its maximum volume is not increased too, but the sound is clean, without wheezing and cod.
Sound source on the front side proved to be good. Even in noisy places such as bus or subway, its maximum volume was enough.
Display
The smartphone with an emphasis on design display really does not have to "graze the rear." This truth is confirmed to us and Fly IQ4516 Octa. Its Super AMOLED matrix proved to be excellent as you would with your smartphone on the street and in the room. Viewing angles are large enough brightness range and at a minimum, and maximum. Contrast and color are good, which is especially nice with the absence of any visible grain.
If we talk about digital indicators, the 4.8-inch capacitive display was 1280 x 720 pikc (HD format). The sensor is responsive and misses his work has not been noticed. At one point it can handle up to 10 touches. AnTuTu Tester showed 320 pixels per inch.
If there is a need to use your smartphone in the cold, it is not superfluous to activate the "Gloves" (tab in the Settings section).
The hardware part of
As a basis for filling the hardware Fly Tornado Slim IQ4516 Octa was selected 1.7 GHz processor from Mediatek (MT6592). This is an 8-core solution with the possibility of an intelligent distribution of computing power, which helps to limit the drain on the battery during periods of low load. In addition, it is 1 GB of RAM and a graphics chip Mali-450 MP.
The test unit easily shows Full HD video and 3D-game pulls even the most productive of the discharge. With regard to the latter, the level of detail in their schedules sometimes it is better to reduce, in order to improve the smoothness of the displayed image. Frankly, I would like to see this tube version with 2 GB of RAM. Then it would seem to me, this smartphone fans have significantly increased.
Built-in memory in the model IQ4516 Octa 16 GB. User are available for about 10 GB. The memory card slot is not provided, but to expand the store by connecting an external flash drive, you can. Interface USB-OTG support and 32 GB flash drive smartphone saw in seconds.
Tube works on Android version 4.4.2. The main radio and navigation units are present, including the FM-radio. Bluetooth in the version 4.0 extended to support profile A2DP, Wi-Fi module (802.11 b / g / n 2,4 GHz) allows you to transfer files on the technology Wi-F Direct. Navigation device capabilities provide integrated GPS and A-GPS.

Among the preinstalled software include Google maps and Navitel, services Yandex, Vkontakte, Megogo, browser Opera, ES File Explorer and others.
Provided in the Tornado Slim and functions of gesture control. The user of this smartphone by double-clicking can activate the device from sleep mode to answer calls simply by raising a Tornado Slim to your ear, put the alarm clock is paused, turning the phone, and others.
Battery
The capacity of the built-in smart battery – 2050 mAh. Thickness of 5.15 mm is a really great rate. There are power-saving mode. To help give official data on consumption of battery: talk time – up to 8 hours Standby time – up to 140 hours, Internet (3G) – up to 3.5 hours, Internet (Wi-Fi) – up to 4.5 hours of video playback – up to 4.5 hours of audio playback – up to 50 hours.
In practice, the tube can withstand full-time in the usual way for me to use. It turns out that in an hour playing Asphalt 8 takes about 35% of the battery, and for half an hour watching Full HD video with headphones – 12-13%. This performance at maximum brightness and with the included Wi-Fi. So slim body is not a hindrance to put a normal battery, and prove to us that the tested model.
Camera
The main camera in Fly Tornado Slim IQ4516 Octa 8 MP. Maximum photo resolution – 3264 x 2448 pixels, video – 1080p Full HD. Front, as already mentioned earlier – 5 megapixel. It makes the photo 2560 x 1920 pixels and shoots video in HD format.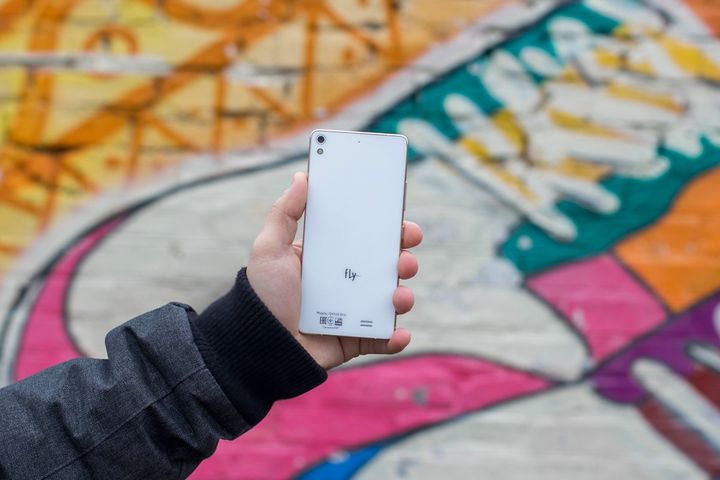 The main photomodule equipped with autofocus and flash. You can take pictures on the touch screen, as a gesture, a smile. In the settings you can select the HDR mode, or switch to a panorama. The camera's menu is very well thought out and easy to use. As for its resolution, the photos are good, especially when a sufficient amount of light. But in dark rooms or in cloudy weather popping noise.
Front photomodule similarly supplemented main function of Face Beauty, which will make your portraits more pleasant for contemplation in social networks. It is possible to change or make-up, adjust the skin tone and facial features. Who likes to do self – pay attention!
Competitors
Competitors in the fight for a purse buyer at Fly IQ4516 Tornado Slim Octa at its current price tag in 4444 UAH on the date of publication review are hard to find. If you choose among the thin design and eye-catching devices can offer: Prestigio Grace, Lenovo Vibe X2 or Alcatel ONETOUCH Idol Alpha.
Findings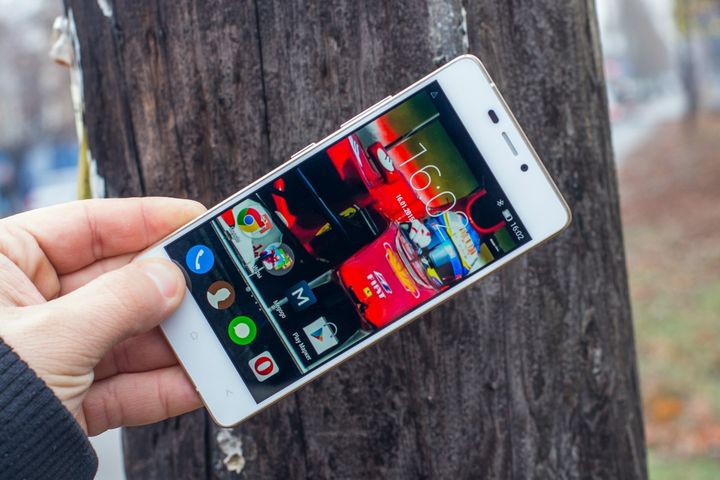 Well, Fly Tornado Slim – this is definitely a handset with an emphasis on design. The thickness and, as a consequence, elegant body in combination with high-quality display and excellent hardware stuffing few people remain indifferent after meeting with him.
The final decision on the purchase of this Smart, of course, up to you. But remember, this model – really the thinnest smartphone in the world in 2014. And his 5.15 mm absolutely do not impose any significant restrictions on the convenience of daily work with the machine.
Read another very interesting article about alternative energy of the Sun, water and air.